Tamales
Recipe provided by Teresa's Tamales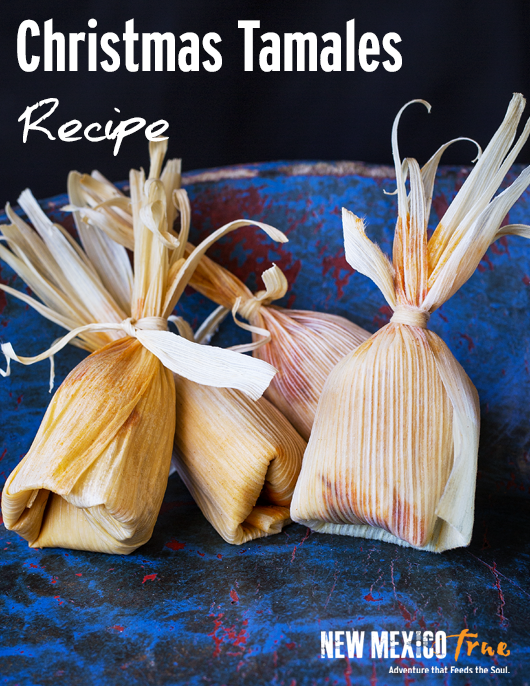 "...People travel to Cleveland, New Mexico from hundreds of miles away in search of one thing: Teresa's tamales."
A native New Mexican, Theresa Olivas learned how to make her family's traditional Christmas dish 36 years ago. Now she runs a restaurant in a converted gas station, satisfying her hometown with this irresistible New Mexican classic. In the video above, she shows us how to make her special green chile chicken tamales at home.
Teresa's Green Chile Chicken Tamales
INGREDIENTS:
2 ½ lbs boneless chicken breast

6 cups masa (cornmeal flour)

3 dozen hojas (cornhusks)

1 ½ cup green chile, roasted, peeled, and chopped

1 ½ tsp of oil

¼ cup of flour

2 tsp garlic

2 tsp salt
DIRECTIONS
Chicken: Boil chicken in large stockpot with 4 cups of water (water should fully cover chicken) for 1 hour or until cooked. Once chicken is cooked, shred into small threads.

Hojas: Boil hojas in hot water until soft, about 15 minutes. Remove hojas from water and drain excess water. Take 5 hojas and tear into thin strips for tamale ties about 1 cm thick.

Green Chile: In a large saucepan, heat oil over medium heat and add flour. Stir for 1 minute or until oil and flour are completely mixed together. Stir in 4 cups water and green chiles. Lower heat and stir in 1 tsp of garlic and 1 tsp of salt. Simmer for about 10 minutes or until sauce thickens. Add green chile sauce into shredded chicken and mix together.

Masa: Mix together masa, 1 tsp salt and 3 cups of water. Add more water as needed to reach a dough-like consistency.

Assemble tamales: Fan out full cornhusk, then spread a thin layer of masa on the hoja. Add desired amount of green chile/chicken mixture in. Roll hoja closed and tie ends with hoja strips.

Add tamales in a steamer or a large stockpot with a vegetable steamer in the bottom of the pot with an inch of water for one hour. Water should not touch tamales.

Serve topped with leftover green chile/chicken mixture and optional cheese, tomatoes, and sour cream.
Yields about 2-3 dozen tamales
---
Green Chile Stew
"...A bowl of comfort, green chile stew always strikes us as much greater than the sum of its humble parts."
Servings: 8
INGREDIENTS
1½ to 1¾ pounds beef chuck or pork butt (shoulder), cut in ½-inch cubes

2 medium onions, diced

4 garlic cloves, minced

1 to 1¼ pounds red waxy potatoes, peeled or unpeeled, and diced

5 cups beef or chicken stock

1½ tablespoons salt or more to taste

3 cups 505 Southwestern brand Hatch Valley Roasted Green Chile sauce

1 cup corn kernels, fresh or frozen, 1 cup carrot chunks, or 1 diced red bell pepper, optional
DIRECTIONS
Sear the meat in a Dutch oven or large heavy saucepan over medium-high heat until it browns and liquid accumulated from the meat mostly evaporates.

Stir in the onions and garlic and cook for several minutes, until the onions become translucent. Pour in stock and scrape the mixture up from the bottom to loosen browned bits.

Sprinkle in the salt, reduce the heat to a low simmer, and cook uncovered for 1¼ hours.

Stir in the chile and any of the optional ingredients and continue cooking for another 45 minutes to 1 hour, until the meat is quite tender, the vegetables are soft, and the flavors have blended together.

Ladle into bowls and serve hot.
---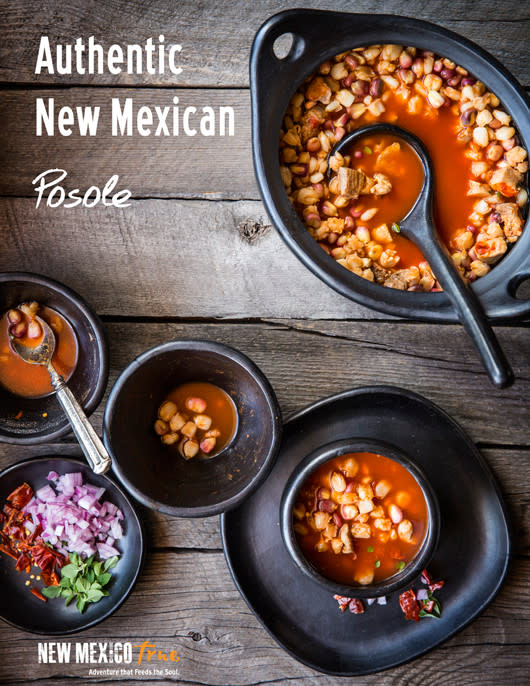 "...The corn is treated with slaked lime to remove its outer skin, a technique developed by Native Americans centuries ago."
Servings: 8
INGREDIENTS
6 dried New Mexican red chile pods, stemmed and seeded

1 to 1½ pounds pork shoulder or loin, trimmed of surface fat and cut in bite-sized cubes, or 1 or 2 pigs' feet

Water

2 pounds frozen posole or 1 pound dried posole

2 medium onions, chopped

6 to 10 garlic cloves, minced

1 tablespoon plus 1 teaspoon salt, or more to taste
DIRECTIONS
If you will be using frozen posole, first combine the chile pods with the pork in a Dutch oven or large pot, and simmer together in 4 quarts of water for about 30 minutes. Then add the frozen posole and cook about 30 minutes more.

If your posole is dried, add it with the chile, pork, and 6 quarts of water and simmer together for about 1 hour.

Stir in the onions, garlic, and salt and continue to simmer over a low fire until the posole is soft. Expect the remaining cooking to take another 30 minutes for frozen posole and at least 1 more hour if dried. Do not be surprised if it takes a bit longer.

Serve hot in bowls with some of the liquid, or drain it with a slotted spoon and serve it on the side with other plated foods
---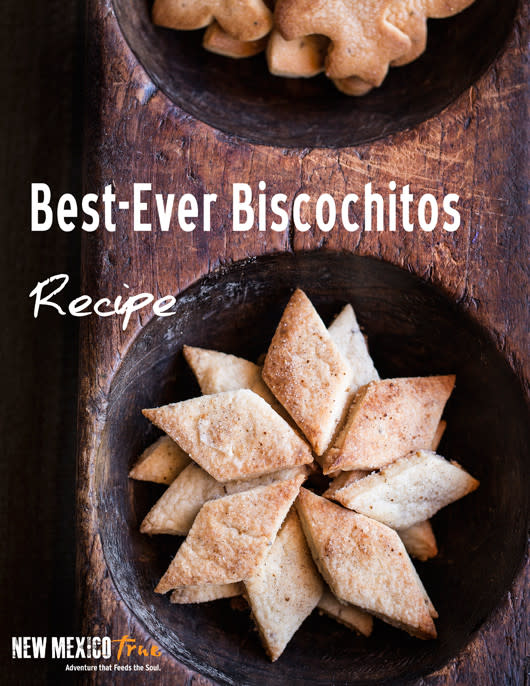 "...The anise-scented, lard-enriched shortbreads are essential to weddings, graduations, and anniversaries, and are so popular at Christmas that in December, biscochitos comprise maybe thirty percent of the diet of the average New Mexican!"
Servings: 4 dozen cookies
INGREDIENTS
3 cups unbleached all-purpose flour

1½ teaspoons baking powder

1 to 1½ teaspoons ground anise

½ teaspoon salt

½ pound lard, softened

½ cup plus 1 tablespoon sugar

1 large egg

2 tablespoons sweet white wine, brandy, or rum, or apple or pineapple juice

¼ cup sugar and ¾ teaspoon ground cinnamon for the topping
DIRECTIONS
Sift together the flour, baking powder, anise, and salt and set aside.

Beat the lard in an electric mixer, gradually adding the sugar, and beat until extremely fluffy and light, about 8 minutes. Don't shortcut this step. Stop the mixer every couple of minutes and scrape the sides of the mixing bowl.

Add the egg, followed by the wine, and continue beating.

Mix in the dry ingredients, adding about one-third of the mixture at a time. Stop the mixer as you make each addition, and beat no longer than necessary to incorporate the dry ingredients. A stiff pie-crust type of dough is what you're seeking.

Chill the dough for about 15 minutes for easy handling.

Preheat the oven to 350

Roll out the dough ¼-inch thick on a floured work surface and cut with a paring knife into a fleur de lis, or cut with a small cookie cutter. Avoid handling the dough anymore than necessary, one of the keys to the melt-in-your-mouth texture.

Transfer the cookies to ungreased cookie sheets.

Bake the cookies for 10 to 12 minutes, until just set and pale golden.

While the cookies bake stir together the topping.

When the cookies are done, cool for just a minute or two on the baking sheets, then gently dunk the top of each in the cinnamon-sugar.

Transfer to absorbent paper to finish cooling.