The Peralta United Methodist Church has begun installing stained glass windows made from recycled glass. The effort is led by a local crafts group and artist Sylvia Regelbrugge, who pioneered the technique. The PUMC Craft Ladies, with help from the Belen Art League, collect crushed glass from the Los Lunas Glass Recycling Center, sort it by color, and glue it to plexi-glass boards. The glass is crushed in a special CEMCO machine that removes sharp edges, making it safe to work with. This fantastic use of recycled glass beautifies the local church, engages the community in arts and crafts, and contributes to overall rate of glass recycling in Los Lunas. The team has completed 4 of 12 windows, and hopes to finish the rest in time for Easter in 2019. Visitors are welcome to visit the church to see the sanctuary art-glass windows project during regular church office hours: Monday-Thursday, 9am-11am, and 1pm-3pm - and during regular Sunday worship services from 8:30am-11am. 
For an in-depth article on the project from new-bulletin.com, click here.
For an interview with Sylvia Regelbrugge and profile from news-bulletin.com, click here. 
For a KRQE video on the project, click here.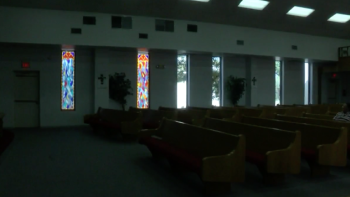 Keep Creating!