Come take a ride. The passenger door is open. We have a 19-foot-long shell-pink and iridescent-lavender American automobile to take us down the road. Some days, as the early-summer sun shakes down from the sky on Central Avenue in Albuquerque, I think the thrum of the Hemi engine in my 1956 DeSoto Fireflite may be the sweetest sound in creation. It's Route 66 that amplifies it, that turns it from a rumble of machine parts into a reverberation that echoes back and forth through time, calling out to travelers both nostalgic and forward-looking.

Originally commissioned in 1926, Route 66 stretches its concrete arms across eight states, including a nibble off the corner of Kansas. New Mexico is the proud parent of more than 600 miles of the Mother Road (including discontinued stretches, aka alignments). The route is embellished with whimsical neon signs, fortified by classic diners, and smoothed by retro motels.

I live just five blocks away from Route 66—close enough to feel its soul coursing across the state, connecting communities, and tying New Mexico into the long-ago dreams of a country that discovered how four wheels and a full tank could feel like freedom unbound.

U.S. Route 66 was fully and finally decommissioned in 1985, leaving it up to the states to mark the old road with historic signs to guide drivers on their journeys. Even so, Route 66 remains alive with commerce, international sightseers, and locals rediscovering its allure.

You don't need a befinned beast of a car to fall in love with Route 66 in New Mexico (though I highly recommend it). You just need a taste for mid-20th-century Americana, the eyes of a traveler, and the beating heart of an adventurer. Let's ride.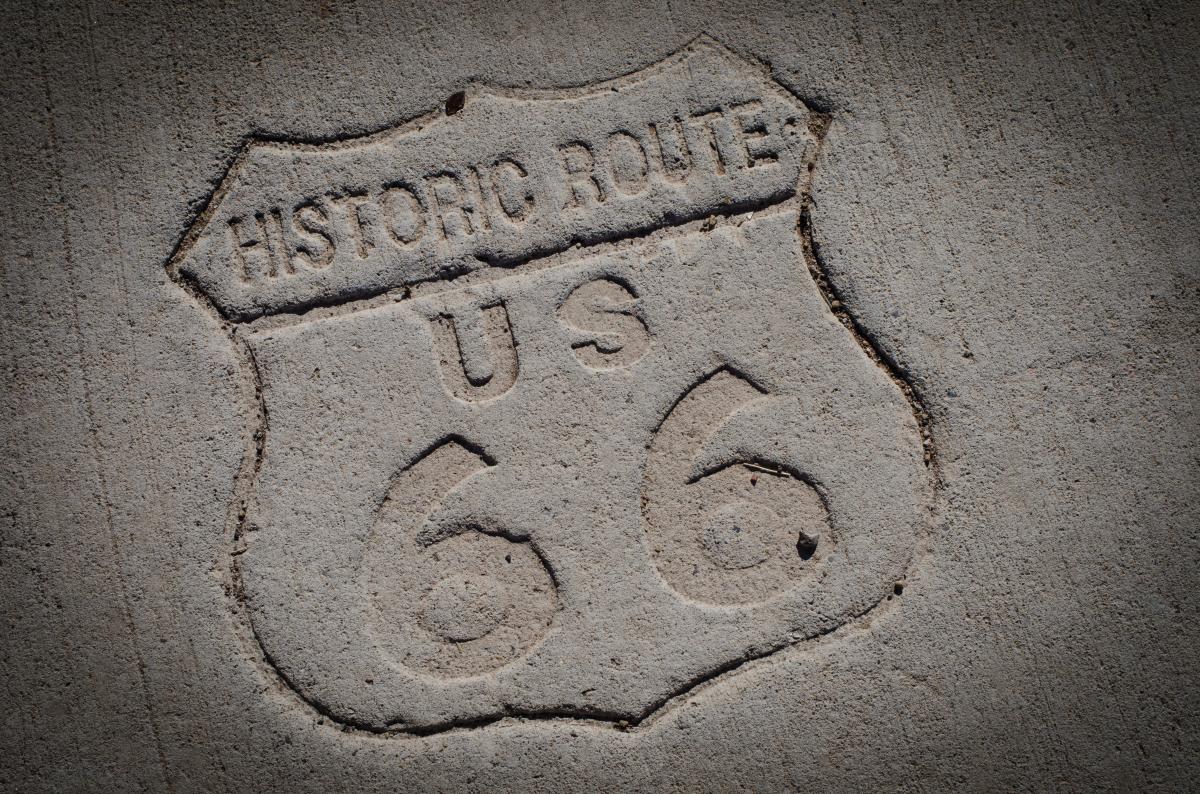 Above: A Tucumcari sidewalk. Photograph by Jeremy Wade Shockley.
1. Neon Nights
Nighttime is the right time to cruise 66 when you're on the hunt for eye-catching neon spectaculars. The charming Tee Pee Curios (575-461-3773; on Facebook), in Tucumcari, lures tourists into the old-school gift shop with a glowing cactus. Don't miss the Dog House Drive In (1216 Central Ave. NW, Albuquerque; 505-243- 1019) hot dog restaurant. The building is unassuming by day, but night finds it lit up with a delightful dachshund chowing down on moving neon hot dogs. It famously appeared in scenes from the Albuquerque-based show Breaking Bad. In Gallup, Motel Row offers up the Jetsons-esque Lariat Lodge marquee and the gaily colored, tree-shaped Blue Spruce Lodge sign.
"The best Route 66 signs were fun, individual, and competed to get attention," said Mark Childs, architecture professor at the University of New Mexico. "They were works of sharp-witted craftsmanship that played with popular culture, and, from motels to nightclubs, they hyped the spirit of adventure."
2. Bliss-Kissed Vistas
On Route 66, the varied landscapes of New Mexico unfold dramatically. Coming from the Texas state line, take in the wide-open rangeland where thunderstorms gather from miles away and the tips of distant mountains beckon you forward. At the top of Nine Mile Hill, on Central Avenue in Albuquerque, pause to appreciate the Río Grande Valley, laid out in a green ribbon of cottonwoods below. As you continue toward the west, just past Prewitt, the red Entrada sandstone bluffs blaze along the roadside like an eternal sunset. Stop in at Red Rock Park (exit 26 from I-40; 505-722-3839) in Church Rock, near Gallup, for a picnic against a backdrop of cliffs formed during the time of the dinosaurs.
3. Photo Opportunities
Whether you use a smartphone or a digital camera with all the bells and whistles, iconic Route 66 offers lots of photo fodder. Tucumcari's flashy chrome Route 66 monument on the west end of town is a good place to begin. On Instagram? Add your photos to this article's series by sharing them with the #route66nm hashtag.
To add treasure hunting to your journey, search geocaching.com for hidden stashes near your location. Geocaching involves seeking out hidden objects using GPS coordinates posted by other hobbyists. New Mexico's stretch of Route 66 includes a tiny box hidden in the metal trusses of the Río Puerco Bridge, with a logbook of visitors, and a stash in Old Town Albuquerque that takes seekers on a ghost tour before arriving at the secret cache's final location. Document your search and share the photos at geocaching.com.
4. Groovy Souvenirs
Coming from Texas, your first chance to dive into the world of Route 66 collectibles turns up at Russell's Truck & Travel Center (575-576-8700; russellsttc.com) in the small, quiet town of Glenrio. The classic souvenir of choice is a metal New Mexico Route 66 road sign in the iconic shield shape. The free classic-car museum on-site includes a sleek pink Ford Thunderbird convertible. By the time you reach Clines Corners (575-472-5488; clinescorners.com), a legendary 66 travel stop, you've already seen plenty of billboards advertising its wares. The souvenir selection of Route 66 magnets, chile pepper tchotchkes, silver concha belts, and New Mexico T-shirts is one of the largest in the state. Jack Rittenhouse's 1946 A Guide Book to Highway 66 mentions a Bowlin's Trading Post west of Grants. It's still there today, albeit in a new building, under the name Bluewater Outpost. Among the New Mexico flag mugs and Route 66 shot glasses, you'll find unusual entries like rattlesnake belts and a Diné-made red fox quiver complete with arrows. (505) 876-2933; on Facebook
5. Albuquerque's Old Town
Route 66 edges along the south side of the Albuquerque Old Town Plaza, a center for the community since the city's founding, in 1706. The San Felipe de Neri Church, with its five-foot-thick adobe walls and white spires, dates to 1793. Adobe buildings interspersed with meandering courtyards are home to shops like the Tanner Chaney gallery (800-444-2242; on Facebook), known for its commitment to authentic Native American artwork, and Santisima (328 San Felipe St. NW; 505-246-2611), a folk art emporium stocked with vibrant Day of the Dead skull art. Stay the night at the Bottger Mansion bed-and-breakfast; be sure to request the Route 66 room. (505) 243-3639; bottger.com
6. Tucumcari's Retro Motels
Many of the motels that once lined Route 66 have been closed or demolished altogether, but passionate owners are keeping some of the real gems alive. Tucumcari is home to the Blue Swallow Motel, a restored oasis of a motor court. It features a swallow-topped neon sign, period-style décor, and historic attached garages on many of the rooms (575-461-9849; blueswallowmotel.com). Motel Safari is another favorite of travelers looking for a comfortable stopover during their 66 adventures. It's notable for its doo-wop-style architecture and a new Wanda Jackson suite approved by the Queen of Rockabilly herself. (575) 461-1048; themotelsafari.com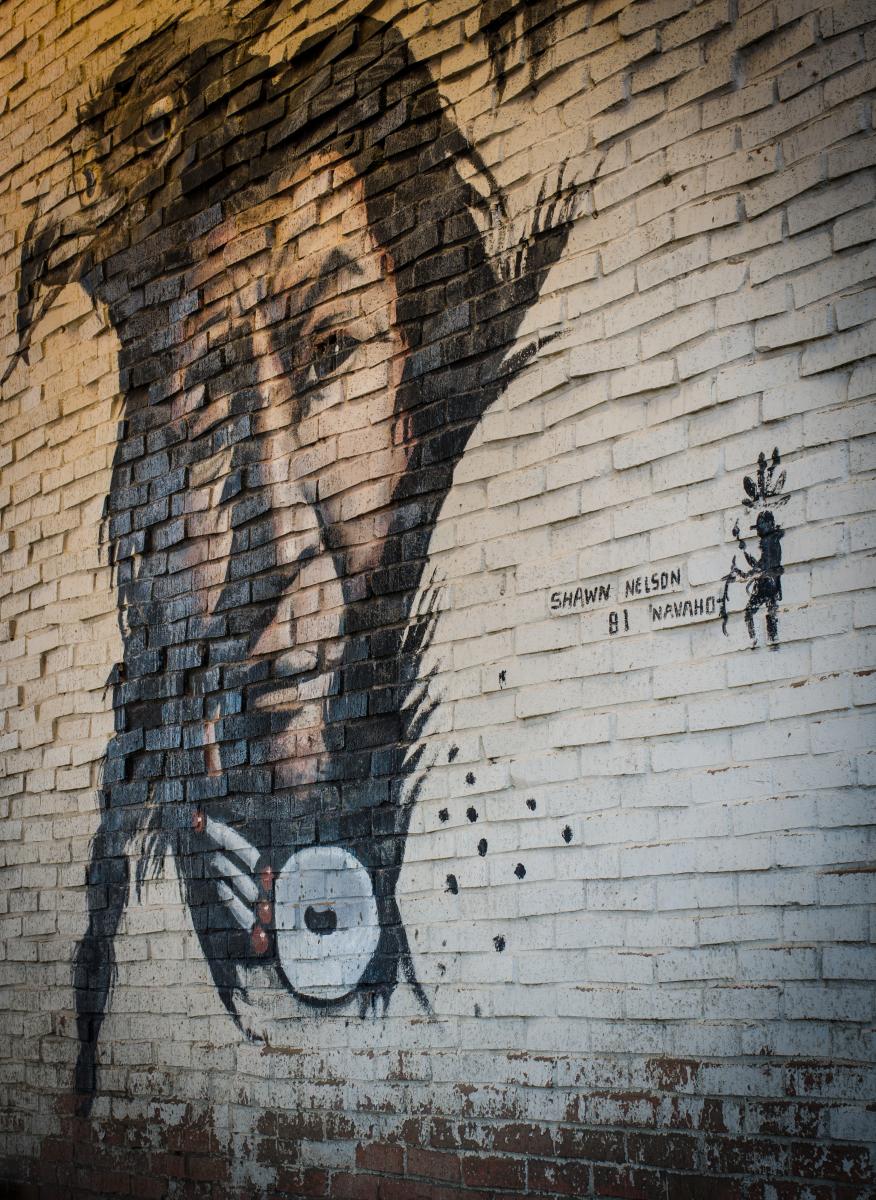 Above: Shawn Nelson's mural portrait of a Native American man, in Gallup. Photograph by Jeremy Wade Shockley.
7. Ghost Routes
Route 66 followed many different directions in its time. Old sections were retired to give way to new, more streamlined thoroughfares. One of the most famous discontinued sections can be found in the ghost town of La Bajada (meaning "the Descent"), at the bottom of the steep hill of the same name (exit 264 from I-25). It offers a stimulating uphill hike, perfect for shaking off road-trip stiffness. Its series of harrowing switchbacks challenged cars and their drivers back in the day. Look for the stacks of rocks supporting the old road. Park near the bottom and hike up the curving remnants.
8. Diners to Die For
Route 66 travelers need fuel, just like their cars—and throwback diners along the route supply hungry wanderers with classic American food and New Mexico specialty dishes. The Comet II Drive In & Restaurant, in Santa Rosa, is quite the sight at night, with its long red neon stripes (575-472-3663; on Facebook). The menu is stocked with chile-smothered fare. With a curved neon exterior, classic-car décor, and a jukebox, Albuquerque's 66 Diner delivers a 1950s experience, complete with milkshakes with names like Elvis and Pink Cadillac (505-247-1421; 66diner.com). In Grants, Badlands Burgers & Tortas sits beneath the historic Uranium Cafe sign. (505) 287- 5557; on Facebook
9. The Santa Fe Connection
In 1937, for the sake of streamlining (and perhaps a bit of political payback), the Santa Fe branch of Route 66 was officially struck from the road maps; it was once the main path taken by travelers. Take U.S. 84 N. from I-40 (west of Santa Rosa) to Romeroville and pick up I-25 S. Follow 66 into Santa Fe by taking Old Pecos Trail (exit 284) to Old Santa Fe Trail. Browse the Plaza shops by day, including Jett Gallery, where you might be able to snap up a handmade turquoise-adorned Route 66 belt buckle (505-988- 1414; jettgallery.com). Enjoy the Five & Dime General Store's vast Southwestern souvenir offerings and famous Frito pies (505- 992-1800; fiveanddimegs.com). Stay the night at La Fonda hotel, an elegantly welcoming stop for travelers since the early 1900s (800-523-5002; lafondasantafe .com). Santa Fe's vintage motel row is on Cerrillos Road; consider the western-themed Silver Saddle Motel (505-471-7663; santafesilversaddlemotel.com) or the updated, charmingly historic El Rey Inn. (505) 982-1931; elreyinnsantafe.com
10. Classic Car Shangri-La
New Mexico's temperate climate and dry weather help to keep old cars in good condition. That's part of why the communities along Route 66 are so full of classic car owners. If you don't have one of your own, you can still immerse yourself in a sea of retro automobiles at the Route 66 Auto Museum, in Santa Rosa (575-472-1966; route66automuseum. com). There you'll find everything from classic Chevys to flame-kissed street rods. You can also track down a local car show through the New Mexico Council of Car Clubs (on Facebook) and get your fill of souped-up muscle cars, well-preserved Mustangs, and Frankenstein rat rods crafted from spare parts.
11. Rocks 'n' Ruins
The path Route 66 traces through the state was a hub of activity long before automobiles were invented. As you travel west of Albuquerque to Grants, Route 66 follows closely alongside I-40 and the scenery evolves into glinting fields of black lava rock. Stop at the Northwest New Mexico Visitor Center, off exit 85, for an introduction to the stark volcanic beauty of El Malpais National Monument (505- 783-4774; nps.gov/elma). Before 1937, Route 66 followed the Old Pecos Trail, now unified with I-25 south of Las Vegas. This old alignment passes by Pecos National Historical Park (505-757-7241; nps.gov/peco). Explore the village ruins, reconstructed kivas, and mission church in the footsteps of Pueblo ancestors, Spanish conquistadors, and settlers who found new life in the West.
12. Destination: Gallup
In Gallup, enjoy Route 66's well-preserved, still-vibrant charms in the form of shops, restaurants, and more. Pick up a Pendleton wool blanket and a wide-brimmed Stetson cowboy hat at Zimmerman's (213 W. Highway 66; 505-863-3142). Silver Dust Trading Co. specializes in beads, but also houses a room-length showcase featuring jewelry from nearby Zuni Pueblo, with delicate geometric inlays of tiny turquoise stones (505-722-4848; silverdusttrading. com). Eat at Earl's Family Restaurant, where country-fried steak and guacamole tostadas happily coexist on the menu (1400 E. Highway 66; 505-863-4201). The complimentary salsa will goose your taste buds. Walk in the footsteps of Hollywood's greatest at the El Rancho Hotel (505- 863-9311; route66hotels.org). Humphrey Bogart, Mae West, and Katharine Hepburn all stayed here during the heyday of western filmmaking. Take in the curved staircases, giant geode, and movie star photos in the two-story lobby. Order a margarita at the 49er Lounge or fill up on enchiladas at the restaurant. The Old West feel of the building makes for an enthralling stop.
13. Transporting Trading Posts
Trading posts, generations-old, are holdovers from the bartering days of the Old West. First-timers swoon at the rich variety of Native jewelry, rugs, pottery, and other treasures. Today Gallup is the trading-post hub on 66, a showcase for the work of Diné and Zuni Pueblo artists and artisans. Step in, past a rare collection of tribal police badges, to browse the eclectic wares at Richardson's Trading Co. (222 W. Highway 66; 505-722- 4762). The rug room is stacked ceiling-high with woven works. Crescent-tipped squash blossom necklaces, rendered in silver, turquoise, and red coral, are a specialty. In Albuquerque, Skip Maisel's was established in the late 1930s and still shines as a jewel at the heart of downtown. A full-size stagecoach and buffalo heads watch over you as you browse the Hopi pottery, wood-and-leather Cochiti drums, and vintage silver estate jewelry with a patina only a long history could provide. (505) 242-6526; skipmaisels.com
14. Acoma Aerie
Detour-worthy? Definitely. East of Grants, take the Acoma exit from I-40 for a panoramic side-trip tour of the original Sky City village, a 15-mile drive south of the highway. The Pueblo's Sky City is unforgettable; whether you clamber up the cliff's steep path to the village's mesa-top locale or zip up via the shuttle, the stunning views of the surrounding valley and mesas are rivaled only by the ancient village (home to the Pueblo's spiritual leaders) and its imposing San Estevan del Rey Mission Church. Take a tour (available on weekends), explore the award-winning Sky City Cultural Center and Haak'u Museum, and have a meal at the Y'aak'a Café. Shop for a piece of signature Acoma pottery at the elegant Gaitsi Indian Art Gift Shop. (800) 747-0181; acomaskycity.org
15. Happy Campers
Buying and restoring a classic trailer may not be your thing, but you can sample the lifestyle at Enchanted Trails RV Park & Trading Post, in Albuquerque. Rent one of six trailers exquisitely outfitted with mid-century furnishings, at rates starting at $56. The hot ticket is the classic silver Airstream, gleaming like a rocket. You can pre-
tend you're traveling Route 66 during its heyday. (800) 326-6317; enchantedtrails.com
16. A Museum that's Dino-mite!
Tucumcari planned to open the New Mexico Route 66 Museum (nmrt66museum.org) in 2013, but the facility is currently closed while staff revamp exhibits and raise funds. Instead, wander into the impressive fossil jaws of the Mesalands Dinosaur Museum, an attraction that pulls in 14,000 visitors each year. Stare up at the toothy Jurassic-era torvosaurus, view fossilized dinosaur eggs, and leave with a memento from the gift shop. (Learn more by reading "Mesozoic Jackpot," p. 49.) (575) 461-3466; mynm.us/ mesamuseum
17. Festivals Aplenty
During Albuquerque's Route 66 Summerfest (July 18–20), the entire Nob Hill stretch of Route 66 is closed off, giving pedestrians a rare opportunity to shop, stroll, and even dance in the street to live music (rt66central. com). Over in Tucumcari, Rockabilly on the Route, a four-day celebration of early rock 'n' roll and cool cars, begins June 5 (rockabillyontheroute.com). Pompadours aren't mandatory, but they would fit right in. Arrive there in style on the New Mexico Route 66 Association–sponsored Motor Tour (rt66nm.org), which revs up in Gallup on June 5 and follows the post-1937 route until it meets up with Tucumcari's Wheels on 66 Classic Car Show (wheelson66.com) and the rockabilly festival mentioned above. On the way to Tucumcari, participants pull over on Friday night for an outdoor movie, which is as close as you'll get to a drive-in theater experience on Route 66 in New Mexico. Bring your own car, classic or contemporary, and enjoy the ride.
18. Poetic Remnants
Many small communities that once thrived on the movement of people and cars along the old road became ghost towns after I-40 came along. San Jon, 19 miles west of the Texas state line, once had a reputation for rough-and-tumble cowboy nightlife in the early 1900s. Now it displays the fragments of closed auto shops with fading ghost signs proclaiming its place on the Mother Road. Pause to view the lovely remnants of the stone church in Cuervo, 42 miles west of Tucumcari. Snap a postcardperfect photo of your vehicle parked at the abandoned Budville Trading Post, in Budville, 24 miles east of Grants.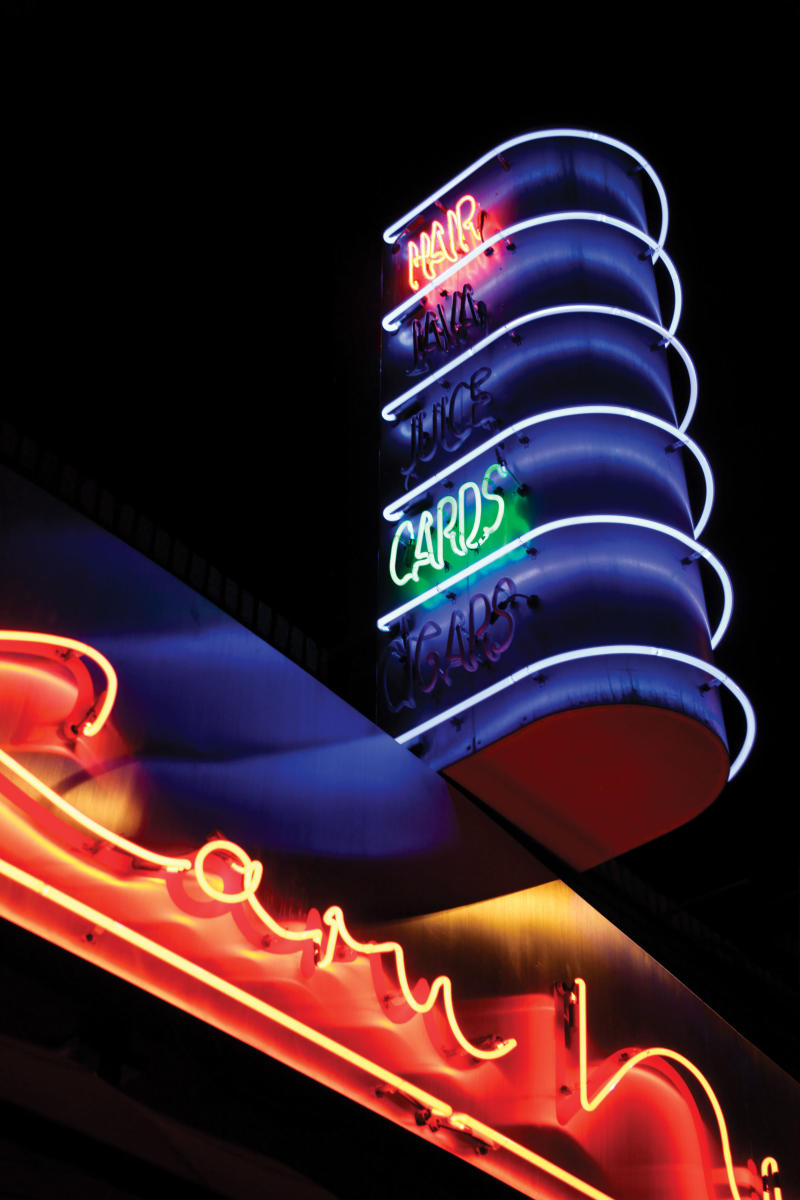 Above: Neon signs on the 66 include Laru Ni Hati Salon and Wine Bar. Photograph by Julien McRoberts.
19. The Great Divide
Known as the "backbone of the nation," the Continental Divide crosses Route 66 six miles west of Thoreau, off I-40. Look for the Continental Divide Indian Market and neighboring Indian Village Gift Shop for a quick and colorful photo opportunity. Take a snapshot with the carved historic sign marking the Divide, or in front of a covered wagon painted with the altitude number. 15 N.M. 122; (505) 862-7432
20. Grande Dames
In the 1920s, architecturally modish movie palaces sprang up all over the country. Two that survived are on or near Route 66. Recently renovated, Albuquerque's KiMo Theatre is a glorious Pueblo Deco–style building from 1927, with Native American motifs throughout. Buffalo skulls with glowing eyes watch from above the stage (505-768-3544; mynm .us/abqkimo). In Gallup, the Spanish Colonial Revival El Morro Theatre is one block off 66. It opened in 1928 and is operated by the city (207 W. Coal Avenue; 505-726-0050). Catch special movies, music, and theater events at both venues.
21. Roadside Giants
The legend of Route 66 is larger than life, and so are some of the advertising sculptures created years ago as beacons to travelers. Tucumcari's La Cita Restaurant & Flowers (820 S. 1st St.; 575-461-7866) is topped by a Paul Bunyan–worthy sombrero. Giant fiberglass statues known as the Muffler Men are scattered across the country. Many of them can still be spotted along Route 66. One of New Mexico's behemoths resides at 416 W. Coal Avenue in Gallup. The "Dude Man," so named for his cowboy hat, is visible from Route 66 up on his rooftop perch.
22. Deep Dives
Santa Rosa surprises Route 66 travelers with its status as a mecca for scuba divers. While the landscape around the town is pure ranch country, an 80-foot-deep natural pool draws in visitors from around the world. The Blue Hole beckons divers and swimmers with a constant 64-degree temperature and crystal-clear views below the surface. Look for crawfish, goldfish, and sculptures left by other divers (575-472- 3404; bit.ly/BlueHole). If you're a certified diver, bring your scuba certification card and pick up a diving permit at the Santa Rosa visitor center (575-472-3763; santarosanm.org). Stop in at the Santa Rosa Dive Center next to the Blue Hole for tank rentals and refills on weekends. If you're not a diver and you don't mind the temperature, bring your swimsuit for a recreational paddle around the surface.
23. Urbane Adventures
From the boutique shopping district of Nob Hill to the pulsing nightlife of downtown, Albuquerque never let its long stretch of Route 66 along Central Avenue fade. Nob Hill spans 15 blocks from Girard Boulevard to Washington Street. The University of New Mexico sits just outside Nob Hill's western boundary, lending its youthful energy to the stretch of clothing stores, galleries, and restaurants. Stop for lunch at Kellys Brew Pub and eat green chile stew with a local brew inside a historic Ford dealership dating to 1939 (505- 262-2739; kellysbrewpub. com). Shop for unusual local art at Mariposa Gallery (505-268-6828; mariposagallery. com). You might find a reclaimed barn-wood birdhouse or a necklace forged from metal and blown glass. Head downtown for a low-key live-music night at Blackbird Buvette, a micro-club with a full bar and smartly prepared American cuisine (505-243-0878; black birdbuvette.com). If you prefer your music a little louder, step
into the space-themed environs of Launchpad for uptempo local and touring bands.
(505) 764-8887; launchpadrocks.com
24. Vroomers and Crooners
You can't miss Laguna Pueblo's Route 66 Casino Hotel. Its massive neonoutlined signs shine across the landscape just west of Albuquerque. The parking lot transforms into an eye-candy car showcase two times a year, over Memorial Day weekend and again in early August, when hundreds of classics and customs gather for some of the state's largest car shows. The casino's Legends Theater hosts musical acts ranging from B.B. King to Lyle Lovett throughout the year. (505) 352-7866; rt66casino.com
25. Public Art
Tucumcari earned its "Mural City" nickname by painting the town with 35 murals, an ambitious project started in 2004. Look for the Legendary Road mural on the side of the Lowe's grocery at 105 W. Tucumcari Boulevard. It's a seemingly endless 114-foot-long ode to 66, depicting the route in its New Mexican context of desert, railroads, and ranching. The Mother Road mural adorns a wall at Central Avenue and 2nd Street in downtown Albuquerque, displaying a fantastical representation of Route 66 with kachina dolls at the wheel of a red Corvette. View the Great Gallup Mural, part of Gallup's Downtown Mural Project, on the side of City Hall (110 W. Aztec Ave.) for a visual stroll through the city's Route 66 and Native American heritage. gallupbid.com/murals.html ✜
---
GO WEST!
Albuquerque's Old Town to Gallup: A Day Trip to the Land of Red Cliffs and Trading Posts
Eat: Fuel up for the road with a morning chile fix at Duran Central Pharmacy, in Old Town Albuquerque. (505) 247-4141; durancentralpharmacy.com
Drive: Route 66 merges with the frontage road on the westbound side of I-40. Take this to the scenic 1933 Río Puerco steel truss bridge (17 miles), which is now open to foot traffic only. Take I-40 from here. Drive 37 miles and park for a pic at the pumps at the Budville Trading Post (exit 104). Take old 66 through San Fidel and rejoin I-40 just past the towering remnants of a Whiting Brothers store sign. Get off at exit 85 (20 miles) to follow Route 66 through Grants' strip of signs advertising bygone businesses like the Lavaland Motel and the Roarin' 20's bar. Rejoin I-40 at the Continental Divide (36 miles).
Shop: Arrive in Gallup (26 miles) in time to admire the silverwork and saddles at Richardson's Trading Co. (222 W. Highway 66; 505-722-4762). Zuni Traders specializes in pottery, but you may also find a turquoise-encrusted cow skull or carved flute (505-863-2000; on Facebook). Stop in for a burger and a pint of La Cumbre at Sammy C's Rockin Sports Pub and Grille, named one of the United States' best sports bars by CNN (505-863-2220; sammycsgallup.com). Feel like making it an overnight? Stay at Gallup Comfort Suites, an award-winning hotel on Route 66, where we've noticed general manager Kenneth Riege takes a personal interest in the happiness of all guests. (505) 863-3445; comfortsuitesgallup.com

GO EAST!
Albuquerque's Nob Hill to Tumcumcari: Take an Overnight trip back to the Chrome Cars and Diner Days of the 1950s
Eat: Start the morning with a smothered breakfast burrito or signature sweet roll at proudly casual 1970s throwback Frontier Restaurant, amid its vast collection of art depicting John Wayne. (505) 266-0550; frontierrestaurant.com
Drive: Follow Central Avenue east. Keep on the old road as it travels through the small mountain town of Tijeras (15 miles). Continue on N.M. 333. Route 66 mostly parallels I-40 and often merges with it. Exit I-40 at Santa Rosa (104 miles) to enjoy views of the vintage 66 diners. Continue east on I-40. Eat: Arrive in Tucumcari (57 miles) and stop at Joe's Back N the Day for a classic American homestyle lunch. If you're lucky, Joe's carne adovada will be the day's special. (575) 461-8729; on Facebook
Shop: Tee Pee Curios proudly continues the tradition of Route 66 souvenir shops, featuring a mixture of kooky collectibles and serious art. This is the place to go for a Route 66 purse, vintage saltand- pepper shakers, or signed Navajo horsehair pottery. (575) 461-3773; on Facebook
Stay: Complete the journey at the Blue Swallow Motel. Book the spacious Lillian Redman suite, named for the longtime previous owner, and soak in the clawfoot tub. (575) 461-9849; blueswallowmotel.com