An aerial view of the Valles Caldera National Preserve. Photograph by NMTD.​
Lands Alive
IN THE BEGINNING, THE EARTH WAS without form. Really. Right here in New Mexico. As in no mountains, canyons, mesas, hoodoos, petrified wood, fossils, or volcanoes. "It was pretty boring, actually," says geologist Kirt Kempter. "Through most of our geologic past, New Mexico had a very flat landscape."  
Hard to believe in a state that boasts all of the above features, plus rolling grasslands, sprinklings of hot springs, the Estancia Basin's salt flats, Carlsbad's incredible cave system, and the gypsum dunes of White Sands National Park. Thanks to successive periods of mountain building, erosion, ice ages, and droughts, our 1.8-billion-year-old past today attracts the kinds of people who don't just hunt for rocks but become enraptured by them.  
"You can see the rocks here, and it's such a dramatic landscape," says State Geologist Nelia Dunbar, who leads the Bureau of Geology and Mineral Resources at New Mexico Tech, in Socorro. "Sandía granite rocks are 1.45 billion years old, and they're exposed at the surface. Volcanoes in New Mexico are all over, beautifully exposed, and some of them very young. My absolute favorite landscape in New Mexico is the Valles Caldera, in the Jemez Mountains. The crater is so beautiful, and I would argue that the underlying geology is what makes it so beautiful."  
While we claim this diversity of landscape among our most defining features, credit goes to the Pacific Ocean's Farallon Plate, which rammed into the coast of California around 75 million years ago. Like someone skidding on a throw rug, it buckled the crust of Nevada, then Arizona, and eventually New Mexico, where it pushed the land higher and higher, draining an inland sea and fracturing the earth from north to south along the Río Grande Rift.  
That rifting opened a path for magma, which built up rumbling beasts with explosive bellies. Two Jemez-area eruptions, 1.6 million and 1.2 million years ago, spewed 300 cubic kilometers of still-visible material onto the landscape. (The 1980 Mount St. Helens eruption, in Washington, delivered a mere 1 cubic kilometer.) "In the southwestern part of the state, in the Datil-Mogollon area," Dunbar says, "there were single eruptions that were 1,000 cubic kilometers. There were many big, big eruptions."  
Geologists divide our landscape into five major regions: the Great Plains, in the east; the southern Rocky Mountains, from Colorado to the bottom of the Sangre de Cristos; the Colorado Plateau, in the northwest; the Río Grande Rift; and the Datil-Mogollon volcanic field, in the southwest. Arizona, Utah, and Colorado share many of our attributes, but, says Virgil Lueth, director of the Mineral Museum at New Mexico Tech, we're the new kid on the rock. "We have some of the youngest lava flows in the U.S., not counting Hawaii and Alaska," he says. The McCartys lava flow, which created El Malpais National Monument, near Grants, happened 3,900 years ago. In geologic terms? That's so last year.  
And it's still happening—the crust scrunching and stretching, rivers scouring canyon walls, our tallest mountains rising. Even so, Lueth says, "if you came back a million years from now, you probably wouldn't notice a difference."  
Except for one thing. New Mexico is due for a volcanic eruption, and the Socorro magma body is the likeliest suspect. Kempter, who leads geology tours all over the world, including in New Mexico, can't wait. "Some of us," he says, "are really hoping for an eruption in our lifetimes."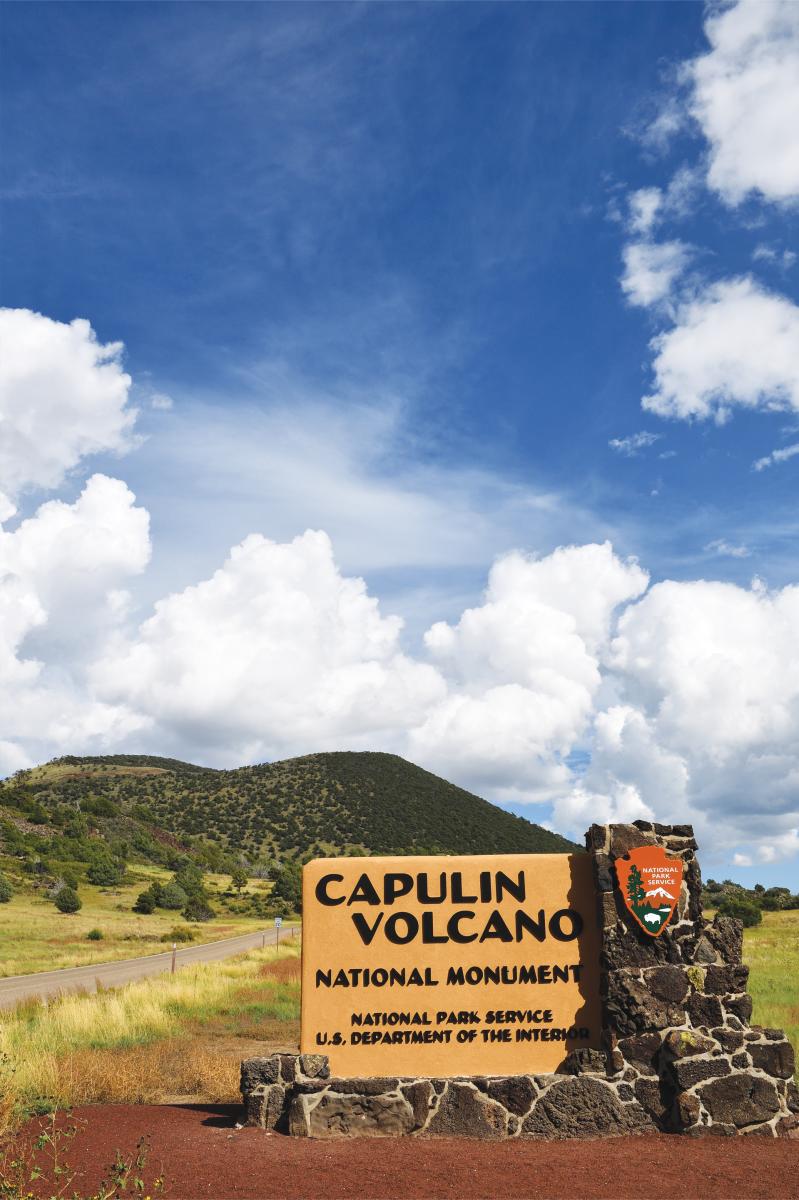 Take a road trip to see Capulin Volcano National Monument just east of Ratón. Photograph by Tim Keller.
Hit the Road 
Capulin Volcano National Monument 
From the 8,200-foot-high rim of this extinct volcano, east of Ratón, you can see the remains of more than 100 volcanoes—a region that 19 tribes consider sacred. "I like to sit there and go back in time, think about the Folsom Man and other ancient humans and ancient animals roaming and the volcanoes going off," says site manager Dale Kissner. 
Bisti/De-Na-Zin Wilderness Area 
The weirdly eroded hoodoos, petrified wood, and fossils of this expanse south of Farmington—once a swamp occupied by dinosaurs and humongous trees—enchants photographers, including Douglas Merriam, who leads occasional workshops there. "At times you think you're on another planet," he says. "Sunrise and sunset cast amazing shadows. You can get close with a wide-angle lens to create a different perspective that accentuates the rock formations or use a long lens to compress them and isolate them against the landscape." 
Carlsbad Caverns National Park  
An inland sea that covered part of New Mexico around 250 million years ago left more than 300 limestone caves in a fossil reef. Solo and guided tours of the park's Big Room are available, and more intrepid cavers can seek backcountry permits. "The entrance of the cave is just beyond belief," says Chad Ingram, CEO of the Carlsbad Chamber of Commerce. "You walk down, the temperature drops, you see how massive it is. It's surreal."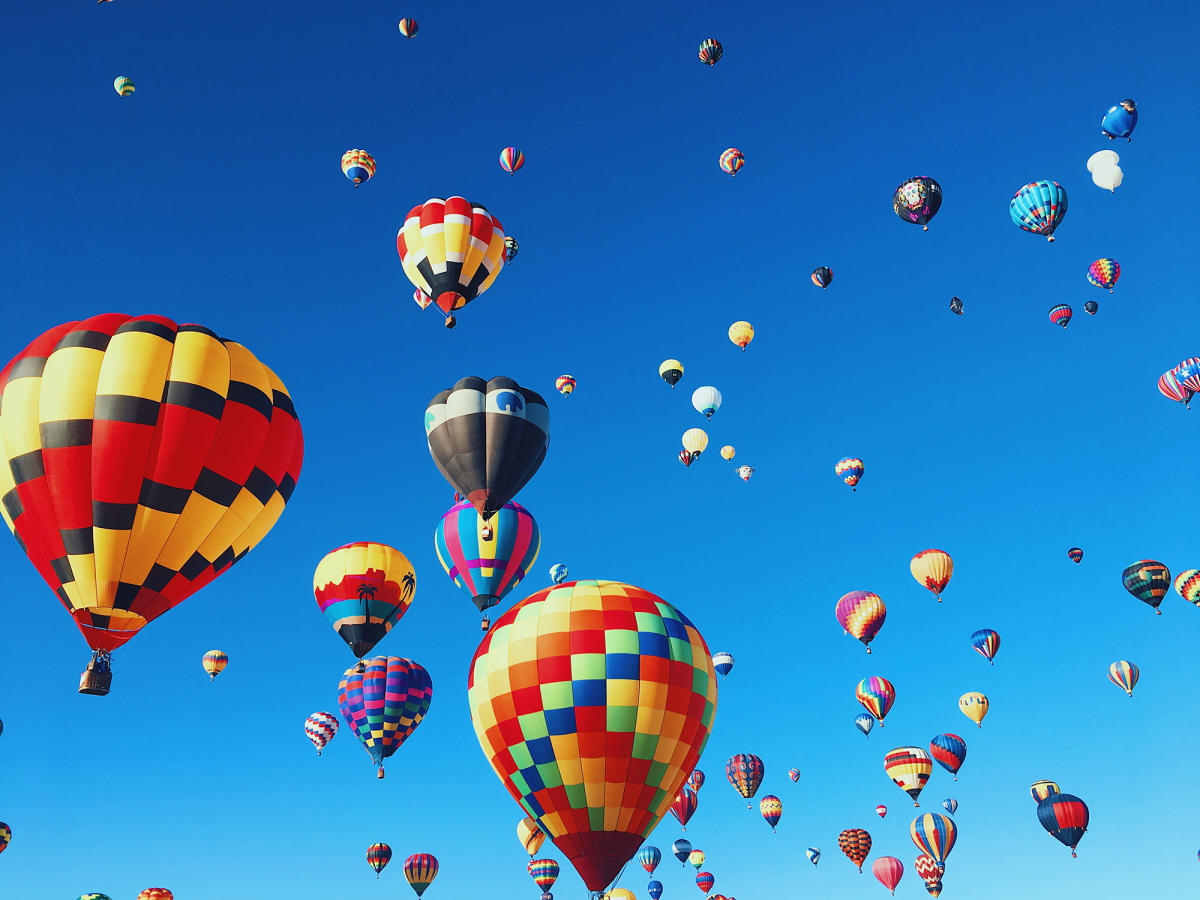 The Albuquerque International Balloon Fiesta is just one way to spot these majestic hot-air balloons in the sky. Photograph by Kyle Hinkson/Unsplash.
Sky High 
A true New Mexico landscape includes the sky—its crystalline turquoise color, its fantastic sunsets, its billowing storms. On a lucky day, you'll spot a few hundred hot-air balloons, too. 
Saddle up in the morning. By afternoon, the winds can knock a horse down. Chris Murray/Unsplash. 
The Best: Wind 
We've all experienced that sideways sensation. Patio furniture flying through the air. Birds at a midair standstill. New Mexico's high elevation breeds springtime winds that can carry mounds of sediment and sculpt sandstone cliffs. Kerry Jones, a meteorologist for the National Weather Service's Albuquerque office, says lengthening days warm the earth enough to interact with high thermals, producing gusts of up to 70 miles per hour in isolated locales. Usually they're in the 20-to-30-mile-per-hour range, he says, but "at higher elevations, it's worse." The east side of the state gets battered earliest, usually in March and April, with the rest of the state witnessing wind power through April and May—at least in the afternoons. "For any outdoor activity, you're better off planning for mornings," he says. "And when the sun sets, the wind machine starts to shut down."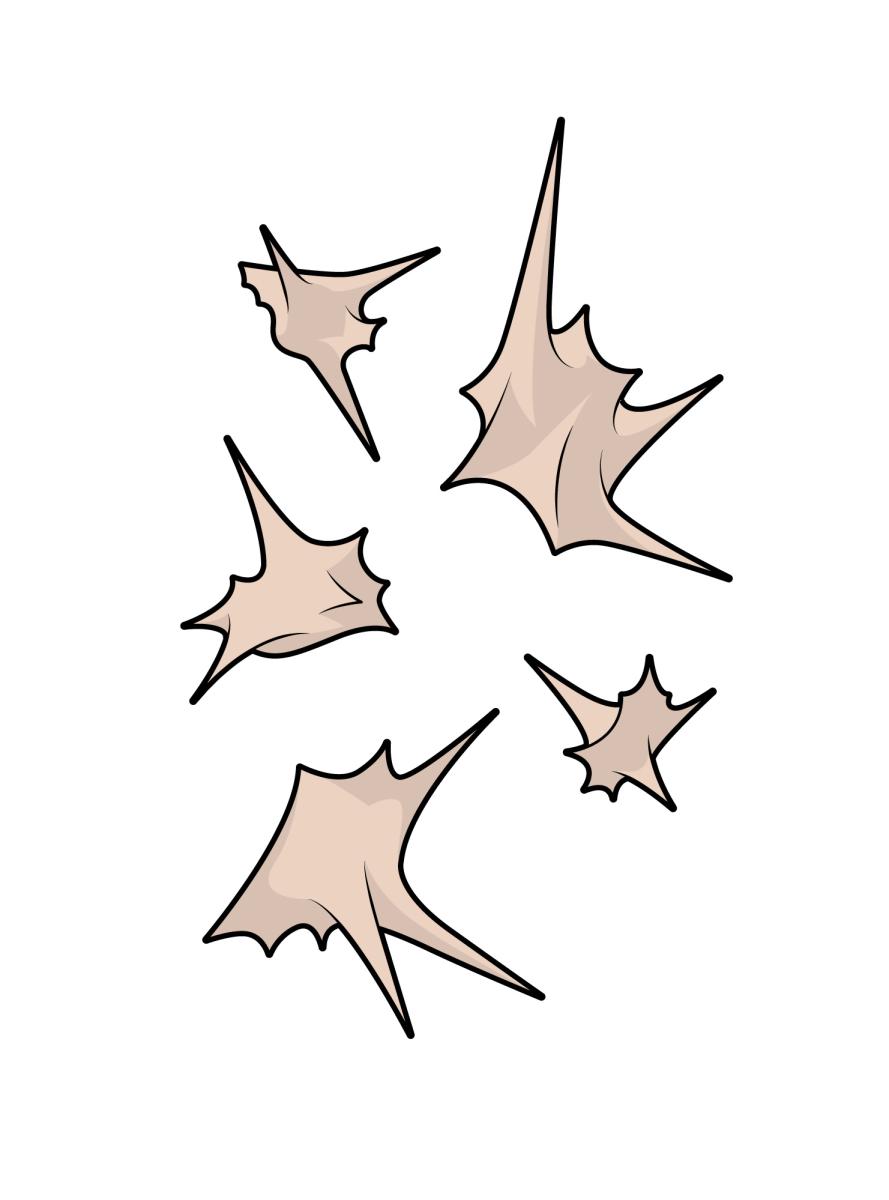 Goatheads can be an unwelcome visitor along any hiking trail. Illustration by Chris Philpot. 
The Worst: Goatheads 
Found across New Mexico, usually under a bicycle tire or bare foot, "goatheads," the seeds of Tribulus terrestris, aka puncture vine, serve as nature's ninja weapon. Each multipronged goathead can deliver the pain equivalent of a glass shard, and they are far, far harder to control. 
---