Above: World-famous Hatch green chiles acquire addictive powers once they are roasted.
THE HATCH VALLEY, south of Truth or Consequences, is considered the Chile Capital of the World. Descendants of chile pioneer Joseph Franzoy and other Hatch pepper buffs offer their favorite home-cooking recipes, just in time for the fall harvest. Most of the dishes that follow call for roasted green chile. For roasting instructions, plus more recipes, go to hatch-green-chile.com.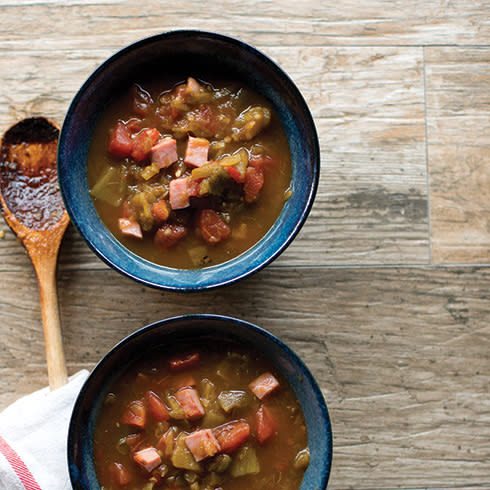 Joe's Green Chile Delight
This recipe by Joe Franzoy—son of Joseph Franzoy, the first commercial chile farmer in the Hatch Valley—won first place in the 1988 Hatch Chile Festival.
Serves 6
1/4 pound ham, cubed
1 tablespoon oil
25 green chiles, roasted, peeled, and chopped
3 jalapeños, peeled and chopped
3 tomatoes, peeled and chopped
1/4 teaspoon cumin
3/4 teaspoon Lawry's Seasoned Salt
3 medium garlic cloves, finely chopped
Sauté ham in the oil in a large saucepan.
Add the rest of the ingredients, bring to a hard boil, and turn off. Serve as desired.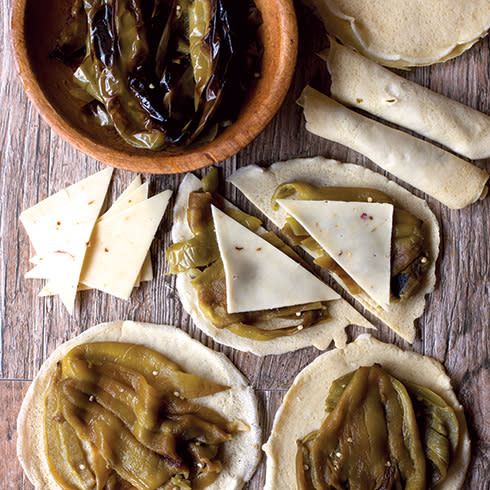 Crepe Olé
Serves 4–5
1 cup flour
2 eggs
1/2 cup half-and-half
1/2 cup water
1/4 teaspoon salt
2 tablespoons melted butter
6 whole green chiles
6 slices pepper jack cheese
In medium-size bowl, beat eggs, then whisk in flour. Gradually add half-and-half and water. Add salt and butter. In a griddle on medium-high heat, add cup batter. Tilt pan in circular motion and swirl so batter is even. Flip to other side.
When six crepes are done, lay them on a cutting board. Place green chile in the middle of each crepe and cut crepe and chile in two. Place a half slice of pepper jack cheese on each before rolling up crepe.
Makes 12 snacks that can be served cold with hummus, sour cream, or spreadable cheese. They can also be left whole and heated, like chiles rellenos.
Recipe by Claudette Ortiz Franzoy, wife of James Franzoy, Joseph Franzoy's grandson.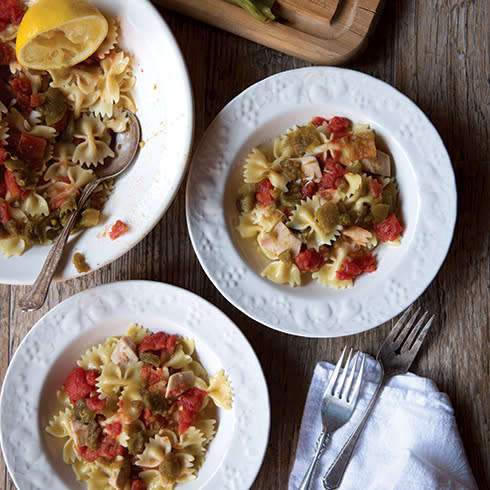 Elaine's Green Chile Pasta
Serves 6–8
16 ounces farfalle pasta
1 lemon
2 diced tomatoes
2 cups diced green chile
2 chicken breasts, cooked and diced
1 cup fresh mozzarella cheese
Boil water and cook pasta to al dente. Drain.
Season chicken with salt and pepper and sauté in a medium-size skillet until heated through.
Add pasta, diced tomato, and green chile to the skillet. When the mixture is warm, squeeze a lemon over the ingredients and sprinkle with cheese. Serve hot or cold.
Recipe by Elaine Mitchell, co-owner of the Hatch Chile Store and wife of Preston Mitchell, Joseph Franzoy's great-great-grandson.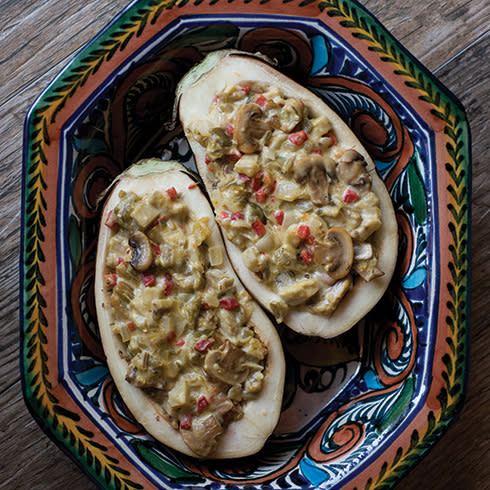 Stuffed Eggplant with Green Chile
Serves 4
1 medium to large eggplant
3/4 cup sliced mushrooms
2 tablespoons chopped onion
3 tablespoons green chile, roasted, peeled, and chopped
1 clove garlic, minced
2 tablespoons flour
1 teaspoon salt
1/8 teaspoon pepper
1/2 cup cream
3 tablespoons pimiento, chopped
2 tablespoons butter or margarine
1 cup Colby cheese, grated
Heat oven to 350º F. Cut out inside of eggplant, leaving shell. Remove eggplant pulp and cut into cubes. Cook in salted boiling water for 10 minutes.
While eggplant is cooking, sauté mushrooms, onion, chile, and garlic in butter or margarine. Stir in flour, salt, and pepper. Add well-drained eggplant, cream, and pimiento.
Fill eggplant shell with the mixture. Top with cheese. Bake for about 25–30 minutes, until cheese is melted.
Recipe by Patsy Ogaz Trujillo, daughter of Adrian Ogaz, a cotton and chile farmer in Hatch.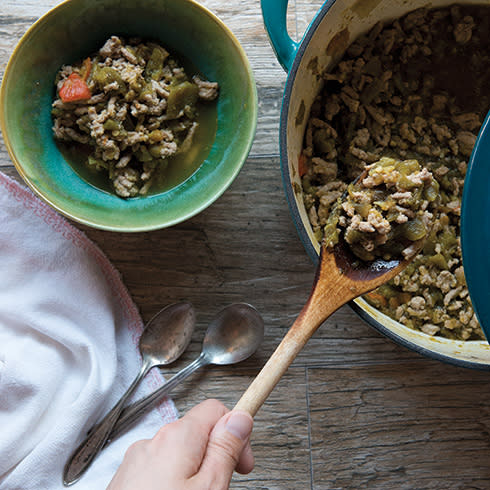 Green Chile Stew
Serves 8–10
2 pounds ground turkey
1 teaspoon salt
1 teaspoon garlic powder
1 teaspoon cumin
2 cups green chile, roasted, peeled, and chopped
Sear turkey in a hot skillet, then transfer to a Crock-Pot. Add the green chile, salt, garlic powder, and cumin.
Cover with lid and simmer for 2 hours or until meat is tender.
Recipe by Ozena Franzoy, wife of Marty Franzoy, Joseph Franzoy's great-grandson.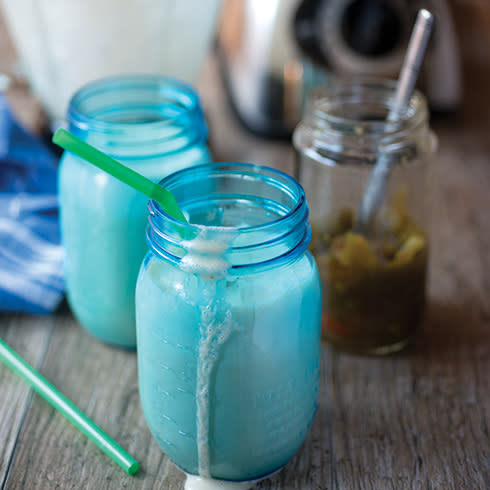 Sparky's Green Chile Milkshake
Serves 1–2
20 ounces soft-serve ice cream (or substitute regular ice cream, slightly softened)
1/4 cup green chile, roasted, peeled, and chopped.
Whip ingredients in a blender until combined.
Recipe by Josie and Teako Nunn, owners of Sparky's restaurant in Hatch.
—Deborah Busemeyer wrote about the future of the Hatch chile scene in Hatch. The Next Generation