Above: Tractor Brewing has four locations throughout Albuquerque, including it's Wells Park Taproom. Photographs by Douglas Merriam.
ONE OF MY FIRST JOBS after college was at a brewery. I was a mere "runner"—the guy who delivered food to tables. But after each shift, I'd sit down with beer makers and regulars and have a pint of something delicious made right there in the back. The brewers all looked like lumberjacks—mostly large men with bushy beards and flannels. They were like gods to me then. They told us about their science and new brews. It felt like a club.
That was in 2008, when the U.S. had about 1,500 craft breweries. Now we have 7,500. In New Mexico, the number has more than doubled in the past six years, to 88. The upshot? Beer is way better now.
It's not just more accessible; it's more fun, too. Ten years ago, pretty much every brewery made a lager, a pale ale, an IPA, and a stout; that was about it. There wasn't even much variation within those categories. Now the boundaries of beer have exploded. We have sours, hazies, goses, Bretts, gluten-frees, saisons, brut IPAs, kombucha beer, and fruits and spices pushing the spectrum of flavors and color profiles. The Great American Beer Festival has added some 25 categories in the past 10 years. There has never been a better time to be a beer drinker, and more and more people are drinking beer for that reason.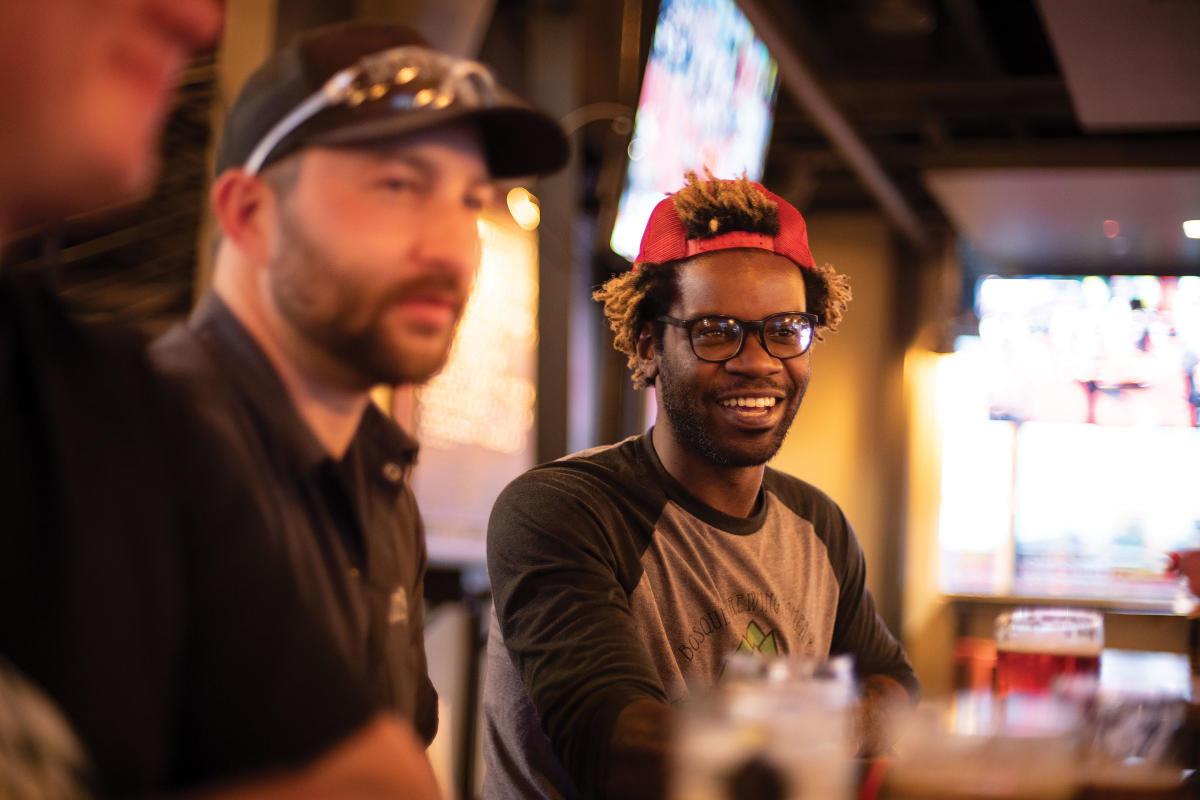 Above: Bosque Brewing North in Bernallio.
Of course, craft beer is about way more than malt and hops. It's not about elitism or a good buzz, either. Craft beer is community. By buying local brews, you're supporting your neighbors and the area's economy, and fostering a safe space for people to gather and share. That's an activity as ancient as civilization—and essential to humanity. So go ahead: Take a seat, say hello, and order a pint.
Welcome to the club. —John Clary Davies
---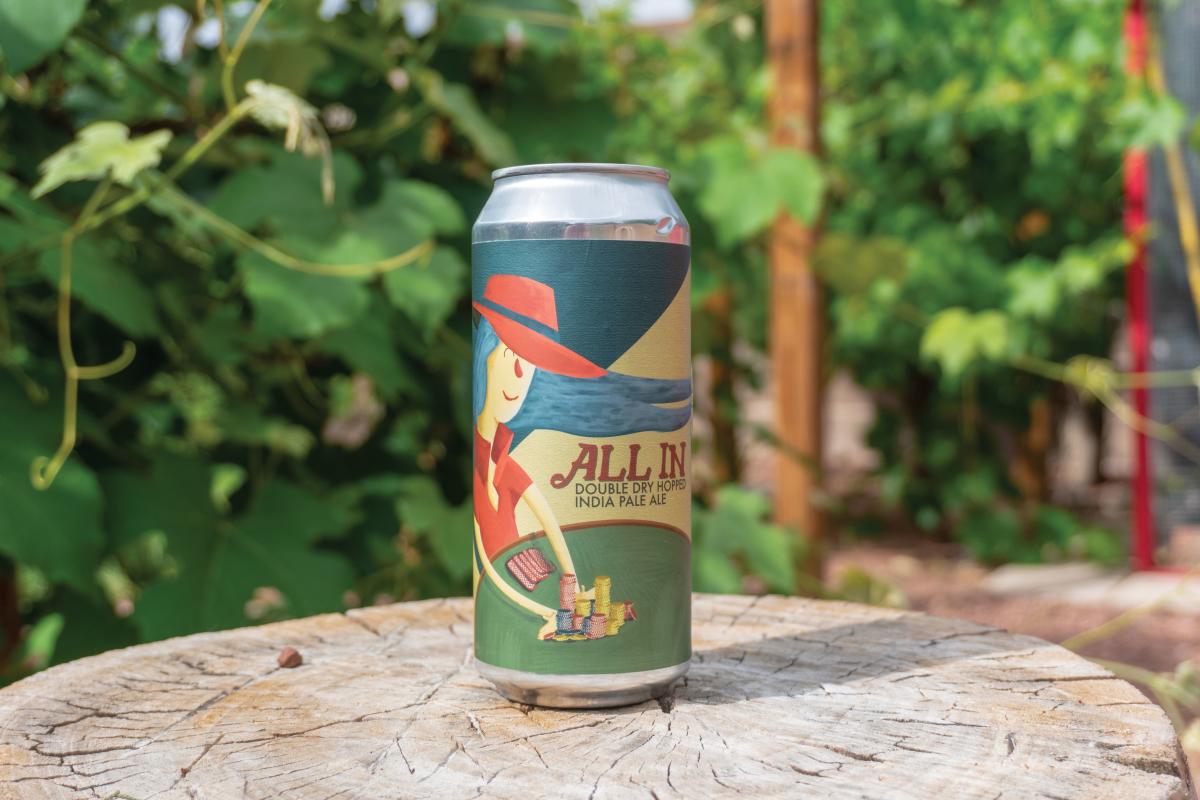 Above: All In IPA from La Cumbre Brewing. Photograph Courtesy of La Cumbre Brewing.
THE BEER ARTISTS CHALLENGING THE STATUS QUO
Cory Campbell's canvas is the 4.8-by-8-inch sticker label on La Cumbre Brewery's seasonal pint cans.
By John Clary Davies
STARTED IN 2010 by Jeff Erway, La Cumbre Brewing has established itself as the creative, quirky member of Albuquerque's beer scene. That and the local leader of the hazy IPA trend—the juicy, hoppy flavor bombs that are the latest craze.  Those two concepts came together in their recent Single Double series, in which they produced three single-hop, double hazy IPAs, called Big Door Prize, In the Money, and Luck of the Draw. The fourth, All In, combined the hops used in all three. The beer was delicious. But it was the whimsical, playful art on the cans that first caught my eye. That's Cory Campbell, an Albuquerque-raised artist who is the brewery's creative director. His mission? To distinguish the brand through art.
I think the artists are the tastemakers in a society. It's always a good idea to have them on your side.
As with anything, we had to learn how to do hazies. We did a collab with Modern Times [the San Diego brewery that is a national leader in creative cans and hazies] in 2017. It was only released here. Eighty cases sold out in an hour. It was just like, "Okay, this is something we need to do." We learned a lot from that.
Modern Times has the coolest cans. I really look up to them. That's the power of their design and branding. You can look at a can and say, "Oh, I know that's a Modern Times beer," and so that's what we're trying to do—embracing the quirkiness of our brewery and our staff and hopefully you can look at our can and say, "That beer looks funky, it's probably a La Cumbre."
We've never just taken the standard approach to what a can should look like. It should have your logo here and the style here, which has been detrimental and really, really great. It's so much easier to market a beer that's simple, plain, and clean, but embracing that quirk and creativity is what we've had to learn to do over the years.
Read more: The Story of the Southwest through Beer
I'm a hobbyist artist. In my free time, I paint. I do plein air painting—set up the easel outside, wear a sun hat. It's dorky but fun.
I actually take a lot of inspiration from the world of fine art.
I really like Monty Singer. He's an awesome plein air painter. Whenever I see people like that—Emily Lee is another plein air painter—I think, That's something I aspire to do. No rules—just do it.
Beer has always been important in society. If you believe some historians, they'll say the only reason we have society is because of beer. We kind of lost that for a while, and now it's back in a big way. There's a brewery on every corner, and that used to be the case. The pubs were the meeting places. The American Revolution was started in a pub. I think they've come back and taken over that role because church attendance is down, nobody joins the Kiwanis Club anymore, nobody is a Shriner, so these traditional meeting places are not really around. And if you come here on a Friday night, it's businessmen after work having a beer and families with kids running around and it's single guys trying to hit on girls at the bar. It's this hub, this meeting place, and I believe that's why these breweries and the whole brewpub revolution happened—because people needed a meeting place and we just happened to be there to fill that void. It's a basic human need to feel like you belong in a place. It's Cheers, right? And we totally have regulars who come in and it's like "Norm!" It's a sense of community that each one of our brewpubs has cultivated.
---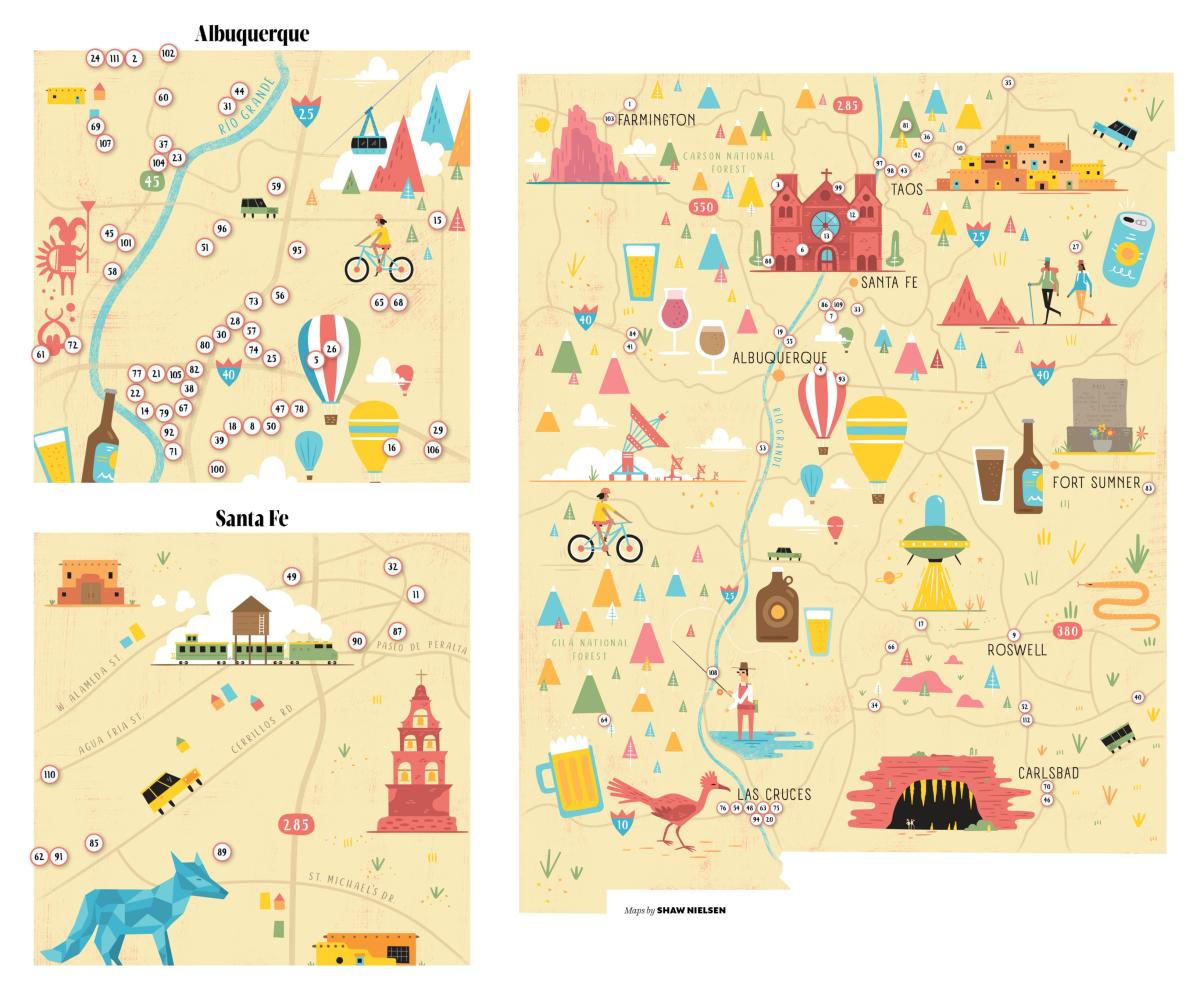 BEER MAP
New Mexico has 88 breweries with 111 taprooms. At least 16 more are on the way.
550 Brewing, Aztec
1933 Brewing, Rio Rancho
Abbey Brewing (no taproom location; distribution throughout New Mexico)
Ale Republic, Cedar Crest
Alien Brewpub, Albuquerque
Bathtub Row Brewing Co-op, Los Alamos
Beer Creek Brewing, Santa Fe
Bistronomy B2B Craft Brewery, Albuquerque
Black Cock Brewery, Roswell
Blü Dragonfly Brewing, Cimarrón
Blue Corn Café, Santa Fe
Blue Heron Brewing, Embudo
Blue Heron Brewing, Española
Boese Bros Brewery, Albuquerque, Downtown
Boese Bros Brewery, Albuquerque, NE Heights
Bombs Away Beer Company, Albuquerque
Bonito Valley Brewing, Lincoln
Bosque Brewing, Albuquerque, Nob Hill
Bosque Brewing, Bernalillo
Bosque Brewing, Las Cruces
Bow & Arrow Brewing, Albuquerque
Boxing Bear Brewing, Albuquerque
Boxing Bear Brewing, Corrales
Brew Lab 101, Rio Rancho
Broken Trail Spirits & Brew, Albuquerque, Green Jeans
Broken Trail Spirits & Brew, Albuquerque, Uptown
Callahan West Brewery, Mosquero
Canteen Brewhouse, Albuquerque, Aztec NE
Canteen Brewhouse, Albuquerque, Tramway
Cantero Brewing, Albuquerque
Casa Vieja Brewing, Corrales
Chili Line Brewing, Santa Fe
Chili Line Brewing, Lamy
Cloudcroft Brewing, Cloudcroft
Colfax Ale Cellar, Ratón
Comanche Creek Brewing, Eagle Nest
Desert Valley Brewing, Albuquerque
Dialogue Brewing, Albuquerque
Differential Brewing, Albuquerque
Drylands Brewing, Lovington
Elkins Brewing, Grants
Enchanted Circle Brewing, Angel Fire
Eske's Brew Pub, Taos
Ex Novo, Corrales
Flix Brewhouse, Albuquerque
Guadalupe Mountain Brewing, Carlsbad
High and Dry Brewing, Albuquerque
High Desert Brewing, Las Cruces
Honeymoon Brewery, Santa Fe
Hops Brewery, Albuquerque, Nob Hill
Hops Brewery, Los Ranchos de Albuquerque
Hopscotch Brewing, Artesia
Hub City Brewing, Belén
Icebox Brewing, Las Cruces
Kaktus Brewing, Bernalillo
Kilt Check Brewing, Albuquerque
La Cumbre Brewing, Albuquerque, Girard
La Cumbre Brewing, Albuquerque, West Side
La Reforma, Albuquerque
Las Cazuelas Brewing, Rio Rancho
Lava Rock Brewing, Albuquerque
Leaf & Hive, Santa Fe
Little Toad Creek Brewery & Distillery, Las Cruces
Little Toad Creek Brewery & Distillery, Silver City
Lizard Tail Brewing, Albuquerque
Lost Hiker Brewing, Ruidoso Downs
Marble Brewery, Albuquerque, Downtown
Marble Brewery, Albuquerque, NE Heights
Marble Brewery, Albuquerque, West Side
Milton's Brewing, Carlsbad
Nexus Brewery, Albuquerque, Broadway
Nexus Brewery, Albuquerque, Coors
Nexus Brewery, Albuquerque, Pan American
Palmer Brewery and Cider House, Albuquerque
Pecan Grill & Brewery, Las Cruces
Picacho Peak Brewing Company, Las Cruces
Ponderosa Brewing, Albuquerque
Quarter Celtic Brewpub, Albuquerque
Red Door Brewing, Albuquerque, Gold
Red Door Brewing, Albuquerque, Candelaria
Red River Brewing, Red River
Rio Bravo Brewing, Albuquerque
Roosevelt Brewing, Portales
Route 66 Junkyard Brewery, Grants
Rowley Farmhouse Ales, Santa Fe
Santa Fe Brewing, Santa Fe, I-25
Santa Fe Brewing, Santa Fe, Galisteo
Second Alarm Brewhouse, Jemez Springs
Second Street Brewery, Santa Fe, 2nd
Second Street Brewery, Santa Fe, Railyard
Second Street Brewery, Santa Fe, Rufina
Sidetrack Brewing Company, Albuquerque
Sierra Blanca Brewing, Moriarty
Spotted Dog Brewery, Las Cruces
Starr Brothers Brewing, Albuquerque
Steel Bender Brewyard, Los Ranchos de Albuquerque
Taos Mesa Brewing, El Prado
Taos Mesa Brewing, Taos
Taos Trail Inn Brewery, Ojo Caliente
The 377 Brewery, Albuquerque
The Blue Grasshopper Brew Pub, Albuquerque
The Blue Grasshopper Brew Pub, Rio Rancho
Three Rivers Brewhouse, Farmington
Toltec Brewing, Albuquerque
Tractor Brewing, Albuquerque, Wells Park
Tractor Brewing, Albuquerque, Four Hills
Tractor Brewing, Albuquerque, West Side
Truth or Consequences Brewing, Truth or Consequences
Tumbleroot Brewery and Distillery, Santa Fe, Bisbee
Tumbleroot Brewery and Distillery, Santa Fe, Agua Fria
Turtle Mountain Brewing, Rio Rancho
Wellhead Brewpub, Artesia 
---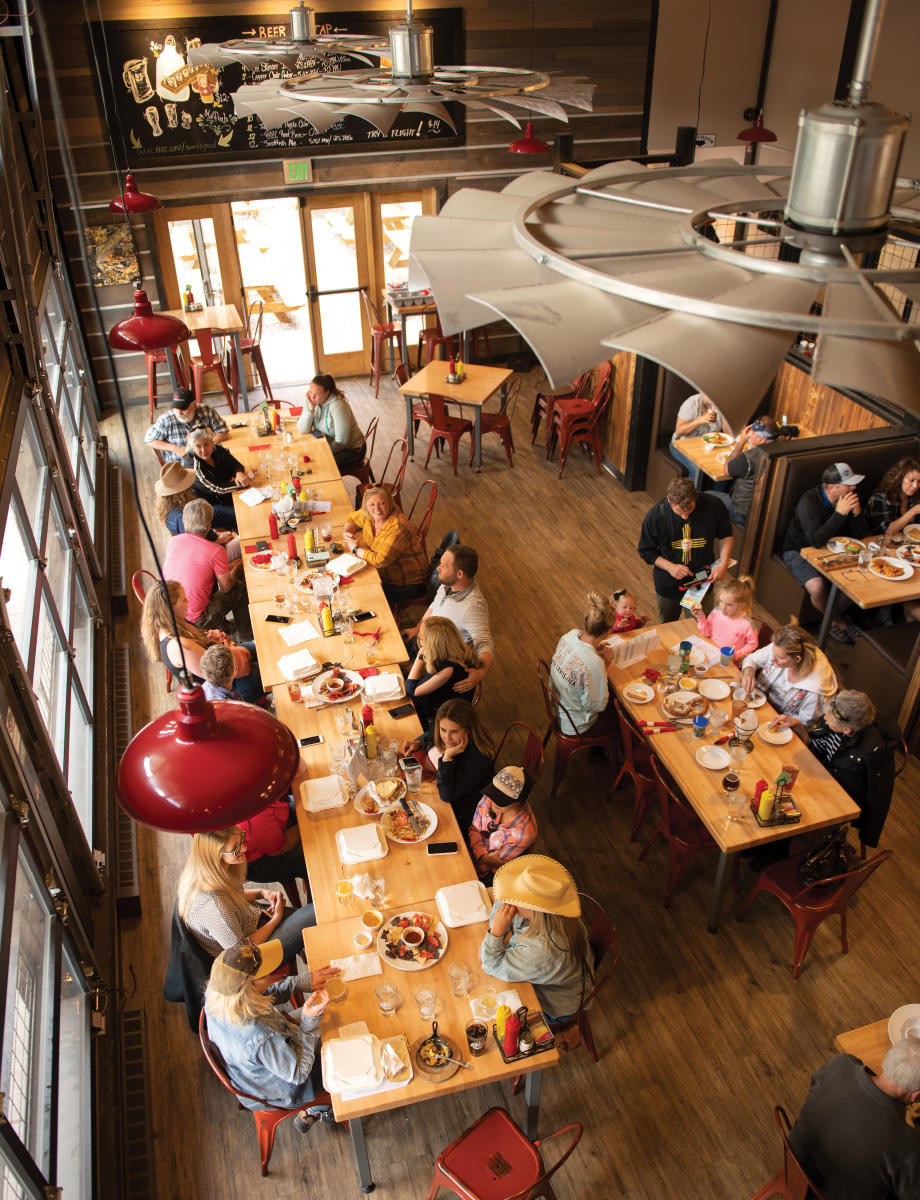 Above: Red River Brewing Taproom in Red River.
HOPPED UP
Native New Mexican hops, called neomexicanus, are coming to a brewery near you.
By Ty Bannerman
ON A SMALL FARM in the town of Los Ranchos de Albuquerque, a wet year has led to an early emergence of one of New Mexico's newest crops. Everywhere I look, hop vines creep up on string trellises, their narrow, lobed leaves unfurling. The hop flowers, green and aromatic and bursting with the flavors that give beers their bitterness and IPAs their piney scent, have not yet bloomed, but farmer Tom Brewer expects a bumper harvest this year. He leans over and lifts the leaves of one of the plants. "This a neo," he says. "You can usually tell by the five lobed leaves. They're very happy this year."
The Humulus lupulus var. neomexicanus subspecies of hops has always grown wild in the American Southwest, but it wasn't suitable for beer-making in its natural state. In the 1990s, New Mexico herb forager Todd Bates selectively bred the neomexicanus into a family of brewing-hop varieties with names like Multihead, Neo1, Willow Creek, and Amalia—each with a unique flavor profile.
It took a few decades, but these New Mexico–cultivated hops are seeping into the mainstream craft beer movement. In 2014, Sierra Nevada Brewing, a California company, released Harvest Wild Hop IPA, the very first commercial brew to feature a variety of neomexicanus. Brewers across the country took note, and two New Mexico companies, Santa Fe Brewing and Abbey Brewing, began farming the hops for their beers.
In 2016, Brewer, a military veteran and former Intel employee, found himself at a crossroads. "I was going through some life changes. Retired from the military, got a divorce, and my kids were grown up and out of the house," he tells me over a pint at a bar near his farm. "I've always liked growing things, and I'm a craft beer fan." Although he had no experience as a commercial farmer, hops seemed like a natural fit, and, unlike Santa Fe and Abbey brewing companies, he saw an opportunity to farm the crop as a venture unto itself.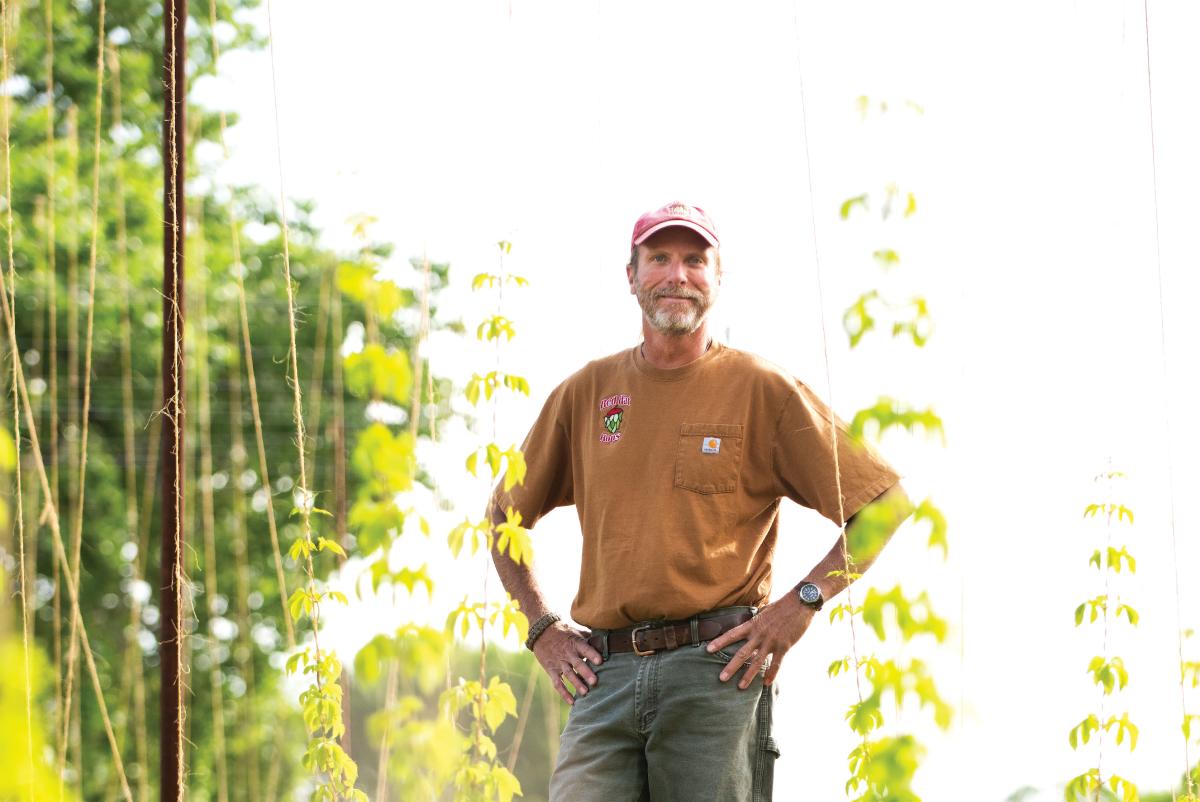 Above: Tom Brewer.
"It turned out that there were three or four other farmers in New Mexico that were looking into hops at the same time," Brewer says. He linked up with them, and they worked to get their nascent industry off the ground. The result was a sudden flowering of hop farms, including Brewer's Red Hat Hops, Cerrillos' Crossed Sabers Hop, Pecos' Sherrog Hops, Alcones' White Crow Hops, and Belen's Stone Lizard Hops, as well as the New Mexico Hops Growers Association, of which Brewer is president.
"We help each other, share information," Brewer says. "There's no competition."
Brewer says it takes hops about three years to become established as a viable crop. With luck, 2019's harvest might become widely available to both commercial and home brewers.
Bob Haggerty, head brewer at Steel Bender Brewyard, also in Los Ranchos de Albuquerque, is one of the local beer makers who's excited at what this year's crops may bring. "I hope to be using some neomexicanus by August," he says.
Haggerty has already experimented with neomexicanus hops, some of which came from Brewer's farm. Last autumn, he used fresh Multihead in Steel Bender's signature New Mexico Lager. "I thought that the Multihead was the most interesting I've ever smelled," he says. "It smelled like breaking into a fresh, ripe melon. Straight-up honeydew. Sweet and fruity." Customers seemed just as excited: The lager made with the Multihead was gone within a day.
Read more: Get your Beer Yoga on!
That instant demand was fortuitous, Brewer says, because, as of now, the infant New Mexico hop farms don't have the means to preserve the hops they grow. While growers await the development of infrastructure that will let them pelletize for years of storage, brewers interested in their crops have to use the whole hop flower, fresh off the vine.
The upside, says Haggerty, is that "whole-flower hops have the benefit of not being crushed or manipulated in any way, so you have all the flavor. The downfall is that a bale of fresh hops starts degrading as soon as it's picked."
For now, that means that New Mexico–grown neomexicanus will be a strictly seasonal treat, available soon after harvest at local breweries for a limited time in late autumn. Haggerty recognizes this as a necessary stage of growth for the industry. "They're doing everything they can to get a product that brewers can use," he says. "If brewers are willing to spend a few extra bucks on locally grown ingredients, we can start boosting up the producers of these ingredients and get a cottage industry here."
He intends to be a part of that shift. "We need some more little fish to start growing," Haggerty says. "I'll use every New Mexico–grown hop I can get my hands on."
---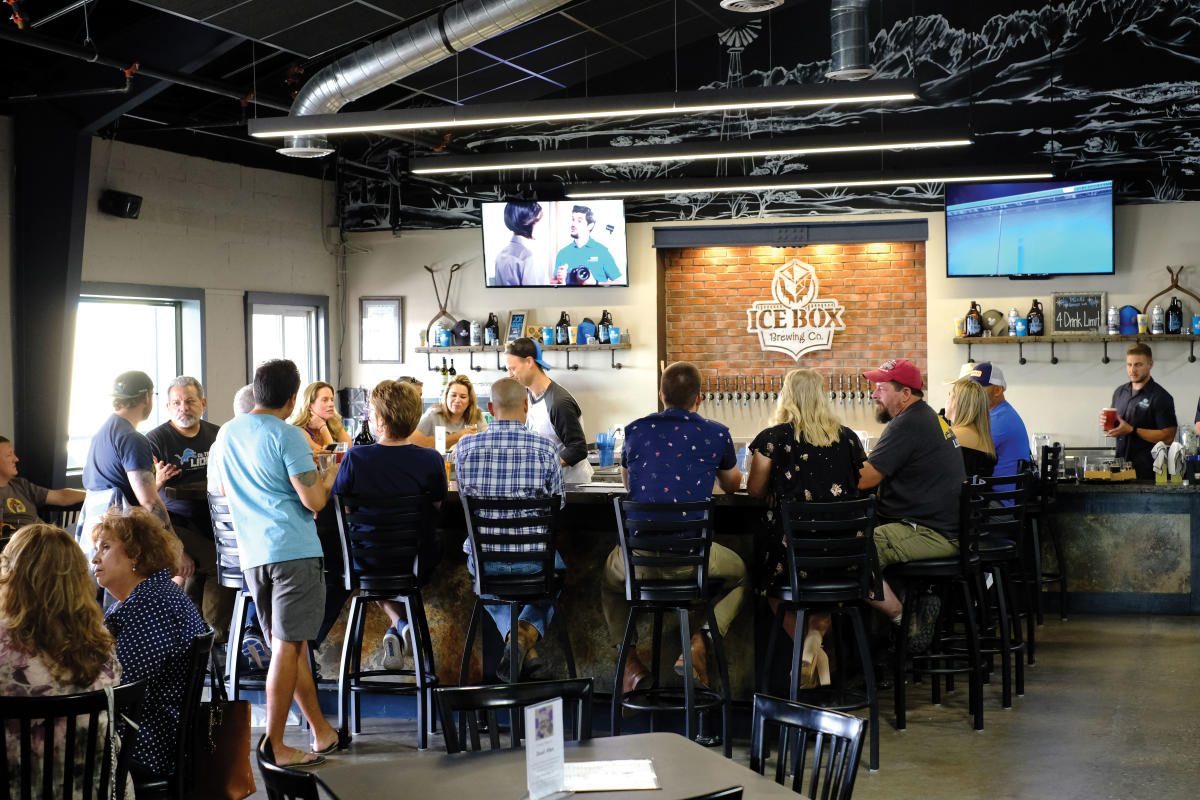 Above: Icebox Brewery in Las Cruces.
THE NEW GUYS
New Mexico craft beer is still growing.
By Chris Jackson
ONE OF THESE YEARS, New Mexico is going to finally reach its limit of craft breweries. That year wasn't 2018, and it won't be 2019, either. Even so, we have more than seven dozen breweries in operation, ranging from Three Rivers, in Farmington, to Drylands, in Lovington, and from Little Toad Creek, in Silver City, to Colfax Ale Cellar, in Ratón. The middle of the state boasts 40-plus breweries in the Albuquerque–Santa Fe corridor.
Some operate as tiny one-barrel brewhouses, whereas Santa Fe Brewing churns out 30,000 barrels of beer a year. Big or small, rural or urban, craft brewing is a booming business in New Mexico. Here are just a few of the breweries opened in the past year, or opening this year, that cry out for a visit.
ICEBOX BREWING, LAS CRUCES
Why you should go: The newest brewery in Las Cruces has only been open since January, but it has already built a strong local fan base. The decor of the remodeled ice plant (hence the name) is top-notch, with local artistic flourishes complementing the industrial chic. Icebox operates as an open brewery, with patrons able to watch the entire process from the spacious seating area. There is a large bar up front, a covered patio outside, and just enough TVs on the walls to keep the sports fans happy without morphing into a full sports bar. All of the beers have clever cold/ice-themed names, with most checking in lower in ABV and IBU than Albuquerque/Santa Fe offerings, because that's what the locals crave. 
Beer to try: Shivering Scotsman is a malty, lightly smoked Scottish ale you can chew on while enjoying the wide-open brewery.
LOST HIKER BREWING, RUIDOSO DOWNS
Why you should go: Tucked away in a small industrial area right near the horse-racing track, Lost Hiker is quickly making a name for itself despite its small size. It opened last February in a former warehouse that the owners converted into a proper beer-and-music venue. The metallic walls shimmer as a slew of local and traveling musicians set up on the small stage inside. The beers shift with the seasons, but do take note that Lost Hiker topped the field at the New Mexico Brewers Guild's Stout Invitational, in Los Alamos, this year, but whether it's dark or light, malty or hoppy, everything on the menu is worth sampling.
Beer to try: Mosaic SMASH Pale Ale, a single-malt, single-hop ale, takes advantage of its sweet, flowery hop to provide a much more pleasant palate experience than its more aggressively hopped cousins.
CLOUDCROFT BREWING, CLOUDCROFT
Why you should go: Another excellent place to beat the heat, Cloudcroft Brewing has the look and feel of a classic mountain lodge, with a modern beer lineup. Huge logs make up the building's frames and posts, while massive rock walls keep out the summer heat as well as the winter cold. Grab a slice of wood-fired pizza and take a seat at the lengthy bar or at a table near the windows. On pleasant days, bands occupy the sizable covered outdoor stage. Open since June 2018, Cloudcroft Brewing has a beer menu similar to what you would find in Las Cruces; Texas tourists flock here, too. Enjoy a sessionable pint or two while you listen to wind blow through the pine trees outside.
Beer to try: Dark Irish Red, a blood-red malt bomb likely to conjure tales of Vikings vs. Celts from Amon Amarth's legendary album With Oden on Our Side. It's also, um, really tasty.
BREW LAB 101, RIO RANCHO
Why you should go: By the time you read this, the newest Rio Rancho brewery might be open. There in the former House of Football (just west of Turtle Mountain Brewing), owner/brewer Scott Salvas aims to celebrate the history and science of beer, providing a unique educational setting for patrons. There will be a kids' area for all the families who inhabit the west side, plus a patio out front to watch the sunset reflecting off the Sandías. Befitting any good lab, it will have a few regular beers and ciders on tap, plus a rotating lineup of experimental styles.
Beer to try: Too soon to say.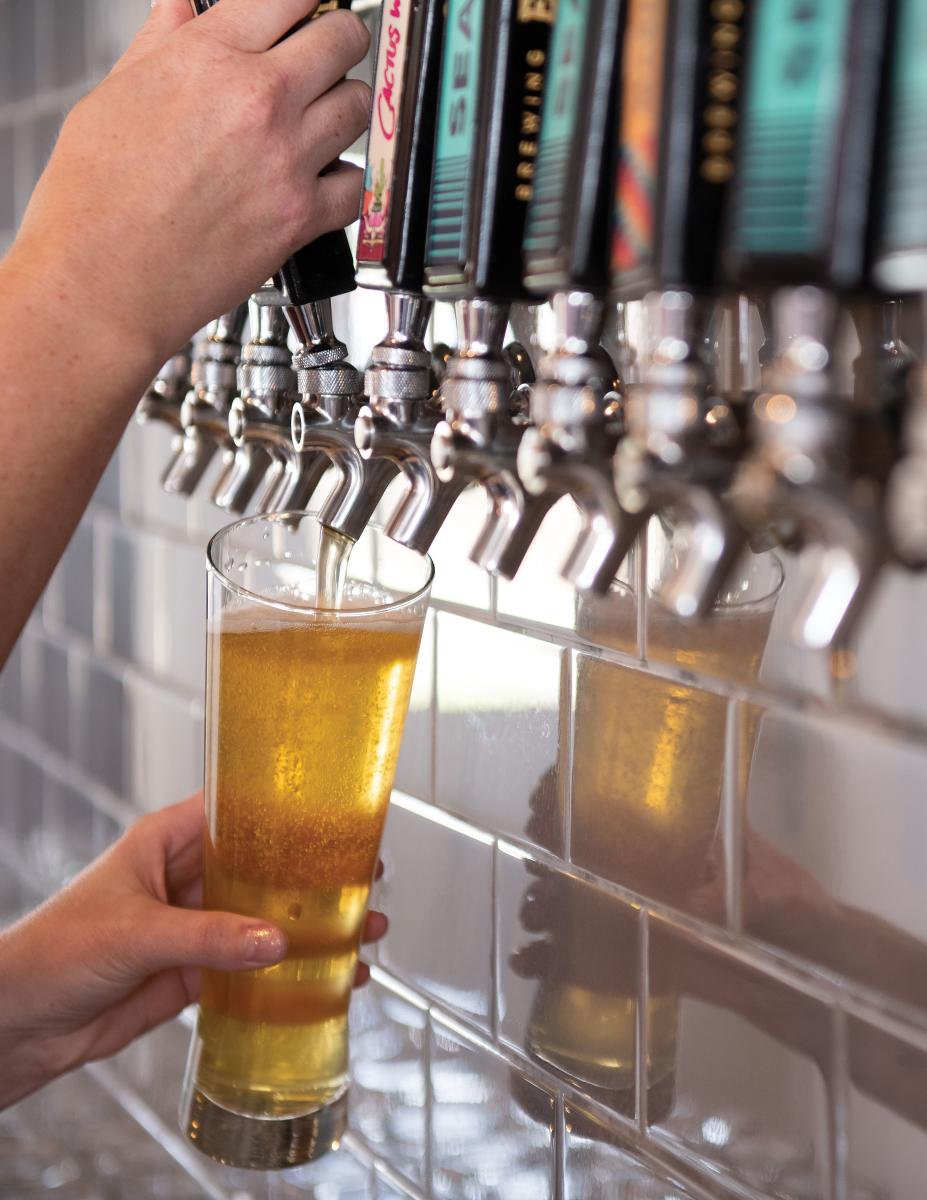 Above: Taps at Ex Novo Brewery in Corrales.
CANTERO BREWING, ALBUQUERQUE
Why you should go: Cantero has found its niche in the downtown brewery district, thanks to its full kitchen and some fun, inventive beers. Operating off a 10-barrel brewhouse for its year-round lineup, as well as a smaller one-barrel system, Cantero can keep the regulars happy while also crafting some truly off-the-wall styles. The bright, spacious interior is a welcome break from the darker industrial vibe in the area. The menu, a mix of American and New Mexican dishes, incorporates some of the beer styles into the recipes. A small stage area hosts mainly acoustic musicians, comedians, and other entertainers on the weekends.
Beer to try: Deaf Dog Brown, a creamy ale with chocolate hints. Also check out whatever is on offer from the rotating beers out of the small experimental-batch brewhouse.
DIFFERENTIAL BREWING, ALBUQUERQUE
Why you should go: A no-frills throwback to the breweries of a decade ago, Differential is the creation of a team of "reformed" punk rockers. A converted auto repair shop has been completely transformed, while retaining some of its throwback decor. There's a free pool table in one corner, and the music is a 1990s–2000s rock/punk/metal/hip-hop mash-up not usually found at breweries. The patio out back is spacious, and there is almost always a food truck parked out there to keep patrons happy. The owners built this space to serve their neighborhood, with UNM just up the road and major sports facilities nearby. Brewer Peter Moore's lineup of lagers and ales all stick to the lower ABV range, so patrons can enjoy more than one pint without worrying about stumbling out the door.
Beer to try: Blue Corn Cream Ale, a light, refreshing summer patio beer made with locally sourced blue corn. There are also occasional red corn and white corn beers.
EX NOVO BREWING, CORRALES
Why you should go: Opened in late May, this massive facility is nestled in the heart of the village of Corrales. Owner Joel Gregory grew up nearby, but his travels took him to Portland, Oregon, where he built the first Ex Novo to considerable acclaim—this in a town nicknamed Beervana. Now he has come home and built a production facility to package his beer and sell it in cans and limited-release bottles throughout the region. Stage one of the development features a small, cozy taproom a short walk from the brewery, with a sizable outdoor patio. Future plans include a restaurant and beer garden, but for now you can enjoy this charming space in what's been called the safest town in New Mexico. Head brewer Dave Chichura, formerly of powerhouse craft breweries Oskar Blues and Melvin, will bring beer styles from Portland while also serving up some new genres geared to the New Mexico market.
Beer to try: Mass Ascension IPA was brewed and packaged specifically for this market.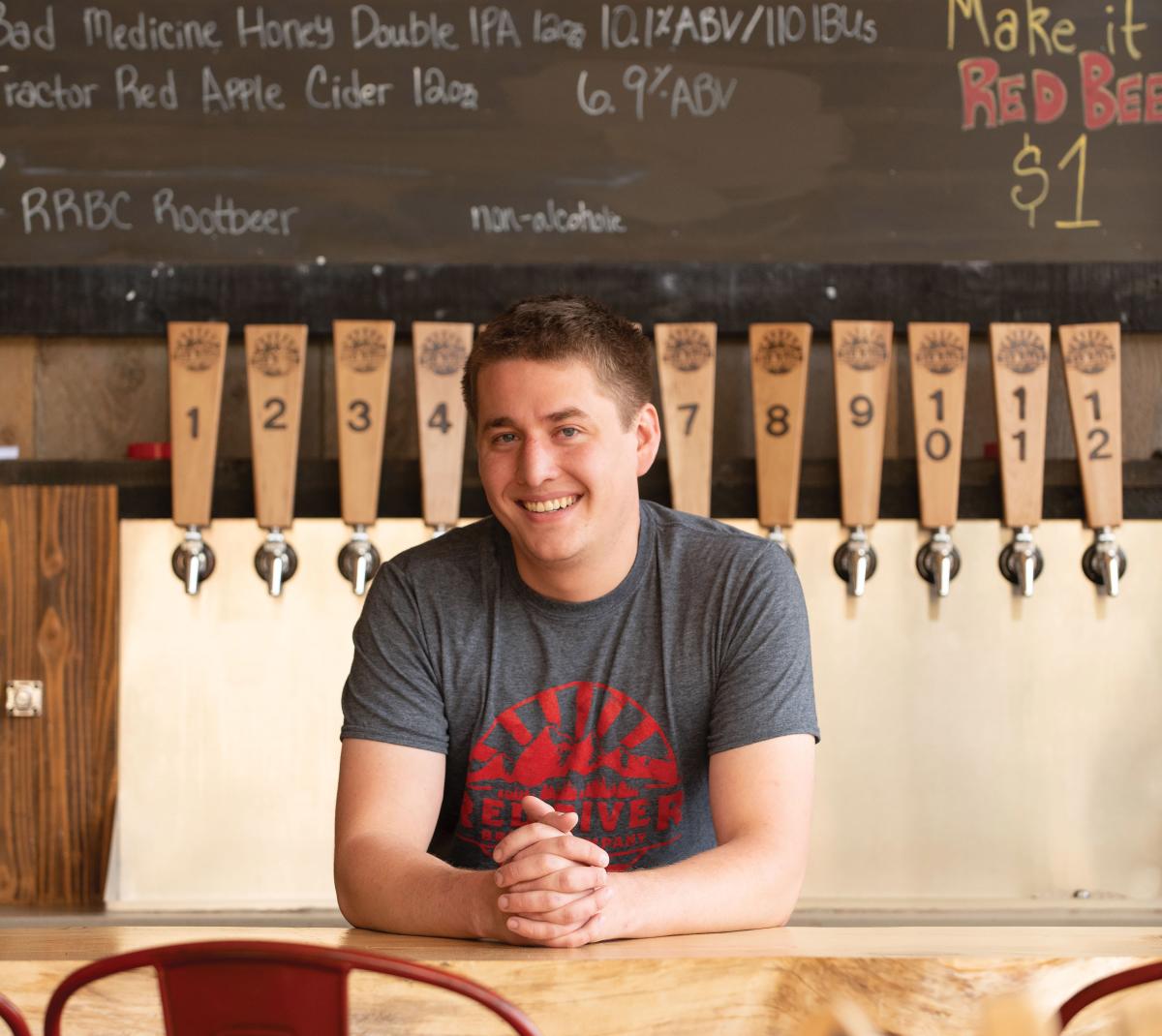 Above: Red River Brewing.
RED RIVER BREWING COMPANY, RED RIVER
Why you should go: Billed as the highest-altitude brewery in the state, RRB has quickly become a destination brewery for locals and tourists alike. Owned and operated by the Calhoun family, it's a marvel of architecture, melding the theme of a classic ski lodge with a more modern industrial vibe. The food menu is varied and filling, with appetizers to nosh on and big meals to keep you warm inside during the skiing months. Brewer Chris Calhoun offers up a big beer lineup that remains relatively static. The bestsellers are lighter beers preferred by out-of-state tourists, but IPAs and darker beers keep New Mexicans happy, too. Much like Truth or Consequences Brewing, to the south, Red River Brewing proves that craft breweries can be anchor businesses in small towns throughout the state.
Beer to try: Campfire Cream Ale, which for the summer months will be brewed with a different type of fruit in each batch.
---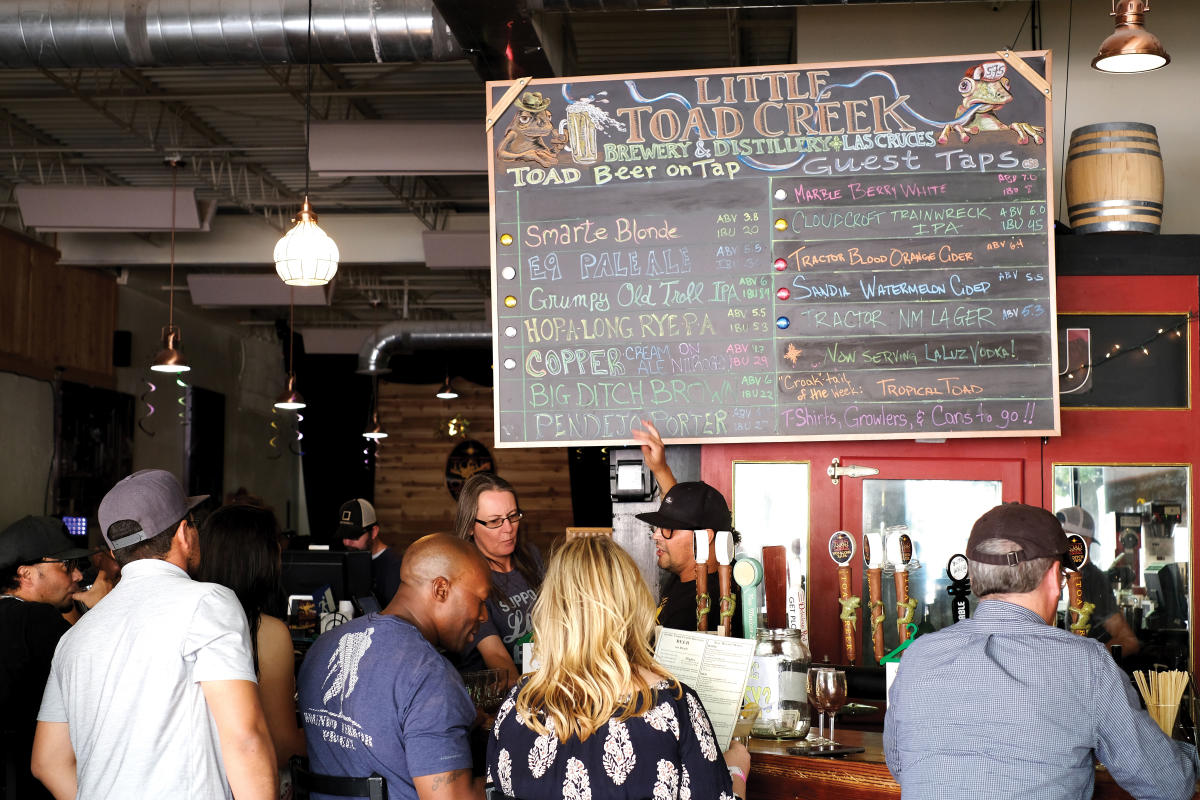 Above: Little Toad Creek Brewery's Taproom.
SOUTHWARD EXPANSION
New breweries abound in Las Cruces—and a new university program will ensure it stays that way.
By Andi Murphy
In the space of just a few years, businesses like Icebox Brewing, Picacho Peak Brewery, Little Toad Creek Brewery and Distillery, Spotted Dog Brewery, and Bosque Brewing have popped up in Las Cruces—a thirsty city of nearly 100,000 people. Each brewery has crafted a singular identity that adds to the area's small-town, laid-back feel.
If you're going to sample microbrews here, you must start with High Desert Brewing Company. It's one of the oldest microbreweries in a town where, no doubt, many Las Crucens and NMSU students had their first taste of craft beer.
That's true for me, anway. At 21, my palate wasn't used to bitter IPAs or their flavored Peach Wheat, but I knew these tastes were what packed the place. Ten years later, it's still a popular spot. The casual interior is extremely inviting; the velvet Elvis paintings by the bathrooms make you feel like you're in Grandpa's house.
High Desert brews like the Peach Wheat and the India Pale Ale (they're not really creative with the names) have stood the test of time and are menu regulars. My favorite? The IPA, because it's refreshing, not overly bitter, and pairs nicely with one of their great green chile cheeseburgers. High Desert has the full package: beer, food, a large patio, and a local musician or full band always stuffed in the corner.
Down the road, Little Toad Creek Brewery and Distillery breathes life into Las Cruces' downtown—a zone that has morphed into a happening hangout with a budding nightlife. "This revitalization is a long time coming. The more businesses that come downtown and stay downtown is a good thing," says Carol Ayon, assistant manager at "the Toad," as locals call it.
Ayon, along with her husband, C.W. Ayon—whose music is just as much a part of Las Cruces' identity as the Organ Mountains—relishes the new energy. The Toad "is kind of like the go-to hangout place," says C.W. between sips of Copper Cream Ale from a special glass that "Mug Club" members get. "It's not upscale. You come to slow down and relax."
Read more: Because somethings just taste better with NM craft beers.
The Toad and its fellow breweries have brought more to Las Cruces' social scene than good pints. "It's added venues for bands to play," says Felipe Toltecatl, C.W. Ayon's bandmate. "And usually, with beer, you want to eat. So that's opened up more opportunities for the food truck guys."
Local radio host Edmundo Resendez wants to make sure the locals are not overwhelmed or intimidated by the surge of new and exciting beer flavors.
He started the Beer Confidential show at KRWG 90.7 FM, where he and his guests talk about "the difference between a pilsner and an ale, between a porter and an IPA," he says. "This show is intended to educate an audience that's just starting in their exploration of microbreweries. At the same time, it's designed for the connoisseurs to lend their expertise."
Students at NMSBrew listen to the show. That's right, NMSBrew: a new brewery engineering program in NMSU's Chemical & Materials Engineering department.
"They are graduating people who are interested in staying in Las Cruces and starting their own microbreweries. I think that you have people who see this as something that they can make a living with," Resendez says. "I see an opportunity to grow."
Catherine Brewer, an assistant professor at NMSBrew, agrees. "I'm hoping NMSU as a school, and Las Cruces as a town, and New Mexico in general becomes a place that knows beer and knows that there's more than one kind of beer."
---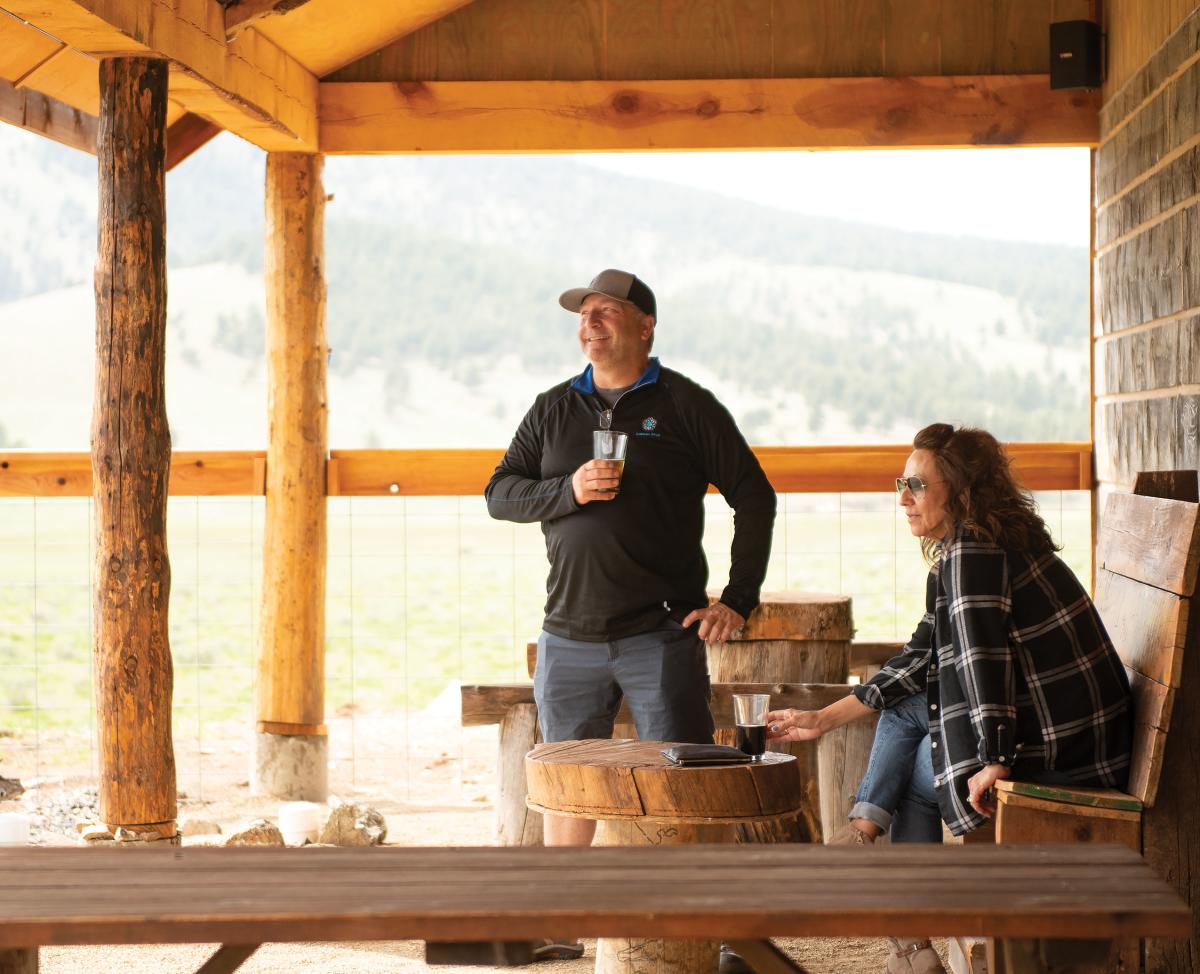 Above: Comanche Creek Brewing in Eagle Nest.
A MOUNTAIN GEM
You get way more than beer at Comanche Creek Brewing, in Eagle Nest.
By Maria Manuela
Windows line the walls at Comanche Creek Brewing and look out onto the expansive porch. I cannot overemphasize the view from this porch. It leads to a meadow that Maria von Trapp would gladly frolic through and rolls for miles before meeting the rise of the Sangre de Cristo Mountains in the distance. You can gaze toward town and see Eagle Nest Lake or lose your thoughts in the mountains and big blue sky.
There's a therapeutic vibe to big, open, natural spaces like this. Located just off NM 64 outside Eagle Nest, west of Taos on the Enchanted Circle, this microbrewery has a new taproom and beer that's pretty great, too.
Kody Mutz and his wife, Tasha, opened Comanche Creek Brewing in 2010. They started home-brewing while living in Denver, where Tasha was a nurse and Kody worked in real estate, but the two had dreams of leaving the city and moving to the Eagle Nest area, where his family had property. "We're just home brewers who made the leap," Kody says.
Almost 10 years later, in May 2019, the couple opened their newly built taproom ahead of Memorial Day weekend. "The community is great. They've been really supportive. All the locals and what I call the part-time locals—people who have houses up here or people who come for the summer—they're just always stopping by and they're really friendly," says Kody. "Everyone gets to know each other pretty easily."
Read more: Take a bonafide beer class from our local expert, Asa Stone.
There's a lot of history in the construction of the shiny new taproom. The rectangular space features a beautiful wooden bar made from the planks of a bridge that crossed over Comanche Creek, which runs through the brewery's property. Trees from the Mutz property were hand-scorched, giving them a deep black tone, before being hammered into place to form the taproom walls. A giant log looms over the bar, nestled among a constellation of vintage light bulbs; it used to be a gatepost on the family's land.
Comanche Creek had five beers on tap the day I visited but has up to a dozen regular brews that the Mutzes plan to rotate. Along with their standards, they throw a sour or fruit beer into the mix, too. All are brewed on-site, and Kody says his brewing process is simple. "We try to keep it fairly basic and approachable. Our beers are typically real smooth and easy-drinking. We don't go too crazy with the hops," he says.
One of their most popular brews is the Homestead Amber, but I recommend the Gold Rush Kolsch, which was smooth, light, and perfect for a warm summer evening.
The brewery doesn't serve food, but you're welcome to bring your own. Outdoor games like horseshoes and cornhole are available, too, and you can always take a growler home to your own porch.

BREWING—NOT JUST FOR THE BROS
The Pink Boots Society's mission is to assist, support, and encourage female beer professionals through education. The Albuquerque chapter, with representatives from breweries throughout the city, annually collaborates on a brew they sell at a party every March celebrating International Women's Day. The proceeds go toward scholarships to get more women into brewing. Last spring, the group made a Rosie the Riveter IPA.

AN ALEHOUSE GLOSSARY
ABV: Alcohol by volume. Basically the amount of booze in your brew. A very good thing to know, especially if you plan on driving. A light beer like Boxing Bear's delicious Body Czech Pils is 4.3 percent. A heavy Sunshine Stout, from Bosque Brewing, hits at 7.9 percent. A couple of those and you'll be looking sideways.
Cask-conditioned: Unfiltered and unpasteurized beer served from a cask, without additional carbon dioxide pressure or nitrogen. Very smooth.
DD: Designated driver. The person in your crew enjoying the bubbly water so the rest of you get home safely. (Uber, Lyft, and taxis will also do.)
Flight: The pu pu platter of brews. You can't decide, and you shouldn't have to decide, so get the beer flight—a great way to sample a bunch of beers, usually in 2-to-4-ounce pours. Often in very cute glasses.
Growler: Typically a 32- or 64-ounce glass bottle one can fill with draft beer at a brewery and take home. Best if consumed that day. Ideal for sharing at picnics and parties. More affordable and eco-friendly than buying six-packs.
Hazy: Also known as New England style, hazies are basically really fruity, citrusy IPAs, so they're hoppy, too. The beer is often cloudy as a result of the unique process. The best ones look like orange juice.
Hops: The flower of Humulus lupulus, credited for the fruity, floral, bitter flavor of beer. One of four essential ingredients in beer making, alongside yeast, barley, and water.
IBU: International bitterness unit. A chemical measurement of the number of bittering compounds. The more IBUs, generally, the more bitter your beer.
American IPA: India pale ale. Hoppy, flavorful, beers, typically 6–7 percent ABV.
Pint limits: Many breweries here have instituted a limit on the number of pints one can order—usually three—to promote responsible drinking while creating a safe, accessible space for all and preventing drinking and driving.  
NEW MEXICO WINNERS AT THE 2019 GREAT AMERICAN BEER FESTIVAL
Love New Mexico? So do we. Subscribe today for just $3 an issue and we'll deliver our award-winning monthly magazine right to your door.
---