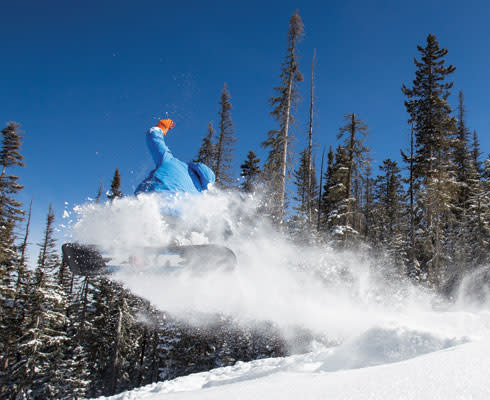 Almost heaven: fresh powder at Angel Fire.
ON A MURKY, slate-gray Santa Fe morning in February, raindrops pecked at the house windows like an unkindness of edgy ravens. In the drought-plagued high desert, it's poor form to complain about rain. But on this morning, day two of a five-day ski tour of northern New Mexico, the drizzle was irrigating a bumper crop of sighs and grumbling.
We had endured unseasonable temperatures and evaporating snow the previous afternoon at Ski Santa Fe, and today's warm, wet conditions would surely turn the already thin coverage to slurry. Even up high at Pajarito, our destination for the day, the forecast was for rain through the afternoon. So we decided to do what we New Mexicans do best: delay and eat chiles. A breakfast burrito at Tesuque Village Market probably wouldn't change the weather, but it might conjure some enthusiasm.
"If nothing else, I can catch up on my annual green chile quota," said Mike Raney, a buddy who had driven in from Sedona with his wife, Lauren. The trip was to be something of a reunion tour for seven friends, mostly from Santa Fe, who travel and work so much that finding time together can be difficult. Still, a ski trip without snow is just an overdressed sweat-fest, so everyone was anxious. "I'm going to Colorado next month," Raney concluded glumly. "I guess I'll just ski then." Colorado, with its mega-resorts and consistent snow, is the New Mexico ski industry's boogeyman. Vail alone has more skiable terrain than all eight resorts in New Mexico combined. And Ski Sipapu, New Mexico's smallest resort at just 200 skiable acres, wouldn't even qualify as a run at many destinations north of the state line. Why would anyone go to poky, unpredictable New Mexico when bigger mountains with more snow were a few hours away? That's what we were out to discover on our slapdash swing through northern New Mexico.
  Amy Jordan leads the group into a maelstrom of snow on the flanks of Pajarito Mountain. The ski area doesn't run its lifts every day, which means that when a storm hits midweek, there are empty runs and fresh tracks to be had in the north-facing ponderosas...for those willing to make the climb.

e'd had hints of an answer the previous day at Ski Santa Fe. Despite the premature springtime conditions, the coverage was solid, especially in the north-facing woods, where pockets of fading fresh waited for those who knew where to look. In the late afternoon, when snow turned to corn, then grits, we headed to the patio at the mid-mountain grill, Totomoff's. Over bowls of green chile stew, we met Bob Kelly, a retired 80-year-old from Nashville, who spends his winter days traveling to ski.
"We've skied everywhere—Colorado, California, Europe. Then we came here three years ago, and we won't go anywhere else," he said through puffs on a corncob pipe and slugs of light beer sloshing in his wineglass. "We can ski in the morning, then play a few rounds of golf in the afternoon. And what other ski resort serves red chile pork tamales?"
If it always seems to come back to the food, maybe that's because New Mexican cuisine is a useful metaphor: Cookie-cutter ski towns in other states are the equivalent of limp, gray fast food next to New Mexico's simple, hearty, spicy ski fare.
The next day at breakfast in Tesuque, the burritos were so filling and the rain so steady that talk moved to skipping Pajarito altogether. It seemed hopeless. But we felt obliged to make the 30-minute drive to Los Alamos and then up the ski-hill ribbon road through spooky mist and burned-out deadfall from 2011's Las Conchas fire. Halfway up the mountain, mist turned to flurries, then flurries turned to snow. By the time we parked, the asphalt had disappeared beneath a milky, shin-deep blanket.
Pajarito's lifts weren't running on weekdays (but they will be this season;) so we hiked up the slopes. Naturally, there were zero crowds, and on the shadowy, north-facing runs the snow was light. We climbed into a maelstrom of powder, the snow blinding us with its ferocity. But the 1,200-foot plunge to the base was the stuff most skiers only dream of—an entire untouched slope to share among five of us. More empty, untracked runs followed. All afternoon, we traced helixes in the snow, the stolid ponderosas and swirling storm stifling our ecstatic whooping. It felt like we'd been let in on a secret.
That's pretty much skiing in New Mexico.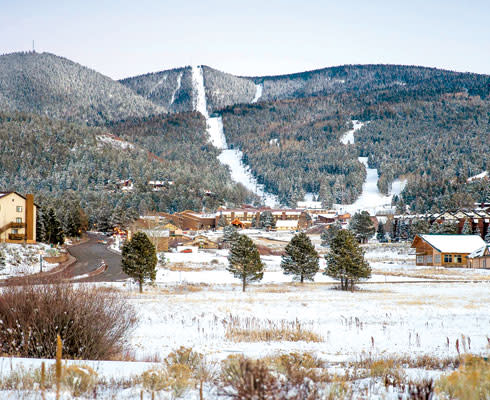 Angel Fire, deep in the Sangre de Cristo Mountains, on a still, cold dawn.

ngel Fire may be only a couple of hours northeast of Santa Fe, but it feels like a county in Texas. It's the nearest mountain to the largest state in the lower 48 and has bred generations of Lone Star snow bunnies. But with the big vertical of the Sangre de Cristo Mountains tumbling out onto broad plains of sagebrush, this is unmistakably New Mexico.
At dinner at Elements, the restaurant at the town's country club, our thirty-something waitress, Stephanie, who was born over in Taos but has always lived in Angel Fire, delivered the day's specials in a syrupy Texan drawl. She walked and talked with the swagger of Annie Oakley and addressed everyone at the table as ma'am and sir, even though most of us were about her age. But when I asked about the snow, she blossomed from Western Miss to ski bum. "It was pillowy out there," she gushed, gesticulating to her knee height. The same storm that we enjoyed earlier in the day at Pajarito had left Angel Fire with a foot of fresh, and up high, it was still coming down. "You came on the right day."
Dawn rose sharp and still, the air so cold and clear it burned the nostrils. It was Thursday, meaning no lift lines, and our little group was soon caroming down blue warm-up runs in a flurry of powder rooster tails. The trail ratings at Angel Fire are more Texas than Colorado, and after a few descents we'd carved up the freshest lines in the ponderosas. Three black runs nest in the shadows at the eastern periphery of the resort, fresh snow guarded by a 20-minute hike. But when ski patroller Hattie Belichik offered us a snowmobile rope tow, we couldn't say no.
Nitro, the resort's most remote slope, was wind-loaded with so much powder that skiing it felt like motoring through quicksand. You crashed, as Amy and Lauren and Jen and I all did, and you were enveloped in cold, ivory laughter while floundering your way free. It was neither the longest nor the steepest run any of us have skied. But under the bright white Zia sun, with snow shimmering like jewels in the pines and friends splashing together through airy snow, it felt as remote and private as the backcountry.
"Angel Fire is a lot like beer, where Budweiser's stock is going down the toilet, but regional craft breweries are thriving," Robin May, the director of the resort's ski school, who's lived in the town since 1978, told me later. "The skiing here can be as good as anywhere. But I think people like to know that there are still small, intimate, affordable places to ski."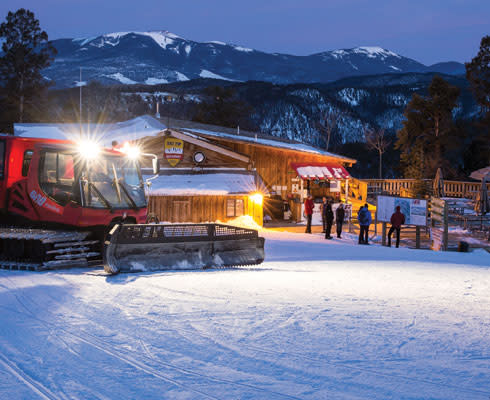 After the lifts have gone quiet, the Red River snowcat carries skiers to the slope-side Ski Tip lodge for food, wine, and nocturnal mountain fun.
ed River, an hour up the road, was even smaller, quieter, and culturally closer to Texas than Angel Fire. Oversize SUVs crowded the one-street town, with murals of gunslingers on clapboard walls and elk antlers hanging above sun-bleached wood saloons. On the slopes, jeans and camo were more common than Gore-Tex. Squeezed into a tight valley choked with ponderosa pines, the resort has legitimately steep runs, mostly through the black timber on the north-facing slopes, though much of the terrain is mellow and groomed. It's the sort of friendly little mountain where if you lose your group, as I lost mine, you find them again on your next lift. And though the snow from the storm a few days earlier was beginning to set up and recede, it didn't matter, as we had sampled pretty much all of the runs by midday.
What it lacks in breadth, Red River makes up for in charm. We were invited to dinner on the mountain, which involved an after-hours ride in the snow-cat up to the Ski Tip restaurant. The resort is family-owned-and-operated, and the entire Judycki clan, spearheaded by patriarch Denny, turned out to dine with us. Chef Kai Dunbar, a lifelong Red River local who worked his way up through ski patrol, whipped out a feast of spice-rubbed rib eyes and tequila-lime 
chicken that was as unfussy as the company. Bottles of red wine were uncorked, and it felt like a family reunion even though we'd just met the Judyckis.
"When Coloradans come here, they often say, 'This is how Colorado used to be,'" Denny told me on the ride back down the mountain, the spray of Milky Way stars out the snowcat window. "We want it to stay that way." Back at our condos, a quarter-mile walk from the mountain base, we opened a bottle of bourbon and continued the party. In a small town, rather than look for what's going on, you just make it happen, and we had seven old friends and tall tales from the day to recount.
"Not the top skiing I've ever done in my life, but it doesn't matter," said Lauren. "I love this place."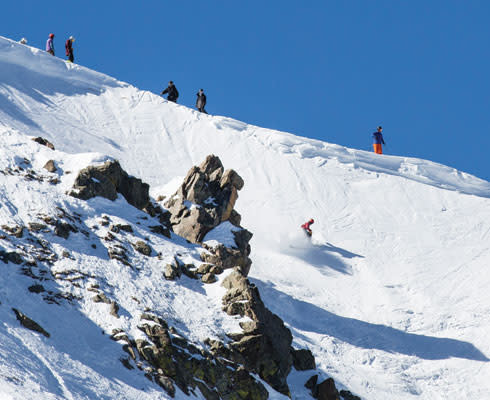 Kachina Peak is now lift-served, but that doesn't make Main Street, the easiest route from the summit, any less precipitous. And to reach the actual high point, you'll still have to bootpack.

very conversation about New Mexico skiing either starts or finishes with Taos Ski Valley, which is why it's the final stop on our five-mountain tour. If there's a resort in the state that can compete for hard-core snow athletes against Jackson Hole, Alta, and Squaw Valley, this is the one. With its barbed, north-facing ridgelines and swaths of hike-to-only terrain, Taos is a mountain where black truly means black, and double black means you'd best think hard before dropping in. Founded in 1955 after Ernie Blake moved his family into an 11-foot camper at the base area and built the first ski lift with 16 local men and a mule named Lightning, Taos—like the entire state of New Mexico—has always been an iconoclastic place. The mountain remained infamously closed to snowboarders until 2008 and has seemed to stay purposefully, defiantly a bit ramshackle as other resorts in the region modernized.
"People always say it's like Europe," said Thorsten Schwander, a friend in our ski group who's originally from Germany but long ago settled in Santa Fe. "But it's better than Europe. It has maybe many of the same feelings, with the small roads and steep pistes, but the snow is better and there aren't as many people."
Change came to Taos in late 2013, when the Blake family sold to conservation-minded hedge fund manager Louis Bacon. The Blakes said the cash infusion was the best chance to secure the mountain's future. On cue, naysayers cried that the sale, which would inevitably mean more infrastructure, would quash Taos' quirky side.
"Our biggest competitive advantage is our uniqueness. It would be counterproductive to lose that," said Gordon Briner, CEO and 17-year veteran at Taos. "The new ownership is allowing us to do things that the Blake family always wanted to do. Putting a lift up Kachina Peak was Ernie Blake's idea all the way back in 1975."
Briner was referring to a new, controversial triple chairlift to the resort's 12,481-foot high point, which was previously accessible only by a precipitous hike up the west Highline Ridge. Many longtime Taos devotees, even some in our cadre, opposed the lift for fear that the increased traffic on Kachina would ruin the snow and the experience. By coincidence, our group arrived at Taos on the bright, warm February day that the new Kachina Peak lift rolled to life. The plan was to ski all morning on Kachina, named for the immortal beings of the region's pueblo people that were said to rule over the natural world.
After some earn-your-turns grumbling earlier in the day, nobody complained about the ride as we took one of the first-ever lift-assisted trips to the summit of the mountain. From the top of the chair, we bootpacked to the rocky apex, where Tibetan prayer flags planted by impassioned skiers crackled in the wind. Aaron Miller, a Forest Service hydrologist from Santa Fe who was traveling with us, retrieved a golf club that locals stash in the snowy tundra and, to great fanfare from our group, drove snowballs toward the black basalt poking through the snowpack on the eastern skyline. Up here, there were no questions over infrastructure or skiable acres or even whether the snow was good or not. It was just seven old friends standing together in a clear winter wind under the fathomless blue of the New Mexico sky. And with Himalayan pennants overhead, on a Native American-named peak, with lunch scheduled at the Bavarian (a mid-mountain restaurant and lodge acclaimed for its beer, brats, and busty barmaids), Taos felt as blessedly idiosyncratic as ever.
"I've skied all over the West—Vail, Crested Butte, BC," Thorsten remarked as we cheered Miller's every whiff at a snowball, "and there's still no place I'd rather ski than here at Taos."
That afternoon, the seven of us would clatter steins of beer together on the sun-streaked patio of the Bavarian. And in the evening, we'd putter around our condo, soak in the hot tub, cook and eat together. But first there was skiing to be done. When we turned to descend Kachina, the four-day-old snow was scissored with tracks. We chopped and sprayed and parried happily downward, and, as it always has, the sheer face rolled out of sight to the dark timber in the valley. ✜
—Aaron Gulley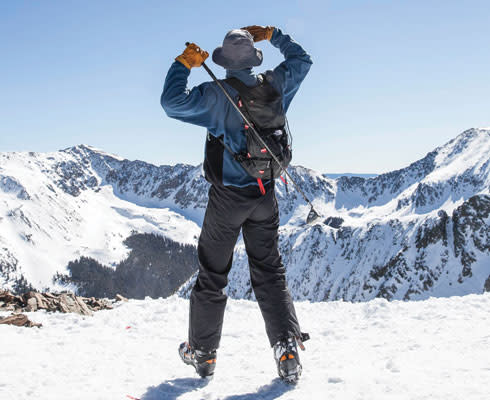 After the Blake family sold Taos in late 2013, locals and devotees feared that the mountain would lose its character. But despite changes and massive infrastructure improvements, the place is as quirky as it has always been, complete with alpine views, steep-chute skiing, and snowball golfing.
Pre-Season Ski Stoke
THE FORECAST IS FOR ONE OF THE WHITEST, WILDEST WINTERS ON RECORD, WITH WEATHER MODELS PROJECTING MUCH HIGHER-THAN-NORMAL PRECIPITATION ACROSS THE SOUTHWEST.
Angel Fire Resort
Family First
OPENS December 11
STATS Average snowfall: 210"
Base elevation: 8,600'
Peak elevation: 10,677'
Vertical Drop: 2,077'
WHAT'S NEW Completely redesigned for the 2015–16 season, the Liberation Terrain Park will be the biggest ski-play area in the state, with a practice area for kids and those looking to develop their skills, as well as big-hit jumps and pipes for the experienced.
HOT TIP For the first time, the Angel Fire RV Resort will stay open through the winter, making a family ski trip even more affordable for those with campers. (575) 377-6401; angelfireresort.com
Pajarito Mountain Ski Area
The Locals' Secret
OPENS November 27
STATS Average snowfall: 160"
Base elevation: 9,200'
Peak elevation: 10,400'
Vertical drop: 1,200'
WHAT'S NEW Known mostly for its steep bumps and fall-line skiing, the mountain has added a true green run with wide-open, beginner-friendly terrain from top to bottom.
HOT TIP Courtesy of the wet summer, the 10-million-gallon water tank that feeds the mountain's snowmaking operations is full for the first time ever, which will allow Pajarito to guarantee its opening date and run more often: five days a week through most of the season, and seven days a week at Christmastime. (505) 662-5725; skipajarito.com
Red River Ski Area
Western Spirit
OPENS November 26
STATS Average snowfall: 214"
Base elevation: 8,750'
Peak elevation: 10,350'
Vertical drop: 1,600'
WHAT'S NEW Red River has unveiled a new zipline, a 730-foot-long ride soaring some 70 feet over the Base Camp pond, over Pioneer Road to the Face, and back over the pond, weather permitting. The resort is also hoping to open a quad chair on the mountain but is still in the approvals process. In the meantime, they've paved the road to the ski area and added sidewalks for easier access.
HOT TIP The Snow Coach Dinner Tour. Catch a ride to the summit for a steak, chicken, or shrimp meal at the Tip Restaurant. Tours begin nightly at 5:30 and 7:15. (575) 754-2223; redriverskiarea.com
Sandia Peak Ski & Tramway
The Day Tripper
OPENS December 19
STATS Average snowfall: 125"
Base elevation: 8,678'
Peak elevation: 10,378'
Vertical drop: 1,700'
WHAT'S NEW The upper Sandia Tram Terminal, which was fully revamped last year with more space, easier access to lockers, and a renovated interior for even better views over the city from the High Finance restaurant, still makes for one of the most unique ski experiences in the country, with slope access directly out of an urban area.
HOT TIP The food scene in Albuquerque continues to blossom, so there's no shortage of great après-ski eats. Jennifer James 101 was on the James Beard short list again in 2015, Farm & Table plates up fully local fare culled from over 60 area farms, and Los Poblanos Historic Inn & Organic Farm provides a rural New Mexican retreat right in the city. (505) 242-9052; sandiapeak.com
Sipapu Ski & Summer Resort
Naturally Friendly
OPENS November 15
STATS Average snowfall: 190"
Base elevation: 8,200'
Peak elevation: 9,255'
Vertical drop: 1,055'
WHAT'S NEW Sipapu is adding its first quad chairlift for the 2015–16 season, which means the addition of a new run (under the lift) as well as an expansion of the beginner runs, Lower Bambi and Howdy, to increase the resort's skiable terrain by five acres.
HOT TIP Sipapu already owned early-and late-season skiing, with the longest season in New Mexico. But the resort has bolstered its snowmaking capabilities to provide even more skiing days this year. (800) 587-2240; sipapunm.com
Ski Apache
Sacred Slopes
OPENS November 26
STATS Average snowfall: 180"
Base elevation: 9,600'
Peak elevation: 11,500'
Vertical drop: 1,900'
WHAT'S NEW Ski Apache's $15 million, eight-person Apache Arrow Gondola can get you up the mountain in eight minutes. But the mile-long zipline, opened last winter, will take you downhill a lot quicker.
HOT TIP Enjoy those gondola views, with Sierra Blanca to your left and the surreal beauty of White Sands in the distance off the back side of the peak. (575) 464-3600; skiapache.com
Ski Santa Fe
The Ski Area Different
OPEN November 26
STATS Average snowfall: 225"
Base elevation: 10,350'
Peak elevation: 12,075'
Vertical drop: 1,725'
WHAT'S NEW Ski Santa Fe has worked hard over the summer to thin the glades on Desperado and Avalanche Bowl, so the steep tree skiing should be a little more open and better than ever. The resort is also expanding its series of events, with three Saturdays of Mountain Music at mid-mountain resort Totomoff's and three Brewski week-ends, featuring more live music and local beers on tap. Check the website for dates.
HOT TIP Ten Thousand Waves, the Japanese spa that's on the road up the mountain, now includes Izanami, a serene Japanese tapas/ sake restaurant (no sushi). Private tub and dinner reservations are recommended. (505) 982-4429; skisantafe.com
Taos Ski Valley
World Class
STATS Average snowfall: 305"
Base elevation: 9,207'
Peak elevation: 12,481'
Vertical drop: 3,274'
WHAT'S NEW The new Kachina Peak lift, opened midwinter last season, brought expert skiing to a broader audience. This year, TSV will continue the trend by grooming select black and double black runs in the hopes of making some of the difficult terrain more accessible. The West Glade area has also been expanded to provide more side-country terrain for the hike-to crowd.
HOT TIP Huge renovations and changes are afoot at Taos, including the arrival of Natural Retreats, an international destination club. The company's range of base-area homes and lodging options are some of the best-located, finest accommodations on the mountain. (575) 776-2291; skitaos.org
Enchanted Forest Cross Country
Ski Area Dog-Friendly, People-Perfect
The area boasts 33 km of groomed trails for ski touring, as well as 15 km of snowshoe trails and 5 km of dog-friendly trails. Look for special events such as races, cookouts, and moonlit tours.
OPEN December 11
WHAT'S NEW The Midway Warming Yurt, installed in 2014, has made it easier than ever for skiers and snowshoers to connect the inner and outer trail systems, and is a great place to take a lunch break.
HOT TIP If you're feeling fit, the Wheeler Peak/Gold Hill Upper Valley View trip is epic. (575) 754-6112; enchantedforestxc.com