Collette Maria incorporates New Mexican imagery such as coyotes, quails, and medicinal plants in her work. Photographs by Jay Hemphill.
Collette Marie
Artist and illustrator, Las Cruces
Collette Marie infuses her folk art with memories of childhood—biking through the agricultural fields near Las Cruces, eating her grandmother's calabacitas. Pushing the bounds of Mestiza art, she recently completed her biggest project to date, literally, with the installation of three concrete relief murals along I-25 near her hometown. Her work focuses on classic New Mexican imagery like coyotes, quails, traditional medicinal plants, and La Llorona, giving them new life with an authentic point of view.
Animal Attraction: Nature and animals are constant themes in Marie's art, something she attrib­utes to her younger days spent wandering through the arroyos near the Doña Ana Mountains and chasing the sunset through pecan groves with her cousins. "We were gone for hours," she recalls. "There was something very liberating in that time of being a kid, about being able to wander without thinking about time. Those years really shaped me." 
Mixed Messages: Drawing inspiration from Mexican folk art and its use of positive and negative space, Marie often incorporates subtle personal references—a poignant song lyric, a quote from Carl Jung, or a favorite memory—into her designs. "It's just these little secret hidden meanings within my work," she says. "My work has a stillness to it, but it also has a narrative quality." 
The Long Road: Tears came twice during the three-year process to complete the highway project, Cultivo y Cultura. The first was when she was awarded the project. The second, when she saw it completed. She spent many sleepless nights translating her 2D idea into 3D reality as 30-foot-tall concrete walls weighing thousands of pounds. "It was nerve-racking, because I wanted it so badly," she recalls. "I had never worked with concrete before." 
The Force: Marie was raised by her grandparents, in a home that fostered her creativity and pushed her to believe in herself as an artist. Her late grandmother Alvita Trujillo Flores remains her North Star. "I felt her presence during the highway project as she gave me signs of encouragement and reminders to enjoy the creative process. I recall memories of her enjoying the sounds of singing birds in the mornings, so I dedicated a song sparrow to my grandma, which is located on the I-25 underpass." 
Language of Fashion: Marie features characters from her Travelers of the Night series—El Pantera, El Conejo, El Coyote, and El Murciélago—in a recently released apparel line. "The archetypal characters represent facets of my life—spiritual, metaphysical, or psychoanalytic," she says of the teachers, healers, protectors, creators, heroes, and villains. "They share narratives of their spiritual journeys, teaching us ancestral wisdom of the stars." —Maria Manuela 
---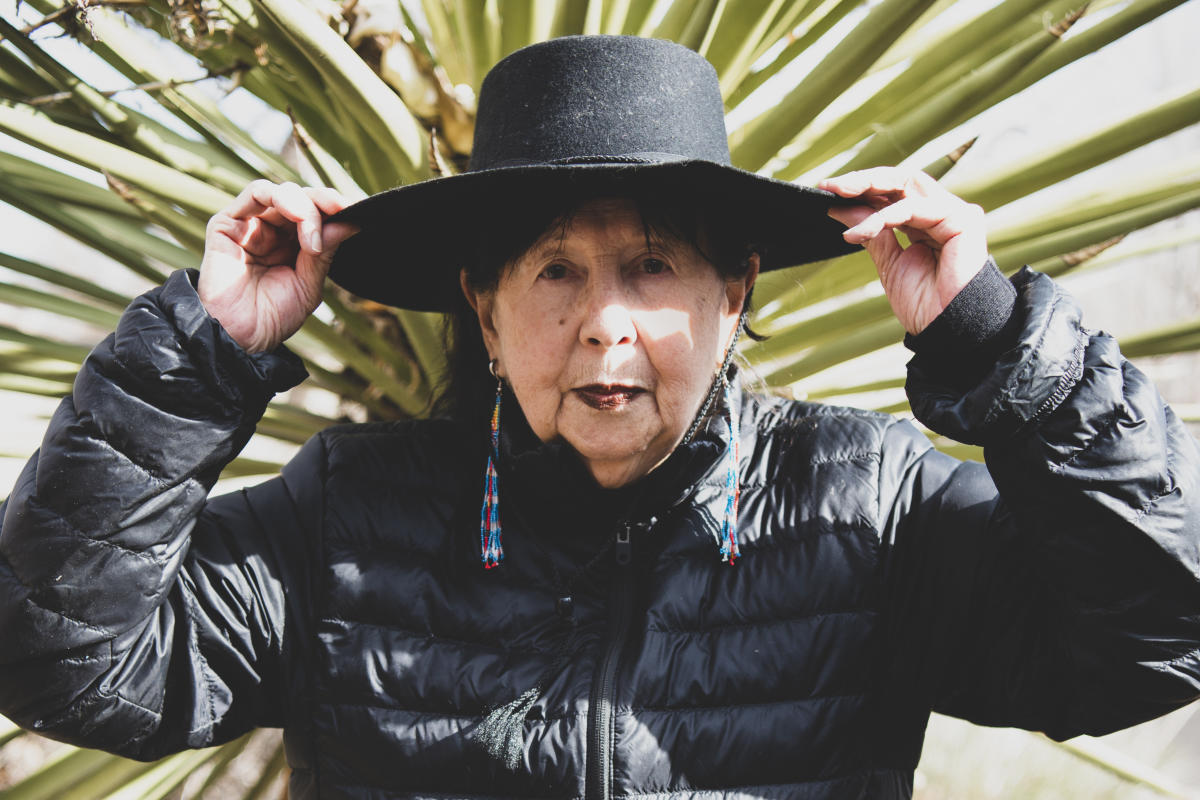 Jaune Quick-to-See Smith has spent a lifetime creating artwork that expresses her experience as a woman and member of the Confederated Salish and Kootenai Nation. Photograph by Ungelbah Dávila-Shivers.
Jaune Quick-to-See Smith
Artist and curator, Corrales
Through her visual art and curatorial work, Jaune Quick-to-See Smith has expanded the expectation of what is "Indian enough." Smith has spent a lifetime creating artwork that expresses her experience as a woman and enrolled member of the Confederated Salish and Kootenai Nation, an existence that cannot be separated from the political any more than it can be detached from the land. In July, her painting I See Red: Target, an 11-foot-tall mixed-media piece created during the 500-year anniversary of Christopher Columbus's arrival in the New World, was purchased by the National Gallery of Art and billed as the first painting by a Native American to enter the collection.
But wait: Despite all the attention garnered by the acquisition, Smith points out that the National Gallery got it wrong. The Washington, D.C., institution had collected several works by Cherokee-Chickasaw artist Leon Polk Smith, whose abstract art is not readily recognized as Native. "In those days, Indians tried to hide their identity," she says. "Polk would have had trouble selling his work because it didn't look Indian enough." 
An Indigenous Renaissance: Smith arrived in New Mexico in 1976, at a time when galleries and museums had never heard of contemporary Native art. She and artists such as Emmi Whitehorse and Larry Emerson became instrumental in creating a space for a new kind of art. "From Dorothy Dunn teaching watercolor lap painting in a style called 'Bambi Art' to busting all norms by making sculptures 10 feet tall, Native artists were debunking the idea that we should make art in a prescribed way."  
Breaking the Buckskin Ceiling: Only 40 years ago, Smith could name the notable Native artists—those accepted as "good" by the establishment—on both hands. Today she can think of more than 500 who are making waves, as well as scholars working at universities all across the continent. "Living people will always be reinventing themselves in new ways," she says. "This means people are thriving and not fading away with dying cultures. There is new life and energy in Native arts now."  
500 Years Later: Smith doesn't measure her success by merits, but by how she makes an impact. Her painting in the National Gallery brings an Indigenous truth to a 500-year-old narrative of colonization as alive as the earth itself. Her paintings tell the beautiful, the tragic, and the creation stories of our land. "I'm only a fly in the ointment, an annoyance, a troublemaker. Just like my hero John Lewis told young Black leaders: 'Never, ever be afraid to make some noise and get in good trouble, necessary trouble.' " —Ungelbah Dávila-Shivers
---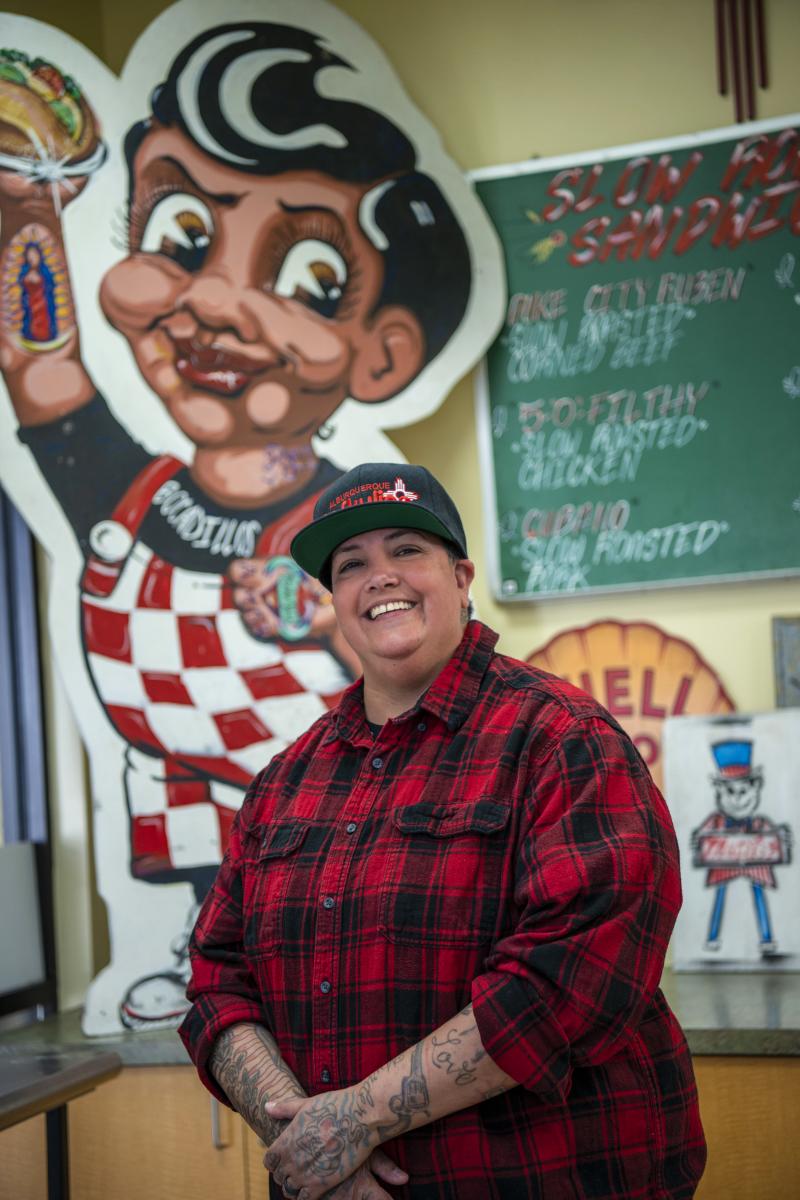 Marie Yniguez helms the kitchen at Albuquerque's Slow Roasted Bocadillos. Photograph by Ungelbah Dávila-Shivers.
Marie Yniguez
Chef and owner, Slow Roasted Bocadillos, Albuquerque
Marie Yniguez's early years were especially challenging—a brother's suicide, motherhood at 19, and a stint in the Army. But after honing her culinary chops in restaurants all across the United States and feeding thousands of schoolkids, she now helms the kitchen of Slow Roasted Bocadillos, in Albuquerque, which serves crave-worthy sammies that have earned raves from locals and Food Network stars. She's even set to launch a smoked-ribs-and-wings food truck this year.
Entrepreneur for Life: At 32, Yniguez suffered a mild stroke. While recovering and unable to work for several months, she realized something: "If I'm going to be killing myself at work, I'm going to do it for my family, not working for someone else." It led her to the commercial kitchen at Albuquerque's South Valley Economic Development Center, where she soon launched a café.  
Para los Niños: For seven years, Yniguez cooked healthy breakfast and lunch options for Albuquerque schoolchildren as a part of Bocadillos' community catering business. What began in 2009 with 50 students at her daughter's school, Tierra Adentro of New Mexico, evolved into feeding 1,250 students from multiple charter schools. "That was my heart," she says of the operation, which she hopes to revive as a side gig this year. "These kids are our future. They need sustenance to keep their brains going. And for a lot of them, that was the only meal they had that day, so I wanted them to be full when they went home."   
Low and Slow: Yniguez launched Slow Roasted Bocadillos to keep her staff busy during the kids' summer break. The café quickly earned a following for its 12-to-16-hour slow-roasted meats and piled-high sandwiches. "I love anything between two pieces of bread."  
Guy Stops By: Six months after opening Slow Roasted Bocadillos, Yniguez and her wife and business partner, Karla Arvizu, received a surprise invitation to appear on Food Network's Diners, Drive-ins and Dives. "We were making a hundred bucks a day," she recalls. "We'd just had a conversation about closing the shop."  
Not Chopped: In 2017, Yniguez returned to Food Network for an episode of Chopped. While she claimed victory (and $10,000) in the cooking showdown, the biggest prize was spending five days in New York City—a lifelong dream. "I'm not a competitive person," she says. "It's just about the experience for me." 
Fine Outcome: Despite facing off against fine-dining chefs from New York and Virginia, Yniguez prevailed with a winning combo of several inharmonious ingredients: polenta cake, béchamel sauce, plums, and pink Himalayan sea salt. "Here I was coming off of making burritos out of my car," she says. "It felt good to remember I still knew how to do all those things. 
Hesitant Trailblazer: Yniguez is proud that her daughter graduated from Central New Mexico Community College and followed her culinary lead by joining the staff of Slow Roasted Bocadillos. "I've made my state proud, my gente proud, and my family proud," she says. "I hope I can show other kids you don't have to have an Ivy League education to make something of yourself. You just have to work hard." —Ashley M. Biggers
---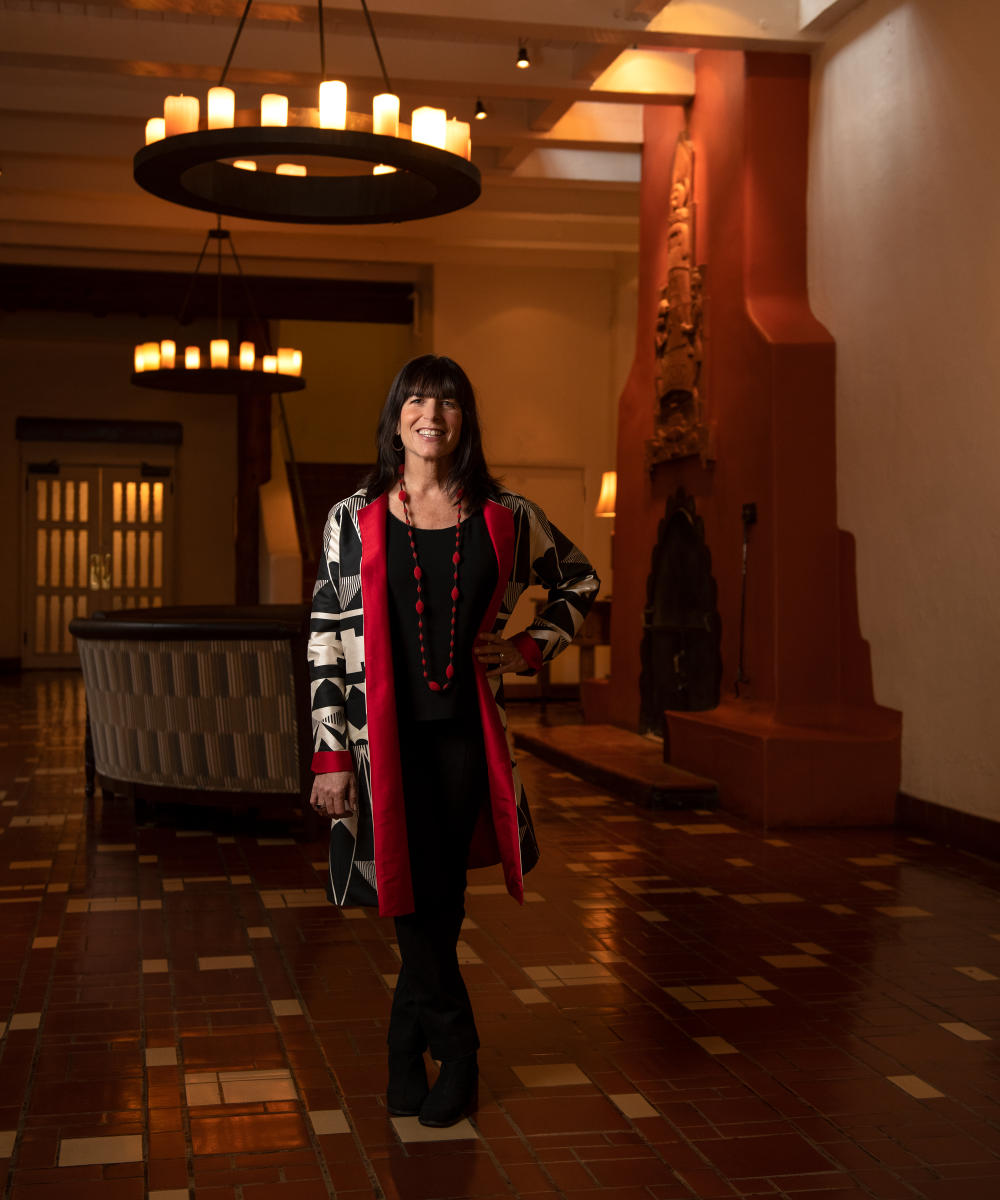 Jenny Kimball helped lead the renovation of Santa Fe's La Fonda on the Plaza. Photograph by Douglas Merriam.
Jenny Kimball
Chair of the board, La Fonda on the Plaza, Santa Fe
When Jenny Kimball, board chair of Santa Fe's La Fonda on the Plaza, and architect Barbara Felix took over renovation of the historic hotel in 2008, they did so in the spirit of a place whose history is full of brave, visionary women. From schoolteacher turned architect Mary Colter to the Harvey Girls who left their homes behind to bring hospitality to the Wild West, La Fonda is the hearth of the Plaza because of women like Kimball, who took a leap of faith. 
Changing Lanes: Kimball's optimism has given her the courage to move from a legal career to running an educational nonprofit to being recognized last year as Sustainability Champion and Historic Hotelier of the Year by Historic Hotels of America. "I went to law school so I would have the education and training to do whatever I wanted," she says. "That's ended up serving me well."
Leap Forward: An avid outdoorswoman who loves to ski, fly-fish, and mountain-bike, the Dallas native is equally driven by a desire to avoid a boring life. "I don't look before I leap. I leap and I don't look back." 
Team Equality: Kimball attributes the hotel's recent awards and success to La Fonda's team effort. When she and a group of investors purchased the former Harvey House hotel from the Ballen family in 2014, Kimball learned the important relationship between the front and back of the house. One of her first changes was to ensure not only equal pay for women, but the ability for female employees to be heard. When La Fonda's longtime restaurant manager got a raise, she pulled Kimball aside to thank her. "She told me how she'd learned to use the men under her to go to the man above her for things she needed for the restaurant."  
Heart of Santa Fe: In renovating the hotel's 180 guest rooms, Kimball and Felix dusted off the past and pumped it full of new life with a collection of contemporary Native American art. "Barbara and I stripped away the tchotchkes and focused on highlighting the deep, rich history, architecture, and craftsmanship that was in the building since the twenties but had gotten lost over the decades," she recalls. "Why would you go abroad for art and craftsmanship when Santa Fe is full of such amazing Native artists?"
Cultural Continuum: The unique landscape, history, and multiculturalism of New Mexico is the love spell that binds Kimball to Santa Fe and gives La Fonda a special energy that, like the state itself, is lodged somewhere between then and now. "La Fonda is going to be 100 years old in 2022," she says. "There aren't many buildings that evoke this kind of spirit." —Ungelbah Dávila-Shivers
---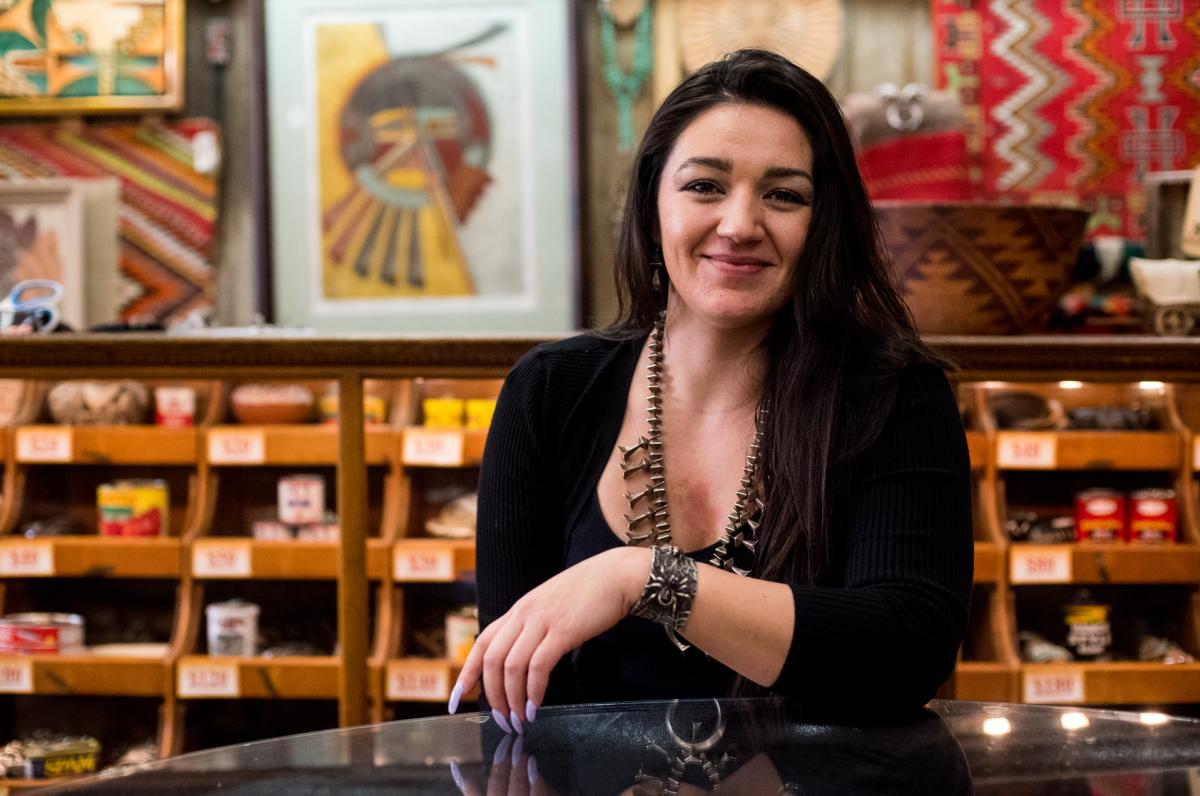 Emerald Tanner enjoys highlighting contemporary artists in and around Gallup at Tanner's Indian Arts. Photograph by Brian Leddy.
Emerald Tanner
Owner, Tanner's Indian Arts, Gallup
As the fifth-generation owner of Tanner's Indian Arts, Emerald Tanner has grown up in the Gallup trading post. Her earliest memories include cross-country road trips with her father, Joe, bringing art to market. "I'd be wedged between piles of Navajo rugs in his white Celebrity station wagon," she recalls. Before attending Arizona State University to study finance, Tanner held summer jobs that included buffing and tagging pieces within the collection. Since rejoining the business in 2014, she's focused on marketing Native American goods as a global fine art and worked with national museums to highlight contemporary artists in and around Gallup.  
Finding Her Place: Tanner was well versed in the trading post's specialties in rugs, jewelry, and historic pieces. "My challenge was navigating what I wanted to focus on at Tanner's," she says, which includes amplifying contemporary early-and mid-career artists by promoting their work to international collectors and curators.  
Old Habits Die Hard: Despite women serving as silent pillars behind many operations, traders have historically been men. "When I started working full-time, customers said, 'Oh, is your dad here? I want to talk to him.' This habit hasn't gone away, but I have a place." 
Light-bulb Moment: One of Tanner's favorite projects was working with the Smithsonian National Museum of the American Indian on Glittering World: Navajo Jewelry of the Yazzie Family, a 2014 exhibit that promoted the silversmithing work of the Gallup family. "I got the idea to pull out Navajo pearls by local third- and fourth-generation bead makers related to the Yazzie family," she says of the 20-something artists. "The curator loved them." Those beads were eventually incorporated into the New York museum's exhibit.  
What's Cooking: In her spare time, Tanner cooks like her grandmother did. "I make her red chile," Tanner says. "She inspires me, because when she lived on a trading post, she baked bread for people. That bridged her relationships with local weavers." The bond created through food is something she has missed over the past year. "Before COVID, we'd host artists and collectors and cook meals. Food is love made visible." 
Cutting Gems: One of Tanner's favorite contemporary artists is Bryan Tom, a Navajo silversmith and lapidarist who draws inspiration from iconic figures in art history. She points to a necklace with a range of perfectly cut rectangles made from coral, turquoise, lapis, and more that hearkens back to Pablo Picasso's Cubist paintings. "He's going to be very famous someday," Tanner says. 
Fueling Futures: Tanner enjoys working with artists and guiding their creative whimsy into marketable pieces. "It doesn't matter where you're from—if you have drive, your pieces can be in a museum or be sought out by collectors around the country," she says. "Your art can take you places." —Karen Fischer
---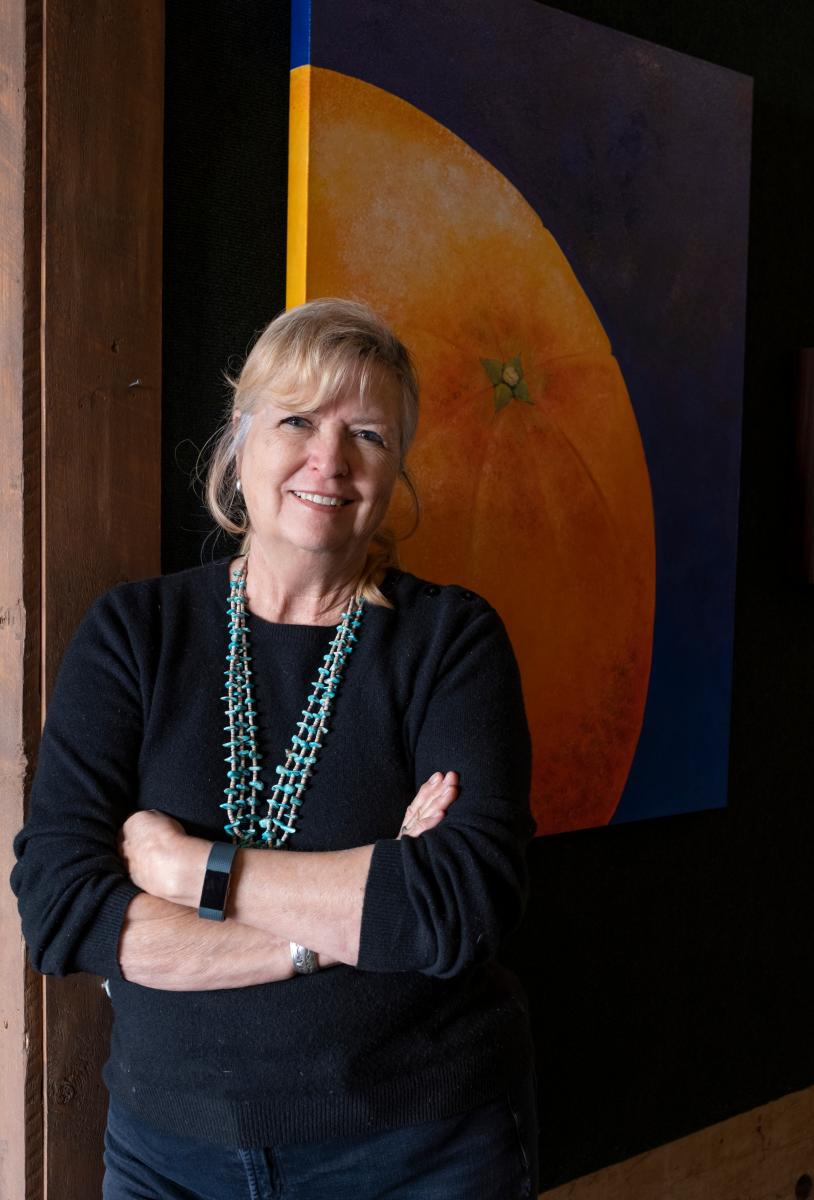 Beverly Taylor takes every chance she has to promote the arts in Farmington. Photograph by Jeremy Wade Shockley.
Beverly Taylor
Artist and owner, Artifacts 302 Gallery, Farmington
When Beverly Taylor returned to her hometown with her husband, Tom, she planned to help run his family hardware and lumber business on Farmington's Main Street. But in the early 1990s, chain stores came to town and the business went under. So Taylor, who graduated from the University of New Mexico with a fine arts degree, transformed the historic lumber facility into Artifacts 302 and divided the building into artist studios. "Within two weeks, I had all of the spaces rented," she says. 
Art for Art's Sake: When Taylor left Farmington for UNM, she dreamed of returning as a K–12 art teacher. But art history and the hands-on practice of jewelry making and drawing captivated her. "I wanted to soak in making art," Taylor says. "I didn't care about the future and how training as an artist would translate in Farmington."  
Gallery Views: In 1999, Taylor expanded Artifacts 302 to include a storefront gallery, which has benefited from her experience as an artist who practices calligraphy, acrylic painting, watercolors, drawing, bookbinding, and more. "Many gallerists only know the selling side," she says. "I know the techniques and I can say, 'This is how this was made.' "  
Week by Week: Between COVID-19 closures and construction on Main Street, Artifacts 302 had to adjust its hours. So Taylor began baking bread on Mondays to help create a routine. "It's an 18-hour, chunky, slow-rise loaf," she says. "In June, I drew a picture of a loaf in my journal and thought, I've baked 50 loaves of bread. Now that number is 100 or more."  
Tuning Up the Economy: Artifacts 302 helped elevate artists who were previously unseen in the Farmington area. "I was amazed at the caliber of art being produced on kitchen tables and in garages and basements," she says. "They just didn't have a place to take it. The challenge was locals understanding that these artists are our neighbors and we need to support them, just like we support our mechanic on the corner." 
Class Act: In the early 1990s, Taylor taught a variety of art classes at San Juan College, which helped spark her artistic rejuvenation and the eventual opening of Artifacts 302. Having to cancel art classes at the gallery—especially for young people—has been tough during the pandemic. "I miss the interaction, the gleam in their eye when they get it, and it comes out in a drawing or a painting," she says. 
Second Looks: Taylor continually works to support Farmington, which has faced economic challenges because of volatility in the oil and gas industries. As a member of the Museum of New Mexico Board of Regents for 13 years, she recalls pushing hard to get Farmington some recognition. "I convinced the board to have a meeting up here, and they were pretty amazed," she recalls. "It just took getting them in the door. I take any opportunity I can to promote our historic downtown, community, and area." —Karen Fischer
---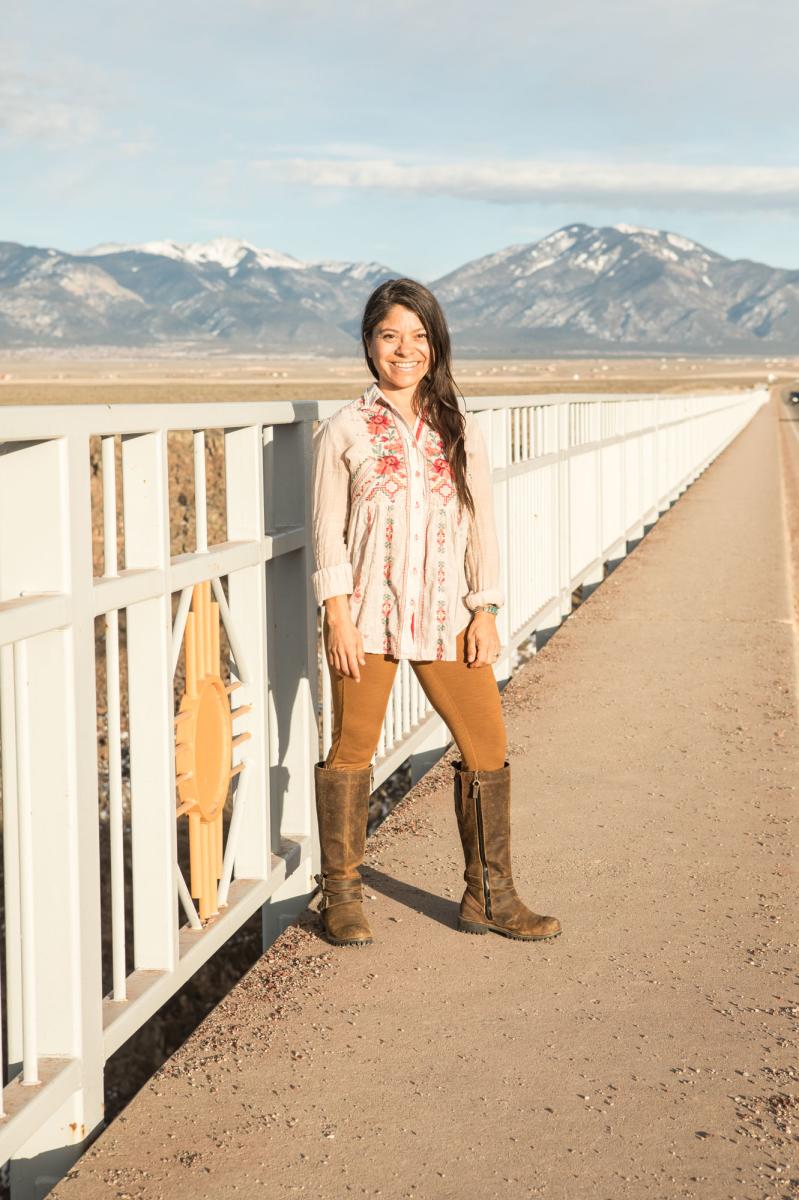 Angelisa Murray provides enchanting New Mexico experiences for visitors and locals alike. Photograph by Minesh Bacrania.
Angelisa Murray
CEO and guide, Heritage Inspirations, Taos
Angelisa Murray learned to fly-fish in Alaska, tried her hand at surfing in New Zealand, and earned her yoga certification in Thailand. She's a student of the world, but as a guide and trip planner, her favorite classroom is New Mexico. A self-described "four-foot-ten, tiny little brown person," she possesses a personality that could fill the Albuquerque Convention Center—especially if she's talking about the Land of Enchantment. As CEO of Heritage Inspirations, Murray aims to do more than showcase the wonders of New Mexico; she strives to "make people feel alive again." 
Inspired by Heritage: While growing up in Arizona, Murray made frequent family trips to visit relatives in southern Colorado and northern New Mexico. One highlight of those childhood trips: her grandmother's tortillas, which Murray calls "the best on the planet." Too bad she had to share them with her numerous cousins. As each tortilla came off the griddle, a child would butter it, take a bite, and pass it to the next kid. Murray now recognizes that the delicious assembly line was really something much more profound: They were breaking bread together. "That unifies you," she says. "That has impacted everything for how I want to curate our experiences."  
The Calling: An internship at the historic Lake McDonald Lodge, in Montana's Glacier National Park, kick-started Murray's tour-guiding career. "I realized that I have a servant's heart, that I love people, and that there's no way I could work indoors," she says.  
Enchanting Dreams: Toward the end of a yearlong stint in New Zealand—where she guided bicycle tours and managed a restaurant at a ski resort—Murray began having dreams about New Mexico. "All these years later, I've realized that I was dreaming about my sanctuary and where I live now," she says.  
Adventure at Any Speed: While Heritage Inspirations' tours often center on pursuits like backpacking and snowshoeing, Murray also creates slower-paced art walks and cultural tours that feature the "authenticity and the integrity of New Mexico." Adapting to pandemic travel restrictions, Heritage began hosting virtual cooking classes focused on traditional New Mexican recipes and offering road-trip itineraries, complete with step-by-step directions and insider details.  
Unforgettable: All of Heritage Inspirations' excursions are designed to be memorable, but Murray says the three-day glamping adventure outside Taos is truly magical. "To fall asleep under an International Dark Sky in an epicenter of so much culture," she says, "there is nothing in the world like it." The next morning, guests rise early to watch the sun tiptoe over the Sangre de Cristos. That's when you learn something about yourself, she says: "New Mexico does that." —Courtney Holden
---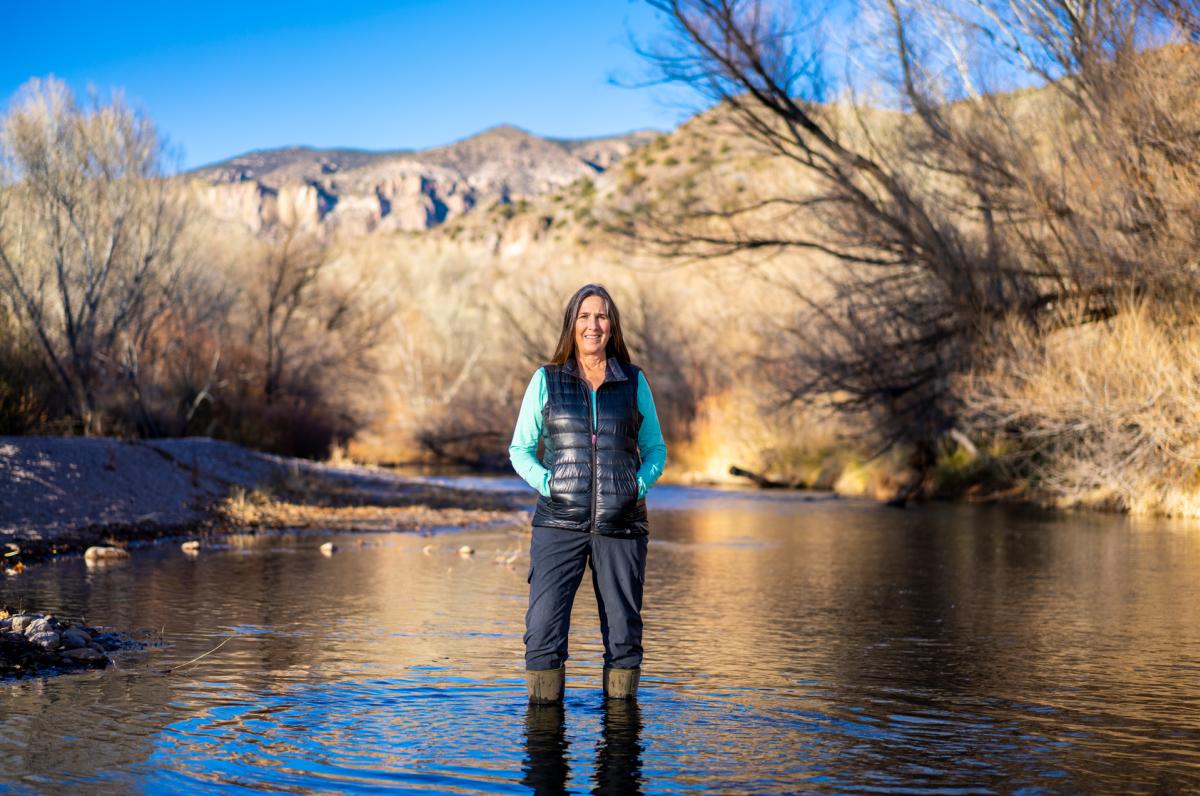 Allyson Siwik has helped to protect and promote the Gila River. Photographs by Jay Hemphill.
Allyson Siwik
Executive director, Gila Resources Information Project, and director, Gila Conservation Coalition, Silver City
The Gila River takes you on a journey. First, you spend some time on its banks, then a love for untamed flows, scattered petroglyphs, cliff dwellings, and birdsong starts to swell, and that passion fuels a fierce desire to protect it all. That's part of what has kept Allyson Siwik sitting through committee meetings and wading through paperwork—the real work of conservation efforts—since 2003. Now, Congress is considering granting the waterway Wild and Scenic River status to preserve it for generations to explore. The "secret sauce," Siwik says, in making that progress has been building a coalition of supporters, who often first dip their toe in by bird-watching or kayaking during the annual Gila River Festival, which Siwik runs.
An Endangered Wonder: From trickles of snowmelt in southwestern New Mexico's highest peaks, the Gila River runs through steep pink and gray canyons, then paints a ribbon of green through the Cliff-Gila Valley. "The Gila River is one of the last relatively healthy rivers in the Southwest, and it's the last major undammed river in New Mexico," Siwik says. "Because of that, it's just got tremendous ecological importance."  
Starting Early: Siwik's compass turned toward conservation efforts in college, where she capped her biology major with a project on Amazon deforestation. "We were starting to see these major changes," she says. "I was very motivated to get involved in protecting our environment, understanding that human impacts were really getting pretty enormous."
Learned Optimism: Siwik transformed the Gila Resources Information Project into an umbrella organization for groups fighting to keep the Gila River wild. Working closely with Gila Conservation Coalition founder M.H. "Dutch" Salmon helped keep her spirits up after their many setbacks. "He knew that in the end people would see it just didn't make sense," Siwik says. "And of course, he was right." 
Field Research: Siwik has repeatedly boated a 45-mile section of the Gila, a "super-wild, magical" place, she says. Traveling the river means dodging downed trees and braving rapids in a raft and kayak, exploring side canyons, spotting petroglyphs, and watching springs seep from rock walls. "Being in the wildness, sleeping under the stars right next to the river, hearing the water gurgling by, and getting in the flow," she says, "you really feel like you're one with the river."  
Spreading the Sparks: When she realized kids in Silver City had never seen the river from its banks, Siwik launched the Gila River Festival, which has offered kayaking, guided hikes, bird-watching, and poetry readings paired with interpretive dances, a film series, and talks by noted speakers. "We're always coming up with different ideas to inspire people," Siwik says. —Elizabeth Miller 
---
Read More: Joanna Keane Lopez's interactive sculptures use adobe bricks covered in aliz to revive a dying tradition.
Read More: As the second-longest-serving educator in the state, this teacher delivers lessons that go far beyond the classroom.
Read More: When life throws us off-center, ancient ways may hold a cure. One way to find out? Ask Mama.​