You know you are New Mexican when a bushel of green chiles fills you with joy. Photograph by Douglas Merriam.
We Love Chile
ERIC ROMERO ASKS THAT WE START by smashing the chile war, that whose-is-best trope—Colorado or New Mexico? For one thing, until 1861, the chile-growing part of southern Colorado was New Mexico. For another, it largely depends on what you were raised on. "Who makes the best cookie?" he asks. "Grandma, of course. Cognitive anchoring is how our taste buds are formed and how we internalize sensations. We all go home."  
Raised in southern Colorado, Romero studies land-based culture as a professor at New Mexico Highlands University, in Las Vegas. Chile, he says, acts as a centerpiece for that work. It claims centuries-old roots in Native, Spanish, Mestizo, and Anglo cultures, a rich brew that tends to get swallowed up by the national hype from massive chile farms in southern New Mexico.  
"In the larger market, we push Hatch," he says. "It's emblematic. But we discount the northern areas, where we have chile varieties that are localized to regional ecosystems. There's differences in production and taste. Some are really specific to a river system or a regional bio-area. That's where a really strong connoisseur will be able to say, 'Oh, that's Chimayó red.' "  
Nonetheless, he applauds the elevation of chiles in general as a symbol for New Mexico. It helps build a sense of community, he says, just as land grants and acequia systems have for generations.  
"It's having a shared cultural behavior," Romero says. "What's a better indicator of that than the physical sensation of biting into a fresh chile? It creates a community of people. It's who we are. We're chileros! We are chile. We die for chile. We put it on pancakes."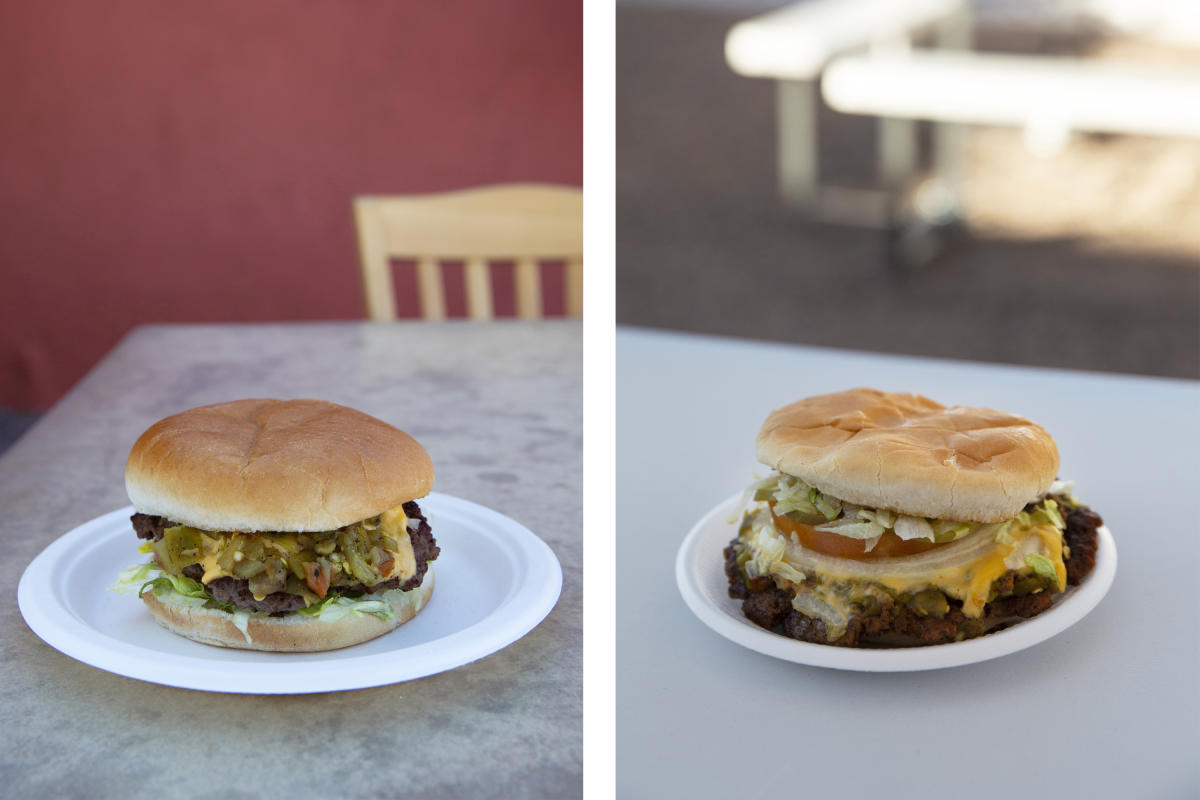 Green chile cheeseburgers from Buckhorn Tavern (left) and Owl Bar & Cafe (right). Photographs by Mary Robnett. 
The Good, The Bad, and The Tasty
In tiny San Antonio, two iconic burger joints have both been hailed as the home of the state's best green chile cheeseburger. We put the Buckhorn Tavern and the Owl Bar & Cafe to the test.  
The Buckhorn Burger literally beat Bobby Flay in a 2009 Food Network throwdown.  
Size: 2¾ inches high, 5 inches wide 
Bun: Large and fluffy; covered almost the entire burger 
Toppings: Green chile, pickles, tomato, onion, lettuce, cheese, mustard 
Chile: Good fresh-roasted flavor, not too spicy 
Price: $7.65 
The Owl invented its Green Chile Cheeseburger at the request of atomic scientists.  
Size: 2¼ inches high, 4¾ inches wide 
Bun: Smaller; smashed-down burger with toppings overflowing the bun 
Toppings: Green chile, pickles, tomato, onion, lettuce, cheese, mayo 
Chile: Hot! This chile is spicy! 
Price: $6.25 
The winner: Me! I got to eat both. —Mary Robnett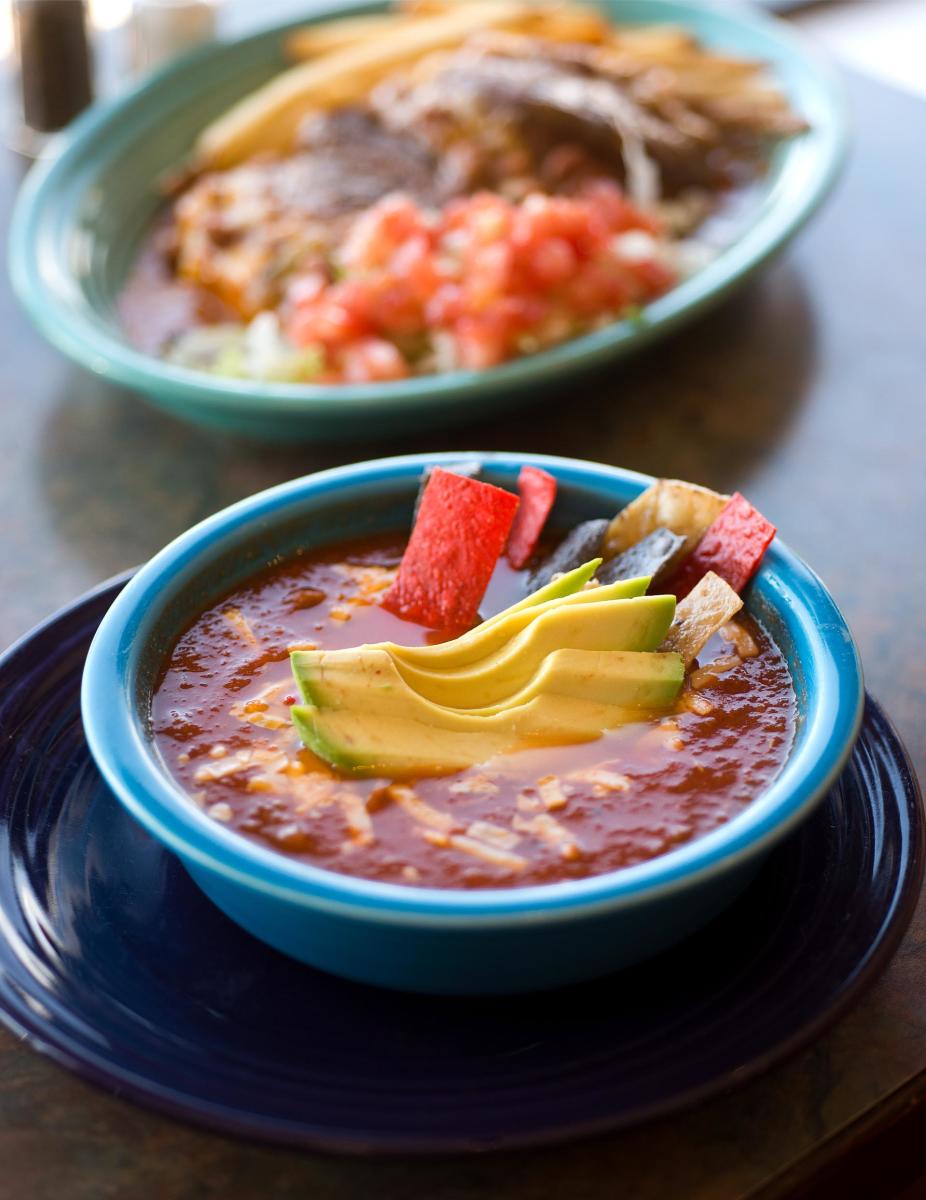 A bowl of goodness at Charlie's Spic & Span Bakery and Café. Photograph by Douglas Merriam.
Down-Home Faves
Where can you find homestyle New Mexican food?
We asked our Facebook fans (and one ringer). 
Tia Sophia's 210 W. San Francisco St., Santa Fe  
A staple off the Santa Fe Plaza since 1975. Wait for a table; it's worth it.
"Love their simple bowl of pinto beans, ground beef, and green chiles. Breakfast is great, too." —Suzanne Duncan Ramsey
Yum-Yum's 460 Central Ave., Tularosa
A true hole-in-the-wall diner with everything from yeast doughnuts to Frito pie.
"Brisket tacos, posole, tamales, Navajo tacos—and all the other wonderful items. Everything is delicious, and the mom-and-pop atmosphere is perfect." —Caroline Kerley 
Zia Cafe 1155 S. Valley Dr., Las Cruces  
Boasting "True New Mex Taste," this diner more than delivers on the basics.
"The best red enchiladas I've ever had from a restaurant, and their menudo is sooo good, too." —Albina Yañez 
Rincon del Pollo 9129 4th St. NW, Albuquerque 
As unassuming as a Better Call Saul set piece, this joint serves south-of-the-border flair.
"The chile tastes just-picked all year round. Their chicken enchiladas are incredible. New Mexican soul food!" —Jennifer Caffrey 
Charlie's Spic & Span Bakery and Café 715 Douglas Ave., Las Vegas
Since 1950, this large eatery has sated big appetites.
"I love their eggs and papas covered in green chile sauce. And their fresh tortillas are amazing. I also love their cinnamon rolls—you must get a couple to go!" —Chandra Lake Oard  
El Cafecito 820 E. Santa Fe Ave., Grants  
A spacious community gathering spot with a capacious menu, set on Historic Route 66.
"The breakfast burrito smothered in a rich red chile sauce hit all the spots after a morning hike at the Casamero Pueblo site." —Kate Nelson 
Michael's Kitchen Restaurant & Bakery 304-C N. Pueblo Road, Taos
Classic food served amid the architecture of a 1940s Spanish Pueblo Revival–style building.
"Never had a bad meal—ever. I pretty much always get a sampler with Christmas chile—trying to get as many flavors before the long gap between visits." —Richard Cardenas  
La Fonda Restaurant 206 W. Main St., Artesia
"If you leave hungry," this restaurant proclaims, "it's your own fault."
"I like the Southwest Combination plate when I'm craving more than one thing. It has a taco, enchiladas, chile relleno, and guacamole. When I'm in a steak mood, the carne asada is absolutely the best." —Karla Younger Rhoten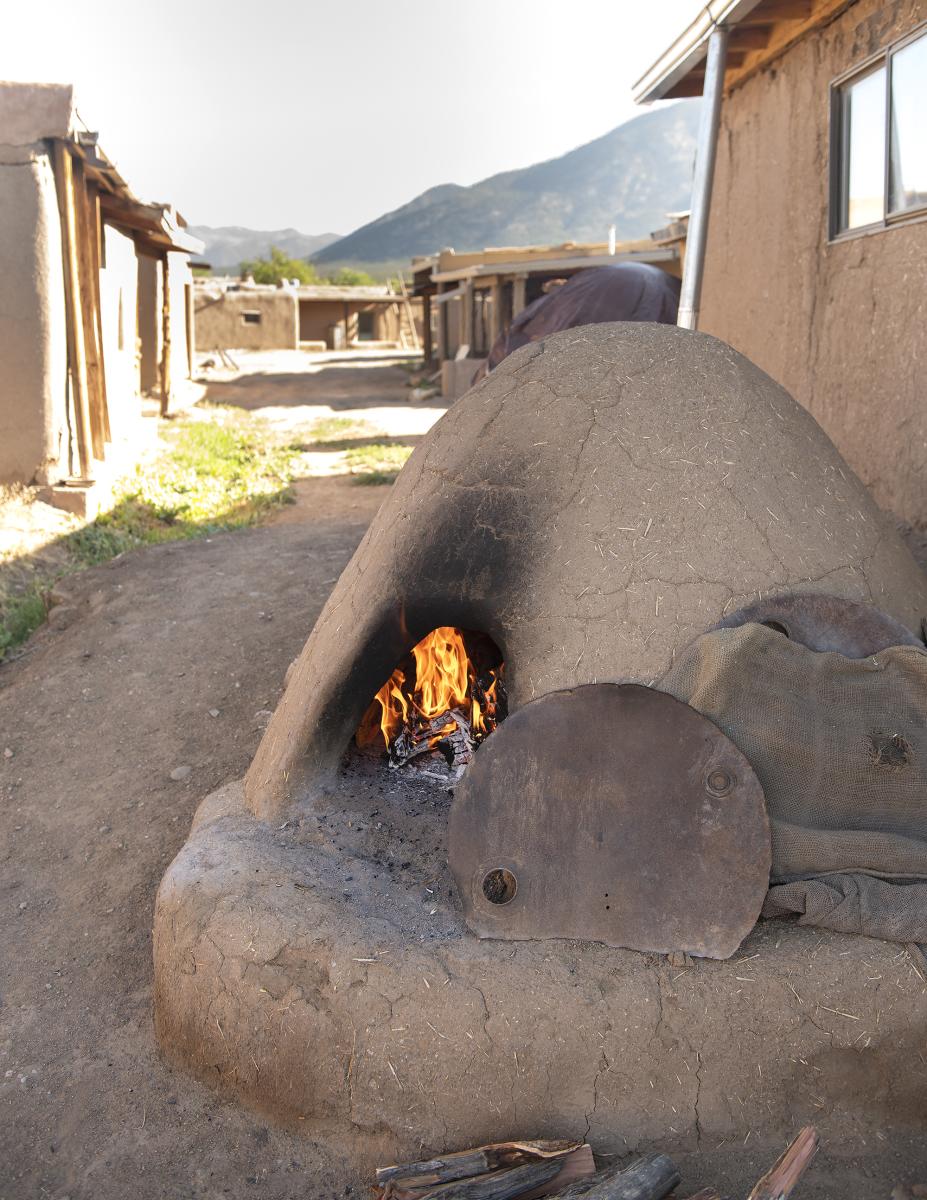 A horno at Taos Pueblo. Photograph by Douglas Merriam.
The Best: Hornos
"This is how we grew up," says Norma Naranjo, owner of the Feasting Place cooking school, on Ohkay Owingeh Pueblo. She's known as "the horno queen" for her beehive-shaped, wood-fired adobe oven that can hit temperatures of 800 degrees—though she prefers a more temperate 400. Found throughout New Mexico, hornos make short work of lamb chops, roasted potatoes, and the round loaves of Pueblo bread that found new fans during the pandemic.  
"I just did 60 loaves," Naranjo says. "People want something homemade to keep up their traditions with their families." She also switched to Zoom classes, where she included pizza and crostini—"fancy things we never knew before." Because it's outdoors, the horno also made for a warm gathering place. "If you have an horno in your backyard, you have a lot of alternatives for baking," says Naranjo, who particularly likes pastelitos—feast-day pastries filled with fruit.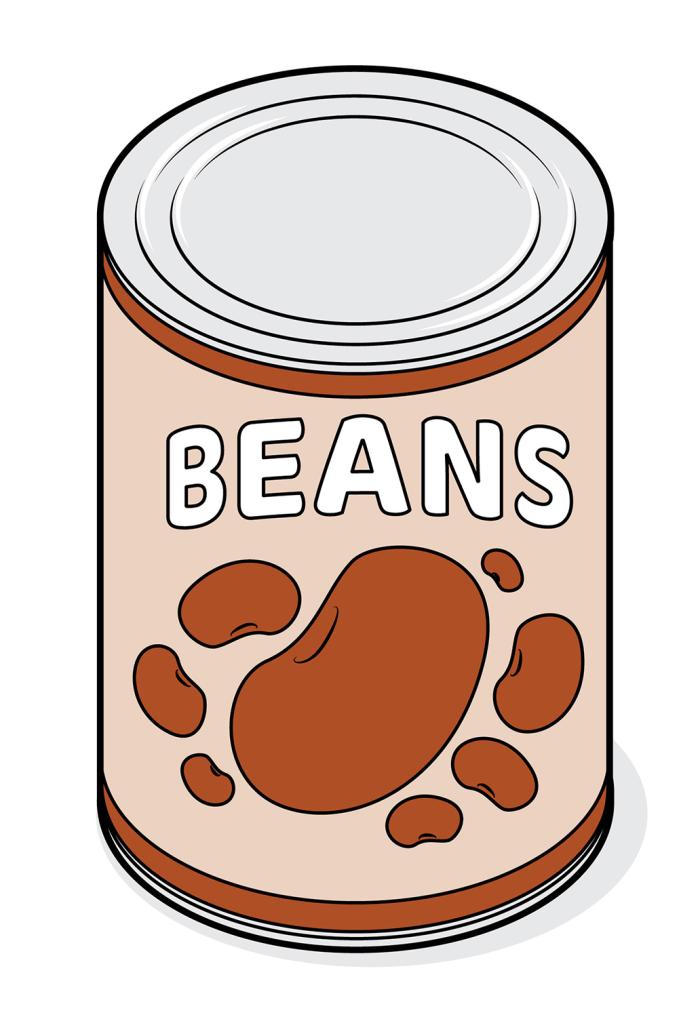 Illustration by Chris Philpot. 
The Worst: Canned Beans 
Sure, they're easier than the soak-and-simmer methods, but that lingering tang of tin affects their flavor, you lose the aroma of beans on the bubble infusing your home, and we live in a pinto-bean-growing capital. Support local farmers!