Subscriptions for Students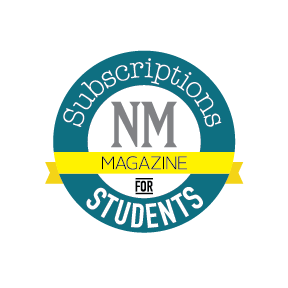 It is our goal to deliver New Mexico Magazine for free to all students in the state, from middle school through college. Deep awareness of the state's unique assets contributes to an improved quality of life for those who can appreciate—and share—what the state has to offer. And by learning about examples of successful New Mexicans who represent the state at its best, students may be inspired to succeed locally as well. It's all about state pride!
Educators participating a pilot program confirm that the magazine relates to studies of history, geography, reading, writing, social studies, culture, and the arts.
The approximate cost of adopting a classroom—supplying 30 issues per month for eight months—is $250, and any donation is greatly appreciated. These funds are used solely to support the program, and donations are fully tax deductible.
There are two easy ways to donate online.
1.  PICK AND CLICK: Simply select from a menu of a pre-set amounts and enter secure payment information.
2. ADOPTION OPTION: With a donation of $250 you may "adopt" a specific New Mexico classroom, or we can pair you with a classroom on our waiting list.
3. OR to donate by check, Click Here
4. To explore other options for donating or sponsorship (e.g., foundation grants, corporate partnership, multiple classes or entire schools or districts, recurring donations, etc.) please contact Kurt Coey at students@nmmagazine.com or (505) 827-6387.
TEACHER TESTIMONIAL
"The magazine is influencing my students lives and has added a new level to my teaching. I really want to see this program succeed, not only so I can keep using this as a tool in my classroom for years to come, but to share the success with lots of other students in our state!" — Rachel Dennis, history teacher, Jackson Middle School in Albuquerque

New Mexico Magazine
Attn: Subscriptions for Students
495 Old Santa Fe Trail
Lew Wallace Building
Santa Fe, NM 87501
students@nmmagazine.com
(505) 476-0200