| | |
| --- | --- |
| | SPECIAL ADVERTISING SECTION |
Time Traveling in Los Alamos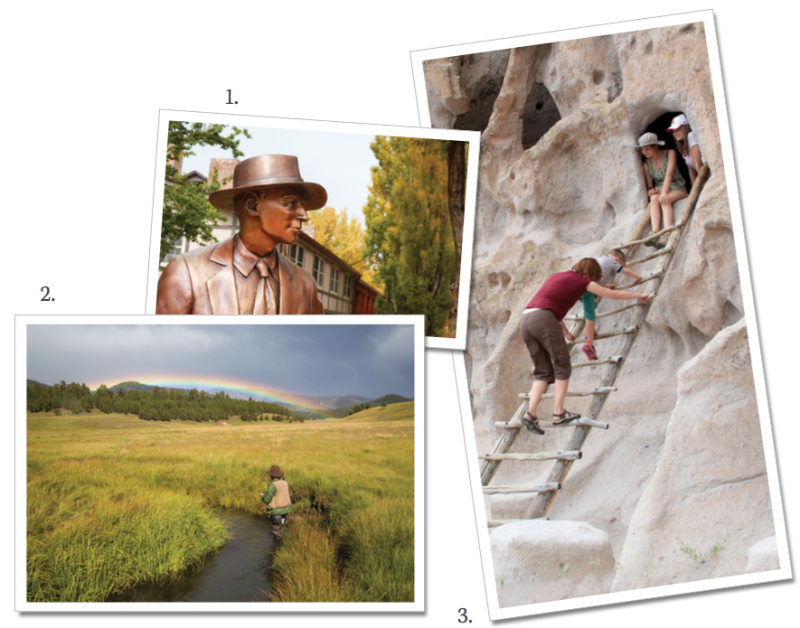 1. Susanne Vertel's bronze statue of J. Robert Oppenheimer stands outside of Fuller Lodge in Los Alamos.
2. Fishing is only one of the many things visitors can enjoy in the Valles Caldera National Preserve.
3. Bandelier National Monument features a number of Ancestral Puebloan cave rooms that visitors can climb and explore.
HIGH ON THE PAJARITO Plateau, Los Alamos is an extraordinary gateway to three national parks, spanning more than a million years of New Mexico's past. Lovers of history, science, and adventure can explore the worlds of Ancestral Puebloans, 19th-century home-steaders, fearless Rough Riders, and scientists who changed the world.

BANDELIER NATIONAL MONUMENT

Once home to hunter-gatherers and Ancestral Puebloans, Spanish settlers, and, today, intrepid adventurers, Bandelier has trails that wind through cliff dwellings, up rock faces, and along rushing streams. Night-sky programs and guided tours ensure the full experience.

VALLES CALDERA NATIONAL PRESERVE

From the blast that created the 13-mile-wide volcanic depression, to the prehistoric farmers and hunters, to the ranchers that have ridden the grasslands for a hundred years, this national park offers ranger programs and guided tours to help visitors see and fully experience this area's unique high-mountain history.

MANHATTAN PROJECT NATIONAL HISTORICAL PARK

Preserving the legacy of the 6,000 people who worked on the first atomic bombs, America's newest park has a guided tour around downtown Los Alamos featuring the places and people that made up the Secret City. Also worth a visit is the nearby Bradbury Science Museum that offers interactive exhibits exploring the science and engineering of the effort.

 

 

 

VisitLosAlamos.org
(800) 444-0707