Note: This blog post was written by Secretary-Designate Christopher Ruszkowski! 
Day 10 By the Numbers: 
209 miles traveled
2 School Districts Visited 
1 State Authorized Charter Visited
3 "A" Schools Celebrated 
First Stop: Estancia Valley Classical Academy
Our visit to EVCA started with the raising of the flag…As the sun rose, the Straight A Express pulled into EVCA to celebrate a school that is on the rise.  The flag was put at half-mast during a week that started, for us, on 9/11 in Farmington and found us, as a state mourning the loss of Senator Pete Domenici.  It was both a solemn and hopeful moment, as EVCA gathers all students, K-12, each morning to come together as a community and salute our flag and our country. It was the perfect way to kick off Day 10!
As a former middle school social studies teacher, it was a profound moment to witness the power of our democracy and how it's evolved since 1776.  It's no surprise then, that this was a theme of our first visit last Friday:
Early Civics Education:  Very rarely have I heard our Constitution's Preamble recited by Kindergarteners!  A rousing rendition, with all K-12 students looking on, it was a testament to just how firm EVCA believes in weaving social studies education into every element of the school's classrooms and culture.  Having a thematic focus is something that many of our charter schools attempt, but at EVCA one can feel that difference—it exudes from the parking lot to the hallways.
Unique Curricular and Instructional Materials Approaches: We haven't heard about Singapore Math much, but the schools that use it generally love it.  EVCA is near 40% proficient in math, and is looking to get to 50% in the year ahead.  Combine this with the Teacher-Led, Core Knowledge approach in the early years and the civics education mentioned earlier, and there are unique approaches on display.  Combining intensive academics and civics/character education is yet another BOTH/AND moment for the Straight-A Express…It was neat to see this on full display in a high school Physics class... high-level math AND conversation about Galileo!
Family & Student Accountability: One of the themes of our discussion with educators in the building was about the "social contract" that exists between the school and it's families. They've put together a wonderful family folder resource that is a potential model for other schools statewide, detailing the expectations of the partnership between school, student, and family. We've seen this strategy work in schools across the state, regardless of neighborhood or demographic—from Taos Academy to MAS and now, EVCA, there is a strategy and energy put into what that should look like.  We recommend sharing this practice statewide—and reaching-out to these schools to learn more about how they do it!
Congratulations Estancia Valley Classical Academy!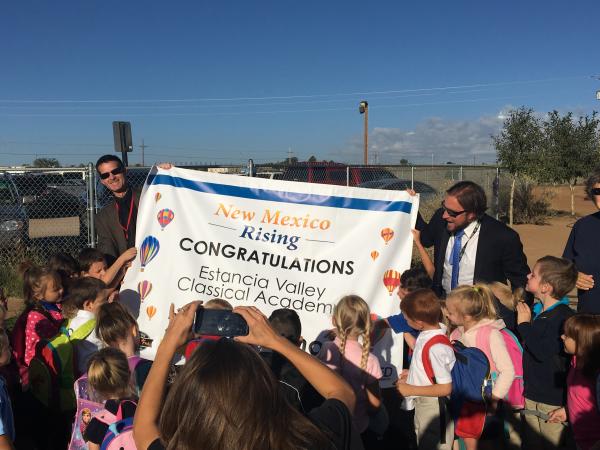 Second Stop: Estancia Middle School (Estanica Municipal Schools)
Next stop: Estancia! This small middle school has earned two As in a row and is on the rise from a D in 2014…Here's what we observed:
Co-Leadership Model: We've seen this model before in other states, but there was a distinctive co-leadership model at Estancia Middle School, with both an instructional and an operational leader.  This can work!  Given the importance of instructional coaching and NMTEACH, identifying an administrator to focus purely on instruction can reap many benefits…and having one focused purely on operations can make the trains run even more seamlessly.
Partnership with the REC:Our state's REC Directors have been joining us on the Express, and thank you to Maria for coming along for this stop! The partnership for related services helps district's like Estancia meet their students' needs and it's a unique feature of the New Mexico landscape. An example of this partnership is when a school needs a speech pathologist or school psychologist but doesn't need them full time, they can partner with the RECs to get the support they need. 
Self-Tracking Among the Students: This has been a common theme on the Express, the extent to which each and every student knows where they are academically at all times.  For the approximately 100 kids at EMS, this is part of the routine—"drilling-down" to the student-level, teacher-leadership in the area of data-driven instructional planning, collaborating with athletics to ensure that schoolwork comes first, and then setting-up the right interventions for kids. One example: A school Reading & Math Academy during 6th & 7th period for students earning a PARCC scores of 1-3. This is a school that won't be satisfied until every child is college-ready, scoring a 4 on the PARCC or better!
Congratulations Estancia Middle School!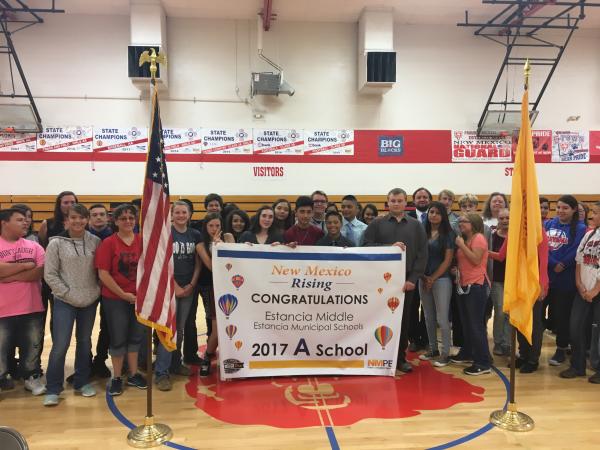 Third Stop: South Mountain Elementary (Moriarty-Edgewood District)
SME!  SME!  SME!  Bring on the Marching Band for Homecoming!  Superintendent Sullivan and Principal Duran welcomed the PED team to South Mountain Elementary with a rousing rally in the gymnasium.  Joined by district staff and school faculty, it was great to recognize the school's second "A!" In walking the halls and spending some time with Principal Amie Duran, we learned about some best practices that districts and schools should come check out:
Building from NM-DASH and the 90-Day Plan: This is a school that knows where it wants to be and knows how it wants to get there—no shortage of advanced planning and thoughtfulness.  The focus of this year's plan is to ensure SME's students are tracking their own data and are ready for success.  Further, the school is fully executing on the SAT process, and bringing in student data and parents and families along the way.  Students are expected to know what they are learning every day!
Setting the Bar High & Extending Learning: While SME has already surpassed statewide achievement targets in both reading and math, they're not satisfied until every student is on track for college and career.  According to Principal Duran, expectations for students do not waiver, and there are significant extension activities for those students who have mastered the learning objectives.
PLCs that Work:  A common theme throughout the Straight-A Express has been trying to understand what makes good professional learning communities work.  Here are some tips from SME…
Common formative assessments
Collaborative unit planning with clear goals
Students who have data notebooks.
SME…thank you again for a great visit!.  Also, a quick birthday wish to Superintendent Sullivan, whose team hosted the our Straight A Express visit on a very busy day for the district!
Congratulations South Mountain Elementary!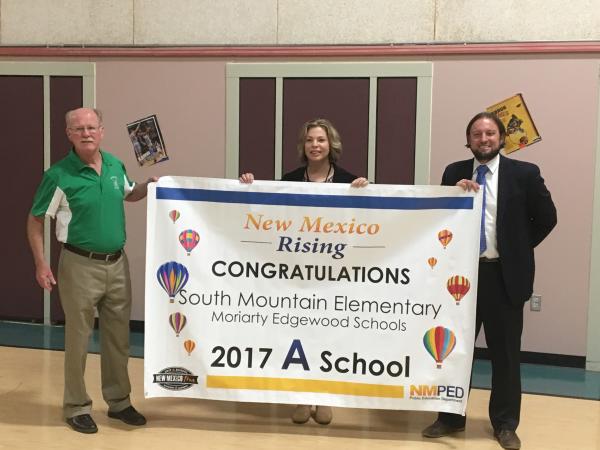 What a great day on the Express. Stay tuned to read about our visit to the Eastern side of our beautiful state and don't forget to follow us on Twitter: @NMPED.