Day 11 By the Numbers: 
374 miles traveled
4 School Districts Visited 
8 "A" Schools Celebrated 
Another great day on the Straight A Express, we had such a great visiting some of our "A" schools in Eastern New Mexico. Unfortunately, this time, we missed a few so we'll have to make another trip back, and we can't wait! 
First Stop: Sandia Elementary (Clovis Municipal Schools) 
If there's one problem we don't mind having on the Straight A Express, it's not having enough hands to carry in all the banners! This was certainly the case when we pulled up to Sandia Elementary to celebrate Clovis' FIVE "A" Schools! When we arrived, we were greeted by Principal Vetterly who provided our warmest welcome yet, which was a special moment for Secretary-Designate Ruszkowski: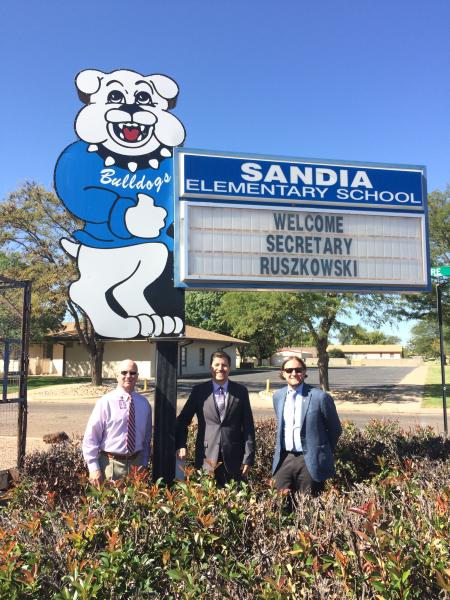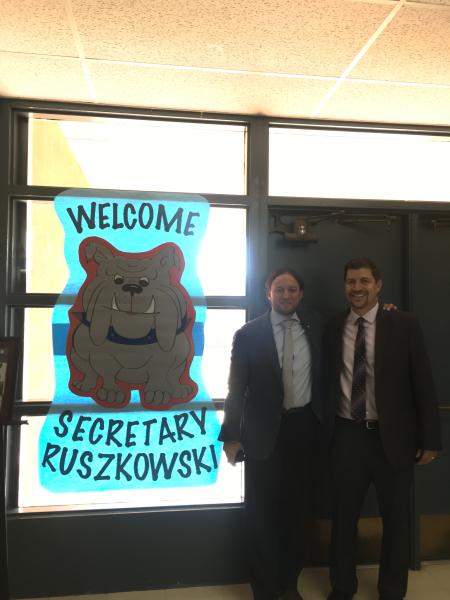 After our warm welcome, we joined district staff and the 5 "A" school principals inside to learn more about what makes their schools great! After we presented each school with their "A" banner, we were treated to an incredible student performance; a choreographed performance to the preamble of the constitution! The kids were awesome! We also received a tour of Sandia Elementary that included highlights of key programs (Whole Brain Teaching, Recycling, PARCC Power Week, K-3 Plus, etc). 
Here's what we learned from Clovis' "A" principals and our tour of Clovis Sandia Elementary: 
Embrace New Tools: Parents and teachers in Clovis believe in raising the bar for our kids. The district is making progress on our state standards and it's showing in their PARCC results. Clovis has embraced PARCC; they've studied and analyzed the student results. They've benchmarked against other assessments. They've done the hard work and it is yielding massive results! 

The same can be said of NMTEACH. Clovis is taking advantage of flexibility and opportunities provided by the state that allows their high performing teachers to bypass the dossier process by demonstrating excellence through student achievement results; allowing teachers to progress through the licensure levels more quickly! 
 
Whole Brain Teaching...and Learning! The "Big 7" of WBT shape everything...As a result, students are highly engaged all day, and from what we can tell, they love every minute of it. Staff members utilize many different methods of engagement including, call and response, shoulder partnering and hand signals to check for understanding. This was perhaps the most instructional urgency we've seen in any classrooms statewide.  A very special shout out to STA Member, Roxanne Mitchell who's classroom was one of the handful we visited.

 
PPE & RDA all the way: Clovis is another district that has embraced new opportunities to participate in support and development programs including Principals Pursuing Excellence and Results Driven Accountability. These programs, together with their hard work, have led to positive changes in classroom practice...it's impacted how they observe teaching, look at data, allocate resources, serve English Learner's...and it's paid off! 
Congratulations Arts Academy at Bella Vista!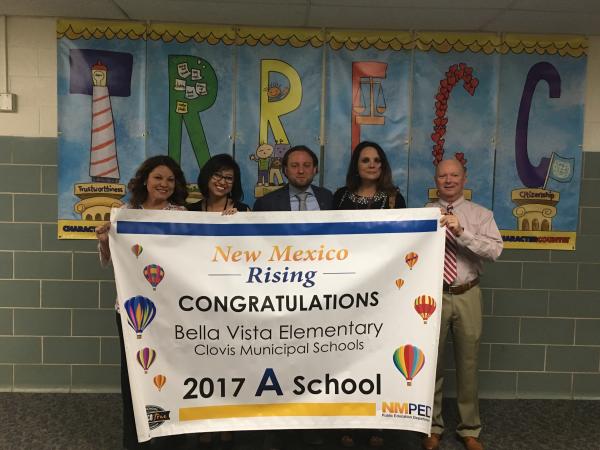 Congratulations Barry Elementary!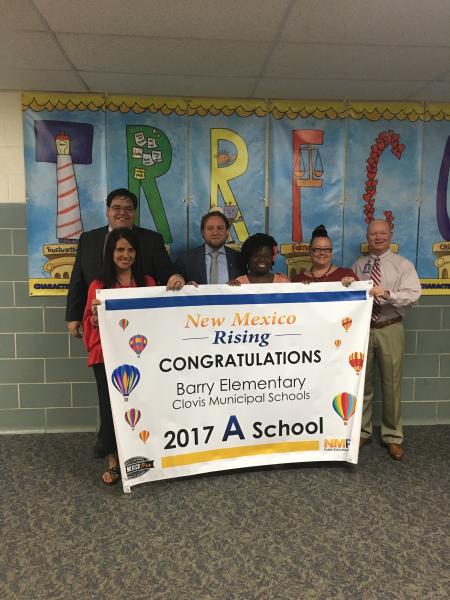 Congratulations Mesa Elementary!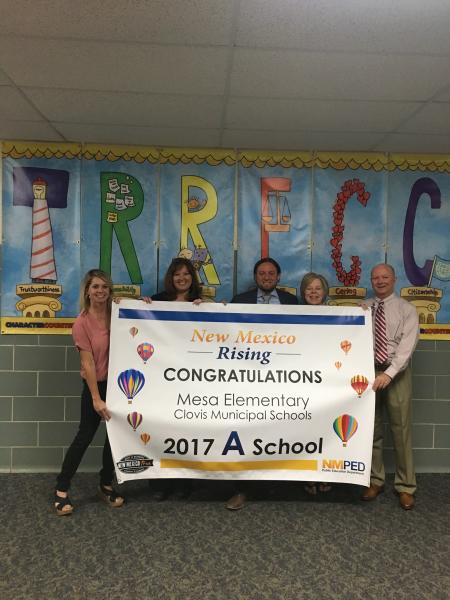 Congratulations Sandia Elementary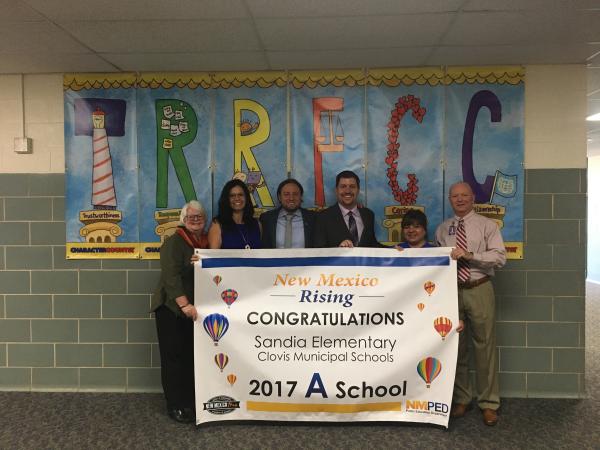 Congratulations Zia Elementary!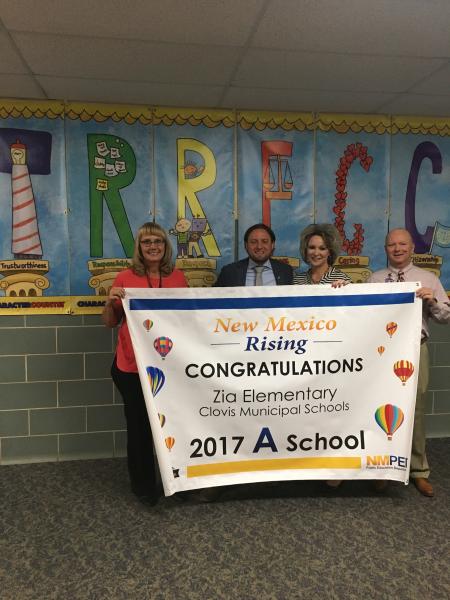 Second Stop: Grady High School
First, special recognition to now retired Superintendent Ted Trice who served the district for 9 years as Superintendent and was a major inspiration for the Straight A Express.  His words at a School Boards Meeting earlier this year in Tucumcari stuck with the Secretary for months...and now, incorporating his feedback, here we are, nearly half way done with the Straight A Express! 
Upon entering the gym we noticed awesome sings that the students had made to welcome us to Grady! Go Bronchos and Lady Bronchos!  We were greeted at the front door by students and then headed to the gym were we were treated a rousing, electric guitar rendition of the Star Spangled Banner by an awesome young rock star!  She filled the first class gym with the sound of Jimi Hendrix! 
Here's what we think makes Grady great: 
High Expectations: Writing this blog is easy when 10 high school students start by giving speeches on "Why Grady is an A school...". The common theme among the students that spoke was high expectations.  Teachers at Grady High keep raising the bar!  Thank you students for sharing what makes the school special!

Senator Woods, Grady grad, also spoke about the importance of our kids choosing college or career. It was such a pleasure to have Senator Woods join us for a visit to his alma mater: 

 
Teachers That Do It All:  As each faculty member introduced themselves, it was clear that each did much more than teach...Everyone wore multiple hats--literally. This commitment to the students was evident at the rally and was solidified when the students gave the teachers a standing ovation.
 
CTE Partnerships: In talking to the students, we learned about opportunities in medicine, welding, and auto mechanics that were available or identified based on their interests.  Grady students are graduating HS at a 90%+ rate and showing academic proficiency to get there (ADCs were near unheard of), which is the BOTH/AND on CTE we want to see! 
Congratulations Grady High School!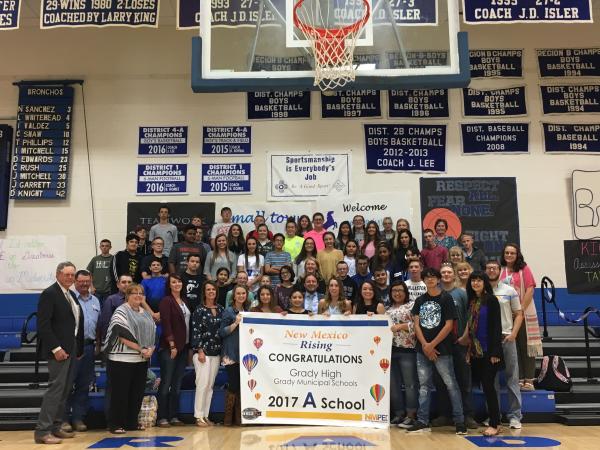 Third Stop: San Jon Elementary 
Thank you San Jon Elementary Pre-K & K students for welcoming us with an awesome banner as we entered the school!  Superintendent Taylor is also the Principal of the Elementary School (and the middle and high school for that matter).  Under his leadership, the school has risen from an F in 2014 to an A (for the second straight year) !  This is another school that is showing the state what is possible!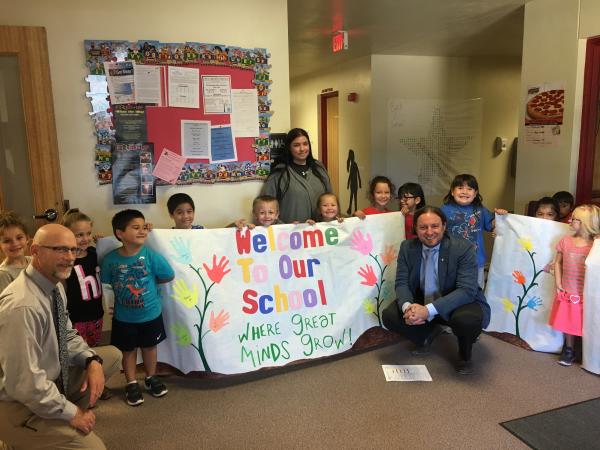 Here are a few things we heard as we walked the halls on this windy Thursday afternoon:
Another RDA and Reads to Lead Success Story: The school utilizes both Results-Driven-Accountability and Reads to Lead to maximize every resource made available.  We talked to the Reading Coach, we heard about the professional development that is made available to teachers through the RDA federal sub-grant.  This is a school and district that understands Return-on-Investment for kids.
 
Teachers Matter.  Every One: When your school and district in-total hovers in the 100-200 student range, the importance of each and every classroom is on full display for the Superintendent, community, and every teacher to see.  A school's performance and our students' futures can hang in the balance based upon one teacher.  Now, upon reflecting from the road, this is true EVERYWHERE and for EVERY CHILD, but we heard conversation of how just one hire, one departure, or one professional growth story of improvement can shape an entire school or district's performance in a small community (remember, this school rose from an F to an A over three years).  This was a reminder of the importance of talent development and management, and how NMTEACH and other professional learning resources are shaping our students' lives for the better.  San Jon Elementary embraces these opportunities.
 
Taking Interim Assessments to the Next Level: San Jon Elementary is a school that invests in Istation beyond the required statewide K-2 assessment.  The school has gone K-5 to inform its weekly PLC meetings!  In order for both students and teachers to own their learning, they need to know how they're doing at all times.  Regularly, teachers gather to walk through every child's status, which leads to the reason why both reading and math proficiency are approaching (and/or surpassing) New Mexico's State Plan goals of 50%+ proficiency in Math & Reading by 2020!
Congratulations San Jon Elementary!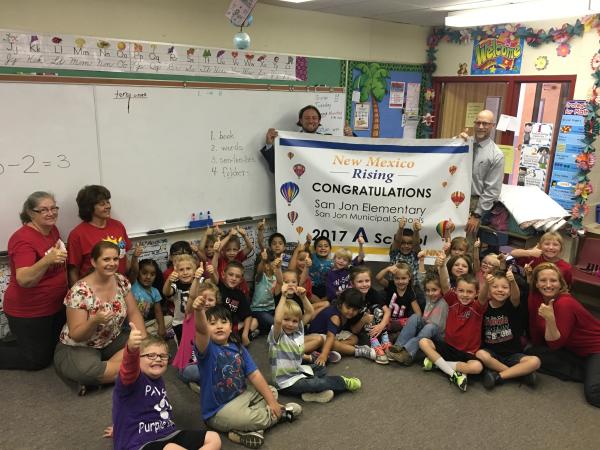 Last Stop: Logan Elementary 
Welcome to Longhorn Country!  Thank you to Superintendent Roch for putting together a high-energy gathering for Logan Elementary that featured the school mascot hyping up the crowd, some afternoon dancing, some awesome teacher and non-instructional staff appreciation awards, and a full gathering of the community to recognize success.  The fourth and final stop on this day, we were weren't quite ready for energy that shook the gym's rafters!
Here's what we heard in talking to teachers, Board Members, and the district's leadership:
Parent & Family Engagement: This was cited as a major asset for the Logan community at the elementary school level—parents and families establishing two-way communications channels with the school.  We need to see more of this statewide, and there's a lot to learn about how to execute better in our smaller communities throughout the state.  First and foremost is having an open door to the community—every family member wants to know how their child is doing, and Logan creates that environment for them.
 
Teachers Holding Themselves to the Highest of Standards: In several conversations, we heard about teachers not being satisfied until every child is growing beyond expectations.  And every child means every child in Logan—regardless of special education status or background, teachers want to track each kids' growth over time, and know what that means for their children's future.  From the gym to the hallways to the classrooms, there were conversations about raising the bar, and expecting the best.  While this has been a common theme of the Straight-A Express, the growth mindset among teachers was heard loud-and-clear at stops on Thursday.
 
Pre-K as the Entry Point: Logan has put together a half-day Pre-K program in partnership with the PED and others that has become the standard for almost every child in the district.  When a district is ready to put that in-place and implement with fidelity, it can be a major accelerator of student learning in the early grades.  It was great to stop by and see the program in action, from the play-based learning to the snack-time to the early academic work to the small teacher-student ratios…the short visit reminded us of the need for each district to create the conditions for this possibility!  Lots to learn about Pre-K from the Logan experience!
Congratulations Logan Elementary!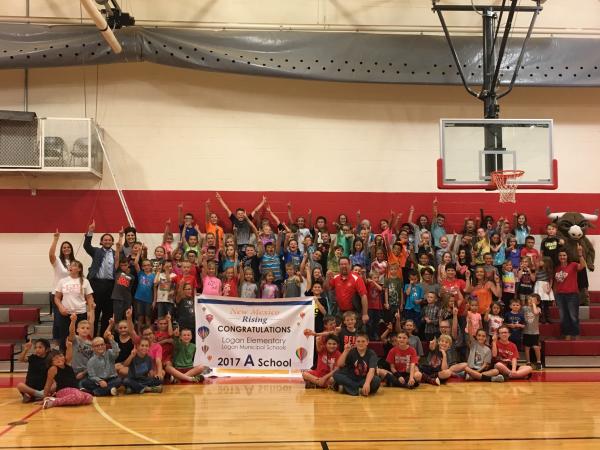 One more awesome note about Day 11 - it was the debut of our brand new New Mexico True Straight A Express Window Decals. Each "A" school will receive these decals to use on their front doors & windows! We think they look great and are grateful for the Tourism Department for helping us make the New Mexico True Straight A Express happen!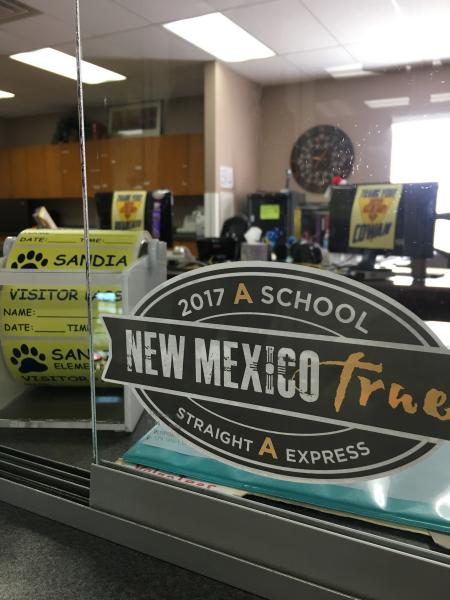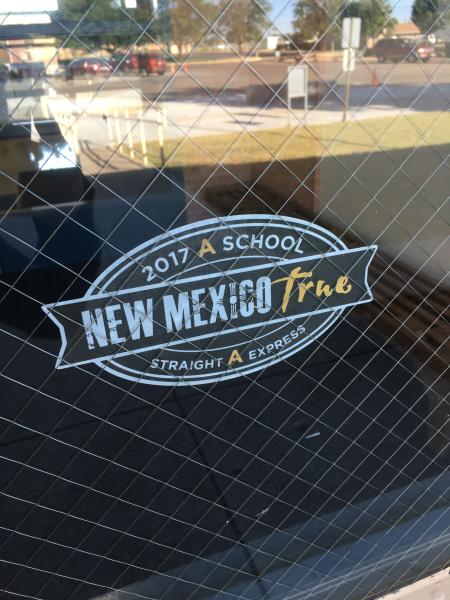 Stay tuned to hear about more visits in Eastern New Mexico and Central New Mexico! And don't forget to follow us on Twitter @NMPED!