Day 12 By the Numbers: 
106 miles traveled
2 School Districts Visited 
3 "A" Schools Celebrated 
Another day on the Straight A Express in Eastern New Mexico! Our visit in Eastern New Mexico concluded with visits to both Portales and Lovington to celebrate three "A" schools on the east side of our beautiful state. 
First Stop: James Elementary (Portales Municipal Schools)
Superintendent Johnnie Cain had the James Elementary School and community fired-up for our Friday morning stop on the New Mexico True Straight A Express.  Check out the coverage here.  The Principal of James Elementary had all of the 1st and 2nd graders fired-up for arrival and their second earned A in the last four years.  This is a school that, like New Mexico, is on the rise! 
This was one of those visits that allowed quality time for observing instruction and talking with individual teachers in their classrooms…here are a few things we learned from the team at James Elementary:
Rapidly Accelerating Growth Amongst Historically Lower-Performing Students by Utilizing Student Data: James Elementary earned a B in the "Improvement of Lowest-Performing Students" category, with a score of 18/20.  This is one of the highest marks in this category statewide.  One strategy shared by Principal McKinney: Taking a deep look at annual NMTEACH (teacher observation) reports to see how each teacher/classroom are doing in that category, and providing support as needed.  This, combined with fully leveraging priority reports from IStation, are two ways that James Elementary ensures that EVERY student grows, regardless of starting point of where they start. 

Fully-integrated Dual-Language Programming: If you're interested in seeing strong dual-language immersion programming on the eastern side of the state, James Elementary has some strong English/Spanish language integration on-display.  Utilizing a 2 Week/2 Week model where students rotate between two different teachers, students were taking-on Math Facts in Spanish during our visit.  It was great to see a lesson so representative of bilingual programming in Portales!

Golden Tickets!  Thank you to Ms. G for hosting us in her classroom yesterday.  One thing she showed us were her "Golden Tickets" that students earn throughout the way for doing the right thing; learning at a high-level, and other positive behaviors that merit reinforcement.  It was a reminder of how the basics of good instruction need to be consistently revisited—we haven't seen enough positive reinforcement strategies during the Straight A Express!!  But positive reinforcement doesn't happen in a vacuum—and in this classroom it was all based upon data, data, and more data.  Ms. G. showed us a binder of student achievement data collected in the first month of school—it was both incredibly large and incredibly instructive.  Even better—she's hosting a student-teacher (from ENMU, of course) who's learning from the "Data Queen", her nickname for Ms. G.  As we work to improve educator preparation statewide, it was another reminder of how much our aspiring teachers can learn from our top-performers in the state.  So there where many "golden tickets" to be handed out by the PED during this classroom stop-by.
Congratulations James Elementary!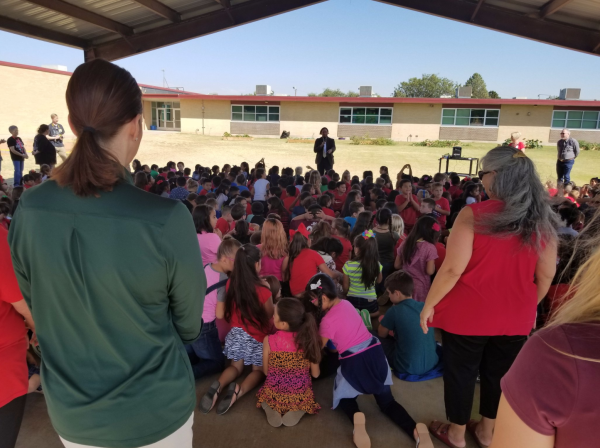 From James Elementary, we headed over to Portales High School to see Ms. Combs, a member of Cohort 2 of the STA!  Her 9th grade literature class was reviewing theme…and it was great to visit with her and several other STA members during this eastern swing on the Express!
2nd Stop: Lovington Municipal Schools (Llano Elementary & Lea Elementary)
We had two schools to honor in Lovington. We started the day by visiting with teachers at Llano Elementary to hear from them what was working well and what made them an "A" school! We also stopped by Lea Elementary for a quick rally with the students to celebrate their success! Here's what we learned during our visit to Lovington: 
Pre-K & Kindergarten-Only:  At Llano Elementary, there are only Pre-K and Kindergarten students, which allows for a singular focus on play-based learning and early literacy skills!  This is the Lovington model—smaller schools with a focus on unique grade-levels and what is "developmentally appropriate" for that age group.
Creative Curriculum: In the Pre-K program the focus is on the "Creative Curriculum" which involves thematic units and multiple stations for multi-modal learning. This month's thematic unit was, "When I Grow Up"
Language Usage Survey * WIDA-ACCESS: Lovington is fully using the state's Language Usage Survey and WIDA-ACCESS data in their Dual-Language Program.  We also had Fierce Conversations" about data at Llano Elementary, and we learned, it all starts with looking at the student data from KOT, Istation, etc.  Teachers knew how each of their 500 students were doing, both at the Pre-K & K level! 
Congratulations Llano Elementary: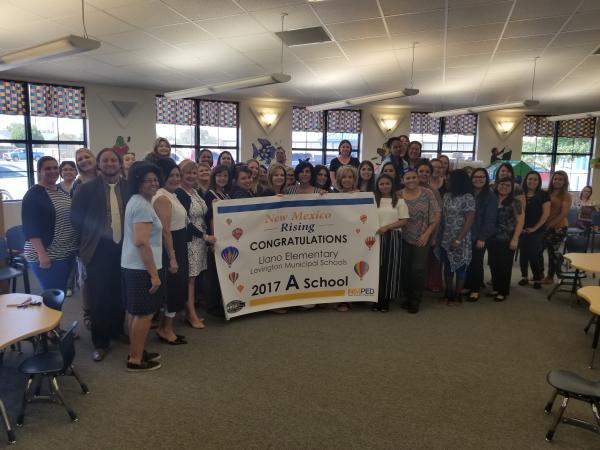 Congratulations Lea Elementary!