Day 13 By the Numbers: 
236 miles traveled
4 School Districts Visited 
9 "A" Schools Celebrated 
First Stop: Rio Rancho Public Schools
Dr. Sue Cleveland, the state's longest-serving Superintendent, and one of the founders of this pioneering district, convened a roundtable of practitioners to discuss the mindsets and practices that fueled the district's five "A" schools in 2016-2017.  At the halfway point of the New Mexico True Straight A Express, it was a time for reflection.  How do schools assume complete ownership over their students success?  How do we collectively break down barriers and put our children first no matter what?  How do we keep the spirit of entrepreneurship alive during the second phase of critical reform work?  The roundtable was captured here by the Albuquerque Journal. 
After hearing from each principal leading an "A" school here are the three best practices highlighted in their remarks about what was helping to drive the success of their school: 
Hire Well: Some Principals spoke of "the finest people I know" working inside their respective buildings, while others discussed their keys to spotting top talent when it walks in the door.  One principal spoke of her team "finding solutions, not problems", while another spoke of a climate survey done three times per year on staff culture.  In each instance, the importance of identifying, placing, growing, evaluating, and recognizing our educators was clear.  And yet there was also conversation of the need to revolutionize the way that we recruit—and what this next generation of educators is looking for in their first profession.
"High-Tech, High-Touch": Certainly the Rio Rancho Cyber Academy stood out amongst the five "A" schools.  How could it not?  It is the "ultimate flipped classroom" setting, the school accommodates approximately 170 students at all ages and performance levels.  Students move at their own pace, get individualized attention from faculty, and can realize their full potential.  This school was a grand experiment when it was founded twelve years ago, and it is now visited by people from around the country.  It's an example of differentiated instruction at its best, and the importance of holding students, teachers, and schools accountable to outcomes, not inputs.  Let us praise Rio Rancho for having such an innovate model as an option for our parents and families.
The Whole Child: We heard examples of student crisis intervention teams that every staff member played a role in, of an "Ed. Tech" in every school, of a commitment to expand technology access, and a Day Care Center at the Pre-K site.  Rio Rancho is a true comprehensive school district—one that has invested in sports and the arts, in world-class facilities and in its professional development offerings, in both innovation and implementation.  As we departed, we realized that they would not be satisfied until every school is an A and until every child has both their academic and socio-emotional needs met.  BOTH/AND.  That type of ambition is what's marked Rio Rancho in its first twenty-five years, what drove these five schools to earn A's, and what will be needed as the district assesses how to continue to be a pacesetter for the state.
A special thank you to the Rio Rancho Observer for coming out a second time, both to see the Rio Rancho alumni that founded the ASK Academy, and this time to hear from the school leaders in these five buildings that have a tradition of excellence.
Congratulations Martin Luther King Jr. Elementary!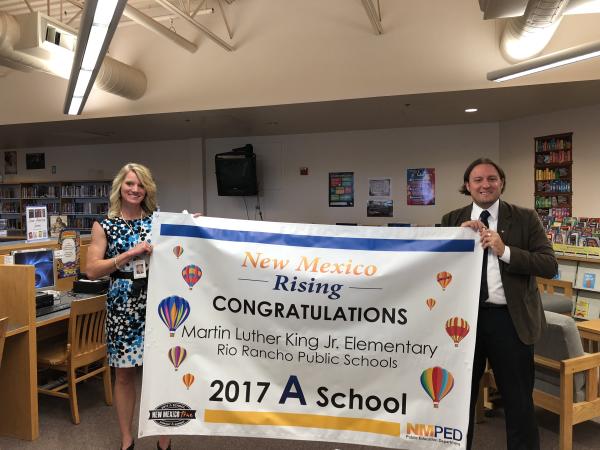 Congratulations Mountain View Middle School!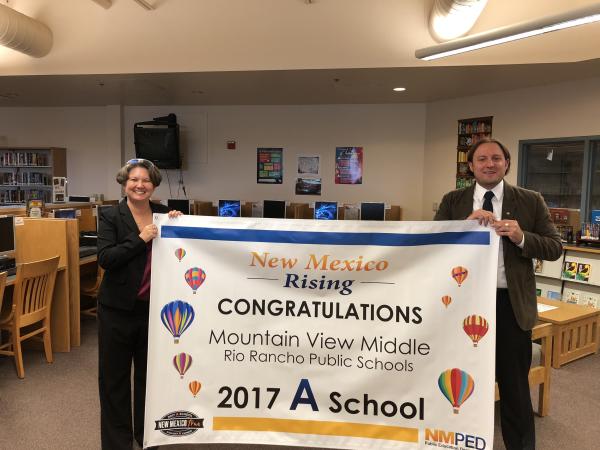 Congratulations Rio Rancho Middle School!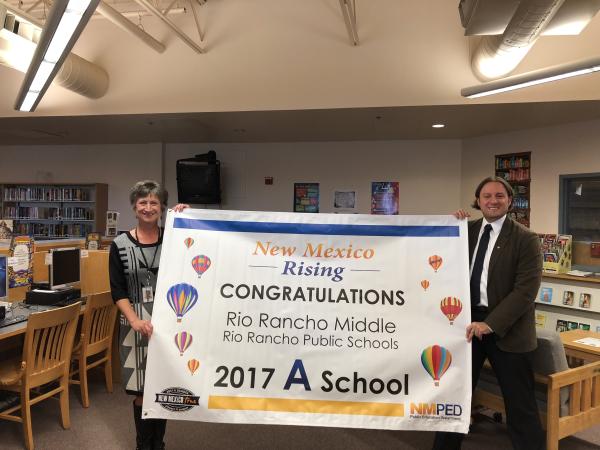 Congratulations Rio Rancho Cyber Academy!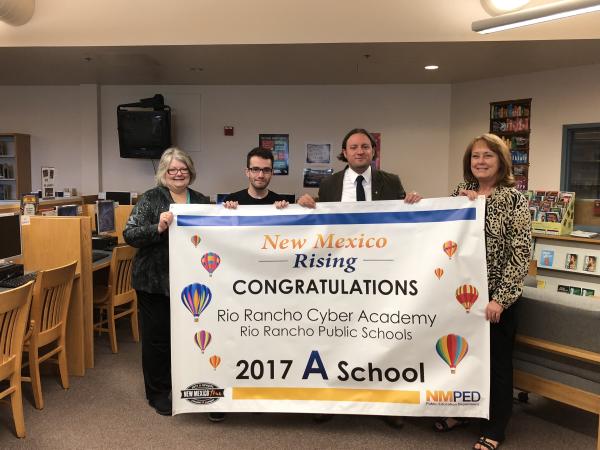 Congratulations V. Sue Cleveland High School!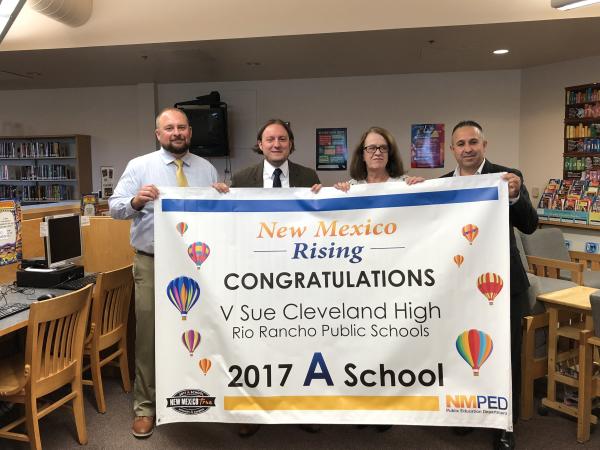 Second Stop: Placitas Elementary
It was the Secretary's second visit to Placitas Elementary—a school that has now earned three "A"'s in a row.  This school is one of the more peaceful elementary school environments that you'll find statewide, and Secretary Ruszkowski embraced the serenity by teaching the students how to engage in "silent celebration" and how to "golf clap" for their success.  It was awesome to have the entire school team be there to unveil their first-ever New Mexico True Straight A Express banner, and to see some familiar and some new faces throughout the building (fortunately, his fellow Chicago Cubs fan was still teaching there!).
Here are a few things we heard about the school, particularly as to how the Superintendent and school leadership are thinking about the next frontier:
Capturing and Sharing the practices and success of Highly-Effective teachers: Whether as novice teacher mentors or via videotaping their lessons, Bernalillo is on a mission to scale the impact of their highest-performing educators.  If the school and district can figure-out how to utilize technology to share great teaching, it could be a game-changer for kids in the district, and for kids statewide. 
Principals engaging in daily "Walk-Throughs": The walk-through can be cliché, or it can be powerful.  But one common theme of this tour has been "the more frequent the feedback, the better".  School leaders and fellow faculty must embrace the role of providing targeted coaching on instruction, and give critical feedback in the spirit of improvement for our kids.  If constructive daily walk-throughs happen and are linked to NMTEACH, Placitas will continue to earn "A's" and other schools in the district will join.
Talent Management: If there was a theme in our conversations and classroom visits, it was that every teacher matters.  In every school statewide, teachers have the power to fundamentally change our kids' academic and life futures.  The Principal understood the intersection between capturing best practices, daily walk-throughs, and, ultimately, placement and retention decisions.  Every "A" school is only as strong as its faculty, and Placitas has an incredibly talented team.  Continuing to hire, grow, and retain high-performing staff will continue to be a priority for this school—because both the community and the leadership are asking for it.
Congratulations Platicitas Elementary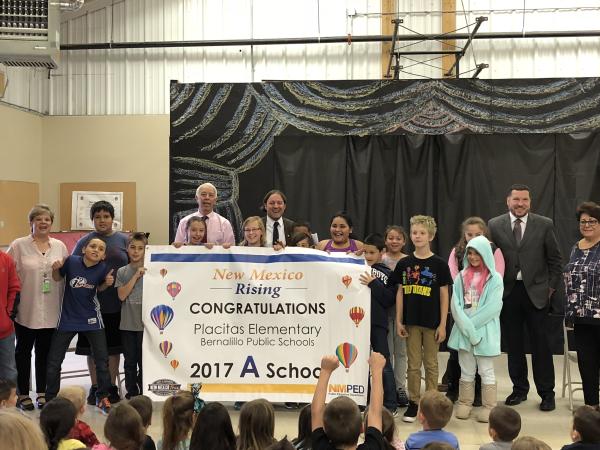 Third Stop: Los Lunas Schools
Los Lunas brought the noise, the energy, and some serious swagger to the New Mexico True Straight A Express Tour.  From the high school gymnasium, two elementary schools (Katherine Gallegos Elementary and Sundance Elementary) embraced their competitive spirits and let the world know which school is the best elementary school in the district (depending on how you look at it, the verdict might still be out).  Here's what we'll say though: NO VISIT WAS LOUDER AND PROUDER.  The jazz band, the football team, the cheer squad…the whole community came out to celebrate and recognize these two schools and their continued success.  Thank you to the School Board members, district leaders, parents, and students that made this Express stop so much fun and so celebratory!
After about 30-minutes of a rafter-shaking pep rally and celebration, we retreated to a quiet room to hear more (because in that gym, you could barely hear at all!) from the school's Principals and faculty.  It should be noted here that Los Lunas is a district that leads by example, and that has developed their own unique districtwide model for driving student achievement.  And yet while there isn't one way to drive results for kids, many of the notable practices sounded familiar:
Every Child Has A Personal Data Binder: And every child means every child.  Each child knows where they are and where they need to grow—and regular formative and interim assessment captures how each child is doing.  Los Lunas utilizes the "Marzano Model", which requires high-levels of transparency at both the student and teacher-level.  That degree of opening up classroom doors and welcoming feedback is paying off—with strong results in reading for our special education students as well.
Teacher Self-Reflection & Co-Observation (with videotaping lessons as the next frontier): This "Green Folder" reflection, alongside posted personal teaching goals, is at the core of these schools' success.  Having a common language around instruction is a non-negotiable, as is reflective practice.  And co-observation only strengthens both the Marzano walk-throughs and formal NMTEACH observations—these two schools have embraced all of the above.  Both schools also utilize their Academic Coaches, which provides the additional capacity needed to conduct regular co-observations and to engage with teachers in self-reflection.
Principal PLCs: One thing we haven't heard enough about as we've traveled the state is how PRINCIPALS get together to discuss and share their practice.  Within Los Lunas, this happens twice per month, with a focus on scaling and spreading what's working.  And with the Marzano model as the common language and common set of standards districtwide, these PLC conversations can hit the ground running.  For districts not yet engaging in regular Principal PLCs, go visit Los Lunas and see what a difference they can make!
Thank you to KQRE for coming out and covering the festivities, and to Superintendent Sanders and her full team for making this a visit that will reverberate (literally and figuratively) for days to come!
Congratulations Katherine Gallegos Elementary!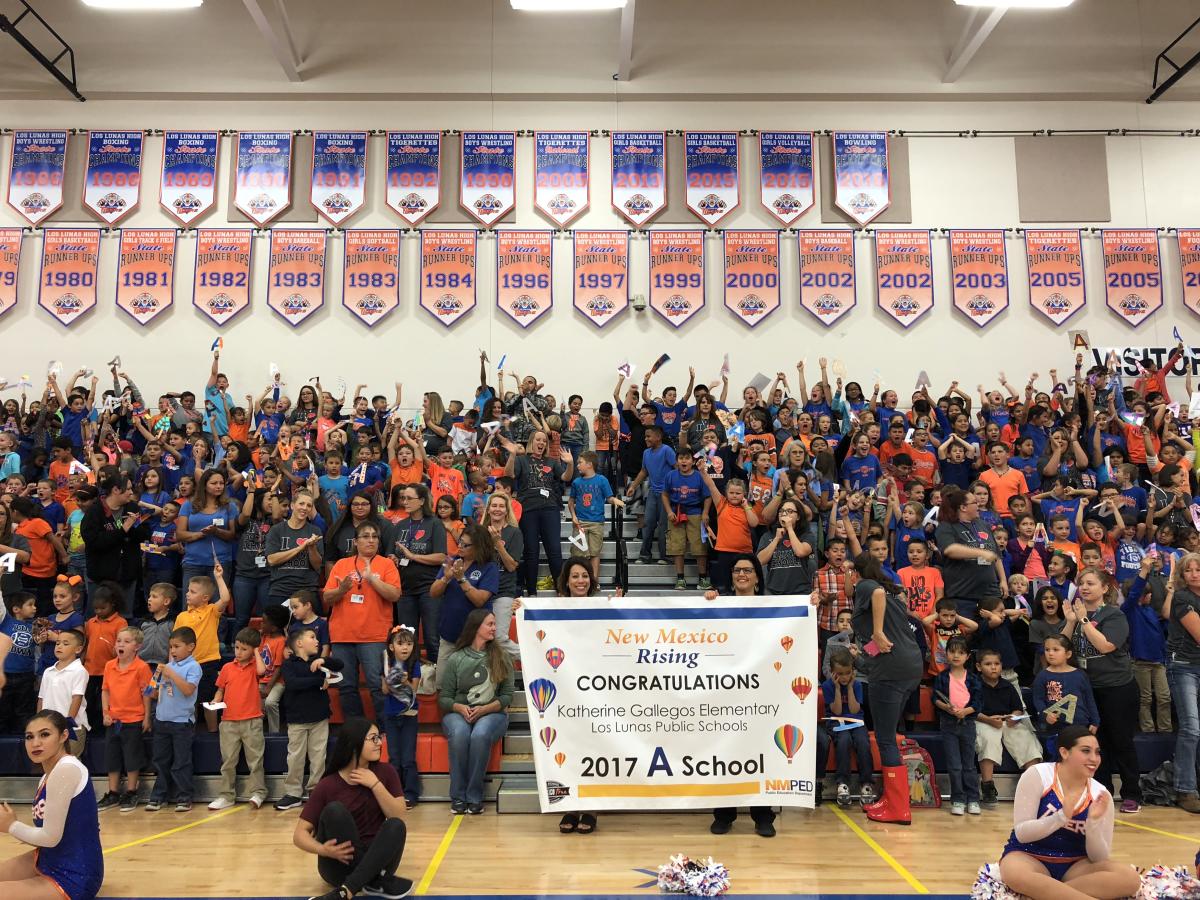 Congratulations Sundance Elementary!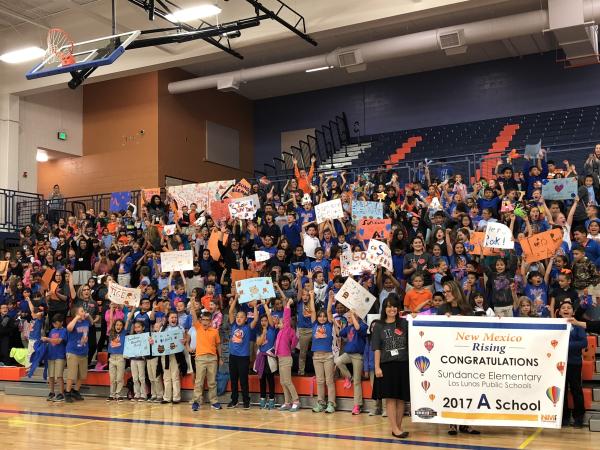 Fourth Stop: Gil Sanchez Elementary
The fourth and final stop on Wednesday was a special one.  In July, then Acting Secretary Ruszkowski had visited Gil Sanchez Elementary School to celebrate their remarkable academic progress, notably in Mathematics, but in Reading as well.  He met Principal Renee Sanchez and was blown away by her insight and resolve.  At the time, however, we didn't know the outcomes of 2017 School Grades.
The following month, the Albuquerque Journal wrote this piece, capturing how this Belen school had risen from a C to an A, doing things "the right way":
As we returned for the New Mexico True Straight A Express, you might think that we would encounter a school that feels it has made it to the mountaintop.  Instead, the Principal shared, she and the team feel that "the journey has just begun."  Here's a recap of what we learned during our visit in July (where we sat down with faculty) and the additional insights we gained on Wednesday that impressed us even more:
Obsessing over examining student work: Superintendent Perez stressed just how essential the examination of student work is to the school's strategy.  Teaching to the standards (not the materials) based upon well-crafted District Learning Plans (not textbooks) guide instruction at GSE.  Some of this strategy was gleaned from two years in Principals Pursuing Excellence and two years in Teachers Pursuing Excellence, but it's been the School Board, Superintendent, and school leadership commitment that has seen the strategy through as the school heads into its first year without being involved in the PED-sponsored programming.  
Data Transparency: There is a public room in the middle of the schoolhouse where student and teacher data is on full display.  Goals, progress to goals, and key benchmark data is posted on the "Data Boards".  The school is steadfast in its commitment to aligned regular formative and summative assessment, and regular PLC time to analyze student data.  To say this is a school committed to data-driven instruction is an understatement—each student that I spoke to articulated a desire to earn a 4 or a 5 on PARCC reading and math this year, and knew what they needed to do to get there.  We had the pleasure of having Senator Baca join us in the Data Room, and seeing just how serious GSE is about getting every student on-track for college.
The Final Bell Rings, and only then is instruction over: In the old days, the bell would ring and students would come flooding into the hallways and running for the doors. We were at GSE for the final bell of the school day on Wednesday.  It rang.  Then.. only silence. Principal Sanchez shared that as part of the school's culture moving forward teaching will be bell-to-bell, and parents and families and transportation services know that students will not rush into the parking lot until each teacher dismisses the final class of the day.  It may seem like a small thing…but it's not.  Principal Sanchez has calculated a gain of dozens of hours of instruction by putting stronger procedures into place around the school's student transitions.  This requires front-loading yearly planning and procedures and then having incredible discipline about delivery day after day—two things that the Gil Sanchez team continues to show themselves, their community, and the state of New Mexico.  
Congratulations Gil Sanchez Elementary!