Day 14 By the Numbers: 
84 miles traveled
1 School District Visited 
6 "A" Schools Celebrated 
Another day on the Straight A Express in Northern New Mexico! Our scenic drive up to Los Alamos was just the beginning of an incredible visit, where were able to celebrate a total of six "A" schools!  
First Stop: Los Alamos Public Schools District Office
First, our heartfelt appreciation to New Mexico's House Education Chair, Representative Stephanie Garcia Richard and to our Public Education Commissioner Karyl Ann Armbruster for joining us in Los Alamos for this stop on the tour.  One of the three goals of the statewide tour is to bring together community leaders and the community as a whole to celebrate the great things happening in our schools, and it was wonderful to have them in attendance.  The Los Alamos Daily Post snapped a photo with Secretary Ruszkowski and these two esteemed leaders, check out the coverage here.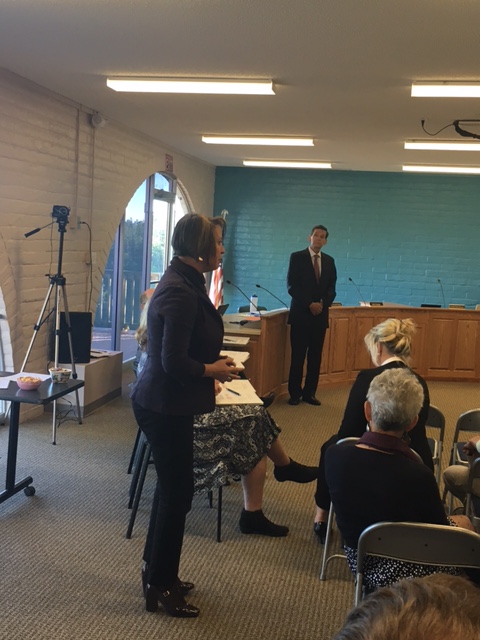 The Los Alamos stop required us to clean-out the trunks of our cars to transport their New Mexico True Straight-A Express banners.  Every elementary school in Los Alamos (Aspen, Barranca Mesa, Chamisa, Mountain, Pinon) earned an "A" in 2016-2017, with student achievement results in both Math & Reading that outpace the state average, and with sizable gains in academic proficiency from last year to this year.  In Los Alamos, they expect nothing less than college-readiness for their children.  This culminates at one of the highest-performing high schools in the state, which earned an A-grade for the fourth straight year, and which is one of a handful of high schools setting the pace for excellence both in New Mexico and nationwide.
We also want to extend our appreciation to Dr. Kurt Steinhaus, who was instrumental in helping us plan and prepare for this visit and who has consistently provided the PED team with thoughtful input and feedback on how we can do better at the department. For a district to be on the cusp of having EVERY school in the district earning an "A", executive-level leadership is essential.  Dr. Steinhaus also arranged to have this celebration right before a School Board meeting (and arranged to have incredible chocolate cake available!), and we had one of the best turnouts of School Board Members on the Straight-A Express to-date!  Thank you to President Jenny McCumber and to the Board for being there in full-force to celebrate your continued success!
Those who came out to celebrate the six A-schools in Los Alamos were incredibly humble about it—too humble if you ask us!  Because the celebration was after-school, we listened and learned to the perspectives of various community members about what is transpiring in this district consistently, over-time, that is leading to so many school achieving great success:
Thinking Nationally If Not Globally: Los Alamos does not benchmark itself solely against other schools and districts in New Mexico.  We need every district and charter school in New Mexico to think this way—there is a big world out there and lots of other districts, states, and countries to learn from.  Los Alamos recognizes that our students are entering a globally-competitive world, and build a set of academic, extracurricular, and community activities around this idea.  In talking to two Seniors (who have thus been at an A-School their entire high school career), they spoke of applying to college at Tulane, UCLA, University of Washington, and other leading colleges and universities around the country.  They spoke of their interest in both STEM fields and of their interesting in the performing arts (BOTH/AND!), and of their interest to venture beyond their district and state borders.  Every child in New Mexico deserves to have the broadest of horizons, which begins with early literacy and numeracy that the elementary schools in Los Alamos are delivering at high-levels.  From there, the world is their oyster.
Student Outcomes are the byproduct of consistently doing the right things, with academic expectations implied: One of the common themes across the state (which was echoed by several School Board Members in Los Alamos) is that earning A-grades, recognition, or even strong scores on SAT/ACT/PARCC/AP are the byproduct (not the goal in and of itself) of students, faculty, and school leadership doing the right things for kids every day.  Do they expect strong academic results on these exams for their own children?  Of course they do!  But the state's 121 A-schools are some of the most innovative statewide, if not in the country.  They are not engaging in dysfunctional behaviors like "teaching to the test"—but rather teaching to the standards and ensuring that student mastery is demonstrated using multiple modalities (speaking, listening, writing, etc.) and delivering lesson plans that make sure content mastery "sticks".  Yet these exams are also clearly valued (note their district's results!).  Los Alamos educators spoke of academic integration across the subject areas and students engaging deeply with rigorous academic materials—all of which clearly point towards a college-ready mindset for all children.  The academic expectations are implied in everything the community does, so there is no need to over-stress it.  
"License to Trill": The Secretary was incredibly moved by the jazz choral ensemble (with the self-given clever name, License to Trill) that performed both the Star-Spangled Banner and a rendition of the late Leonard Cohen's "Hallelujah".  In the latter, every member of the small choral ensemble had a solo performance, and the harmonies were brilliant.  Maybe this was a soft spot because the Secretary was a chamber singer and choir soloist in high school himself, but it was more likely that License to Trill is emblematic of the breadth and depth of extracurricular opportunities that are made available to the students in Los Alamos, and the fact that its students are entrepreneurial in creating new opportunities for themselves.  Hence, the students in Los Alamos have license to lead, license to express themselves, license to think big, license to be innovative.  Yes, they could sing, but it felt like this "license" was a bigger metaphor for just how expansive Los Alamos thinks about educational opportunity.
We look forward to visiting Los Alamos again and seeing some incredible teaching!
Congratulations Chamisa Elementary!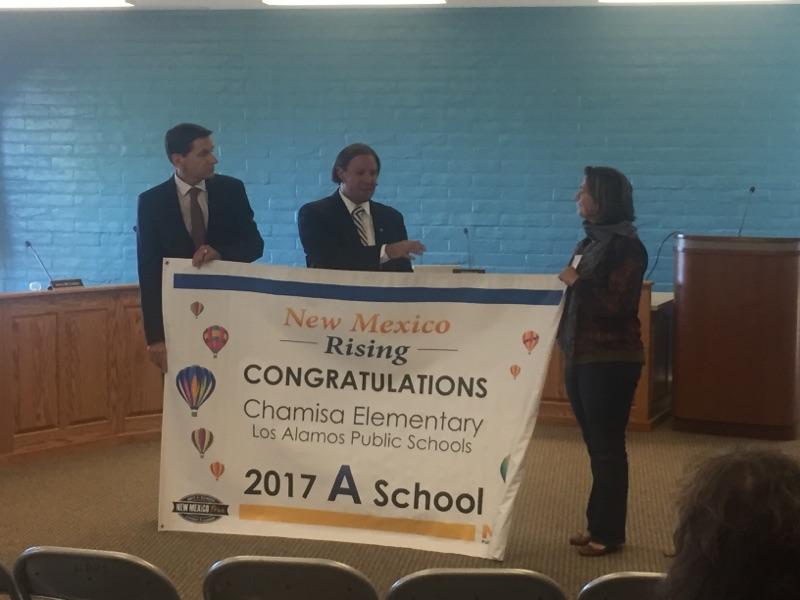 Congratulations Barranca Mesa Elementary!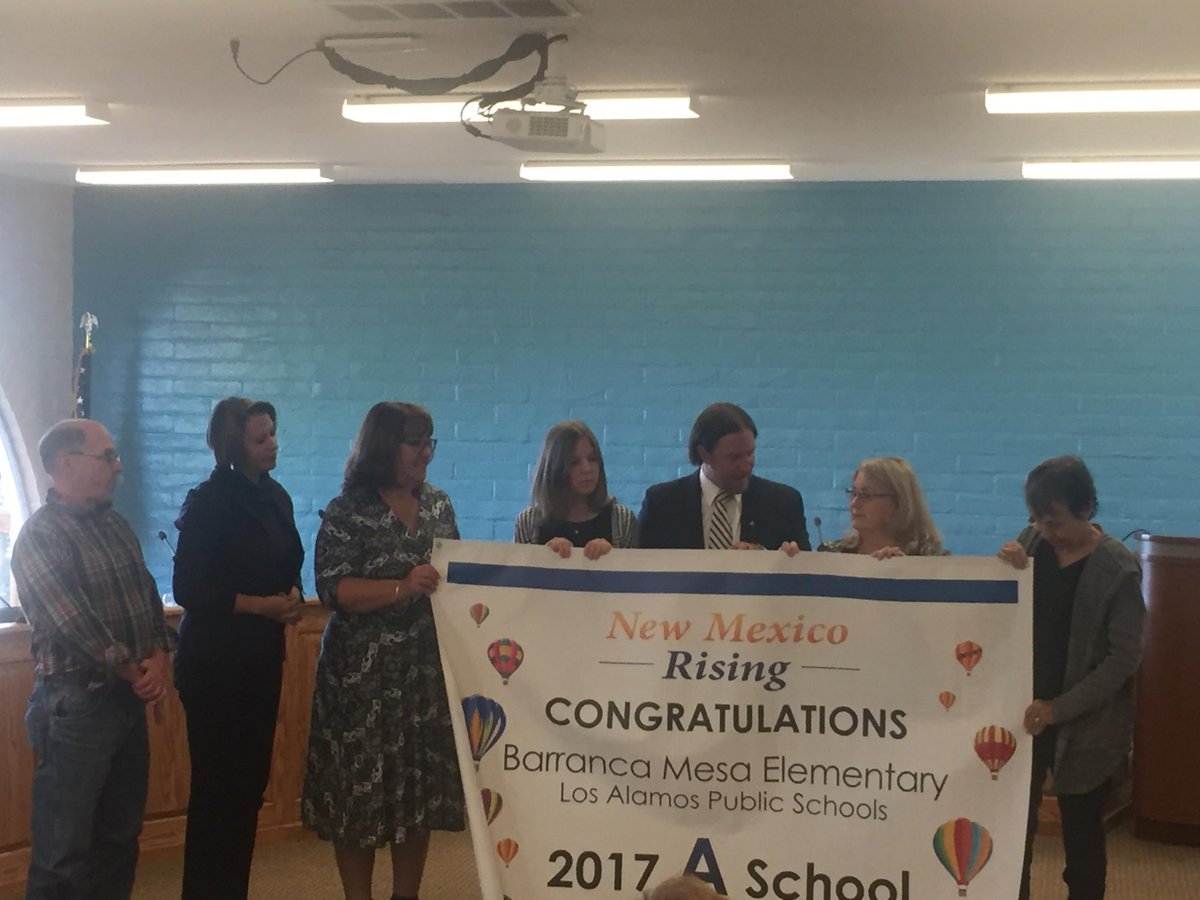 Congratulations Pinon Elementary! 
Congratulations Mountain Elementary!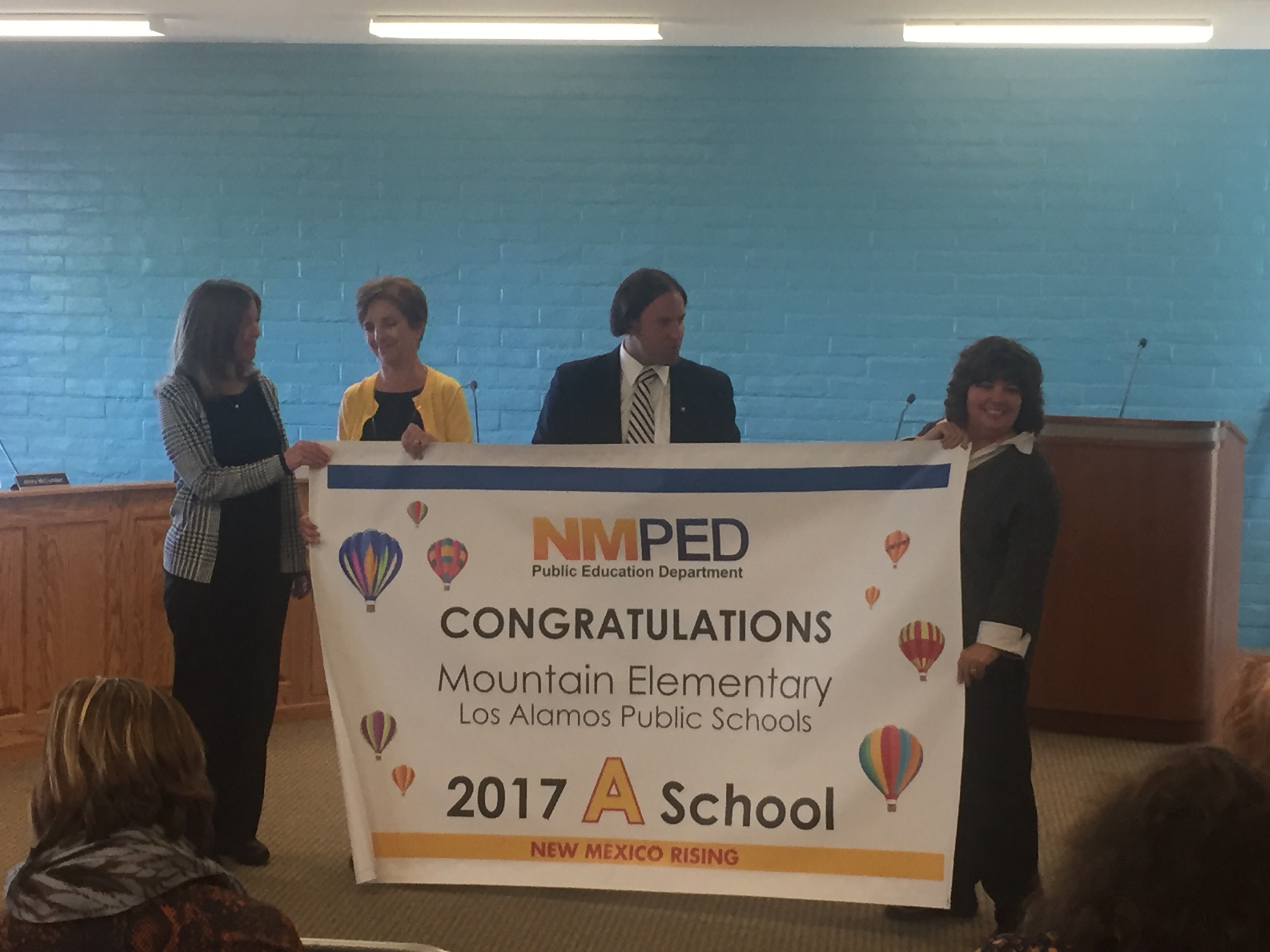 Congratulations Aspen Elementary!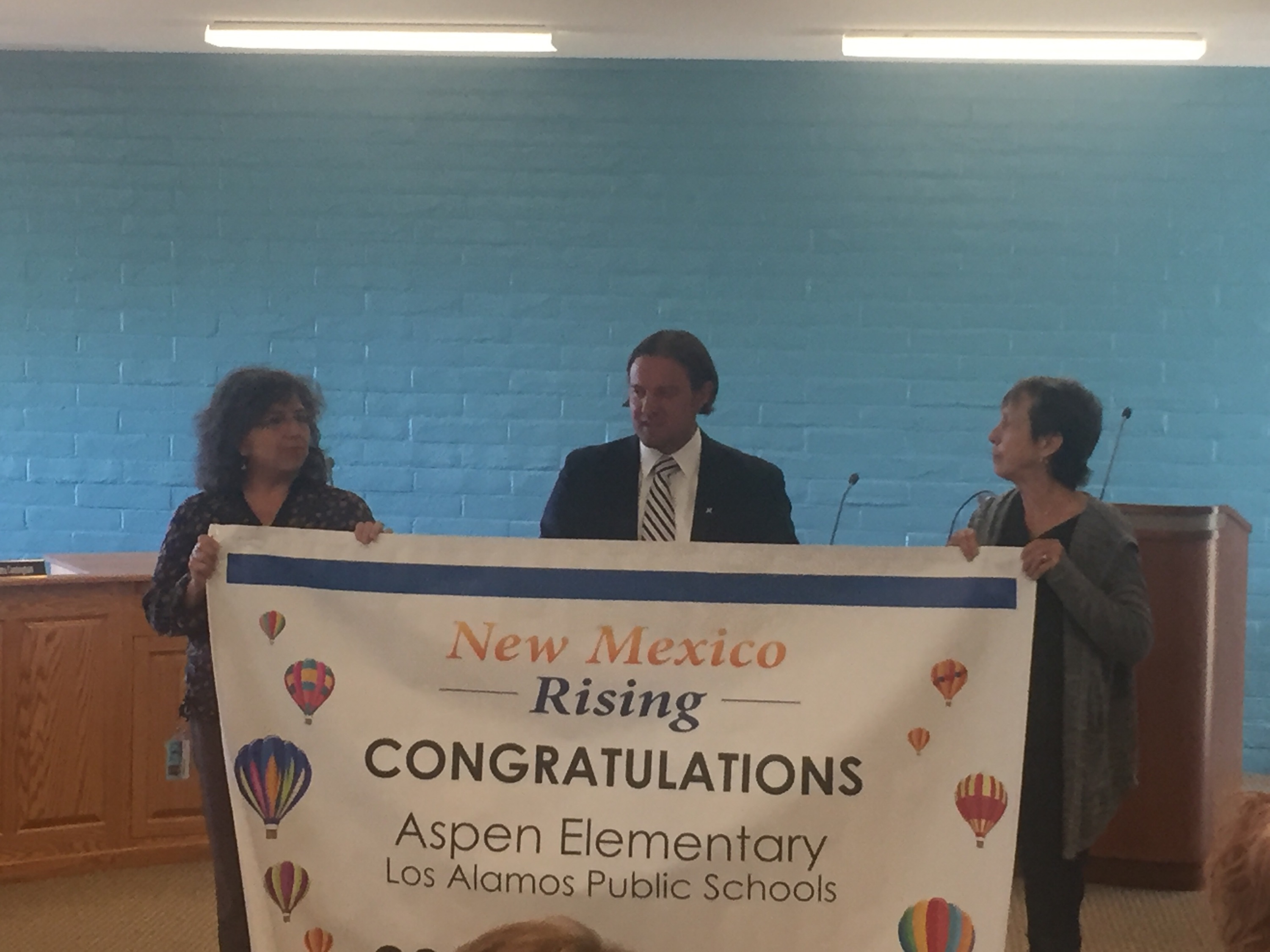 Congratulations Los Alamos High!