Day 15 By the Numbers: 
650 miles traveled
2 School Districts Visited 
2 "A" Schools Celebrated 
Another great stop on the Straight A Express tour! Talk about hospitality - folks in these communities really know how to make you feel welcomed! Special thanks to three of our teacher leaders Laura Brown, Melissa Brown, and Edward Pena, along with our special young helper Aimerie for showing our team around these beautiful towns!
Cobre Consolidated
Members of New Mexico's Teacher-Leader Network showed us Grant County on Day 15 of the NM-True Straight-A Express.  We started the day with a full faculty meeting with Superintendent Mendoza at the entire faculty at Cobre Consolidated.  It opened with teacher recognition by the district leadership, followed-by recognition for San Lorenzo Elementary, which earned its third straight "A" rating.  After a Q&A with the faculty, we stopped-by Central Elementary to hear about their rise from an F to a B, then headed over the hills to San Lorenzo to learn from their Principal and team what some of the key ingredients were to their success.  There were so many take-aways, but we will try to limit ourselves to just three on here:
Fluidity around student placement: Students are placed by reading/math levels, not by grades per se.  This is the second time we've heard about an approach like this during the statewide tour.  A truly personalized education for our rising readers, who get the additional instruction they need if they're struggling and accelerate more quickly if they're mastering.  Grade-level bands are almost non-existent, or at least much broader!  And another resource that San Lo is maximizing: The school's library!
Be a talent scout/maven: Many of our schools that are earning "A's" are showing us just how much teacher recruitment matters.  All great teams know where the next round of talent is—whether looking for a star shortstop or a star 3rd grade teacher.  The Principal at San Lorenzo understands this, and has built a network of pipelines that he draws upon when he knows a vacancy might be coming.  He doesn't wait to "post", but rather works the phones like a general manager for a ball club.  The result is an instructional team that is strong at every position, which is what our kids deserve.  The school fully recognizes that teacher quality is the driver of everything—and acts that way around talent acquisition.
Understand your (fairly wide) locus of control: One of the school's leading teachers in terms of student growth articulates it this way: "No excuses.  Kids need to take control of their lives.  That's the only way."  I may not be getting the quote exactly right, but this is a teacher (and the staff concurred) that understands the concept of locus of control and leverages it.  They aren't going to let kids make excuses, nor their fellow staff member, nor their community.  Their anti-bullying work plays out this way as well—it gets stopped right when it even looks like it might start.  But academically, they marry the concepts of raising the bar and fully accepting that it is the school's role to meet it: they take ownership over their students' self-confidence, socio-emotional health, and academic progress.  This is a school that knocks down obstacles in its way.  Period.
After an awesome lunch with Superintendent Mendoza and members of the CCSD community, it was on to Silver City for an afternoon visit.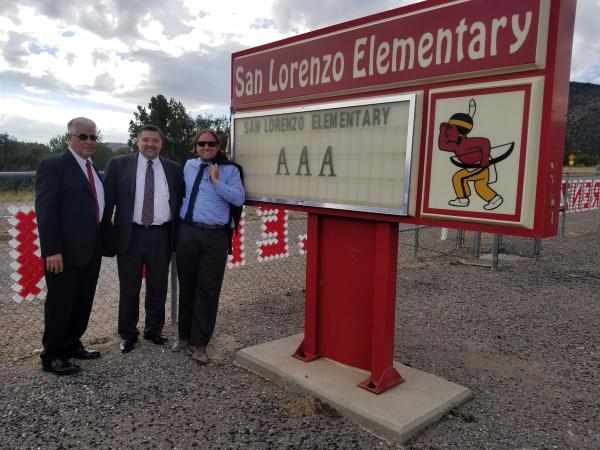 Silver City
The celebration at Jose Barrios Elementary School went a full hour beyond what was expected—tons of good dialogue about the intersection of policy and practice.  After a celebration in which we heard from a cadre of the school's sixth graders about what make the school an "A" (thank you for the awesome introduction, sixth graders!), we unveiled their New Mexico True Straight-A Express banner.  The Silver City Daily Press captured the visit here. Principal Travis Yurcic put together an awesome assembly and also asked his teachers to stop by and talk about what makes the school an "A", and what makes it the district's highest-performing school.  Here are a few key practices that revealed themselves:
The "Growth Mindset": Based on the Dweck research and book, the team has embedded this philosophy into every aspect of the school—including both student and staff culture.  In fact, the students call out the adults if they're not demonstrating the growth mindset!  At the younger grades, they talk about the book "Bubble Gum Brain" (which the Secretary grabbed a copy of right away) and how every kid can work hard and get smart.  By building this character throughout the building, the school demonstrates the belief that everything is possible.  It's exactly the kind of attitude that we want our children to have, and it starts by being modeled by the adults.
Embed school values in hiring: Principal Yurcic hires for the growth mindset as well!  It's so important to him and the team that everyone exudes this spirit of grit and optimism.  The Principal also models this every day by asking the tough questions—they usually start with "why not?"  He moves his team towards solutions, but also hires people who want to get on this bus.  Along the way, the staff models practices such as standing at the door to greet their kids and getting to know what makes each child tick.  It's no surprise that both Principals we met on Day 15 stressed teacher recruitment and selection as core principles leading to their success.
Start with the standards: A few faculty members told the story of the school's transition to the Common Core state standards.  While not easy, they shared how important it is for teachers to deeply engage with the content standards, and not just with the materials.  Many of the schools on the Straight-A Express have noted this—just how important it is to question, critique, supplement, and enhance any particular set of instructional materials.  Through the transition to new standards and assessments, the team has developed a rich appreciation for the craft of teaching, which starts with unpacking the standards.  They believe that the time invested in this pays off for their children, and is one reason why their math and reading results continue to be on the rise.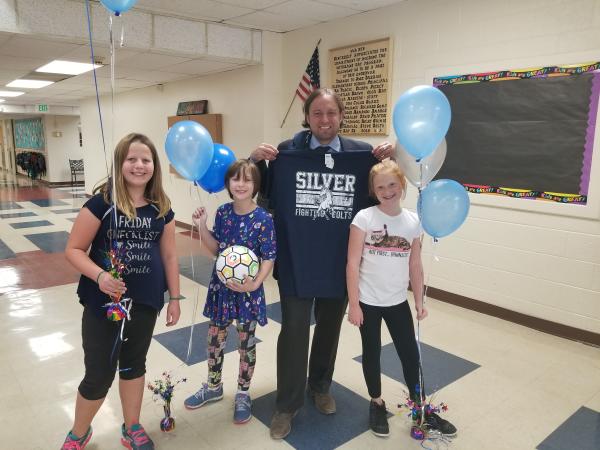 We closed the day by sporting both Cobre and Silver to the cross-town rivalry game.  The night before we had stopped by the Cobre bonfire to get in the spirit.  We thank both communities for welcoming us and for a chalk-full 24 hours learning about some of the best practices that should be shared statewide!
Congratulations San Lorenzo Elementary!
Congratulations Jose Barrios Elementary!