Day 16 By the Numbers: 
192 miles traveled
1 School District Visited 
2 "A" Schools Celebrated 
Main Stop: Roswell Independent School District 
It was an awesome evening celebration under the lights of the high school gymnasium in Roswell. Students, teachers, families, school leaders, and legislators showed up to cheer on the success within their "A" schools. The Roswell Daily Record summed-up the entire New Mexico True Straight-A Express visit quite nicely: 
The New Mexico Secretary of Education didn't just recognize Roswell schools for their academic achievements, but took some time to learn how they're able to do it.
"It's easy for the person in my role to get caught up in the Santa Fe inside baseball politics of the moment and not stay laser-focused on what's happening in schools in classrooms," said New Mexico Public Education Secretary Christopher Ruszkowski. "But, the fundamental task of the role of the responsibility of being at the PED is to improve student achievement – to improve student outcomes."
The secretary spoke with excitement in his voice as he welcomed students and faculty to join him on the stage at the Goddard High School gym after he congratulated Del Norte Elementary and Sidney Gutierrez Middle School.
A huge shout-out to Superintendent Sanchez for bringing the community together from both Sidney Gutierrez Middle Charter (district-authorized) and Del Norte Elementary (which attributes its rise in large part to its partnership with the PED and its school turnaround programs).  And a major thank you to Representative Candy Ezzell (District 58) for being there on Monday night to recognize these schools' outstanding achievements.  There was an awesome turnout—here's what we learned along the way:
District/Charter Collaboration: Superintendent Sanchez spoke of how she and her team will visit "Sidney" to learn about what is making them such a success story.  Less than ten schools statewide have earned six "A"s in a row, and Sidney is one of them.  Thus, it only makes sense to facilitate intensive district/charter collaboration.  Some of our state's charters are the most impressive schools in the state, and one thing we must all do: learn from them.  And the same goes the other way—schools like Sidney have the opportunity to benefit from resources, exposure, and talent that only a large district can provide.  Roswell is one of the largest districts in the state and they're embracing the kind of district/charter collaboration that every district should demonstrate.
Willingness to Partner, Learn, and Grow: Roswell has embraced partnerships that lead to better student outcomes.  As a district that has demonstrated student growth in Mathematics over the past two years, they have utilized programs and opportunities such as Reads to Lead, 4RFuture, Principals Pursuing Excellence, and the partnership with the University of Virginia.  Del Norte Elementary School is no different—and that's why this school is on the rise.  Just a few years ago, Del Norte ES earned a "D"—today, an "A".  As we've said again and again, school improvement is a CHOICE.  Del Norte ES and Roswell School District are making the choice to partner, learn, and grow—and their students will be the ultimate beneficiaries.
Driven by Data: An almost universal theme across our state's A schools, school leaders and educators being driven by student data.  It has paid off in Roswell: Both Sidney & Del Norte ES earned high marks in the "improvement of lowest-performing students" category, a place where much of the state is struggling.  Every student is getting attention, having the opportunity to learn, and working towards academic mastery.  And the results are in: Sidney is currently at 74% proficient in Math!  And Del Norte is already outpacing the state's 2020 goal at 54% proficient in Math.  There's a lot to learn about what's happening in Mathematics down in Roswell.
This was the Secretary's third visit to Roswell over the past few months days, including a stop-by their expanding K-3 Plus program (using Title I funds!) and their brand-new Early Childhood Center (Parkview)…we encourage other districts to collaborate more with a district that is so open to collaboration.  Just recently, the Roswell team headed down to Gadsden to learn more about what that rising district is doing…and that's the whole mission of the Straight-A Express!
Congratulations Del Norte Elementary School!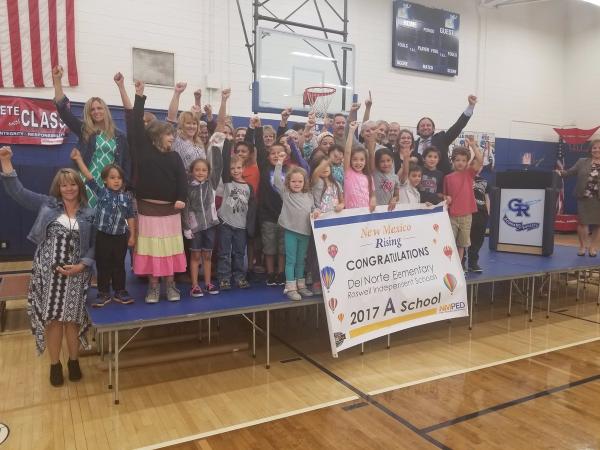 Congratulations Sidney Gutierrez Middle Charter!