Day 17 By the Numbers: 
351 miles traveled
4 School Districts Visited 
6 "A" Schools Celebrated
The most recent day aboard the New Mexico True Straight-A Express brought us to four communities across the eastern part of the state.  In each of the four stops, there was sense of excitement that the Public Education Department was on the road, outside of the halls of Santa Fe, visiting our school communities.  The morning started in Elida, then on to Dora, then on to Texico, and ended in Melrose. 
Here's what we learned along the way:
First Stop: Elida
Superintendent Tandee Delk, who previously served as a middle school principal in Clovis, is serious about every school in the district earning consistent "A's" over time.  You can tell right away that holding a high bar for all kids is in her blood.  Before joining Elida High for a  celebration she arranged for the Secretary to sit-down with the Principal and two faculty members (including a member of the New Mexico Teacher Leader Network!) for a conversation on the things that have the high school on the rise:
Bringing Data to the Kids: One of the most common themes on the express has been student ownership over their academic progress—notably as a tool for student awareness and motivation.  Elida HS does this.  In fact, the district is fully utilizing everything that the detailed PARCC reports have to offer ("like a visit to the doctor" one educator said).  This allows for targeted instruction that is fully data-driven, allowing for faculty to take aim at each students' needs.  But the key is student ownership.
Literacy Across the Core: When you're a small community, "vertical alignment of the curriculum is easy"!  This is true—but the district also has the school leadership to help make this happen.  We talked about reading "Animal Farm" (a book the Secretary taught back in his U.S. History classroom) and what that meant across all subject areas.  We also spoke of the Dual-Credit offerings on-site, led by an Elida HS teacher with a PhD in Math!  In short, cross-departmental integration is happening at Elida HS!
The Power of the NM Teacher-Leader Network: Elida is home to one of the network's original Ambassadors, and it is powerful to see how that role can bring some connective tissue to a smaller, rural school district.  Now, this educator already wears many hats (Department Head, Mentor Teacher, Senior Class Sponsor, Yearbook Sponsor, SPED Director), but her teacher-leadership is taking her school to the next level, getting the district information early and working in partnership with her Principal and Superintendent.  This is the kind of synergy that the TLN should create, and it will be even more powerful as the network scales statewide.
After departing Roswell early in the a.m., the warm welcome from the Superintendent, faculty, and students (including two awesome Seniors, Landry & Lyle, that talked about their futures with the Secretary) made all of the miles on the road worth it.
Congratulations Elida High School!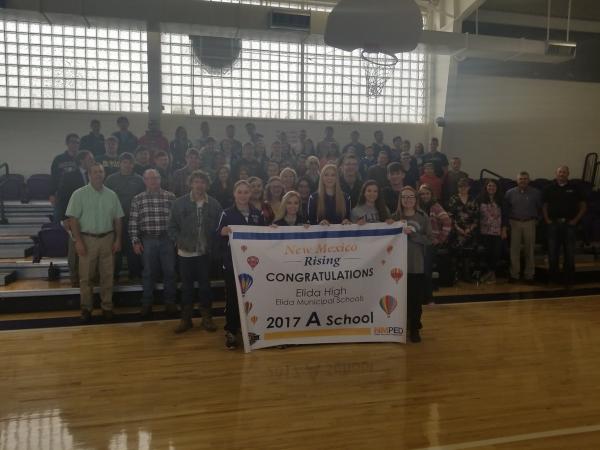 Second Stop: Dora
Dora is a straight-A district (2/2), with a group of students that are ready to compete.  As one student said at the Assembly: "There's only one thing that matters—Did we beat Melrose?"  This is a district that wants to take its two "A's" and turn them into A+ ratings.  We were welcomed by one of the district's newest Board members and the Board Chair, and had the opportunity to sit-down with teachers from both schools to talk about why they've been achieving at such high levels for multiple years in the row.  The Principal (now Superintendent) was a name that came up a lot as someone who has led a massive culture shift over the past several years.  Here's what has emerged as a result of changing mindset and practice:
The "SUCCESS" block:  Part intervention, part acceleration, this is an opportunity for individualized student-led learning.  Whether utilizing state-provided Khan Academy or district-provided ALEX, there is now a commitment to using student data to drive personalized instruction for a block of time every day.  This happens under the leadership of Mr. Hays, who brought even higher expectations to the school community.  In almost every A-school, the instructional leadership team is finding ways to extend the learning time, and the Success Block creates a strong foundation for this.  This is a district that is now obsessed with data and individualizing the student experience.
Taking Parent/Family Engagement to the next level: We've heard about various apps that schools are using to communicate with parents on a regular basis (namely Class Dojo, but there have been others), but we heard about a new one in Dora: Remind.  In addition to the weekly progress reports, "Remind" works to, yes, remind parents and families about what's going on with their kids.  While everyone talks about wanting more parent and family engagement, we are at a point now where schools have to go out and get it.  Dora isn't sitting back and waiting—they're bringing parents and families even further into their processes.
Measuring-Up…via PLCs three years in the making and new curriculum maps: Another tool we heard about for the first time is "Measuring-Up" (very much akin to what Belen is doing with Illuminate), which creates opportunities for teachers to build Common Core aligned unit assessments with PARCC-like items.  This is the kind of tool that every district should consider providing (it also provides a "Quest" tool for students to extend their learning based upon items they missed).  From that foundation, teachers can engage in backwards-planning (at the heart of the teaching craft, if you ask us) in building units.  This is all happening in PLCs, where the strong culture of collaboration has been "three years in the making", and not easy.  Dora is not resting on its track record of success, but rather pushing ahead aggressively with 21st century practices.   
It should also be noted that both schools talked about the importance of planning, and how the NM-DASH tool provided by the PED has provided yet another resource for the district to take advantage of.  Planning matters, and it's paying off.  The approximately 250 students in Dora are currently going to A schools for their entire academic career—something that only happens when everyone has been and continues to be committed to academic excellence. 
It was also one of the only stops where the photo was all mapped-out before we arrived!  It's a great one.  Thank you, Dora!
Congratulations Dora Elementary School & Dora High School!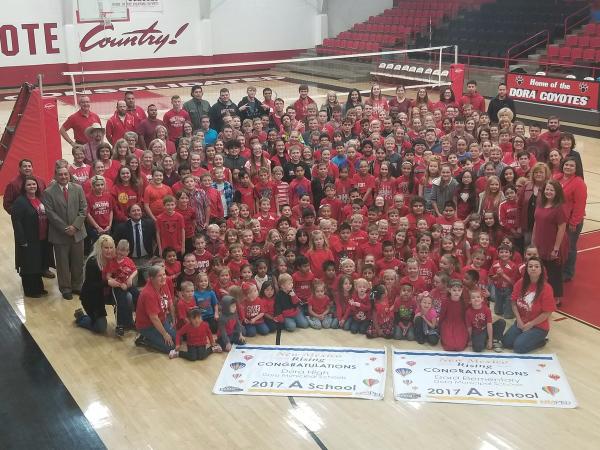 Third Stop: Texico
As the NM-True Straight-A Express rolls into the final third of stops, districts are finding new and creative ways to welcome the Secretary to their communities. 
Texico took the welcoming to the next level, and brought in some friends from the community to help out.  It was an awesome way to fire-up the visit, sirens and all…and it just kept getting better.  This was a true celebration. 
One of the best parts of the visit for us: Several of Texico's teachers have been at the heart of the state's Teacher-Leader Network, thus the partnership just keeps getting stronger and stronger.  All three district schools (A/A/B, with As/Bs for the past three years for all three) where in the auditorium for a celebration upon arrival, which was led by several students and student groups—it doesn't get much better than that.  Here's what we learned about some of the district's keys to continued success:
Students and Student Groups Leading the Way: We were greeted by some outstanding student-led presentations—including one from FFA that reminded the Secretary of his teaching days in Florida.  This was an impressive group of kids!  The district also celebrated a group of student-athletes from the baseball team, and introduced us to students that were earning "5s" on the PARCC (which is college-level learning while still in high school).  Throughout the visit, we were impressed by every interaction with Texico's students—from their old-school manners to their creative thinking.  This is a BOTH/AND school community—where all facets of a well-rounded student life are co-existing.
Teacher-Leadership: This is a district that understands what is looks like to create space for real teacher-leadership.  For a smaller district, it's impact on statewide policy and practice via its outstanding teacher-leaders is outsized.  And that leadership starts in the classroom—where we had a chance to sit-in and watch some outstanding teaching—but it also scales-out beyond the classroom.  Thank you to Texico's current teacher-leaders, and to the group that will be joining the network in the days ahead.  Our state needs to learn more from the great things happening in your classrooms and community. 
School Leadership: High School Principal Timberlake certainly captured our attention.  Fluently conversing with the Secretary on everything from state policies to local implementation, she pushed us to raise the bar for ourselves and our kids even higher.  She clearly expects both operational excellence (as witnessed by the incredible assembly and the transition right after and how she pushed our thinking on EOC exams) and academic excellence (with some incredible student achievement results to show for it).  In our conversations with Superintendent Brown, he spoke about her sustained excellence over the past handful of years—and her commitment to every child, every day.  We covered just about every educational topic facing our state while on-site, and in every case she was solutions-oriented.  Her motto is the same as ours—that our kids rise to wherever we set the bar for them.  Leadership matters—and from teacher-leadership to district-level leadership to everything in-between—Texico has it.
As you can see, leadership was a central theme of this stop on the NM-True Straight-A Express.  The latest testament to this is the latest Think—New Mexico report that highlights Texico's commitment to putting more dollars in the classroom.  In an editorial by the Journal's Editorial Board, Texico was called out as an example of good practice:
The report cites tiny Texico Public Schools in eastern New Mexico for its low administrative costs, 95 percent graduation rate, and the fact it ranked seventh in the state for reading proficiency and ninth for math proficiency – despite a median family income in the district that's more than $10,000 a year below the state average.  Yes, it is true that the size of the pie matters. But as Texico and others prove, it matters as much or more how that pie is parceled out.
Texico's leaders don't make excuses or point fingers—they get it done for kids.  And, without fail, every student, teacher, instructional coach, administrator, and district leadership carried that attitude forward—"These are our kids—and we do whatever it takes for them to succeed" was the theme of the visit.  Celebrate success, Texico!  The School Grades and student achievement data prove that what you're saying is more than just talk.
Congratulations Texico Middle School!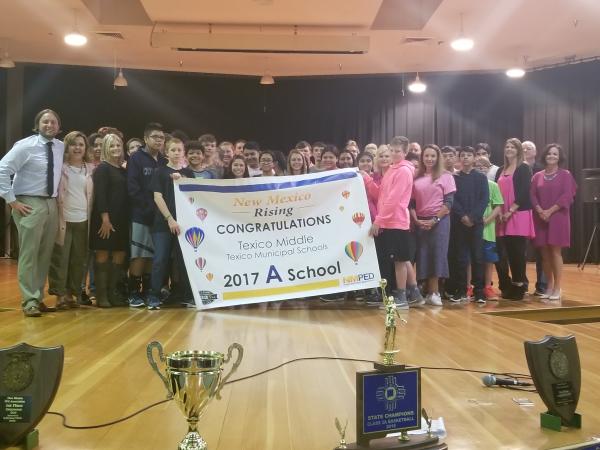 Congratulations Texico High School!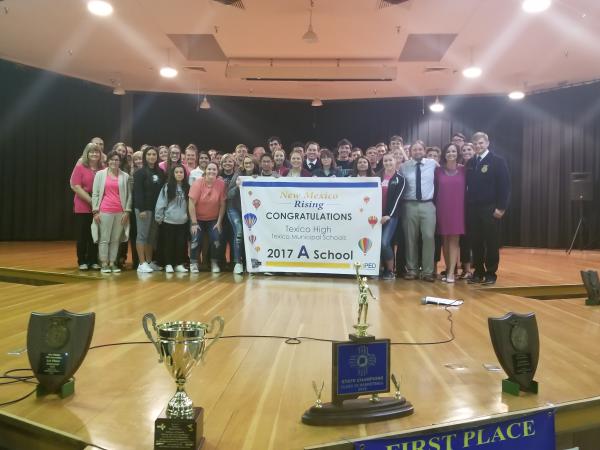 Final Stop: Melrose
From the top, this was a visit about history.  Superintendent Jamie Widner welcomed Secretary Ruszkowski and announced that it was the first time in the district's history that a Secretary of Education had visited his community.  No better reason than to celebrate Melrose Junior High, which earned an "A" for the second year in a row.  But the visit was largely about what makes this district special, and we did our best to capture three things we heard in talking to students, faculty, Board Members, and the Superintendent.
Steeped in the town's history: Superintendent Widner showed-off their historic campus to the Secretary—banners and photos from the mid-1900s, a schoolhouse that has been preserved for the better part of a century, an art collection from the WPA days that captured the town.  For a former history teacher, it was a real treat!  And yet for all the history, there is modernization happening in Melrose as well: Interactive-TV built-in to every classroom, a commitment to full internet capabilities for all kids, and teachers traveling across the state and nation to receive professional development and training.  It was an encouraging merging of the past and the future—with traditions maintained and a community that feels like family.
Starting young with state-supported Pre-K: Melrose has partnered with the Public Education Department and other community partners to ensure that its kids start early.  This is another example where the PED is learning about how below-the-line targeted investments can help transform our schools and our kids' lives.  Melrose is part of the unprecedented Pre-K expansion efforts that have happened in New Mexico over the past five years, and makes sure that every kid has the opportunity to participate.
Rising to the challenge of higher standards: In 2015, New Mexico dramatically raised the bar for what our kids should know and be able to do in order to meet the demands of the 21st century global economy.  That year, both the elementary and middle school earned a "D" grade—and the district, its school leaders, and its teachers immediately responded.  They have that can-do attitude that every school should emulate, that nothing is going to stop them from achieving success.  Today, all three schools in the district are earning As/Bs, and teachers have adapted their instruction so that their students are rising to the challenge of the Common Core.
Thank you Superintendent Widner for the campus celebration and tour!  A great final stop before heading back to Santa Fe.
Congratulations Melrose Junior High School!