Day 18 By the Numbers: 
120 miles traveled
1 School District Visited 
15 "A" Schools Celebrated
The APS stop on the NM-True Straight-A Express merited an entire day.  Why?  Because fifteen schools earned an A in the 2016-17 school year!  Thus, we extended the train tracks across I-40, with three stops total, with one on the west mesa and one out east mountain way.  The fifteen schools are:
Helen Cordero Elementary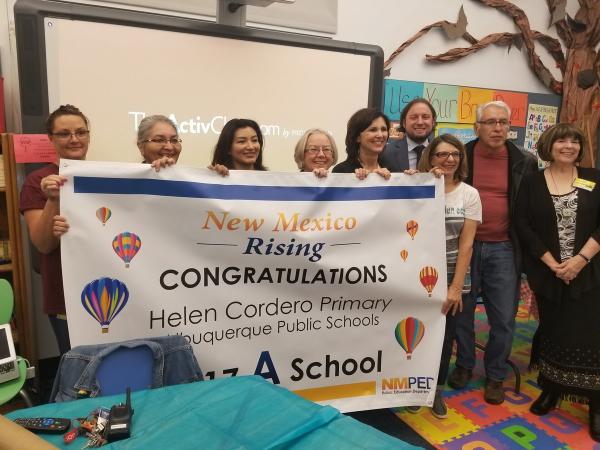 Georgia O'Keeffe Elementary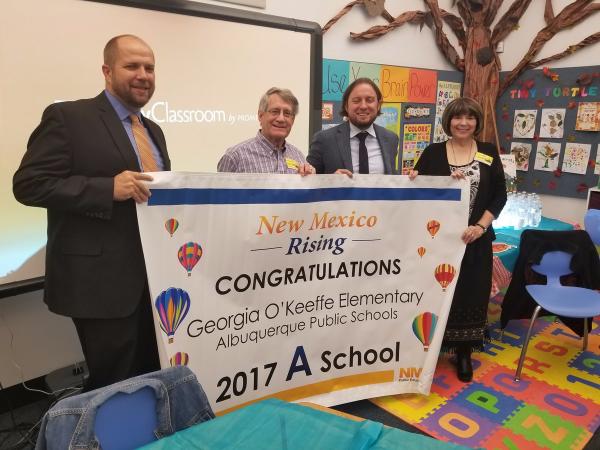 S Y Jackson Elementary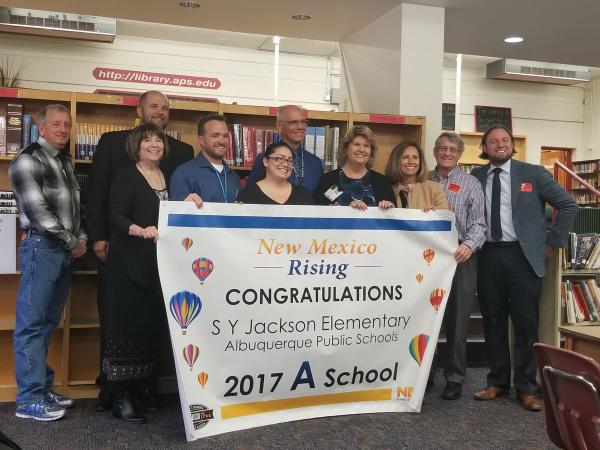 East Mountain Charter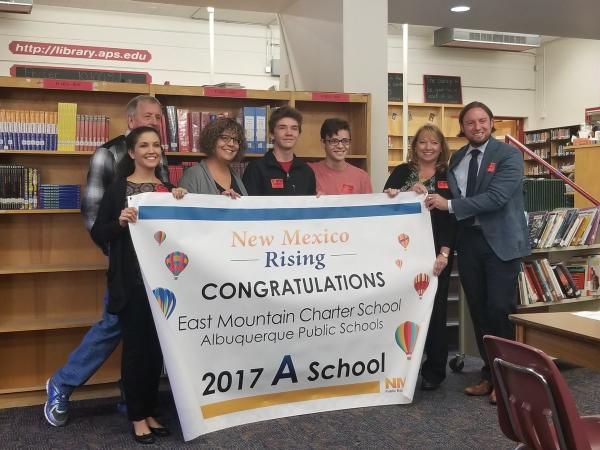 Onate Elementary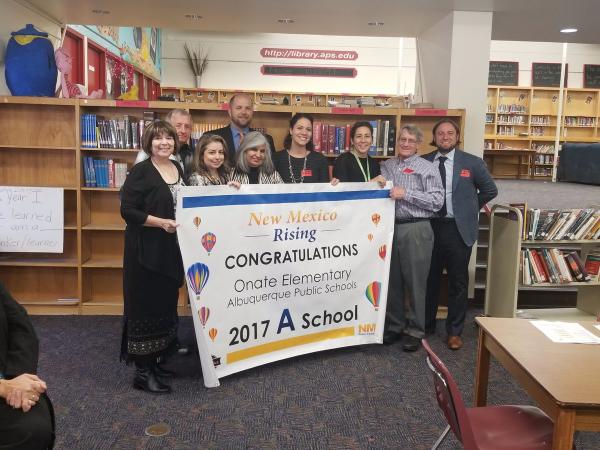 North Star Elementary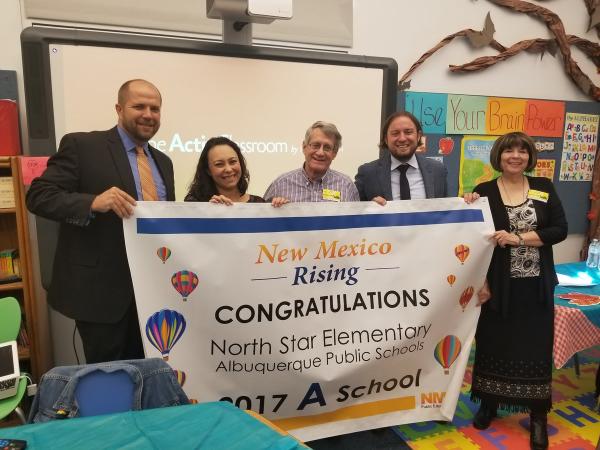 Hubert Humphrey Elementary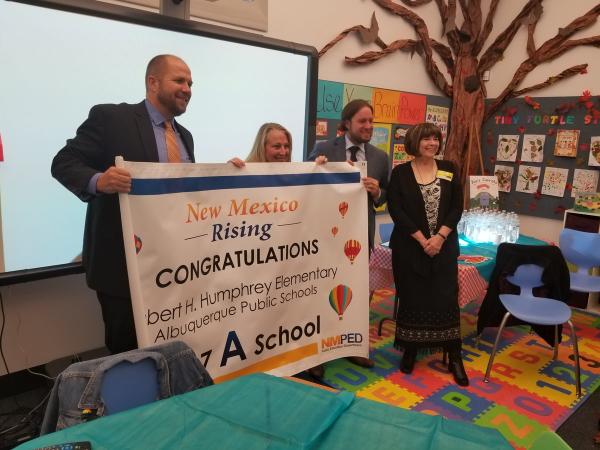 Desert Willow Family School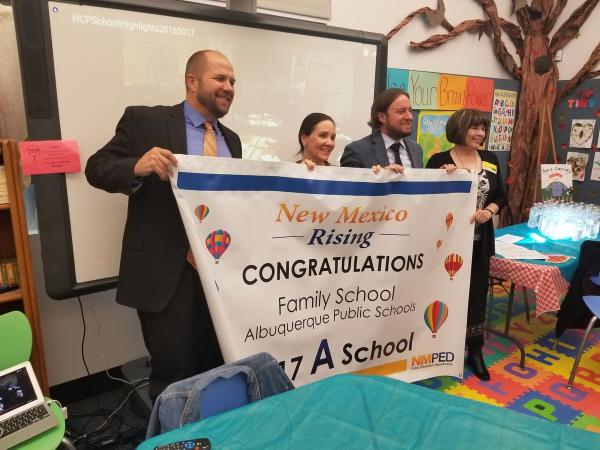 Double Eagle Elementary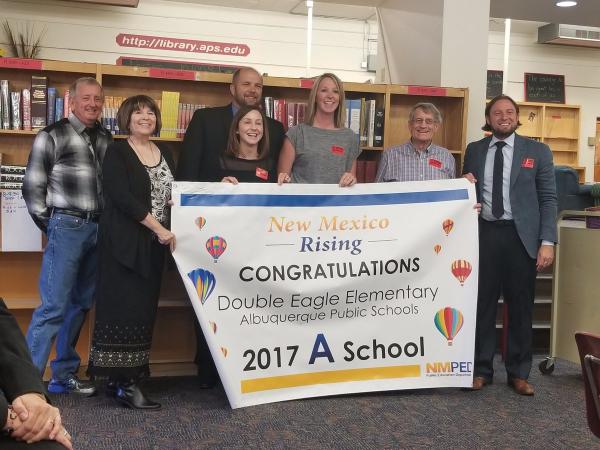 Roosevelt Middle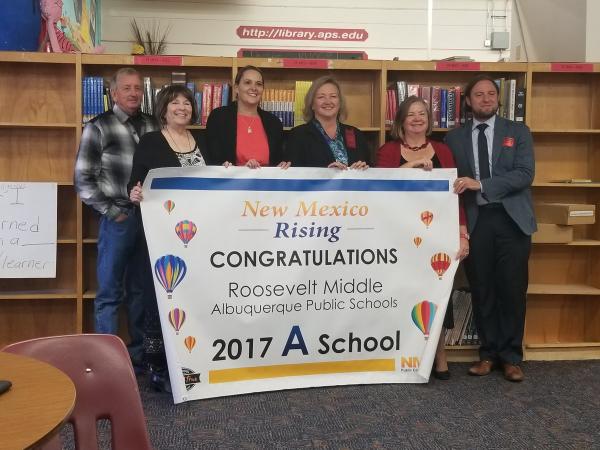 Sandia High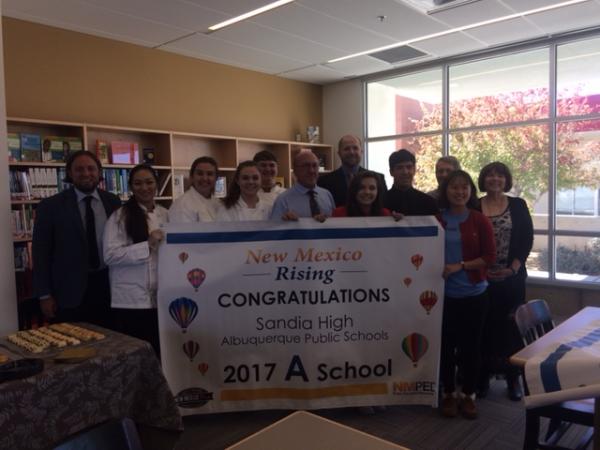 La Cueva High
College and Career High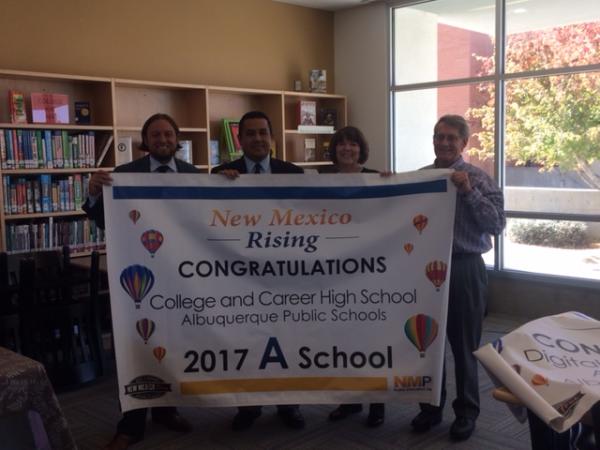 Early College Academy
Digital Arts and Technology Academy Charter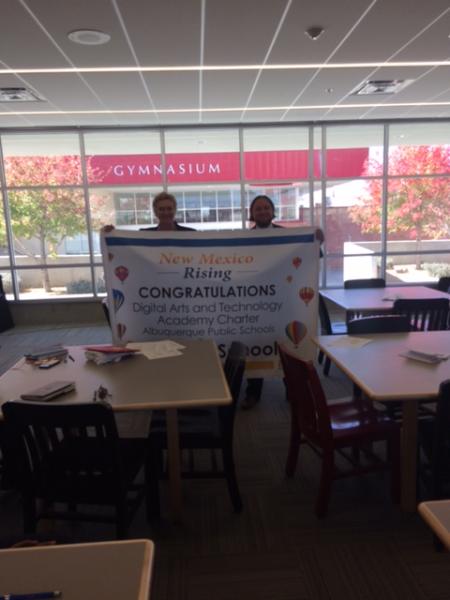 At each school stop we recognized five schools, and presented a banner to each.  Thank you to the host schools for making it a memorable day—with Kindergartners at Helen Cordero elementary signing, "Welcome, Welcome, Bienvenidos", the band and yukelali quartet of Roosevelt Middle School providing the sounds of both classic and modern tunes, and the acapella choir and jazz band of Sandia IB High School striking a chord with oldies like Billy Joel's "For the Longest Time"…not to mention the culinary program's fine pastry-making!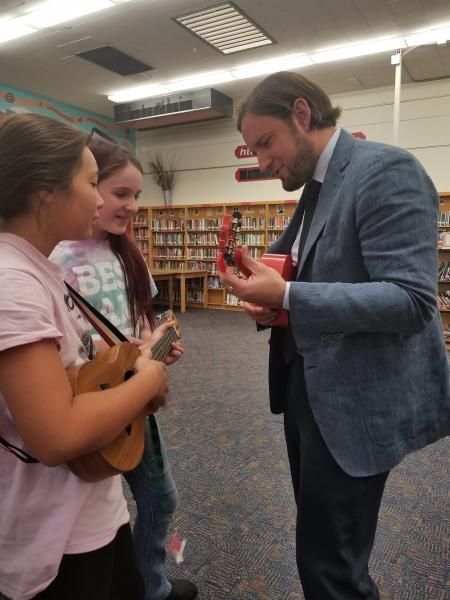 It was a day filled with the diversity and richness of each school's artistic community—and it was a celebration joined by School Board Members, Cabinet Secretaries, Legislators, and the Superintendent and her team. 
While it's difficult to capture best practices across fifteen unique schools that serve all grade-levels (including two district-authorized charter schools), there were moments throughout the day that highlighted places where elements Superintendent Reedy's "Big Five" were on full display, including:
Expanding access to Pre-K: While no one truly believes that this is the silver bullet, expanding access to quality Pre-K has real promise statewide.  APS is poised to lead on this front, with more and more families wanting to bring their children to school sooner.  Helen Cordero ES, for example, is designed as a PreK-2 campus—and it's one of the most beautiful campuses we've visited since the statewide tour began.  I spoke with a ECE teacher who came up through a state teacher training and certification program and recognized just how powerful of an impact she can now have on kids' lives.
Creating "Passion" classes: While Explore Academy charter school taught us a thing or two about courses that are selected by the students themselves, Roosevelt Middle School is also trending in that direction.  By creating the "passion" block (under the Principal's vision), middle schoolers are experiencing courses that never existing before—integrating hands-on woodworking with engineering skills in the class that we visited.  Many of the A schools in Albuquerque are getting creative about course offerings, student-driven learning, and rich artistic offerings, thus providing a wide range of school options for parents and families to choose from.  This innovation seems to be driven at the school-level, which is good to see in a large district as well.
Experienced School Leadership: It is probably not a coincidence that many of the district's A schools are led by veteran teachers and school leaders, in many cases school principals who have been in their building 10+ years.  As we've visited many of Albuquerque's traditional and charter schools earning As, we've met school leaders who have built a foundation of community relationships, strong staff (mostly hired by the leader at a certain point), programming that iterates and improves each year, and facilities that have been transformed to meet 21st century needs.  While people might tell you that it's "hard to keep an A-grade", more than half of the banners were handed-out to schools that had earned 2, 3, & 4 As in a row.  Consistent leadership helps, perhaps a great deal once you've identified the right leader for that school.
The Duke City Day ended with a stop-by the Public Academy for the Performing Arts to crown Ms. Ivonne Orozco as the 2018 New Mexico Teacher of the Year.  PAPA, as the school is called, is a district-authorized charter school, meaning it's technically part of APS.