Day 19 By the Numbers: 
284 miles traveled
2 School Districts Visited 
2 "A" Schools Celebrated
First Stop: Corona
Thank you to Superintendent Lightfoot (Corona alumnus, by the way) for welcoming us bright-and-early on Wednesday morning.  We had the opportunity to meet almost every student in the district, and get a good feel for how tight-knit the school community is.  This was another visit where a veteran Board Member joined us—it always makes a difference to have the full community represented.  The NM-True Straight-A Express banner was unveiled for Corona High School (3 As in the last four years) in the Board Room with the entire faculty and student body present.
We toured the full campus, and picked up a few best practices to share with the state, especially for our smaller districts:
Leveraging smaller class sizes for more individualized attention: Smaller class sizes can make a difference sometimes, but not always.  In fact, much of the research indicates that teacher quality matters more—but Corona understands how to leverage all of the assets that it has, and smaller class sizes is one of them.  We witnessed students receiving individualized coaching and attention at all grade levels, and heard stories of how that has transformed kids' lives—from early graduation, to additional intervention, to engaging students in their interests—from agriculture to accounting to nursing!
Taking advantage of virtual course access: As a rural district, Corona is situated more than 100 miles away from most of New Mexico's major population centers.  Thus, broadband access and online opportunities can be game-changers.  We watched a course being taught from a community college with 3-5 groups of kids streaming-in from districts all over the eastern half of the state.  So this is a combination of both Dual-Credit and online course access!  The professor had assigned a paper, and students in multiple districts were hard at work in developing their argumentation—to be submitted by email by 3 PM tomorrow!
Embracing competition and accountability: Much like many of our highest-performing schools and districts, Corona doesn't shy away from a challenge.  That's why the high school has reading and math proficiencies that are DOUBLE the state average, and why it earns 15/15 points in the College and Career Readiness indicator.  If every district embraced the competitive spirit about academics (they brought home a Knowledge Bowl win last week) that Corona does, then all of our districts would be on the rise.  There was no resistance to the quality assessments or high-bar accountability systems that have been put in place, and a desire to compete harder in key indicators and sub-indicators across School Grades.
It was a privilege and honor to join the team at Corona High School.  Congratulations again on your third A in the last four years!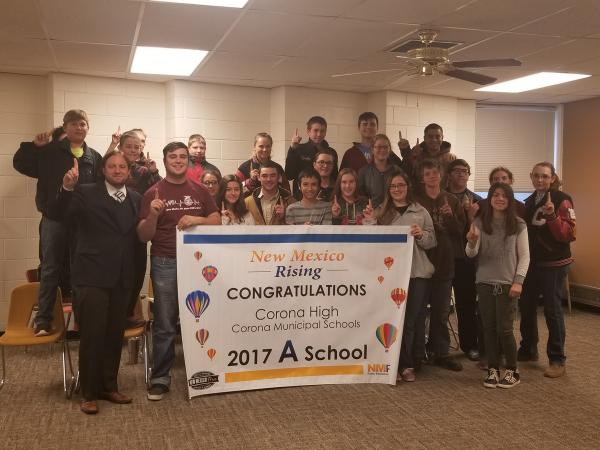 Second Stop: Carrizozo
Carrizozo High School (and the district overall) is a prime example of a New Mexico school that has made a lot of academic progress over the past two years, but isn't satisfied and acknowledges that earning a "A" is just the beginning.  We were impressed by that attitude—as there is always more room for student growth, even for our A-schools.  Thank you Superintendent Espinoza for displaying the get-your-hands-dirty, can-do attitude on behalf of your kids and community—and for showing us around and introducing us to so many high-performing and dedicated educators.  There is cause for celebration, as the high school earned a C two years ago, a B last year, and its first-ever "A" rating in the 2016-17 school year.  Let's keep the momentum!
We walked the full campus, and learned a few reasons why the district's schools are on the rise:
CCR opportunities for all: The high school has embraced PSAT-for-all, ACT-for-all, and dual-credit-for-all.  By dramatically increasing access to college and career opportunities for all students, the school is exposing students to college material while also raising the bar for what every child can achieve.  In addressing the students in the courtyard, there was a palpable excitement about students now having access (often free access via below-the-line funding provided by the PED) to things like personalized Khan Academy accounts once they've taken the PSAT.  For our rural districts, 24/7 learning opportunities can help close gaps, and supplement the instruction they're receiving during the week.  Carrizozo HS is embracing these new avenues for student learning.
Reads To Lead, driving student outcomes: At the elementary school, we had an opportunity to visit the Reads to Lead room and learn more about the interventions the school has put in-place as a result of this below-the-line targeted investment.  While this partnership with the PED is making a huge difference in this school's students' performance, it's the ongoing feedback, coaching, and support that is enforcing the best practices.  As in most of our high-performing schools, student achievement and growth data is embraced on Carrizozo's campus—another key feature of the modernization and improvement processes they've embarked upon.
A growth mindset, and focus on results: Visiting two districts (Corona, Carrizozo) who operate on a four-day school week gave us another opportunity to focus on outcomes, not inputs.  While we know that quality instructional hours matter, the Superintendent and staff spoke about the importance of focusing on results in all elements of the curriculum.  Similar to many of the A-schools we visited, a growth mindset was on full display.  We met several teachers who have earned Exemplary and/or Highly-Effective ratings, a testament to that growth mindset given that NMTEACH focuses on student GROWTH of every student.  As Superintendent Espinoza spoke to his students about the power of the American Dream ("never giving up, never being satisfied"), the Secretary was visibly moved given how his father immigrated to this country in 1950.  We need this growth mindset to catch fire statewide…our best schools are proving that it matters!
The Secretary also spoke about the privilege and responsibility of public service during this stop on the NM-True Straight-A Express…sharing with the students what an honor it is to serve them and their families every day.  Thank you, Carrizozo!