Day 2 By the Numbers:
136 miles traveled 
4 "A" Schools Visited 
What an awesome day on the #NewMexicoTRUE Straight A Express. Today, the express took us to state authorized charter schools in Santa Fe and Albuquerque. 
First Stop: The MASTERS Program - Santa Fe,  NM
The MASTERS Program is a charter school located on the campus of Santa Fe Community College. Secretary-Designate Christopher Ruszkowski stopped by first thing in the morning for a visit with students and staff to celebrate their "A" grade! Here are our three key take-ways: 
Community College Integration: Students at the MASTERS Program are constantly engaging with college level material, tailored to their unique interests. 
Critical thinking is required: Secretary-Designate Ruszkowski sat with a few Seniors who all had unique perspectives on the world, which stems from every student's ability to engage with high level literary texts. 
Real Career Technical Education Opportunities: By partnering with the local community college, students have unique opportunities from culinary arts to automotive mechanics to welding. The students have real CTE opportunities at the MASTERS program.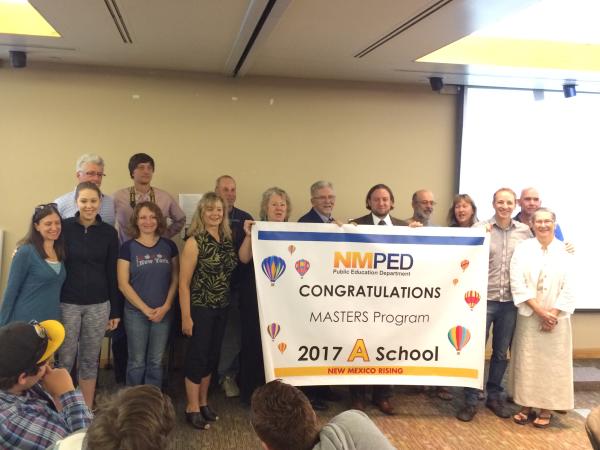 Stop 2: Cottonwood Classical Preparatory School - Albuquerque, NM
Our second stop of the day was Cottonwood Classical Preparatory School where we stopped in a couple of classrooms to observe the unique learning environment afforded to students at Cottonwood. Here's are a few things that make Cottonwood Classical special: 
They call it classical for a reason.The Socratic method is on full display in every classroom. We observed conversations about Hobbes' State of Nature in one classroom followed by a deep literary conversation about Zola in a high school English class. 
Academic Rigor: In conjunction with the point above, high expectations were on full display in every classroom filled with students ready and willing to rise to the challenge. It is clear these students will be well prepared for college. 
New Mexico History: What a joy it was to stop by Ms. Jones' New Mexico history class. We were thrilled to learn about how students engage in learning about our beautiful state.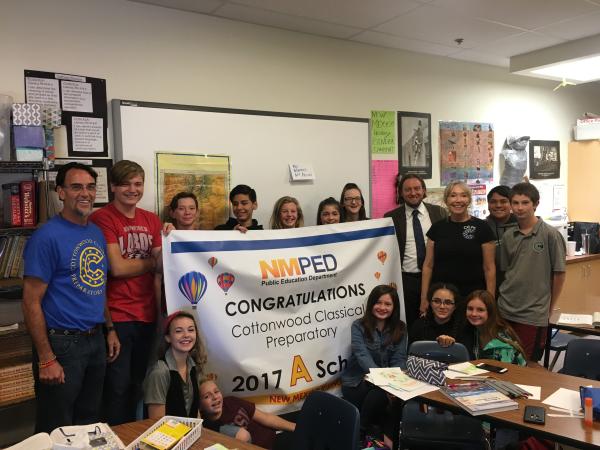 Stop 3: Mission Achievement and Success
Our third stop took us to a school that has earned an "A" for three years in a row! We started our visit by visiting with staff and wrapped up by visiting a few classrooms to see learning in action. We learned a lot from our visit at MAS including: 
Daily Instructional Coaching & Quality Interim Assessments: At MAS everyone realizes the importance of great teaching, in fact, each teacher receives daily instructional coaching to ensure they are best meeting the needs of their students in real time.The staff also uses data from interim assessments to identify the most pressing needs of their students and adjust instructional practices to best address their students strengths and weaknesses. 
Norms, Rules & Procedures: MAS has strong norms, rules and procedures in place that create a sense of stability and consistent expectation across the student body. During our visit we noticed that by having norms, rules and procedures in place, classroom instruction was able to continue seamlessly with very few distractions. 
Double Math. Double Reading: By extending the school day, MAS is able to provide each student with double the amount of reading and math instruction. By doing this, they can ensure that even students who come to their school "behind" have the supports they need to get caught up to their grade level coursework.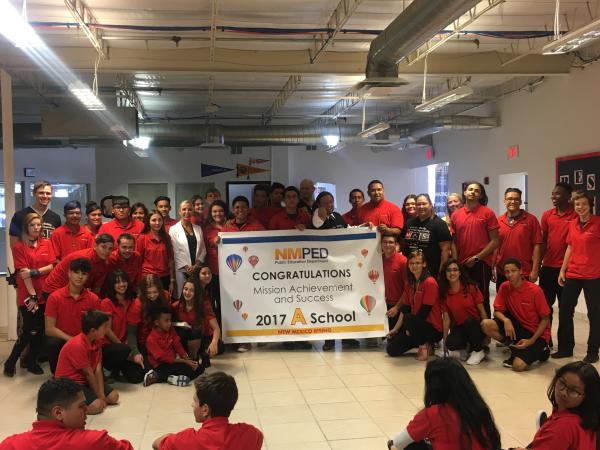 Stop 4: Explore Academy
We wrapped up our day by popping in for the last few minutes of the staff's professional development time at Explore Academy. Secretary-Designate Ruszkowski spent time listening to the staff discuss what makes their school so great. We heard three main points: 
The 22! Few ideas we have heard have shattered the traditional education paradigm like the 22. Each thematic unit for students is 22 days and no two kids at this school have the same experience. 
All Teachers Teach 9-12: Another form of innovation to learn from, all teachers at this school teach grades 9 through 12. This has the potential, when done well, to ensure vertical alignment to the standards. 
Innovation: Explore is perhaps the most innovative school model we've seen on our Straight A Express Tour, the school leader and staff are cage busting all the conventional education ideas at Explore.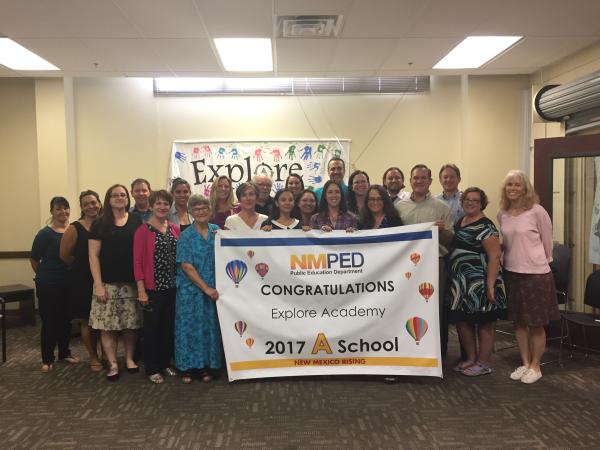 Next week the Straight A Express heads north. Stay tuned and follow along on Twitter: @NMPED