Day 3 By the Numbers: 
108 miles traveled 
1 "A" school visited 
Day 3 on the New Mexico True Straight A Express was short, but fun filled! 
First (and only) Stop: The ASK Academy 
We had a great time stopping by the ASK Academy to see what makes this state authorized charter school so great. The ASK Academy has received an "A" three out of the last four years. Here are three observations of what makes the ASK Academy so impressive. 
ASK any student at ASK Academy.... The administration's vision for their school is that you can ask any scholar what they are learning and they should be able to articulate what they're learning at high levels. When Secretary-Designate Ruszkowski asked a student in 6th grade math what they were learning he replied "we are learning about converting inches to centimeters, but really the purpose is to understand how to measure space and volume." 
Two STEM Pathways - By 9th grade, each scholar chooses one of two pathways, biomedical science or engineering & design. Once scholars select their pathway, they are offered a suite of unique elective courses related to their chosen pathway. 
Focus on recruiting great teachers - During our visit we stopped by Mr. Crawford's class. Turns out, Mr. Crawford was recruited by administrator Dan Barbour from Maryland to come teach at ASK. Mr. Crawford was inspired by the innovation at ASK and also by the availability of a hard to staff stipend. Governor Martinez has committed to making funds available to districts and charters to recruit and retain teachers for hard to staff teaching positions, we are thrilled that this program helped recruit a great teacher like Mr. Crawford to the Land of Enchantment. 
Congratulations again, ASK Academy! Keep up the great work.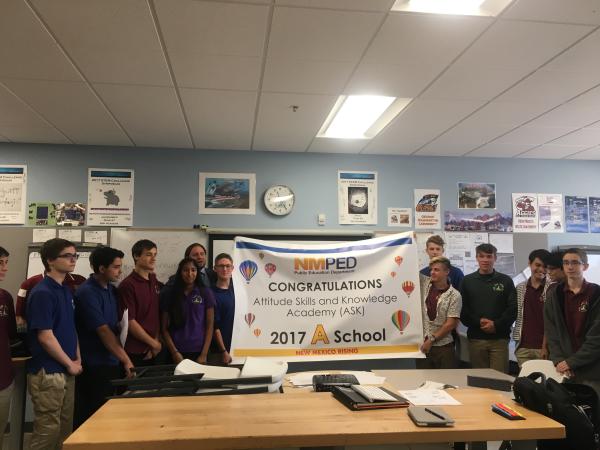 Stay tuned later this week as the Straight A Express heads north to Taos, Questa, Raton, Cimarron and Maxwell!