Day 5 By the Numbers: 
283 miles traveled 
3 school districts visited 
3 "A" schools celebrated 
What a day! This was our longest day on the Straight A Express so far, with a whopping 5 school visits spread across 3 school districts. Although, we celebrated 3 "A" schools, we also stopped by to visit the classrooms of two of our Secretary's Teacher Advisory members. We started the day visiting Jody's classroom at Eagle Nest Elementary and ended the day visiting John at Raton Intermediate. In between, we celebrated the great work of three "A" schools! 
First Stop: Cimarron Elementary 
Pulling in to town, it was easy to spot our destination. Cimarron High School, Middle School and Elementary are all located right next to each other. In fact, we actually visited all three campuses during our visit. We even had a surprise visit from Representative Dow, who popped in while she was in town for a legislative meeting. Once we found our way to the Elementary school, we spent time with teachers in their classrooms (including Family Cabinet member, Marie) before gathering all the students in the library for the celebration. Here are three things that stood out during our visit: 
Stop What Doesn't Work: The staff at Cimarron Elementary has the courage to stop doing the things that aren't working. At our celebration today, the community, including three school board members, came together to tell our students how proud we are of their hard work. But the community building doesn't stop at celebration, they have also pulled together to end legacy programs that don't yield results, find efficiencies and embrace new standards and assessments. This isn't easy, but the faculty and leadership do the hard work to make it happen!
Play Based Learning: The kindergarten teacher at Cimarron ES incorporates play based learning into her class everyday, skills that we are sure she picked up in her previous role as a trainer for New Mexico Pre-K! This innovation is particularly valuable when it is paired with ongoing measurement of student progress. 
Results Driven Accountability: Cimarron ES is a school on the rise, in part due to their partnership with the Public Education Department's Results Driven Accountability (RDA) program. The teaches in the school plan together constantly and ensure their plans, materials and data are vertically aligned. RDA provides additional support, but it is this great group of teachers that lays a foundation for success. 
Second Stop: Maxwell High School
We are still seeing purple from our school celebration at Maxwell High School. Immediately after parking, we were greeted by two students, Seth and Severin, who together with Superintendent Forrester led us to the auditorium which was filled with every student of Maxwell Municipal Schools! Here are three things we learned about what Maxwell Municipal Schools great: 
Another RDA School: Three years ago the district set a goal that they refer to as "Death of the F." Now, as of the most recent school grades release, Maxwell has ZERO "F" schools. Mission accomplished, Maxwell Schools are on the RISE! Because Maxwell High participates in RDA, they have the opportunity to collaborate across the district and with neighboring districts to see what is working, which has helped them achieve excellence. 
Embracing the EOCs: ...starting with the Blueprints. Great teachers know that good assessment = good instruction and that backwards planning is key! Maxwell High School has embraced that philosophy and its school grade has been on the rise ever since! End of course exams are viewed as a tool to take stock and help students improve. 
Kids at Learning Levels, Not Grade Levels: We saw this practice in both Cimarron and Maxwell today - differentiation and individualization of the student experience. Kids are placed and moved based on academic level, not necessarily grade level. With this practice the staff is able to provide additional instruction to those who are struggling and accelerate the students who are ready to move more quickly. 
Third Stop: Longfellow Elementary in Raton 
After our awesome celebration in Maxwell, we headed North on I-25 to visit Longfellow Elementary in Raton. This K-2 school was a buzz with excitement. As we walked up to the door, we noticed something: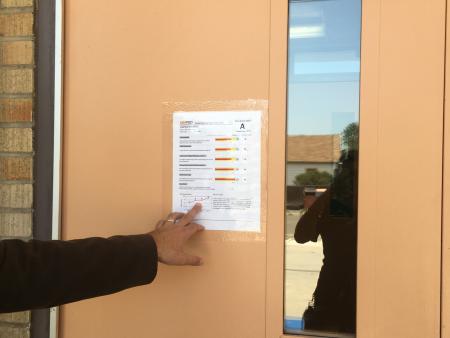 We love seeing schools celebrate their "A" grades. We also loved seeing these three things that make Longfellow Elementary great! 
Raising the Bar on IStation: As a K-2 school, the state provides a progress monitoring tool that is critical to school improvement. The school leadership and faculty are not going to be fully satisfied until 100% of kids are ready for third grade, and raising the bar by using scale is one way to do that! 
Deep Family Engagement: Longfellow Elementary brings in families for SAT (Student Assistant Team) meetings at critical points in the school year. The faculty uses an end of year rubric for those students who might need an additional year of instruction, to guide the teacher and family through making decisions that best meet the needs of each individual student. The school is on the brink of being a leader in family engagement, we're sure our Parent & Family Engagement Coordinator, Gloria Ruiz, will want to check it out! 
Rules & Procedures Matter: We visited a kindergarten classroom with excellent classroom culture and management. Not a minute wasted in this classroom. This early in the year, it was great to see so much of Harry Wong's First Days of School on full display. Students were clear on expectations, which sets them up for a great year of learning! 
Whew! What a trip! Stay tuned next week when we head down south! Don't forget to follow along at @NMPED on Twitter!