Day 6 By the Numbers: 
393 Miles
2 School Districts visited 
3 "A" Schools Celebrated 
Another great day on the Straight A Express in Southern New Mexico! 
First Stop: Hatch Valley Elementary 
We began our day bright and early at Hatch Valley Elementary to honor this awesome "A" school! First, Secretary-Designate Ruszkowski met with teachers to hear what is working at Hatch Valley Elementary.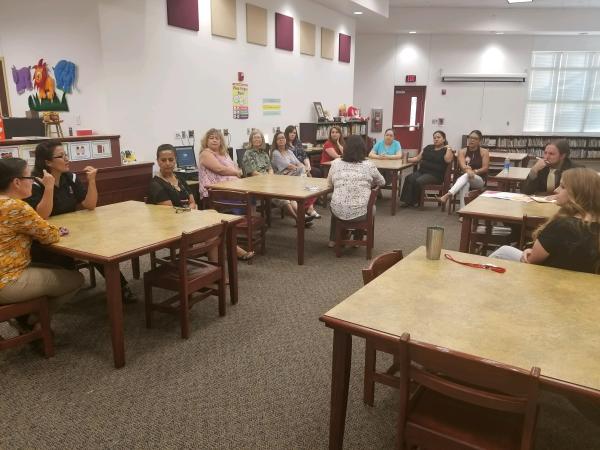 After a great conversation with school staff, we visited some classrooms and unveiled the new "A" banner! Here's what we learned during our visit: 
Strong Weekly Professional Learning Communities (PLCs): Teachers meet for two hours each week to plan and discuss reading instruction, and for two hours each week to plan and discuss math instruction.  That extra investment in teacher cross-grade planning leads to stronger, more targeted lesson plans.  Teachers have also focused on injecting "fun and games" into their lessons—translating to strategies that are multi-modality and to greater student mastery of important concepts.
Chromebooks for All:  Sometimes technology catalyzes student learning, and sometimes it doesn't.  But as we learned during our 7:30 AM huddle with the Hatch Valley teaching team, setting clear expectations about how our kids use technology can help individualize instruction and practice.  This is something that the teachers, school leaders, and district leaders would love to talk about more and share best practices on!
Community: One teacher let us know just how much it meant to return to Hatch to "serve her community." That sense of community is strong in Hatch Valley, and it has translated into teachers focusing on "improvement of craft," together.  Hatch Valley Elementary School is a school where bilingualism is evident in every aspect of instruction—and they've committed to being more intentional about lesson planning, differentiation, and being even more intentional about their bilingual instruction.  This nexus of community & craft was one of the big take-aways during our morning visit, and yet another example of a BOTH/AND school…Both community AND craft.
CONGRATULATIONS HATCH VALLEY ELEMENTARY!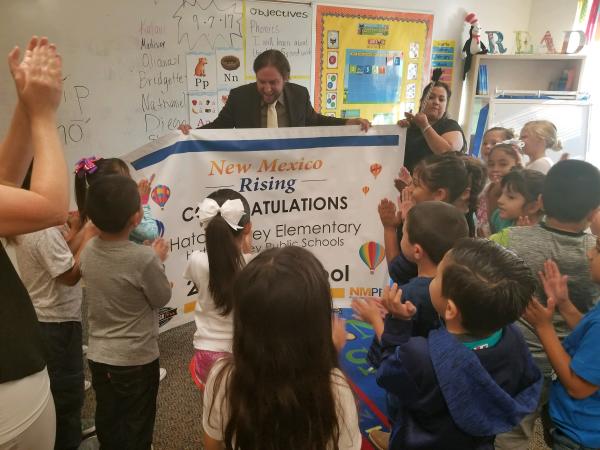 Second Stop: Gadsden Independent School District 
What a privilege to celebrate Desert View Elementary & Mesquite Elementary with hundreds of students, teachers, parents, school leaders, and community members on a gorgeous Thursday afternoon in the Gadsden School District. We received such a warm welcome which made our trip even more special. It was our biggest stop on the Straight-A Express to-date, and immediately caught the media's attention, check out this article from the Las Cruces Sun News. We even got to spend some time with a member of the Secretary's Teacher Advisory, Monica Nunez and a member of the New Mexico Teacher Leader Network, Arcelia Guillermo-Rios! Here are three things that we think make Gadsden great:
Major Community Turn-Out: Gadsden's community turned-out in large numbers for today's celebration. There were tons of parents, leaders and community members who made time to attend the festivities and celebration. That says something big about how much support there is behind Gadsden schools, and how much parent and family engagement has already been done. Gadsden is a great example of what is possible when the community rallies behind its schools! 
Intensive Tutoring: Staff from both Desert View Elementary and Mesquite Elementary spoke of an intensive tutoring model that has helped differentiate instruction. This differentiated instruction and tutoring help ensure that every students' individual needs are met.  Both schools take interventions seriously—and make time to deliver on them.
Strong, Consistent Leadership & High Expectations for All Students: The previous superintendent was at the helm for 10 years setting a strong foundation of consistent expectations for students and staff. In fact, every teacher and principal we spoke with discussed a culture of "high expectations." We would say that "high expectations" was the theme of our visit to Gadsden, we even heard it reiterated in the remarks of one of the districts veteran school board members. This conviction is steeped deep in the culture of Gadsden's schools... a deep belief that every student can learn…a conviction that continues to put the district on the rise.
CONGRATULATIONS DESERT VIEW ELEMENTARY!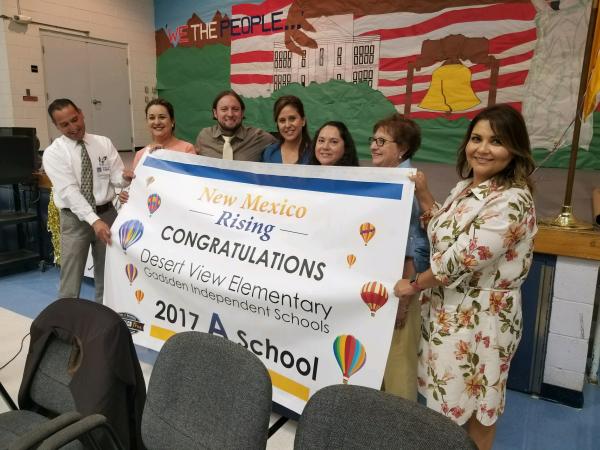 CONGRATULATIONS MESQUITE ELEMENTARY!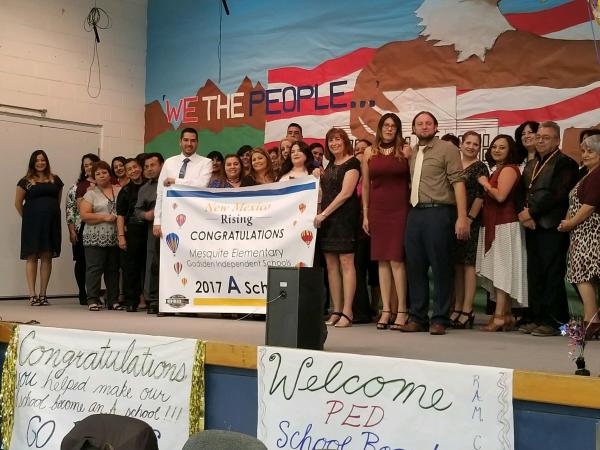 Stay tuned as the Straight A Express stays down south for one more visit tomorrow morning!