Day 9 By the Numbers: 
1 mile traveled
1 "A" School Celebrated 
Our daily summary stats do not do this visit justice! In case you weren't aware, last week was National Arts in Education Week, and we thought there was no better way to celebrate than by visiting New Mexico School for the Arts (NMSA). So we did! We departed our office to make the short trip around the corner to visit NMSA and to celebrate their sixth consecutive "A" grade! Not only were we impressed by their performance over time, but goodness, we were impressed by the students and staff at NMSA. We entered the school to find all the students and staff gathered in the gymnasium for our visit. The planned program integrated remarks from staff, board members and students and also included an incredible performance by vocalist Shondalee Perez a 10th Grader from Chimayó and pianist Gabriel Longuinhos, an adjunct music faculty member.  The performance was such a treat and we are honored to have been able to see it! Here are three things we saw and heard during our visit that we know make NMSA great: 
Remarkable Arts Integration: In addition to core math and English language arts instruction, every student at NMSA receives 2 hours and 45 minutes of quality arts instruction EVERY DAY. The first part of the day is focused on core instruction and at two o'clock the students begin instruction related to their specific area of study (theater, musical performance, drawing, etc.). Judging from Shondalee's performance, we have no doubt that the daily art instruction is top notch and prepares NMSA students to pursue their passion both at NMSA and in the community. 
Community Support & Engagement: One thing that was clear during our visit is that the community loves this school. NMSA has worked tirelessly to engage their community in every way. What that means is that the school staff and students feel supported, not just by one another but by the community that lies outside of their front door. It is in fact, the community, who is helping the school get what they need to move their school into a new and updated building that will better meet the needs of their students. This level of partnership is great to see in our schools! 
A True Both/And School: There is no doubt that NMSA is a true both/and school that emphasizes BOTH academic performance AND the arts. In fact this arts school has triple the MATH proficiency of the state's average! We heard the director of NMSA state in his remarks that the school's aspiration is students who are both academically prepared for college and career AND also well trained to continue their passion for arts. It's no wonder we met students from Santa Clara and Jemez pueblos who told us about their path to NMSA and impressed upon us what a valuable opportunity it has been to them to attend a school that nurtures their artistic passions while providing rigorous core instruction. 
Congratulations, New Mexico School for the Arts! #BecauseOfArtsEd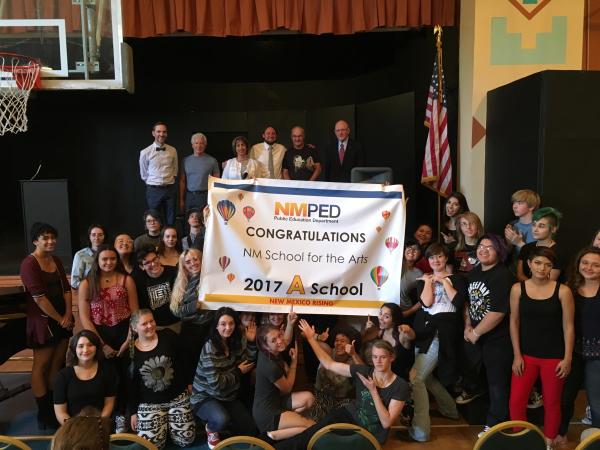 We thoroughly enjoyed our visit at NMSA and look forward to catching a student performance soon! In the meantime, stay tuned on the blog to see our recap from Moriarty and Estancia, coming soon! Until then follow along with us on Twitter at @NMPED!