Tamales
Yields about 2-3 dozen tamales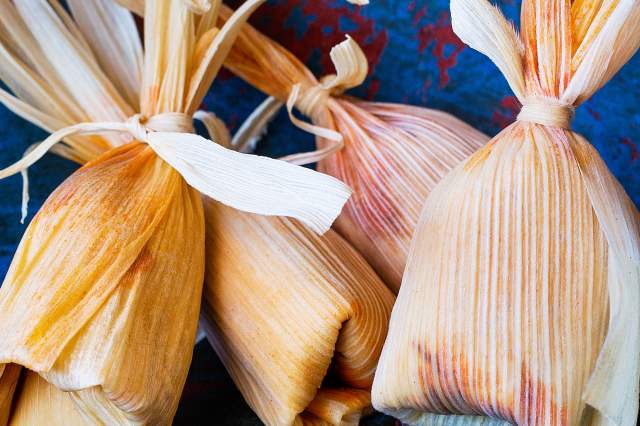 "...PEOPLE TRAVEL TO CLEVELAND, NEW MEXICO FROM HUNDREDS OF MILES AWAY IN SEARCH OF ONE THING: TERESA'S TAMALES."
A native New Mexican, Theresa Olivas learned how to make her family's traditional Christmas dish 36 years ago. Now she runs a restaurant in a converted gas station, satisfying her hometown with this irresistible New Mexican classic. In the video above, she shows us how to make her special green chile chicken tamales at home.
Teresa's Green Chile Chicken Tamales
2 ½ lbs boneless chicken breast

6 cups masa (cornmeal flour)

3 dozen hojas (cornhusks)

1 ½ cup green chile, roasted, peeled, and chopped

1 ½ tsp of oil

¼ cup of flour

2 tsp garlic

2 tsp salt
Directions
Chicken: Boil chicken in large stockpot with 4 cups of water (water should fully cover chicken) for 1 hour or until cooked. Once chicken is cooked, shred into small threads.

Hojas: Boil hojas in hot water until soft, about 15 minutes. Remove hojas from water and drain excess water. Take 5 hojas and tear into thin strips for tamale ties about 1 cm thick.

Green Chile: In a large saucepan, heat oil over medium heat and add flour. Stir for 1 minute or until oil and flour are completely mixed together. Stir in 4 cups water and green chiles. Lower heat and stir in 1 tsp of garlic and 1 tsp of salt. Simmer for about 10 minutes or until sauce thickens. Add green chile sauce into shredded chicken and mix together.

Masa: Mix together masa, 1 tsp salt and 3 cups of water. Add more water as needed to reach a dough-like consistency.

Assemble tamales: Fan out full cornhusk, then spread a thin layer of masa on the hoja. Add desired amount of green chile/chicken mixture in. Roll hoja closed and tie ends with hoja strips.

Add tamales in a steamer or a large stockpot with a vegetable steamer in the bottom of the pot with an inch of water for one hour. Water should not touch tamales.

Serve topped with leftover green chile/chicken mixture and optional cheese, tomatoes, and sour cream.