In warmer months you can relax with a dip and experience the joys of swimming al fresco in the natural spots and deep swimming holes in Santa Rosa. In 2012 Conde Nast Traveler recognized the Blue Hole in the top eleven "Best Natural Swimming Holes In the US." "You could head to the local pool with the other chlorine-heads, but the truth is that no concrete pond is ever going to relax you in the same way as the real thing."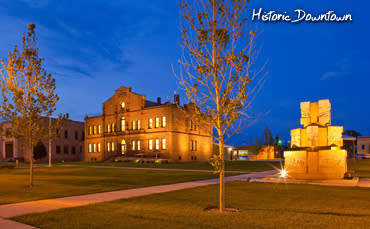 Santa Rosa still delivers that down-home, Main Street USA friendliness. Whether you're checking out classic Route 66 cars or neon, looking for the best in fishing, boating and water skiing, camping, need a cool swim or if you sign up for a scuba diving class, you'll fall in love with Santa Rosa.
Located on the Pecos River, between Albuquerque and Amarillo, you can see picturesque stone buildings in the historic district, enjoy down-home meals, chill out with our waterslide and pedal boats at Park Lake, walk or bike-ride along recreational trails or on level sidewalks connecting the downtown plaza where the grand Guadalupe County Courthouse is a central landmark, along the Route 66 corridor or on improved trails through an extensive but compact City parks system.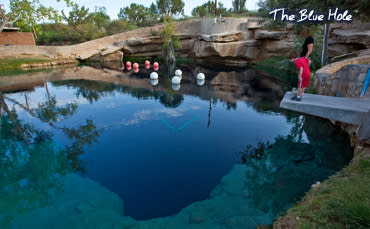 The Santa Rosa Information Center can assist with maps, event information, recreation opportunities, dude ranches, rodeos, local southwest history, the geology of the world-famous Blue Hole and in locating Route 66 alignments and remnants of the road.
Highway 91 south towards Puerto de Luna offers beautiful scenery along Pecos River canyons. Puerto de Luna is also famous for "PDL Chile" a unique strain of chile that has been cultivated here for over 100 years. Look for specials on local restaurant marquees or menus boasting PDL Chile.
Santa Rosa's stretch of Route 66 is forever memorialized in American film history in Steinbeck's epic novel, Grapes of Wrath with a memorable train scene, as a freight train steams over the Pecos River railroad bridge in the center of town. The grand dream of making the entire U.S. accessible was realized in 1926 with the creation of Route 66. Tourists flocked onto America's "New Main Street." Besides offering a delightful watering hole to weary travelers, Santa Rosa provided additional comforts in an era of tough traveling.  Fortunately, it is not too difficult to relive the golden era of Route 66. You can still get a taste of the old days at some of the classic cafes that refused to be forgotten. Visitors from all over the world still wind their way along the historic road.
Enjoy your visit!
Visit These Locations & Attractions Close to Santa Rosa
Santa Rosa Area Businesses