The first Spaniards to explore pueblo country arrived in the 1540s. Santa Ana, then called Tamaya, submitted to Spanish rule in 1598 and was assigned the patron saint by which it has since become known. After the Pueblo Revolt of 1680, the returning Spanish, anxious to reconquer the pueblos, forced the Santa Anans to flee their village to the nearby Black Mesa and Jemez Mountains. Tamaya, the Old Santa Ana Pueblo, was established after the reconquest of the territory in the late 1600s.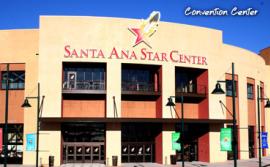 In 1693, the Santa Ana people returned to the present pueblo location, about 27 miles northwest of Albuquerque, where they began acquiring adjacent land for agricultural purposes. Today, the Santa Ana Pueblo lands cover 73,000 acres east and west of the Río Grande and are home to about 500 residents.
The pueblo offers numerous modern recreational activities. They offer gambling, entertainment, a cocktail bar, 36-lane bowling center, an indoor event center, and banquet and conference facilities. Santa Ana Star Casino, (505) 867-0000.
The Santa Ana Golf Club features three beautiful 9-hole golf courses — Tamaya, Cheena and Star — that weave through the high desert hills. The club has hosted PGA championships and invites you to eat at the Prairie Star Restaurant, (505) 867-9464.
The pueblo also owns the upscale 18-hole Twin Warriors Golf Course, (505) 771-6155, which caters to the champion golfer as well as the resort-style player.
The Hyatt Regency Tamaya Resort & Spa offers visitors a relaxing spa and diverse cultural activities, such as Native American bread baking and drum making, in a luxurious setting, (505) 867-1234.
Other enterprises include the Ta-Ma-Ya Cooperative Association, which sells crafts and Santa Ana Agricultural Enterprises (SAAE), which grows blue corn for domestic and international food and cosmetic markets. SAAE owns Santa Ana Native Plant and Tree Nursery and Santa Ana Garden Center; (505) 867-1322, which specialize in Native New Mexican plants.
For some native cuisine in your own home, order from the Cooking Post, a mail-order enterprise that sells specialty foods, beverages, recipes and gifts; (888) 867-5198. E-mail: info@cookingpost.com.
The Lovelace New Mexico Soccer Tournament Complex, which has 20 fields and two championship fields, is also on tribal land (505) 249-0092.
Directions:
Old Santa Ana Pueblo is located less than two miles (3.2 km.) west of I-25, Exit 242, 15 minutes north of Albuquerque near the intersection of U.S. 550 and N.M. 528.