Native communities, sites and events held on Tribal lands are open to the public at the Tribal communities' discretion.
Schedules may change suddenly, always call ahead before planning your visit.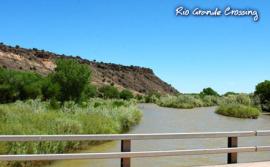 The Pueblo's population today totals about 3,185 members. In 1591, San Felipe was named by Castano de Sosa after a Jesuit who was martyred in Japan. There are no services in the village except during ceremonials, when food and crafts booths spring up near San Felipe Church at the foot of Black Mesa.
The most conservative of the Keresan villages, San Felipe is extremely protective of its traditions. The Pueblo is well-known for its beautiful dancing, particularly on the Feast Day of San Felipe on May 1, when hundreds of men, women and children participate in traditional Green Corn Dance. It is said by the end of the day that the plaza is worn down into a bowl from a day of dancing.
The Pueblo has relatively few shops and amenities, but visitors can enjoy traditional foods, dancing, jewelry and other traditional crafts during the Pueblo's annual arts and crafts show held in October. A modern-day attraction is the Tribal-owned Black Mesa Casino, quite visible from I-25, day or night.
The Tribe also operates a gas station, restaurant, gift shop, and motor sports track across from the casino.
GENERAL INFORMATION:
Please observe the Pueblo's "no photo, sketching, camcorders or audio recording" signs. For more information, visit the community center or the governor's office. 

Directions:
The Pueblo is located 10 miles north of Bernalillo off I-25.