Native communities, sites and events held on Tribal lands are open to the public at the Tribal communities' discretion.
Schedules may change suddenly, always call ahead before planning your visit.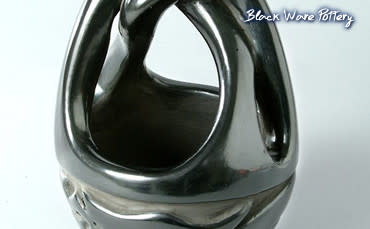 There are few places in New Mexico that can compare with the majestic beauty of the landscape of the homelands of the Santa Clara people. The splendor of the scenery is justly famous in the Southwest. The Santa Clara Pueblo has emerged with a strong Tribal government and a prosperous economy.
Thanks to cultural pride and a strong sense of identity, the Santa Clara people have retained many of their ancient traditions while integrating with the best of what the majority culture has to offer. The Pueblo has a high regard for education, both the Tribal heritage and modern education. Santa Clara Pueblo people find employment on the reservation as well as in nearby cities.
Some dances and community festivals are open to the public. In June, St. Anthony's Feast Day features Comanche Dances. In August, Harvest Dances and Corn Dances are performed in honor of the patron saint, St. Clare.
Santa Clara operates Black Mesa Golf Course, which has received national acclaim for its challenging play; 115 N.M. 339 in La Mesilla.
For even more fun visit the Santa Claran Casino, (505) 367-4500, and the Big Rock Bowl in the city of Española.
The Pueblo is located about a mile (1.6 km.) south of Española on N.M. 30. Visitors to the Pueblo must check in at the governor's office.  Photography, sketching and video recording permits are available throughout most of the year but are not available on feast days.