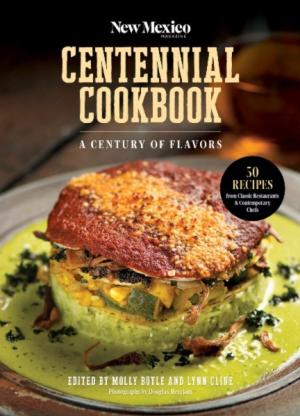 SANTA FE – For a century now, America's oldest state leisure travel magazine has invited readers to experience New Mexico's diverse and delectable foodways ­– and for the next chapter of New Mexico Magazine's centennial celebration, the publication has produced a cookbook that celebrates the evolving story of New Mexico's one-of-a-kind culinary heritage.
The New Mexico Magazine Centennial Cookbook brings the state's time-honored artistry to your kitchen, along with the earthy, spicy, and sweet flavors that make the Land of Enchantment one of the world's hottest culinary epicenters. Organized by season, across 50 enticing recipes drawn from the magazine's archives or shared by contemporary chefs throughout the state, the cookbook presents an overgrown kitchen garden of histories, cuentos, cooking tips, and other fare. This yearlong journey of enchanting meals is guided by four essays from renowned New Mexico food experts and writers—Lois Ellen Frank, Cheryl Alters Jamison, Levi Romero, and Inez Russell Gomez—who celebrate the glories of spring, summer, fall, and winter.
Month by month, New Mexico Magazine has told the story of a unique cuisine steeped in ancient Indigenous and early Spanish traditions and seasoned with ingredients and techniques introduced by people from around the globe. The result is New Mexico cooking: a heady, gently simmering stew of local and multicultural flavors employed simply and creatively.
"Our cuisine is hot, and we know it," said New Mexico Magazine Managing Editor Molly Boyle, who co-edited the cookbook with The Maverick Cookbook author Lynn Cline. "This cookbook is a testament to how New Mexico's culinary profile grew over the past 100 years and became such a beloved attribute of our identity as a leisure travel destination."
The cookbook begins with an introduction of "the building blocks of New Mexico cuisine" (green and red chiles, flour and corn tortillas, beans, chicos, sopaipillas, and frybread). Featured recipes include Bar Castañeda's green chile smash burger, which pairs nicely with one of Sparky's frothy green chile milkshakes. Contemporary delights include the Compound's apricot gazpacho, Cafe Pasqual's smoked trout hash, and the Pie-O-Neer's green chile and piñon apple pie. More tidbits come from the magazine's beloved food writers, including Adela Amador, whose "Southwest Flavor" column was one of the most popular features of the 20th century. Every recipe is accompanied by a beautiful image from award-winning photographer Douglas Merriam, a cookbook author himself (Farm Fresh Journey: The Santa Fe Farmers Market Cookbook).
The New Mexico Magazine Centennial Cookbook is available for purchase through www.Amazon.com, the University of New Mexico Press store or directly through  www.NewMexicoMagazine.com.
On April 14, 2023, the New Mexico History Museum partnered with New Mexico Magazine to open "Enchantorama! New Mexico Magazine Turns 100" to showcase how the magazine has evolved over the decades through interactive timelines, artifacts and vintage photography and artwork from the publication's earliest days to present.