What is the Tourism Exchange?
The Exchange is a B2B digital tourism marketplace that facilitates the real-time exchange of live inventory between suppliers and distributors for worldwide distribution across multiple categories of tourism products. Suppliers are able to connect their products to the Exchange and select distributors, who, in turn, can pull product to package and sell globally. The Exchange is used by more than 100 DMOs (Destination Management Organizations) in Australia, Great Britain, and Japan to help develop and showcase new products, distribute destination content, and compile privacy compliant, first-party data. The Exchange is built on an existing platform that is already linked to hundreds of major domestic and international OTAs (Online Travel Agents) and reservation/ticketing systems and is already used by Priceline, Expedia, Google and Tripadvisor to source new products.
---

Key Highlights and Benefits
The Exchange provides multiple NO-COST technology options for both suppliers and distributors, helping small businesses on both sides of product development and distribution stay relevant in today's digital economy.
Based on their own needs, suppliers are able to choose when and who to connect to and only pay for completed bookings.
The platform allows DMOs to promote bookable products alongside inspirational content and have end-to-end visibility of campaign performance.
The Exchange captures legally compliant first party data for every transaction, and that data can be used for future marketing campaigns as well as ROI tracking.
It provides accurate and real-time reporting for all stakeholders.
It facilitates opportunities for true marketing partnerships with the Travel Trade by creating more standardized measurement procedures and a broader representation of products.
The Exchange provides OTAs and Travel Trade partners straightforward digital access to sell more products.
The Exchange exponentially accelerates the development and global distribution of U.S. tourism products, increasing the volume, reach and diversity of suppliers.
---
How Does It Work?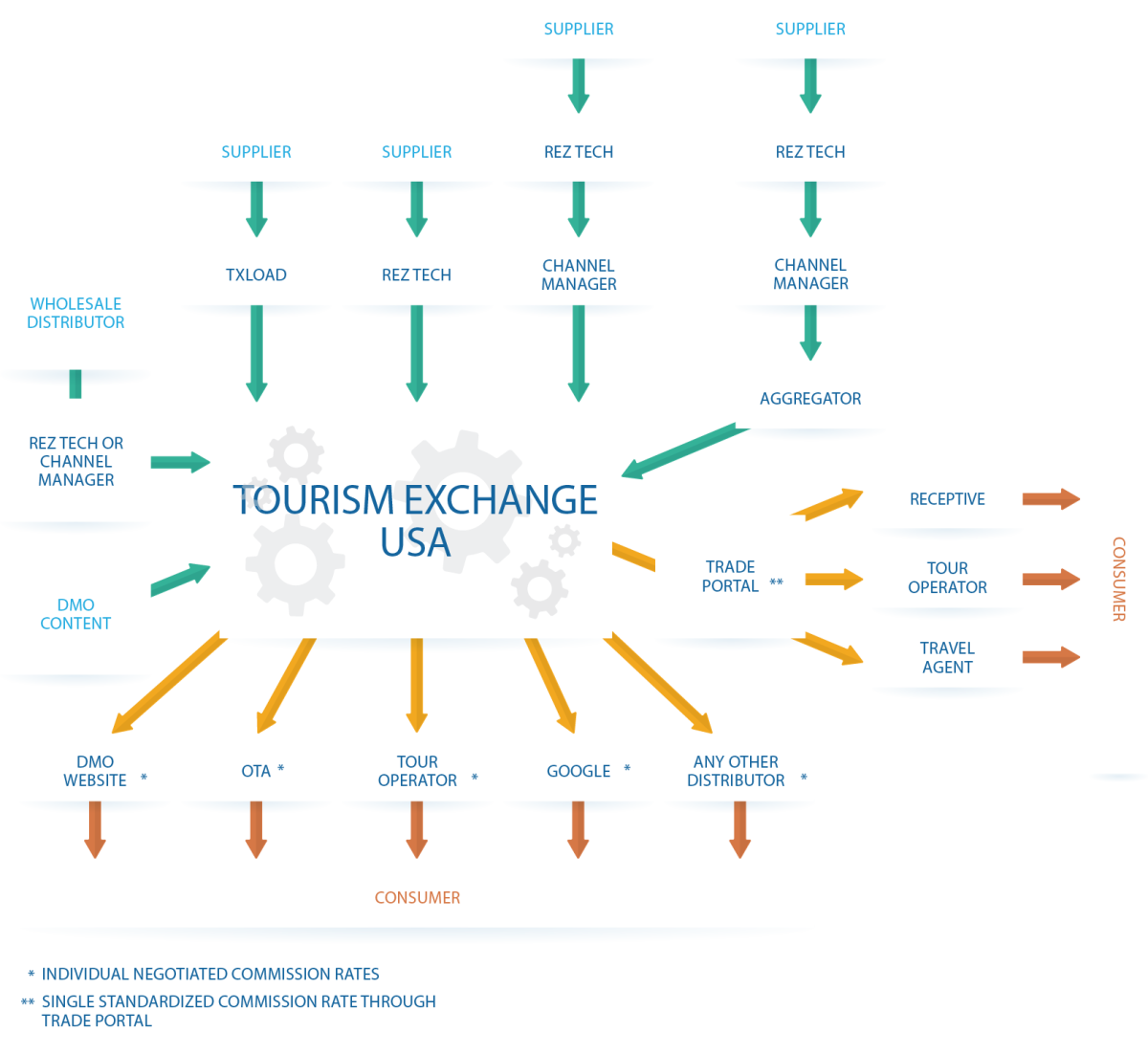 Connecting Works for Everyone
Distributors
Online Travel Agents (OTAs), Tour Operators, etc.
Source new products and content at no cost
Access high-quality destinations and experience imagery and descriptions for your own marketing needs to better position and sell products to your customers         
Work with destinations to create more robust and better targeted marketing campaigns that generate more sales         
Set your commission rates directly and take advantage of turn-key Trade Portal
Destinations
Local Destination Marketing Organizations (DMOs) and Municipal, County, and Tribal Governments
Create more distribution opportunities for your partners, increase efficiency, reduce costs, and keep more visitor dollars inside local communities
Enable OTAs, tour operators, receptives and travel agents to present a more compelling and complete view of your destination by showcasing a wider variety of products
Link bookable products to DMO content and facilitate content-as-a-service marketing initiatives with global distributors
The system captures legally compliant first party data to power CRM and personalized marketing campaigns
Suppliers
Hotels, Tours, Attractions, Events, etc.
Connect an existing booking system directly to the Exchange or take advantage of FREE built-in accommodation and attraction booking tools
Select and digitally contract with new distribution partners/channels to increase sales
Manage bookings through multiple distribution partners/channels to decrease costs and drive need periods
Manage all content and pricing
Access your dashboard to track bookings and revenue by distributors
Take advantage of negotiated, pre-set fees/commission rates from new distributors
Questions for NMTD? Contact Us.

Joseph Leong

Executive Manager