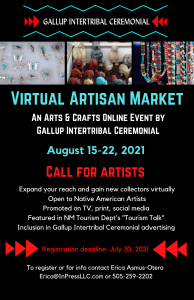 GALLUP, NM - For the first time ever, the Intertribal Ceremonial Office (ICO) is hosting a Virtual Artisan Market from Aug. 15-22 as part of the 99th annual Gallup Intertribal Ceremonial.
The Virtual Artisan Market is open to Native American artisans, providing participants with the opportunity to engage in other in-person markets which coincide with the Gallup Intertribal Ceremonial.
"This past year has been difficult for the Native American community, especially those who rely on revenue from their art sales," ICO Executive Director Melissa Sanchez said. "We wanted to support independent artisans and online stores by creating an additional and unique opportunity to sell their items through their own websites."
The Virtual Artisan Market will be available through the ICO website (www.GallupIntertribalCeremonial.com) where collectors and customers can explore the participating merchants and will be able to browse and purchase their works directly from their website. The Gallup Intertribal Ceremonial is known for attracting an international audience and this ecommerce feature will allow Native American artisans to continue reaching prospective buyers at an international scale.
The registration deadline for the Virtual Artisan Market is July 30 by 5:00 pm (MST). Artisans and merchants interested in vendor opportunities through the Virtual Artisan Market need to submit a registration form along with 1-2 high resolution digital photos (1600x900) and check or money order of $150. Payment should be sent directly to the Intertribal Ceremonial Office at: 491 Old Santa Fe Trail Santa Fe, NM. 87501. Registration forms are available by contacting Erica Asmus-Otero at Erica@InPressLLC.com or 505-259-2202.
ICO has partnered with KOB-TV to televise a one-hour special titled, "Spirit of The Ceremonial" at 9:00 pm (MST) Thursday, Aug. 19. The 2021 "Spirit of The Ceremonial" broadcast will include performances and featurettes of the event's main attractions, such as Native American dance group highlights, extraordinary award-winning art, the Miss Gallup Intertribal Ceremonial Queen program and historical milestones. There will also be spotlight mentions on the ever-popular parade, rodeo, powwow, artisans and famous Indian arts & craft traders.
For more information visit www.GallupIntertribalCeremonial.com.