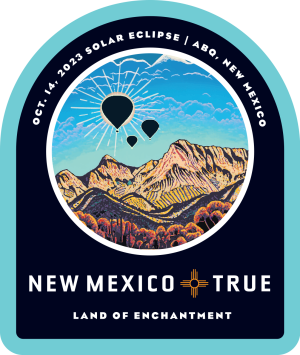 SANTA FE, NM – On Saturday, Oct. 14, 2023, New Mexico will become one of the world's premier viewing locations for the annular solar eclipse.
To celebrate, the New Mexico Tourism Department (NMTD) will be giving away limited-edition sticker decals that depict the fortuitous overlap of the annular solar eclipse and the Albuquerque International Balloon Fiesta.
The sticker decals will be available at the New Mexico True booth at Balloon Fiesta Park beginning the morning of Friday, Oct. 13. NMTD staff and volunteers will be distribute the sticker decals only during the morning sessions of the Albuquerque International Balloon Fiesta while supplies last.
Publications such as The Guardian, Forbes, Thrillist, Travel + Leisure, AFAR and more have identified New Mexico as one of the best locations in the world to view the annular eclipse due in large part to the Albuquerque International Balloon Fiesta coinciding with the annular eclipse.
Outside the Albuquerque International Balloon Fiesta, residents and visitors will find annual eclipse viewing parties throughout Albuquerque, such as Explora and the National Museum of Nuclear Science and History. Residents and visitors outside Albuquerque can attend 1 of 16 participating New Mexico State Parks that will be hosting watch parties, and a variety of New Mexico Department of Cultural Affairs sites will also host watch parties, such as the New Mexico Museum of Natural History and Science, New Mexico Museum of Space History, and Jemez Historic Site.