Martyn Pearson is not from New Mexico. In fact, he's not even originally from North America. And yet this Englishman has called Silver City and Grant County home since being recruited to play golf at Western New Mexico University more than 16 years ago. Although turning pro wasn't in his stars, he found his vocation in southwestern New Mexico. A co-owner of cycling and hiking outfitter Gila Hike & Bike, Pearson shares his love of Grant County.
We're obviously lucky that our area's natural beauty is outstanding. Looking at a map of Grant County, it's remarkably diverse—and huge—and access to the outdoors is incredible and affordable. You can find yourself in one of many different kinds of ecosystems quite quickly, and each is unique and special. There are some really remarkable places within a short distance of town, including the nation's first wilderness area, the Gila.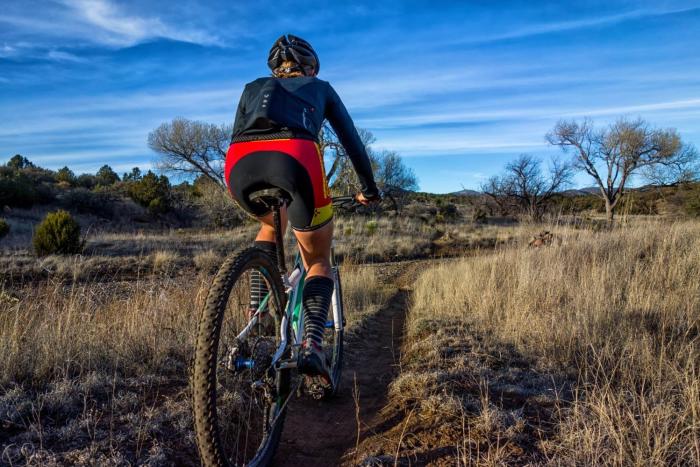 This is where outdoor adventurers can go when they want to be in complete quiet—proper quiet, with literally no one around. Whether you're looking for backpacking, horseback riding, mountain or road biking, camping, you've got it. There is some motorized vehicle access coming to certain areas. The challenge now is to develop access without losing what makes the area special. 
The history of the area is rich, and you don't have to look hard to find it, like at the Cliff Dwellings or the museums. When I came to school here, I became interested in the outdoors. I took some students on a group hike my senior year at Western, and couldn't believe that we were surrounded by all these forests, mountains, and this beautiful environment. Within a year, I was working at the bike shop and became an owner in 2017.
I always tell people to hike Little Walnut–Gomez Peak trail system first if they're looking for a day hike. It's the right length if you don't want to spend all day outside and it's close to Silver City. It's challenging if you go all the way up to the peak, but the 360-degree view is worth it to see Signal and Black peaks and the Mogollon range.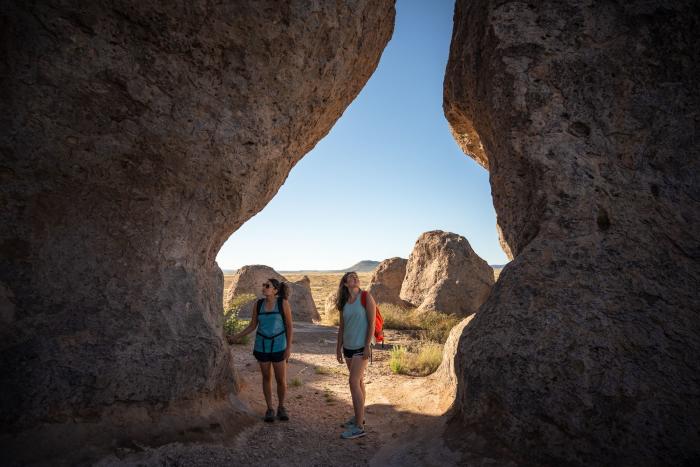 Another favorite of mine is City of Rocks State Park. I find that place to be spectacular because of the fantastic little campgrounds wound into the boulders. And it's only 30 minutes from town. There are a few nice hikes there, too, with great views of the mesa. 
The Buckhorn Saloon and Opera House, in Pinos Altos, is a fantastic destination for dining and live music after a day outside. The food's great, and you can sit down in the restaurant for some quiet or eat in the bar and be in the middle of everyone. 
There are things for people who want to stay in town at a nice hotel, eat, listen to music, shop, and take a look at life in the past. But there are even more things for people looking for adventure. The county has funding to put an outdoor recreation plan together, which will include Fort Bayard, Little Walnut and Signal Peak, to map and maintain those trails. That's exciting, because we have an opportunity to take advantage of the increased tourism and do it properly to manage the numbers. 
That's part of the vibe here, too, to be steady about things. There feels like there's a balance here between the energy to modernize and organize and upgrade, with a respect for the steadiness of a way of life that doesn't need to be too fast or stressful. It would be lovely for people to take a little adventure into our outdoors.