The Indian Pueblo Cultural Center provides a connection to Indigenous culture, art, and food as well as a deeper understanding of New Mexico. 
New Mexico history recounts tens of thousands of years of Indigenous culture before the region became part of the United States. The Indian Pueblo Cultural Center (IPCC), in Albuquerque, stands as a great place to delve into the Land of Enchantment's fascinating living legacy.
For more than 45 years, the 80-acre IPCC campus near Downtown has educated visitors about New Mexico's 19 Pueblo communities through its world-class museum, gallery spaces, and extensive library and archives. Owned and managed by a sovereign Native government entity, the center's cultural offerings and events—dances, music, food, and art—make it a gateway to Indigenous ways and traditions, giving guests a better sense of and appreciation for the cultural impact of native peoples in New Mexico.
That impact has even gone global, with virtual programming reaching worldwide audiences. The monthly Pueblo Book Club and October's Indigenous Peoples Day celebration as well as monthly workshops and demonstrations from the Resilience Garden have garnered national and international followings. The garden—farmed using generations-old water-wise agricultural techniques to grow staple crops like corn, beans, and squash—complements the Indian Pueblo Kitchen restaurant, which features these and other Indigenous foods as a way of showcasing Native American cuisine's delicious diversity. Special dining events and educational programs show how food conveys culture, too.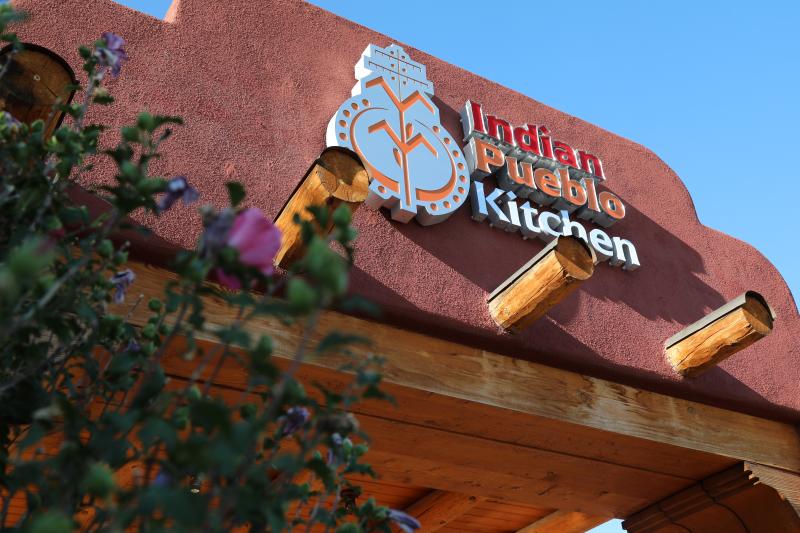 Whether visiting the cultural center for a meal, a walk through the museum's stellar examples of both traditional and contemporary Puebloan arts and crafts, or the experience of weekend dance performances, guests are often drawn to the 20 colorful murals throughout the campus. These vibrant displays visually convey the heritage, milestones, and other important aspects of Pueblo life created by artists representing their specific pueblo on regular docent-led or online tours.
Another big draw for visitors is the Daily Artist Program, a rotating roster of artisans who demonstrate and sell traditional and contemporary pottery, jewelry, paintings, and more. Guests learn about techniques and materials and the legacy of passing knowledge from generation to generation, and they can purchase items directly from the artists. The Indian Pueblo Store also sells a wide selection of authentic Native art and is known for its knowledgeable, friendly staff.
What visitors don't often see are IPCC's robust outreach programs. The Indigenous Wisdom curriculum provides teachers with educational plans to teach K-12 students in New Mexico about Pueblo culture and history. (Plans can be downloaded for free at IndianPueblo.org.) The summertime Traditional Teachings Camp invites kids for interactive storytelling, art, gardening, and nature experiences that emphasize themes of balance, tradition, resilience, and cultural expression.
As a component of IPCC's mission to support Indigenous entrepreneurs and artists, the Indian Pueblo Opportunity Center also provides artisans and small-scale farmers with resources to develop their businesses. A partnership with the Albuquerque Film Office has resulted in workshops and events for those interested in film or television careers. The Center's Indigenous Cultural Arts Festival includes not just films, but food, music, and networking events with a Native focus.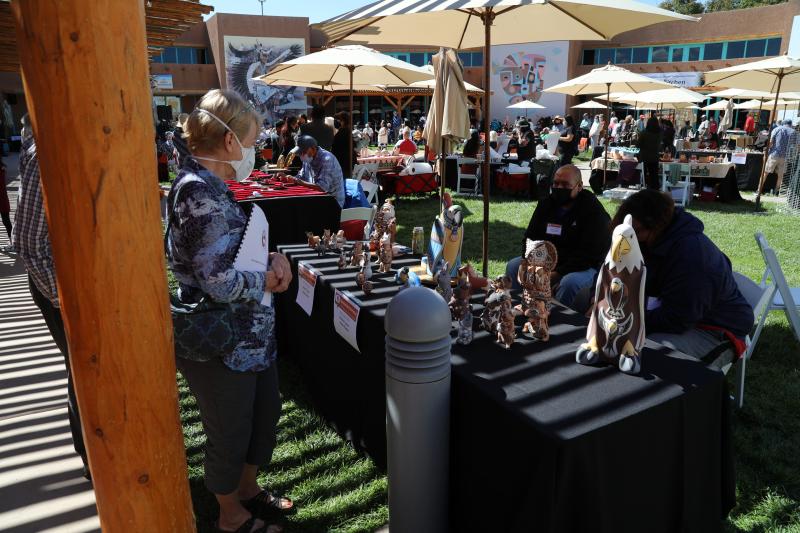 Monique Fragua oversees IPCC's for-profit components, including the restaurant, Indian Pueblo Store, Four Winds Convenience Store, and the hotels—TownePlace Suites by Marriott Albuquerque Old Town and Holiday Inn Express Suites Albuquerque Historic Old Town—and other businesses on campus. She also has oversight of new businesses that are owned and operated by IPMI and are currently under construction across the street at Avanyu Plaza.  This includes 12th Street Tavern, which is slated for opening in spring 2022, and Rainwater Wellness.  A member of Jemez Pueblo, Fragua thinks of IPCC as an important link between individual Pueblo communities as well as an opportunity to invite guests to appreciate New Mexico's vibrant Indigenous cultures.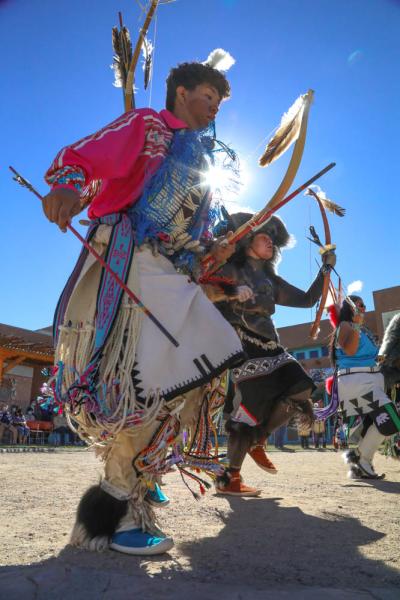 "The IPCC is unique because of the support it creates for the 19 Pueblos, on land that was the former Albuquerque Indian School for 100 years until the 1980s," says Fragua. "Not only can we all get a deeper connection and experience than anywhere else by having this central point to experience culture, art, dining, dancing, and music, but guests can also stay at the Pueblo-owned hotels and then shop at Avanyu Plaza across the street. Many Pueblo members fill up their cars, pick up oven bread or a pueblo pie, and visit at the Four Winds Convenience Store. They and everyone else know that the money they spend benefits the 19 Pueblos. We're proud of how IPCC invites this interaction of cultures as more than just a museum."