Billy Elbrock, a Chama resident for 30 years ("I'm almost a local," he jokes), serves as a commissioner for the Cumbres & Toltec Scenic Railroad, the historic steam-powered locomotive that's also his northern New Mexico town's most popular attraction. In 2018, after nine years on the Chama Village Council, he was elected mayor. He and his wife also own Fina's Diner, a village breakfast and lunch gathering spot. We asked him what makes Chama a special destination for visitors.
We have so much to offer—and in any season. It's a photographer's dream with the scenery, the animals, and the train. The wildlife here is amazing—bald eagles, ospreys, deer, and elk everywhere. Summertime is green with cooler temperatures, and there's hiking and forest access, Heron Lake, and El Vado Dam recreation areas, and three major wildlife areas close by. And fishing in the rivers and lakes. Summer rarely gets above 85 degrees; in the fall we've got all the colors, plus hunting for elk and deer. Wintertime offers sports like cross-country skiing and snowmobiling.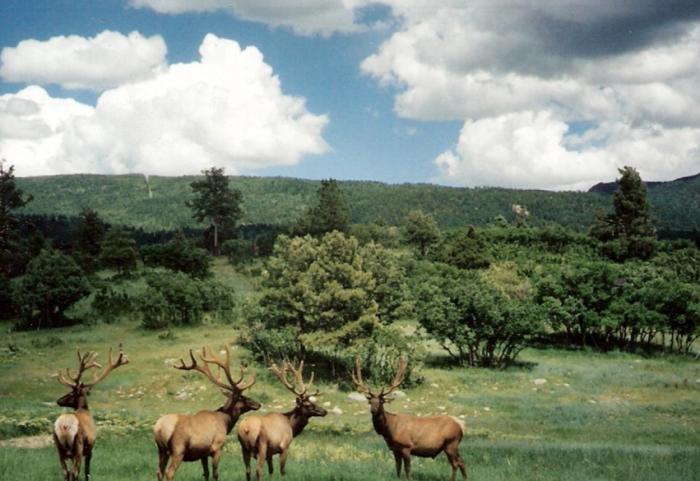 The Cumbres & Toltec Scenic Railroad is a perfect reason to come. Last year, 43,000 visitors rode the train between Memorial Day and mid-October. USA Today voted it the most scenic railroad in America, and Cumbres Pass is the highest pass reached by rail in the country. Fall is our busiest season with the fall colors.
This is also a very friendly town. Anywhere you go, people will greet you. When I first arrived here 30 years ago, I was told that we're now on "Chama time." That's something you can't define, but really means that this is a laid-back community where everyone knows everyone and we're all friends. 
When you visit, you must do the train first. That's the best way to see the area at a leisurely pace. Then visit the restaurants and shops to talk with the people who live here. Go fishing in the river and the lakes or take a hike in the National Forest or on many trails. 
People picture New Mexico as a dry desert, so it surprises them that we have trees and that it's green and cool. And that we get a lot of snow in the winter, so we have so many winter activities. We are at 8,000 feet, so be prepared for that—the sun can be intense, the weather might be cooler than you expect, and the weather can change quickly. 
Chama is near three wildlife areas that don't allow motor vehicles. That makes them a great place to ride horses or hike into the backcountry. Within the village, though, we do allow licensed ATVs on the roads. Just not beyond the village limits. You'll need to trailer your ATV to the trails that allow them. 
If you want to go where the locals go, head to restaurants like the Wilder Bakeshop and Rio Chama Espresso in the morning, and the Elkhorn Café, Foster's and Box Car for dinner. But you'll mainly find us enjoying the outdoors. That's part of the reason we live here. And we're happy to direct you to scenic hiking trails or great fishing spots. 
It's also nice to see new activity in town. For example, Local, a new woodfired pizza place recently renovated the old Rio Drugs store. During the renovations they uncovered the original sign from the 1940s. It was cool to see that. 
The Chama Valley Chamber of Commerce has a new and up-to-date website, with lots of information. And they operate the Northern New Mexico Welcome Center. Tourism is the lifeblood of this area and we want visitors to feel welcome, just like I did when I got here.