Our friends at Mama's Minerals, with two stores in Santa Fe, and one in Albuquerque created this rollicking Enchanted 8 Road Trip of their own - Road Trip For True Rockhounds - a quest comprised of museums, fossil sites, mines, state parks and more for those with a thirst for geology in New Mexico. We recommend pairing it with The Enchanted 8 Road Trip For True Adventure Seekers. 
If you've ever wanted to hunt for meteorites, pan for Pecos Diamonds, and visit mines across the state, then this road trip is for you! Created especially for our rockhounding customers, we've included fun for the family and serious rockhounds alike in this road trip spanning New Mexico. 
A. Mama's Minerals: 800 20th St NW in Albuquerque
The perfect place to start any rockhounding excursion, Mama's Minerals has everything you need from picks and metal detectors to books and mineral specimens.
B. New Mexico Museum of Natural History and Science: 1801 Mountain Rd NW in Albuquerque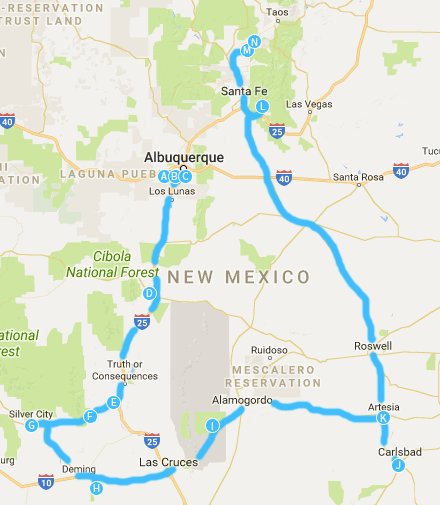 With exhibits on Paleontology, Geology, Space, and more, the Natural History Museum is a fun learning experience for the whole family.
C. Meteorite Museum at the University of New Mexico: Northrop Hall on the Main Campus in Albuquerque
The Museum houses many meteorites from the extensive collection of the Institute of Meteoritics, the highlight of which is a one-ton piece of the stony meteorite that fell in Kansas in 1948. See the Museum's website for hours, appointments are required or group visits.
D. Mineral Museum: Headen Center on the New Mexico Tech Campus in Socorro
Open 7 days a week, this treasure trove boasts a collection of over 18,000 minerals specimens, over 5,000 of which are displayed in the main gallery.
E. Lyda K Mine: Southeast of Caballo Dam
Easily accessible, this mine was once known for its fluorite mining. Rockhounds can also find orange feldspar, galena, mica, and quartz. Be careful when around mines and never enter one without a professional guide. Exercise caution if you are exploring with children. 
F. Apache Hill: 1.5 miles North of the ghost town of Lake Valley, East of Highway 27
One of the best fossil collecting sites in southern New Mexico, visitors may find intact fossils, including brachiopods, bryozoans, crinoid plates, gastropods, trilobites, and more.
G. Silver City: Grant County in Southwest New Mexico
At the center of a number of historic mining districts, this area boasts a lot of history and discovery. Be careful not to enter any private mines; only visit public mines or museums, and don't go into a mine without a professional guide. Exercise caution if you are exploring with children. 
H. Rockhound State Park: 9880 Stirrup Road SE in Deming
One of the few state parks in the US specifically set aside for rockhounding, this park is a favorite because of the abundance of agates and quartz crystals. Visitors are allowed to take up to fifteen pounds of rock for their personal collections.
I. White Sands National Monument: 15 miles Southwest of Alamogordo
The world's largest gypsum sand dune field, formed by wind into dunes, this monument also contains fossil tracks near Lake Lucero. As it is a National Monument, please respect the land and don't collect sand or anything else during your visit.
J. Carlsbad Caverns National Park: Carlsbad
Although you cannot do any collecting in this National Park, no rockhounding road trip would be complete without a trip to this natural wonder, formed when sulfuric acid dissolved limestone and left behind caverns of all sizes.
K. Artesia
Near Artesia on Chalk Bluff Road is a popular place along the Pecos River for finding Pecos Diamonds (small doubly terminated quartz crystals).
Road Trip extension for advanced rockhounders:
L. Glorieta Mountain: Santa Fe County
For the advanced and dedicated hunter, Glorieta Mountain is home to Pallasite Meteorites, which have yellow-green olivine crystals embedded in the iron-nickel metal, and Siderite Meteorites, which do not have olivine crystals.
M. The Harding Pegmatite Mine: Taos County
Donated to the University of New Mexico, you will need to sign the necessary release forms in order to visit this mine (see UNM website for details).
N. Pilar
Pilar and other areas Southwest of Taos are popular for finding Staurolites. You will most likely need a four-wheel drive, and be careful where you're collecting as you will be near the Rio Grande del Norte National Monument.