Note: All businesses, state and national parks, and monuments should be contacted prior to visiting to ensure accessibility and safety.
Elaine Ritchel's high school memories of Santa Fe art are a mosaic of color and texture, from Spanish colonial-inspired colcha embroidery to Native American pottery. The swirl of images also includes northern New Mexico's clear blue skies and high-desert landscape that have inspired artists so thoroughly that, in the early 20th century, the city erected a gallery of fine arts. Now known as the New Mexico Museum of Art, it helped cement the city's status as an art mecca, even though it was still a far-flung outpost.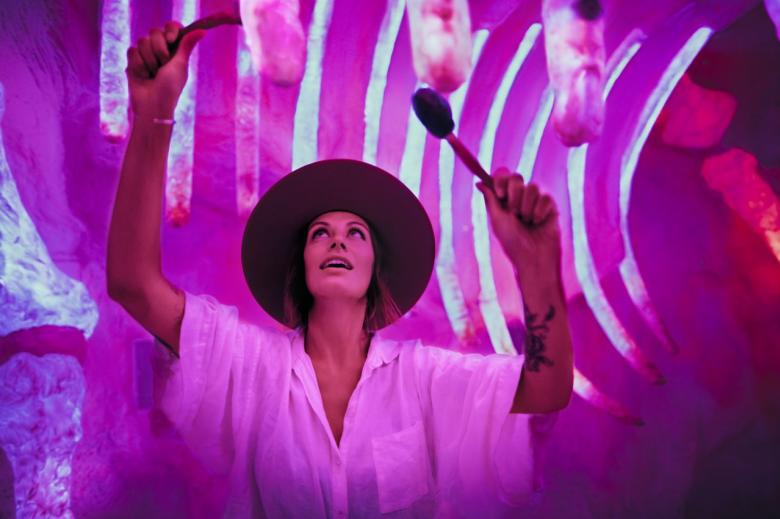 After graduate studies in museum education and work overseas, Ritchel returned to Santa Fe and found a surprising variety of art. "A lot of people know Santa Fe for Southwestern art or Meow Wolf," she says, referring to the immersive-art entertainment company. "But there's so much in between. People are surprised to find everything from historic artwork and very cutting-edge work. I can't think of another arts destination where you can see such variety in such a small, walkable area."
To help others navigate it, she founded Santa Fe Art Tours in 2015, offering curated tours of some of the city's 250 galleries.
Ritchel had her a-ha moment along Canyon Road, one of the city's top and most jam-packed arts districts, where some 100 galleries and restaurants stretch along the half-mile street. "I had remembered Canyon Road as a more traditional art district," she recalls. However, while wandering the lane where early creative luminaries in the early-20th-century Santa Fe Art Colony once resided, she discovered Art House. Set in an old adobe home (some in the area date to the 1750s), she found a gallery devoted to international figures working in computer and digital art. The contrast helped her realize "there's a whole lot more going on in the Santa Fe art scene than meets the eye." Exploring this art market—the third largest in the U.S.—requires a bit of wandering to find hidden spaces where people do the unexpected.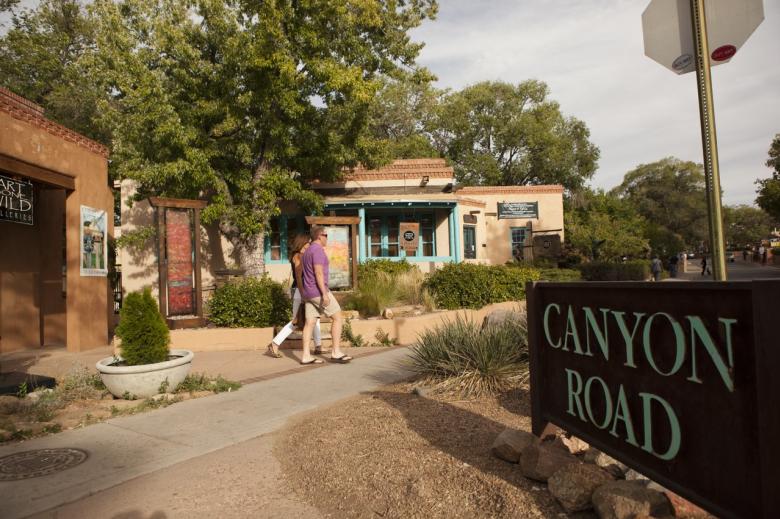 Ritchel recommends adopting an air of curiosity on Canyon Road and letting go of the perceived obligation to visit every gallery. "Spend some time strolling to discover hidden sculpture gardens and small galleries down side streets," she says. "That's as much the Canyon Road experience as the galleries themselves." 
The Railyard District has fewer galleries, but many travelers find them more accessible, thanks to ample parking and wheelchair access. The neighborhood bustles on Saturday mornings when Santa Fe Farmers' Market vendors billow out of a pavilion and along the railroad tracks with stalls devoted to green chile, goat milk lotion, and more. Ritchel says a visit allows you to "create an experience around that neighborhood rather than just gallery going." 
Art galleries and museums also cluster near the Plaza. Staples like the New Mexico Museum of Art, IAIA Museum of Contemporary Native Arts,  and the Georgia O'Keeffe Museum anchor the neighborhood. It's also home to newer, DIY art spaces that are tucked away on second stories, where emerging and underrepresented artists create site-specific installations, on view by appointment.