Albuquerque's Indian Pueblo Cultural Center celebrates the time-honored past and flourishing present of New Mexico's 19 pueblos.
The Three Sisters shine in Indian Pueblo Kitchen's creative cuisine. Staples of traditional Pueblo cuisine, the Three Sisters—corn, beans, and squash—nurture each other when planted together. Rolled up inside tasty blue corn enchiladas or nested in a taco bowl salad, this trio inspires the restaurant's cooking and honors an ancestral heritage still thriving today.
With its unique food and welcoming atmosphere, the restaurant may be the best place to start a visit to Albuquerque's Indian Pueblo Cultural Center (IPCC). Founded in 1976 and owned and operated by the 19 pueblos of New Mexico, IPCC is a dynamic gathering place for Pueblo cultural and creative experiences through a remarkable museum, art galleries, an arts store, and the wildly popular restaurant. 
"You first get a taste of Pueblo hospitality by being greeted at Indian Pueblo Kitchen," says Monique Fragua, a member of Jemez Pueblo and chief operating officer for IPCC and Indian Pueblos Marketing.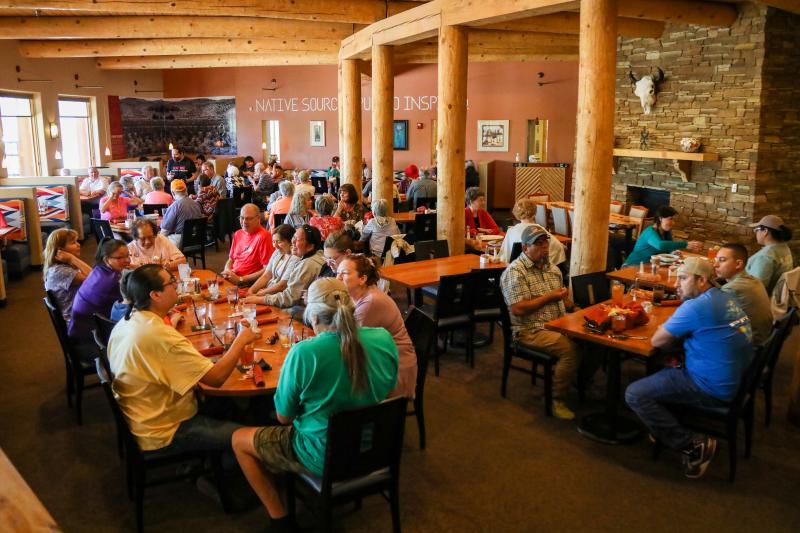 "Once your belly is full, you can make your way into the courtyard and see and feel the drum, which is the heartbeat of Pueblo culture."
IPCC's courtyard brings Pueblo culture to life with performances by Pueblo, Apache, Navajo, Hopi, and Plains dancers, all dressed in colorful ceremonial attire. On any given day, visitors might see the Deer Dance, the Butterfly Dance, or other dances honoring the cycles of the season, accompanied by the rhythms of handheld drums and singers of ancient songs. 
Giant murals enliven the courtyard, as if blessing the dancers. In Thomas Edward Montoya's (Ohkay Owingeh) The Runaway, a male dancer wearing a headdress with feather-tipped deer antlers is caught in enthusiastic mid-motion during the Deer Dance. In José Rey Toledo's (Jemez) The Turtle Dance, dancers with evergreen branches and turtle shells perform a ceremonial dance for the blessing of rain.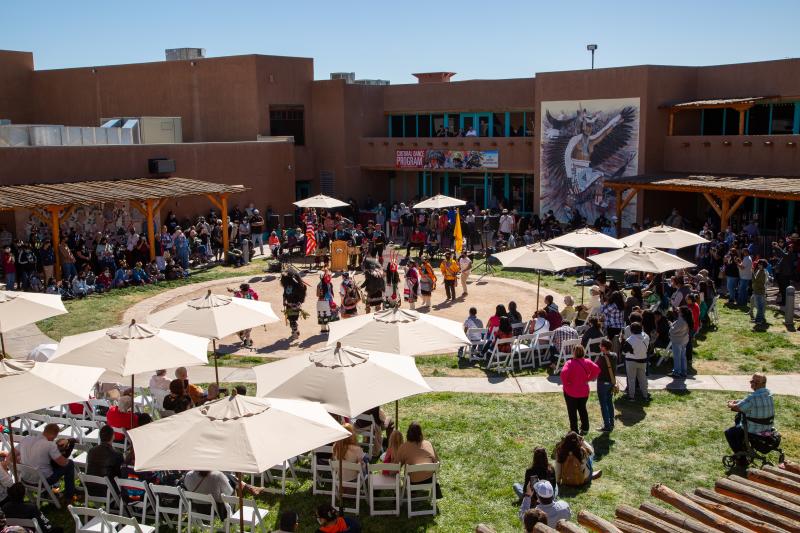 "Our cultural dance program is still a form of prayer, but it's also a teaching opportunity," says Fragua, noting that the groups are able to talk more about the dances than they would on the pueblos. "It's one thing to be an observer, but it's another to walk away with an understanding."
Both experiences help prepare visitors for the powerful journey through IPCC's permanent exhibit, We Are of This Place: The Pueblo Story, which shares the story of the Pueblo people in their own words and voices. "You hear the drum, and then you go through the exhibit with a new appreciation, knowing that we're not a people of the past, we're modern people here today," says Fragua.
Opened for IPCC's 40th anniversary in 2016, the interactive exhibition spans centuries with sections devoted to the devastating effects of the arrival of the Spanish in the 16th century and other significant historical events. Through an in-depth look at the five Pueblo languages and displays of pottery, drums, moccasins, and other handcrafted items, visitors gain a rich understanding of Pueblo histories, traditions, experiences, and their legacy of resilience.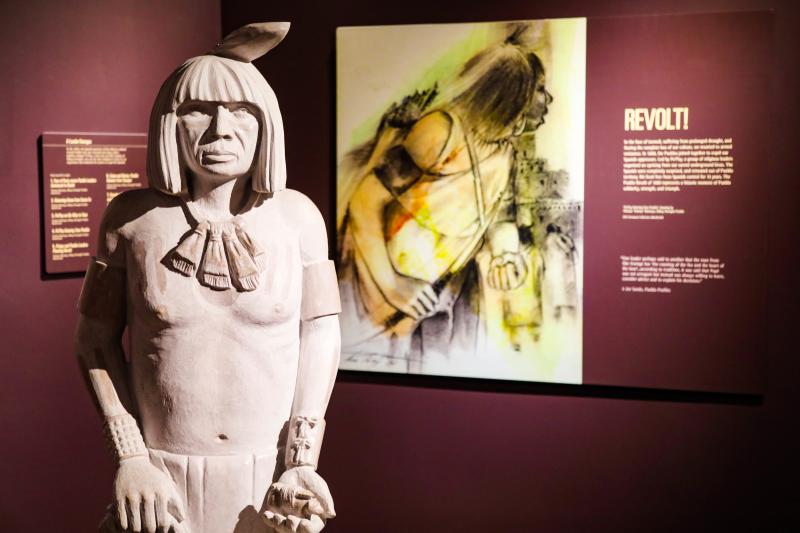 The Artists Circle Gallery reveals modern trends and themes in rotating exhibits of work by contemporary Native artists. Other galleries explore themes, such as Art Through Struggle, and other topics related to Pueblo life. The Indian Pueblo Store carries authentic jewelry, pottery, and other works by award-winning Native artists. IPCC also offers guided tours, a library and archives, educational resources, a youth summer camp, event space, and a busy gas station and convenience store next to the center.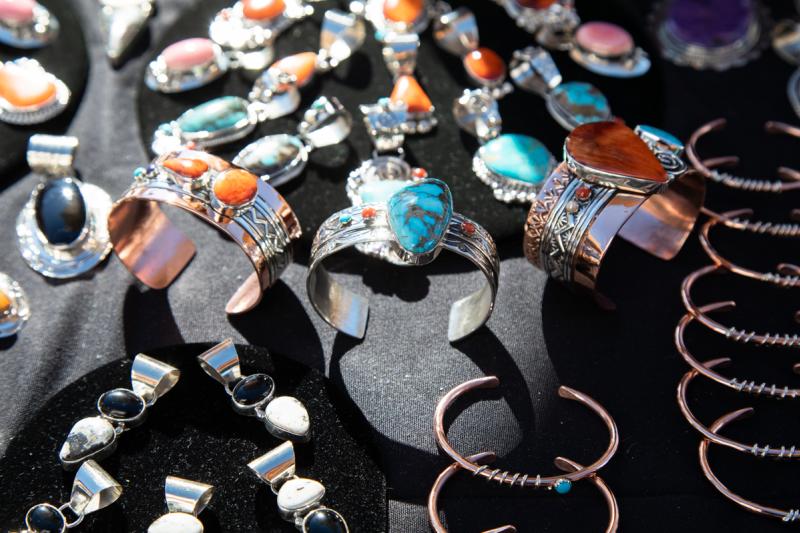 Across the street, a bold venture is underway. Avanyu Plaza, a developing cultural and arts corridor, is bringing economic and employment opportunities to Pueblo people and local community members. "Avanyu Plaza is shaping up to be a vibrant development like no other," Fragua says. Businesses located at Avanyu Plaza under Indian Pueblos Marketing, Inc.— the for-profit side of the organization — include 12th Street Tavern, IPMI's popular new neighborhood eatery; the largest Starbucks in New Mexico; the top-rated Holiday Inn Express in Albuquerque; and TownePlace Suites by Marriott Albuquerque Old Town. Rainwater Wellness, a spa and retail boutique, is tentatively scheduled to open in May.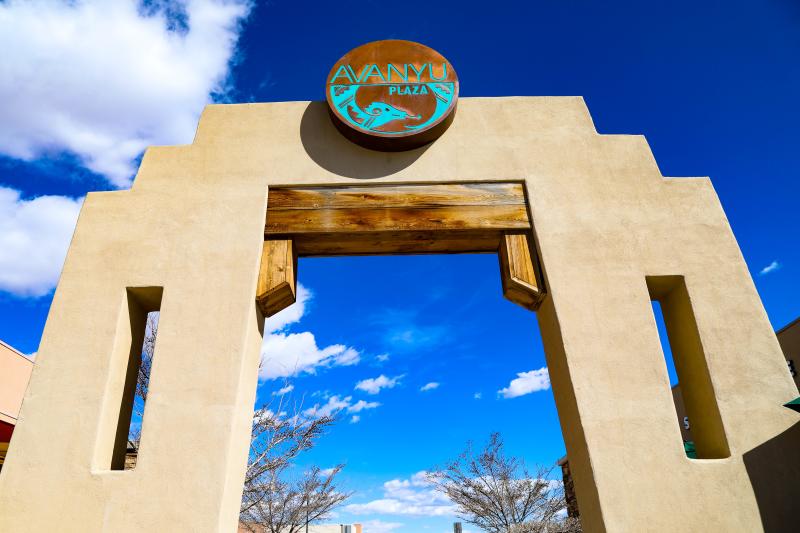 IPMI also leases space at Avanyu Plaza. Current tenants include U.S. Eagle Credit Union, Sixty-Six Acres restaurant, Laguna Burger, Native-owned Itality Plant-Based Foods, Rude Boy Cookies, Domino's and government agencies with Class A office space including the Bureau of Indian Affairs.  Very soon, Mama's Minerals will open its doors, with La Montañita Food Co-op opening in 2024. "With beautiful outdoor settings and great businesses," Fragua says, "it is a place to visit, enjoy a great meal, relax, grab a treat, and stay the night."
A day at IPCC is a feast for all the senses and provides a deeper understanding of Pueblo people, both past and present. "I hope visitors feel a connection to today," Fragua says. "And I hope that when Native people come through, they feel seen through the stories that are being told, and the food and the dances, and that it feels like home."