When a veterinarian found a baby mule deer born out of season and abandoned by its mother, she knew just who to call. Roger Alink founded the nonprofit Wildlife West Nature Park in 1992 to rescue native New Mexico wildlife. The park now exhibits and cares for 23 local species—including the baby deer, which Alink successfully bottle-fed and weaned in 2020. 
Its fellow park residents include elk, racoons, mountain lions, bobcats, and foxes. Some came to the park because they were injured, orphaned, or rescued from being kept as illegal pets. "Rather than putting them down, they came to live with us," Alink says. The 122-acre park is set in Edgewood, among several East Mountain communities that lie just east of Albuquerque and an hour south of Santa Fe along I-40 and the famed Route 66.  
Many of the creatures that reside there can be found in the wild in the nearby Sandía Mountains, where you're likely to find Alink on his days off. Although he has a soft spot for all the trails accessible by driving NM 536 to Sandía Peak, including the Tree Spring Trail and 10 K Trail, the most memorable trail for him is the Crest Trail. It runs 27 miles one way along the mountain's ridge and can be hiked in sections for shorter jaunts. The winding drive into the mountains also leads to Sandia Peak Ski Area, where in typical winters skiers can shred mostly intermediate trails from December through March. Capulin Snow Play Site offers tubing and sledding hills for family fun.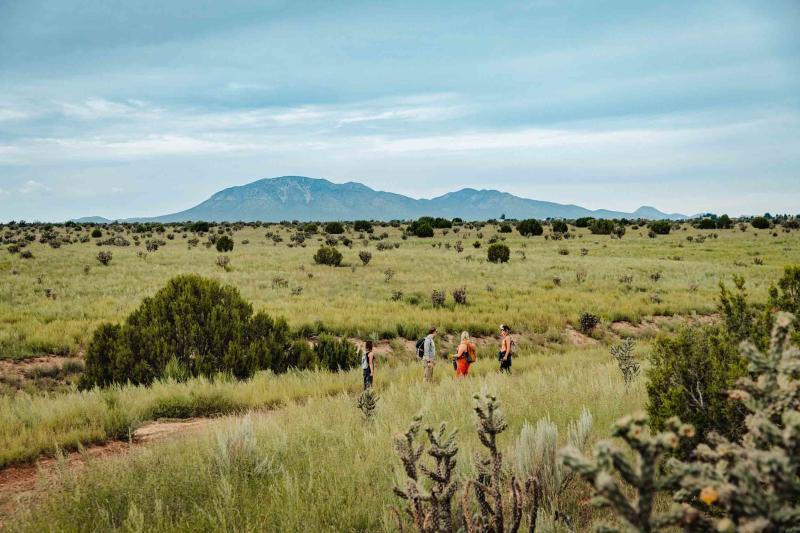 As the mountains segue into the eastern plains, they reveal Paako Ridge Golf Course. Golf Week named it one of the top 100 in the U.S. in 2020. Set at 6,700 feet, it's one of the highest altitude courses available. Non-golfers can enjoy the course's spectacular views from multilevel patios while nibbling on farm-to-table cuisine and sipping New Mexico–inspired cocktails.  
Perhaps one of the best ways to take in the scenery in the East Mountains is on a glider flight with Sundance Aviation. The engine-less gliders ride columns of rising air, soundlessly winging through bluebird skies and occasionally joined by eagles, hawks, and falcons. To keep your feet on the ground, head to the U.S. Southwest Soaring Museum, which chronicles the sport's past and present. 
The East Mountains communities have a slower way of life. But that's intentional. It's not uncommon to see neighbors riding horses into town to do their errands—there's even a hitching post at the local Walmart. Many animals have jobs here, including those at the rodeo grounds in Estancia and Stanley, and the friendly alpacas that contribute their fiber to sweaters, scarves, and mittens at Hollywick Farms' shop. 
Schwebach Farm hosts farm stays in its guest house and annual farm dinners in its fields. The seasonal farm shop is another way to taste the local bounty from the farm, as well as area honey producers and ranchers. Winding through the sprawling corn maze at McCall's Pumpkin Patch is a fall tradition for many New Mexico families. The pumpkin celebrations go from mild to wild in Estancia, where the town's annual Pumpkin Chunkin' event draws crowds to watch as human-powered and air-cannon devices launch the squash to great heights and over long distances. Field-to-fork delights are also on the menu at local favorite Roots Café, in Tijeras. If you find yourself inspired to live off the land, you can join one of the educational classes offered at the café's farm and education center. 
Tijeras marks the beginning of the Turquoise Trail, a 50-mile scenic drive north along NM 14 to Santa Fe through mining towns and artistic hamlets. Heading south from Edgewood or Moriarty, the Salt Mission Trail loops through farm towns, past hundreds-year-old mission churches, and more.