Dive into the outdoor adventures and Route 66 nostalgia of Santa Rosa.
Stella Salazar grew up in a house right off Route 66. But back then, all the Mother Road motels didn't have pools to escape the summer sizzle. "The place to go was our lakes," says Salazar, the owner of Santa Rosa Blue Hole Dive Center. "We learned to swim in Park Lake and learned to fish in Perch Lake." 
For a high-desert locale, Santa Rosa has a wealth of water. Park Lake, Blue Hole, Santa Rosa Lake State Park, and Perch Lake all lie within a short drive of this town two hours east of Albuquerque on I-40. 
Blue Hole is the town's glittering sapphire among its watery gems. When Salazar was growing up in Santa Rosa, Blue Hole—now a multi-state draw—was part of a fish hatchery. Although Rock Lake Fish Hatchery was exported south of town in 1964, it still ranks as the state's go-to spot for rearing catchable trout and produces 300,000 each year to stock the state's lakes. 
When the fish moved out, scuba divers began to move in. As local legend has it, a dive instructor from a now-shuttered shop in Albuquerque who went by "Peaches" began bringing his students to the 81-foot-deep "hole." One of a couple dozen sinkholes in the Santa Rosa area, Blue Hole formed when limestone bedrock collapsed and an artesian well flooded the cavern. 
It's become the top inland scuba-training lake in the region thanks to its crystal-clear azure waters. "When the sun is hitting just right, you can see all the way to the sandy bottom from the top," Salazar says. "It's so beautiful." Divers from Oklahoma, Colorado, Arizona, and Texas road trip to Blue Hole to earn their open-water dive certifications before venturing to far-flung destinations, like the Caribbean or the Great Barrier Reef.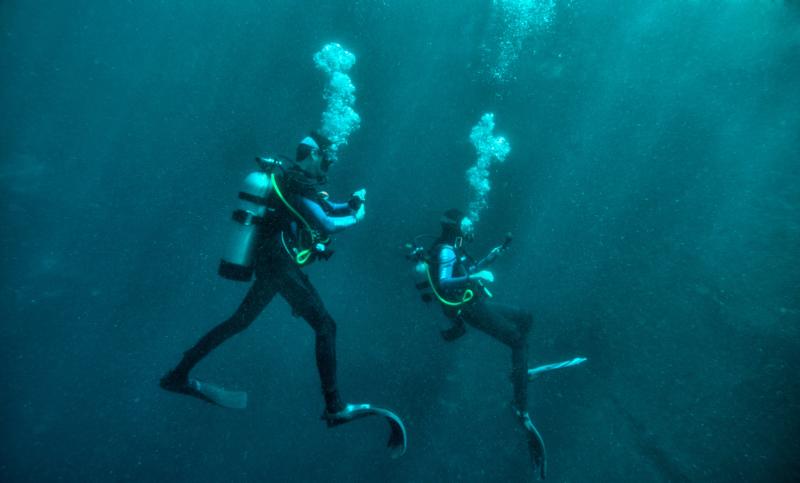 Swimmers are welcome, too. "At 61 degrees year-round, people have to wear a very thick suit when they scuba dive," Salazar says. "When people swim in the summer, it's nice to jump in to cool off, then jump out into the sun and heat." (Summertime also brings a lineup of fun outdoor concerts to the Blue Hole's amphitheater.)  
According to Salazar, Peaches is also responsible for the town's second most popular dive site: Perch Lake, where he cleaned and sank a twin-engine airplane to create a diving obstacle. A sunken car there gives divers another place to perfect their underwater skills. The lake is also popular for bait fishing, spinning, and fly-fishing. Blue Hole also has a fishing pond where children and seniors can cast for bluegill, channel catfish, largemouth bass, and rainbow trout.
Often, kids' favorite place to play is Park Lake's Wibit, a summer-season inflatable obstacle course where children beat the heat by climbing monkey bars, sliding into the water, and jumping off the splash pad. Pedal boats are also available for more family fun. "People don't want to go to a swimming pool," she says. "We want to be where there's fresh water and be out in the open."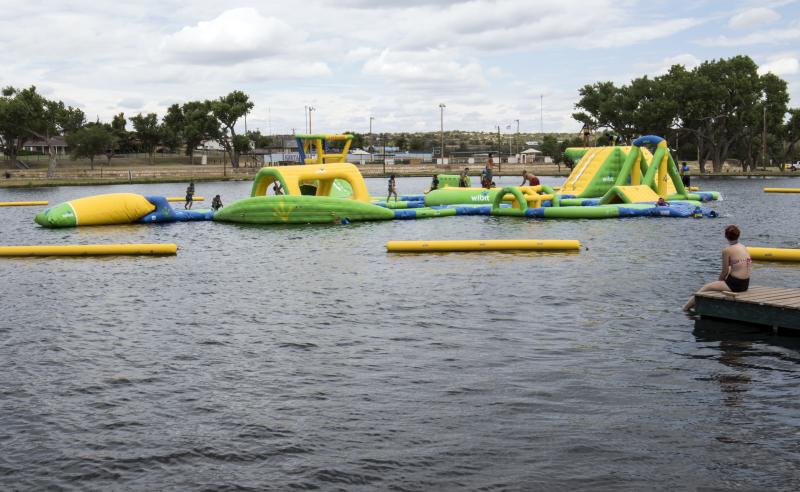 Santa Rosa Lake State Park, at the edge of the Pecos Wilderness, also delights families. Boaters have plenty of room to roam on the 4-mile-long lake that stretches the Pecos River canyon. It's also a favorite spot for canoers, kayakers, and swimmers. There are plenty of terrestrial options, including camping, equestrian trails, 5.5 miles of hiking trails, and bird-watching. 
After all that outdoor activity, you'll need to refuel—or at least reward yourself. Many of the town's eateries are located along Route 66, including Mr. Bee's Coffee & Teas, which serves espresso drinks and paninis, and Joseph's Bar & Grill, known for its burgers, beer, fajitas, and margaritas for the past 60 years. One of the newest entities on the Mother Road, 1865 Brewery opened in June 2020 with a menu of flatbreads, shareables, and craft brews ranging from its light-bodied 1865 Freedom Ale to the hefty Caged Gorilla Double Stout. 
While you're there, catch a first-run movie inside the Pecos Theatre. Built in 1919, the Pecos had many names and many lives before Guadalupe County purchased it in 2016 and brought it back to life just in time for its 100th birthday.
No matter where you go in this small town of some 3,300 residents, you'll run into locals. "All the town kids are lifeguards at the Wibit," Salazar says. "Santa Rosa is a really neat little town. We try to make everyone feel good and want to come back. Everyone is welcome here."