In the lead up to Moab's acclaimed Easter Jeep Safari, Jp Magazine  gathered Jeep fanatics from across the continent for the 2019 Jp Dirt 'N Drive event. One of their choice locations? Farmington, a Four Corners–area town that's become a pinnacle for rough-and-ready driving. Local off-road enthusiast Rick Jenkins remembers fondly the parade of some 185 off-road vehicles caravanning from downtown to the Brown Springs OHV Recreation Area, where the driving is tough, and spectators' views are prime.   
Jenkins is a third-generation off-road driver. His daughter, whom he's welcomed to the active sport, is the fourth. He and his family, along with other members of the town's Cliffhangers Four Wheel Drive Club, have spent some 40 years developing trail systems that now catch national cheers. "In Farmington, it's easy to get out and get into the different levels of extreme rock crawling," he says.   
The challenging conditions, accessible trails, and well-developed visitor amenities, such as campgrounds and restrooms, beckon drivers to Brown Springs and Chokecherry Canyon. They're part of the 19,000-acre Glade Run Recreation Area, which also hosts the World Extreme Rock Crawling (W.E. Rock) Grand Nationals Championship, from 2016 to 2019 and again in 2021. Drivers attempt to conquer boulders, steep climbs, and rock ledges. Dunes Vehicle Recreation Area and Head Canyon OHV Recreation Area are other popular destinations for the sport.   
OHV isn't the only rough-and-ready sport for outdoorsy folks in Farmington. Glade Run Recreation Area's slick rock, sandy arroyos, and rolling terrain also draw mountain bikers. "There's probably well over 100 miles of trails in the area with new trails added all the time," says Joey Merriman, co-owner of local outfitter Bisti Bicycles. "We've got awesome weather year-round."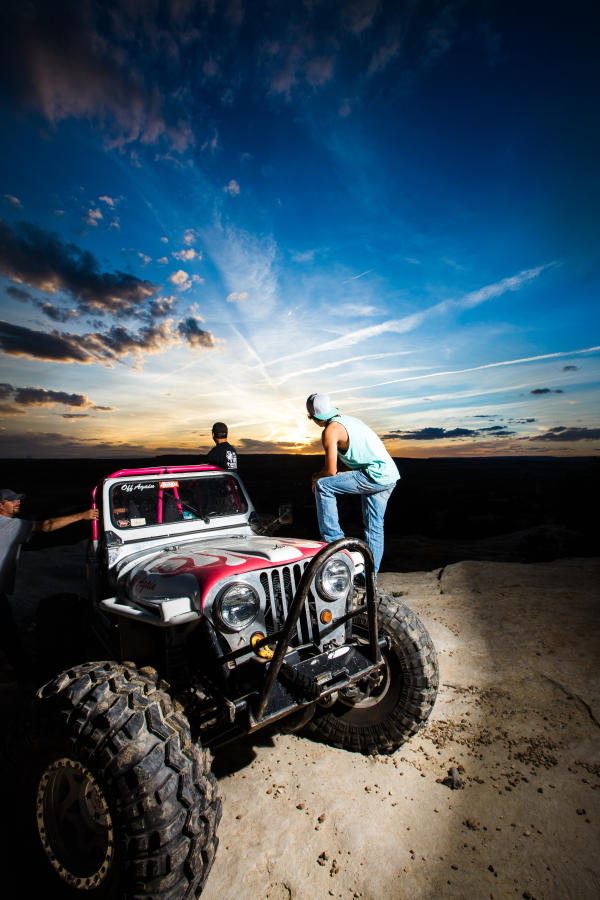 The Glade draws competitors from across the Four Corners region for the annual Alien Run and Road Apple Rally mountain bike races. Billed as the longest-running mountain bike race in the country, the Road Apple Rally testifies to the sport's deep popularity in the region. The race began in 1981, before mountain biking had hit the mainstream and cyclists were mounting fat tires on their road bikes. Early competitors rode alongside trail horses and had to swerve around the horse manure (aka "road apples") that gave the race its tongue-in-cheek name. Racers speed by fewer obstacles these days on trails that are accessible even outside competition season. 
Hikers gear down to a slower pace to take in the area's rugged terrain and fantastical formations. The 7,000-foot Angel Peak prevails over Farmington and can be seen from nearly anywhere in the city. Hiking trails at its eponymous scenic area trace canyon rims and reveal white, beige, and rust–banded buttes in the shadow of the towering peak.  
Trails may be forgotten over time, but the views will never fade for hikers who venture to the Bisti/De-Na-Zin Wilderness  Area. Fascinating formations—hoodoos, rock eggs, and petrified logs—dot the austere moonscape. The views of the night sky are equally spectacular. Back in town, gentle, family-friendly paths trace the Animas River, where some 100 different types of migratory birds also flit.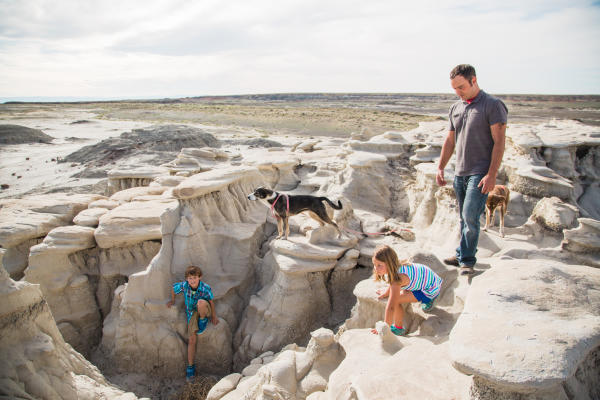 Downtown remains an après drive, pedal, and hike gathering place. It became even more so by the end of 2020. Now, roundabouts slow down traffic and wider sidewalks make for better browsing in the Farmington Arts & Cultural District; the face-lift makes it easier than ever to stroll between eateries and shops. Outdoor recreation in Farmington is a family affair, and so too is the art scene with fourth-generation entrepreneurs at the helm of stores such as Artifacts Gallery and Artifacts 302, where a former 1908 lumber shop has become an expansive gallery, and bakery and espresso bar over the generations.  
Creativity flourishes in the district. Artists and growers host pop-up stands during a weekly makers' market, and the craft spirit is on tap at Three Rivers Eatery & Brewery, a longtime downtown staple whose various offshoots stretch like a vine along a downtown block. The redevelopment project has a team spirit about it with area businesses banding together during construction and for the neighborhood's future.    
Merriman opened his downtown shop in March 2020 to enjoy the district's renovations. Eyeing other top-tier adventure destinations, Merriman says, "We're already at the tipping point for outdoors towns, now we're going to have a downtown that's a true place to go, to eat, and to shop."