When Roger and Barbara Hogan moved to New Mexico 25 years ago, they wanted to live in a place with no traffic lights. To them, no traffic lights meant no traffic, something they had no use for. Chama, about two hours north of Santa Fe next to the Colorado state line, fit the bill. It still does today.
Don't mistake a lack of traffic for a lack of life, though. Chama teems with activity, much of it wild—feathered, furry, and finned. 
Now that they've retired and passed on management of Chama's Hotel & Shops to another operator, the Hogans spend their free time photographing the area's wildlife and the historic Cumbres & Toltec Scenic Railroad, voted by the readers of USA Today as the Best Scenic Train Ride in America. That's the other reason they settled in Chama: The longtime train enthusiasts have been involved with the steam-powered historic rail line in official and unofficial capacities since their arrival. 
"For the first 15 miles or so, the train parallels Highway 17, and you'll see photographers getting pictures of the train they'd never be able to get anywhere else," says Roger of the train chasers. Drivers head northeast along NM 17 as it parallels the scenic railroad, which carries passengers across 64 miles from Chama to Antonito, Colorado, (and vice versa) on its mid-May through mid-October trips. A highlight is Cumbres Pass. At 10,015 feet, it's the highest mountain pass reached by rail in the United States, and the reds, golds, and oranges of autumn deliver some of the best leaf-peeping in the state.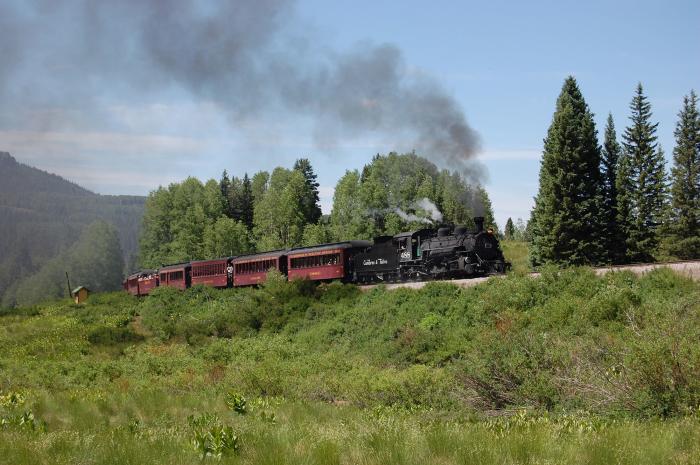 The railroad's 12-mile-an-hour pace, maintained by meticulously restored and maintained coal-fired engines, matches the leisurely pace of the village, too. You'll find locals at Fina's Diner or Wilder Bakeshop & Espresso for coffee and breakfast; the café at the Elkhorn Lodge or the Local restaurant and beer garden for dinner. A quick stop at the post office or grocery store may take longer than expected, because you're guaranteed to run into someone you know. 
The relaxed atmosphere suits the hikers, equestrians, two- and four-wheelers, hunters, anglers, snowshoers, and cross-country skiers who make Chama's 7,680-foot elevation and mild summers their base for year-round outdoor adventure. Easy access to fly-fishing for record-setting brown trout in the Río Chama and the many nearby trails of the Carson National Forest, Chama River Canyon Wilderness, and the Edward Sargent Wildlife Area bring nature enthusiasts from late-spring through early-fall. Bow and rifle hunters, skiers, and snowmobilers converge on the village for supplies and lodging from September through snow melt in early spring. 
In any season, the weather is generally agreeable, with breathtaking natural beauty everywhere. "You can stand anywhere in Chama, on any street and be amazed," says Barbara. "People continuously say how beautiful it is. We encourage visitors to drive to Heron or the other lakes, head up Cumbres Pass and take in the scenery at any time of year. There's no light pollution here, either, so you can go out any night and see all the stars—so many you feel like you can reach up and grab one."
The best place to learn about the area is the Northern New Mexico Welcome Center run by the Chama Valley Chamber of Commerce. Visitors can discover local history, pick up maps and Continental Divide Trail souvenirs, access free WiFi, and most importantly, tap a bottomless well of knowledge about the things to do, see, and experience from people who live, work, and play here.
Welcome Center staff also direct visitors to the influx of new shopping and dining in the village. Notably, Tierra Wools, a long-time northern New Mexico purveyor of high-quality, hand-dyed wools, relocated its studio and classroom space to Chama last year, expanding its offerings of Rio Grande-style weavings, equipment, fiber arts, and workshops.
"We've seen quite a bit of growth in the last few years, which is good," says Roger. "People have spruced up the buildings with nice patios, too. But one of the things that surprises people is that Chama is still reasonably priced for lodging and food, and everyone is really friendly and welcoming. This is a place where people come to get out of their usual routine, unwind, and feel welcome."