Los Alamos boasts the nation's highest rally of PhDs per capita, so when someone there advises you to "get outside," you can bet it's a smart thing to do. Take it from Katie Bruell, a trail runner, biker, and general outdoors advocate, who says this history-rich "city on the hill" is surrounded by jaw-dropping natural splendor.  
"Los Alamos is definitely nerdy and proud of it," Bruell says. "No one is ashamed to be smart here, but people have a sense of humor about it. It's great place to live if you want to be outside year-round or are looking for a family-friendly town." 
Bruell's immersion in the area's environment is to be expected. She's director of the Pajarito Environmental Education Center (locals call it "PEEC"), which runs the popular Los Alamos Nature Center. There, more than 40,000 annual visitors connect to the flora, fauna, and landscape of the Pajarito Plateau through indoor and outdoor exhibits, programs, talks, organized hikes and classes, and a state-of-the-art planetarium. A new tree house has delighted kids and adults of all ages since it opened. 
Beyond the center' property lines, she notes, the natural environment here is markedly different from other places in New Mexico. A visitor can hit three National Park Service properties—Bandelier National Monument, the Valles Caldera National Preserve, and Los Alamos's third of the Manhattan Project National Historical Park. Nestled in the Jemez Mountains of the Santa Fe National Forest, Los Alamos's various landscapes also encourage quick escapes from the cerebral reputation of the city, from trail runners to the top of the Pajarito Mountain Ski Area, the tent rock formations of Pueblo Canyon, ancient cliff dwellings at Frijoles Canyon, and the 13-mile-wide volcanic basin and abundant wildlife of  the Valles Caldera.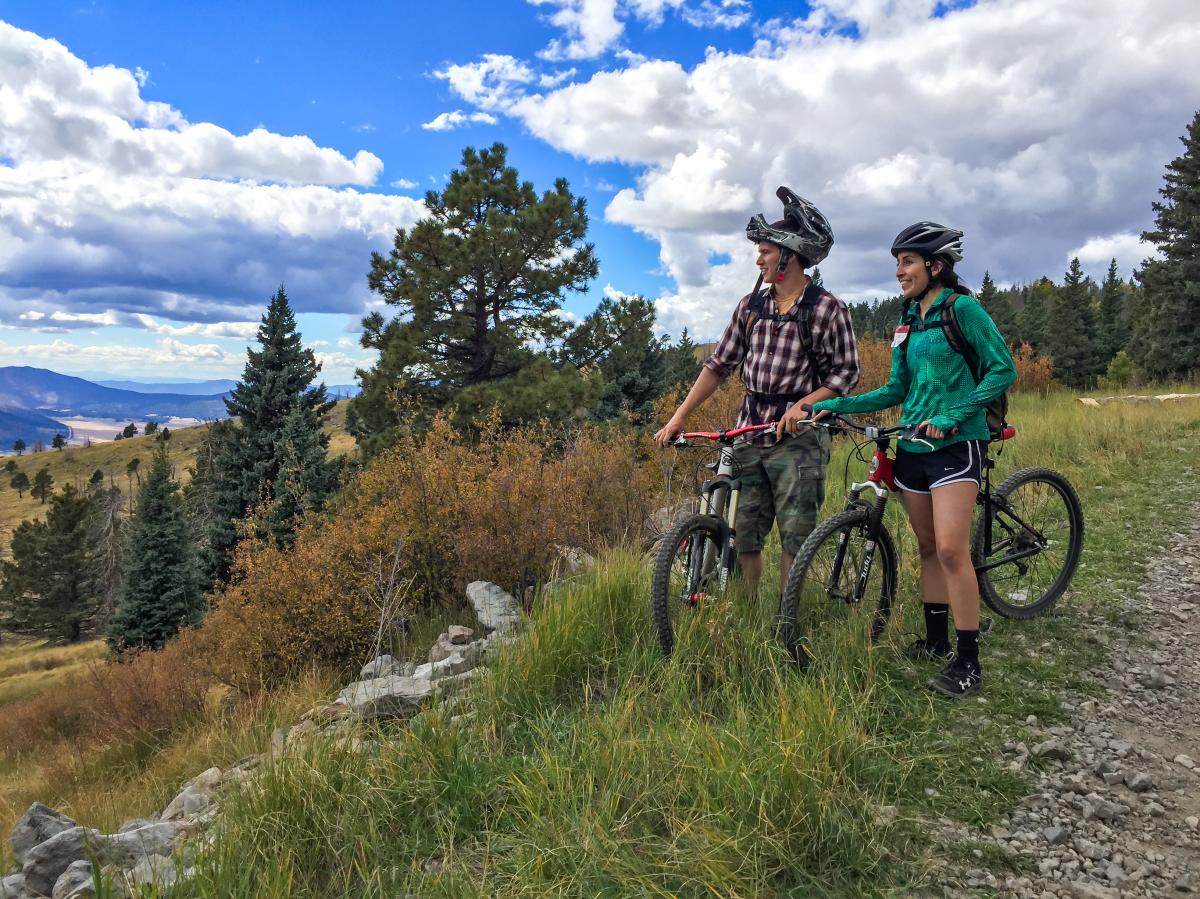 "The trails are integrated into the town—they all connect with one another and it's often quicker to walk or bike a trail somewhere than get in your car and drive around the five finger mesas the city sits on," she says of the 58-mile network. "Visitors can do a half-hour loop walk or trek all the way to the Valles Caldera on trails."There's something for any ability level, and every trail has towering rocks, caves, or something exciting to discover."
Many of the trails have stories behind them, too, with some going back to Ancestral Puebloans, Basque sheepherders, and the Manhattan Project of the 1940s. "Sometimes you're walking in homesteader wagon ruts," Bruell says. "There's a lot of history here." The system is always being improved as the local youth conservation corps creates new routes to explore as well.  
One of Los Alamos's better kept secrets, Bruell says, is how walkable its downtown is. Recently named America's Healthiest Community by U.S. News, Los Alamos makes it easy to park your car, grab a bite at local restaurants and brew pubs, and just wander. Downtown's Ashley Pond Park, named for the founder of the Los Alamos Ranch School (the site that became the secret laboratories for the Manhattan Project), is a gathering place for community events and summer concerts. Residents frequent the 10-acre green space for walking, picnics, and the farmers' markets.  
Of course, no visit to Los Alamos would be complete without exploring the city's scientific foundations. This "secret city" changed the course of history by developing the world's first atomic bomb.  
The Manhattan Project National Historical Park Visitor Center is the first stop on a walking tour that winds its way through significant sites and locations, including Fuller Lodge & Art Center and the Los Alamos History Museum. This museum features exhibits on Project Y, as it was known, as well as peoples who have lived in Los Alamos from ancient times to today. The tour ends at the Bradbury Science Museum, where 60 interactive exhibits explore the area's atomic history and spotlight Los Alamos National Laboratory's past and current research projects. The annual ScienceFest celebrates this history with activities and events for all ages. (And yes, there will be robots.) 
"It's a safe town, and an adventurous town," Bruell adds. "Our nature is beautiful and interesting in unexpected ways."