Texas-born Morgan Switzer considers herself a New Mexican through and through. She graduated from New Mexico State University in 1999 and joined her husband in his southern New Mexico hometown of Mesilla after they married. Together, they purchased and started three businesses in three years. In 2016, they took on NM Vintage, a nook serving New Mexico wine—including their Cowbelle Wines label—beer, and cigars, and known for its live music. She opened the local Old Barrel Tea & Spice Company the following year. In 2018, their love of all things New Mexico–grown translated into NM Vintage Market. All are located in Mesilla. The small-town oasis adjacent to Las Cruces has a knack for local business, Switzer says. 
The New Mexico Pecan Festival, which we held in Mesilla in 2016 and 2017, is one of my favorite memories of the town. We celebrated with a pecan-eating contest using pecan pies. We held the first-ever fashion show on the plaza where every item in the outfit came from our local shops. 
Pecans are one of the most abundant crops grown in the Mesilla Valley. Pecans are everywhere in town. I created a special tea for Old Barrel Tea & Spice Company that has pieces of pecans in the brew. At NM Vintage Market, we feature products produced or grown in New Mexico, including the New Mexico Pecan Company. We also carry several local salsas, including Ol' Gringo Chile Company, Fresh Chile Company, and J.P.M.'s Salsa.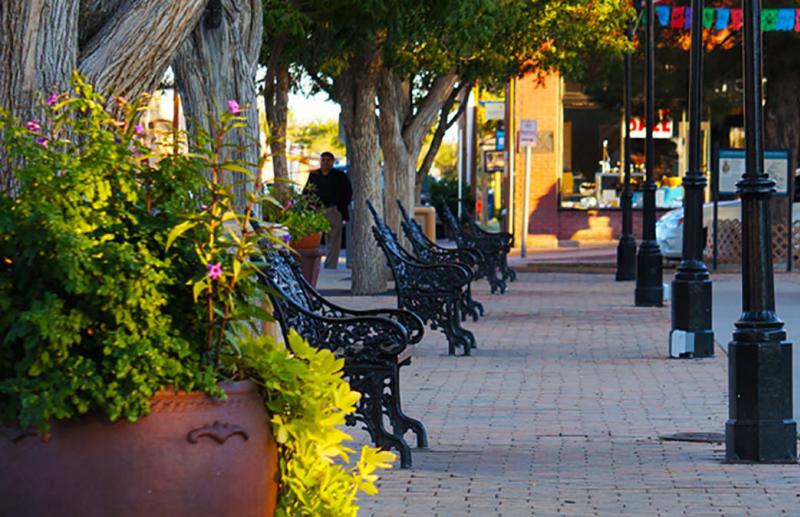 In Mesilla, every single business is a mom-and-pop shop. Ninety-nine percent of our stores and restaurants are rooted and founded in Mesilla. There aren't big-box stores here. It's so empowering because the large majority are also female owned. The businesses are owned by the people who are going to welcome you from behind the register. 

We launched Experience Mesilla to help businesses promote one another. Where most businesses see others as competition, we see them as a way to come together. The nonprofit hosts a VIP glass or card program to get people to visit all the tea shops, wine tasting rooms, and craft beer rooms in Mesilla. We're hosting a live music festival where people can hop between venues and music genres. 
On our days off, we love going to Hacienda de Mesilla to get an adult beverage and take in views of the Organ Mountains from there. You can't beat the sunsets in New Mexico, especially in Mesilla, where you can see the Organs turn pink and purple. 
We love going out to listen to live music. Before COVID-19, we'd have live music for two-and-a-half months in the gazebo on the plaza. 
Mesilla is very unique in its culture. It has strong ties to its history and heritage along every block. Our Day of the Dead (Día de los Muertos) fiesta, on November 1, is celebrated more than many of the communities around us. 
We're also known for ghosts and ghost tours. They're one of our hidden gems. You can do something as simple as going to Double Eagle restaurant and asking the wait staff about their personal encounters with ghosts. Their ghosts have been documented on the Travel Channel's Ghost Adventures. There's also a ghost that walks back and forth between Double Eagle and La Posta de Mesilla. We have a ghost at NM Vintage. It likes to drink beer, and it leaves beer rings on the counter right after we've polished it. We've come in and found all our furniture moved to the other side of the building. We've found doors open that had a padlock on them. 
Really, you can't go wrong with any of the different shops and restaurants in Mesilla. All offer personalized experiences. To us, visitors are guests in our home because our businesses are extensions of our home.