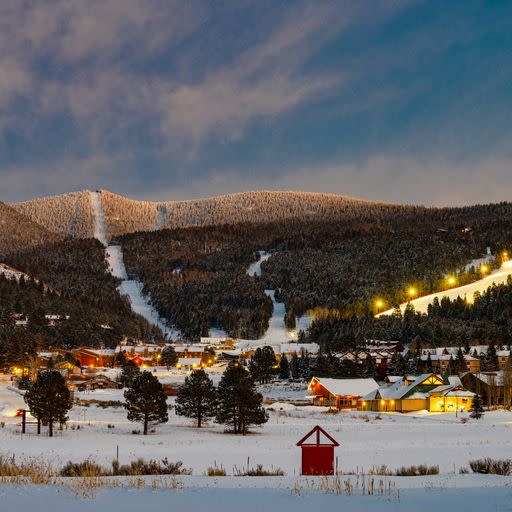 The eastern slopes of the Sangre de Cristo Mountains cascade through screes and gullies that open into the Moreno Valley basin, a stunningly beautiful and sparsely populated stretch of northeastern New Mexico that sits 8,420 feet above sea level. Here the village of Angel Fire becomes a wintertime playground, perfect for families who want an assortment of activities designed for people of all skill levels. "It's amazingly magical up here in the mountains," says Angel Fire Mayor Jo Mixon.
Angel Fire's unique name originates in the 1780s with the Moache Utes, a nomadic people who gathered in the valley to renew their ancestral ties with the Great Spirit. Members of the tribe described a glowing phenomenon coming from Agua Fria Peak as the "fire of the gods."
Angel Fire's unique name originates from the Moache Utes, who, during their annual gathering in the valley, noticed a red and orange glow from the top of Agua Fria Peak. They described the glowing phenomenon as the "fire of the gods." Through colonial influence, Agua Fria became known as "the place of the fire of the angels," and centuries later, Angel Fire.
Today, the cozy village welcomes travelers from New Mexico, Texas, Arizona, and beyond. "If you're out of Texas, we're the closest resort," Greg Ralph, marketing director at Angel Fire Resort, which attracts thousands of visitors during winter months. "But it's also the resort that your family first came to, that you may have first come to as a kid, and now you're bringing your kids back."
The resort features more than 560 acres of skiable terrain with 7 chair lifts and 80 ski and snowboard slopes designed with people of all skill levels in mind. On weekend evenings (and all week during Christmas and spring break), the mountain becomes New Mexico's only place for night skiing. The resort's 100,000-watt bulbs illuminate five runs with roughly 50 acres of groomed trails from 4 p.m. to 7 p.m. "It costs about a third as day skiing," Ralph says. The rental shop and lodges stay open, as skiers can catch stunning sunset views across the Moreno Valley "At night, it's quiet," Ralph says. "You really feel as though you have the place to yourself."
Across from the ski mountain lies the golf course, which transforms into a winter activities area when the snow season begins. Three wide trails, ranging from two to three miles, for cross-country skiing and skate-skiing provide great views of the Sangre de Cristo Mountains. Snowshoe trails also run through Angel Fire and the resort. "Snowshoeing is a great winter activity for people who have never done any other winter activities," Ralph says. "It's so serene and peaceful."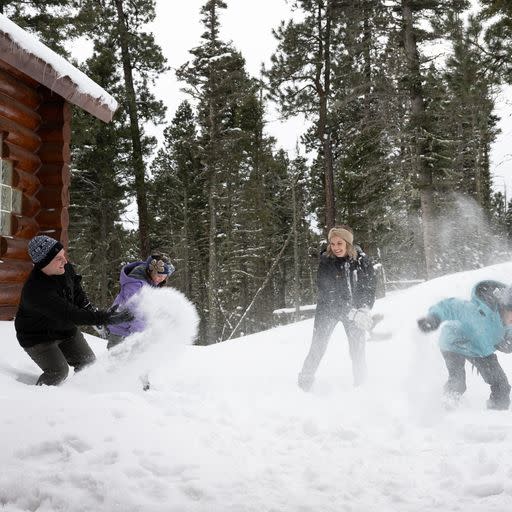 Angel Fire is also home to a variety of shops, galleries, and entertainment. Pick up gifts, jewelry, and home essentials at Pine and Peak Home Decor or find outdoor clothing and gear at Mountain Sports of Angel Fire. Bring the kids to Pluto's Planet Arcade, where they can enjoy air hockey, arcade games, and ice cream. "We look tiny when you first get here," Mixon says. "But once you go exploring up the roads and into the mountains, you realize how much bigger it is."
The resort runs a 120-room hotel with accommodations of all sizes, as well as 80 condos and houses located in the wider valley. Angel Fire is also home to abundant Airbnb and short-term rental properties suitable for couples and families, and the Angel Fire RV Resort is one of the best camping spots in the country. "Coming up here to get away from the city and sit on a deck with a cup of coffee or a glass of wine and relax ," Mixon adds, "it's a different atmosphere."
Angel Fire also serves up a surprising number of restaurants throughout the village. At the resort, Elements offers upscale fare, as well as live music Thursday through Saturday. Mikuna Grill provides fine Peruvian cuisine, and recently, a number of food trucks have popped up, such as Arias Taqueria and 1810 Grill. Make sure to check out the Thai Angel food truck for a plate of Pad Thai.
Just remember to plan early and spend a few days to take in all Angel Fire has to offer, including Nancy Burch's Roadrunner Tours sleigh rides and hot cocoa in the evenings. "Our snow is different up here—it has a sparkle to it," Mixon says. "It makes you want to get out and play in it."