Whether hiking the highest point in New Mexico, the 13,159 foot summit of Wheeler Peak, mountain biking the trails along the Río Grande Gorge, or fishing and rafting the whitewater of the Taos Box, Nick Streit lives life outside. This born and raised Taoseño and owner of Taos Fly Shop gives us his take on why the northern New Mexico community of Taos needs to be on your adventure list.
The Taos area's wealth of public lands, from the Pecos and Columbine-Hondo wilderness areas in the Carson National Forest to one of the country's newest national monuments, the Río Grande del Norte, keeps me and my family busy year-round. We're surrounded by easy access to water for fishing, kayaking, and rafting and to mountains and trails for hiking, biking, and skiing. And the big open landscapes and views! 
You're looking across the valley and not seeing urban sprawl like in other mountain towns. This always gives me a feeling of possibility for endless adventure, all really close to town. Recently, we hiked into the Río Grande del Norte National Monument for 10 or 15 miles and saw only amazing wildlife—eagles and bighorn sheep. 
Outdoor recreation has really grown in the last year as people want to be outside and do more outdoor things. Taos just has so many opportunities for that. We've built an air of excitement around our opportunities. The big renovations and facelifts to Taos Ski Valley mean more and better offerings for summer visitors as well as winter ones, with great mountain biking and hiking trails. 
Everyone's got their own secret fishing or kayaking spot on the Río Grande that's beautiful and special to them. I've got places that I love—maybe some little creek I hike to and no one is ever there. When I mountain bike, I have the same kind of little trail. I hunt a lot, too, and have my secret spots. Everybody can find their own.  
We get people in the shop all the time who didn't realize you can raft and fish here. Or that we have mountains with great skiing and hiking. A lot of people drive to the Río Grande Gorge bridge and see it and marvel. But to actually get down on the river is amazing! We do a three-day camp and float trip where you see so much wildlife, ancient petroglyphs, and beautiful scenery.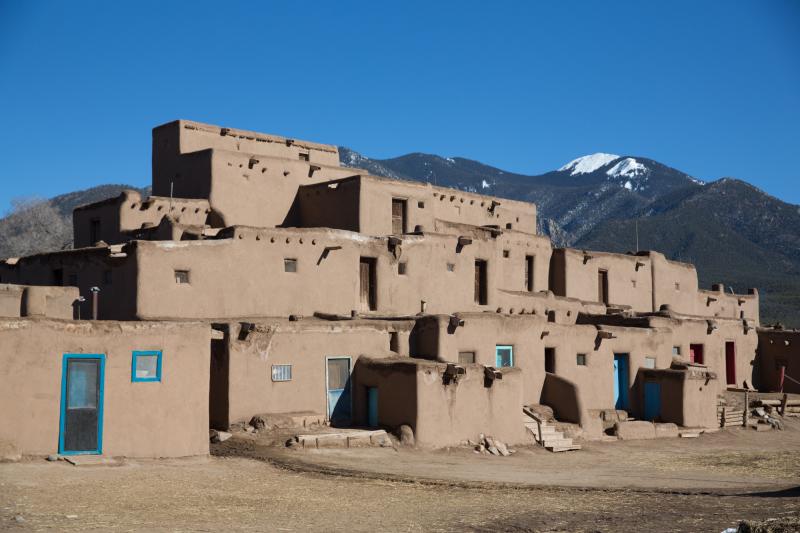 The culture is old here—a thousand years with the Taos Pueblo and hundreds with the Spanish. When you add the culture and history of Taos that's tied to the landscape, it's powerful. You feel it deep down.
The community is still broadly people who were born and raised here and often have deep, multi-generational roots. My dad came in the 1960s with the hippie, commune element. This diverse historical and cultural mix, plus all the artists who cross between all those worlds, makes a crazy, diverse, and eccentric melting pot that drives the uniqueness of Taos.
Not much changes in Taos, and that's part of the appeal. (As kids, we got excited about a new stoplight!) We're laid back and chill. Everyone heads to Alley Cantina because it's the only place open after 10 pm. We do a really good job with outdoor events, like the Taos Wool Festival and the great summer music series in Kit Carson Park. The holidays are magical with lights and celebrations. 
Taos is still a small town really rich with tradition. For the most part, Taos stays eternal.