Teresa Dahl-Bredine may be the busiest person in Silver City, New Mexico. She and her husband, Dave Crosley, own downtown's Little Toad Creek Brewery & Distillery (aka The Toad). She's also artistic director of Virus Theater company, which operates out of the El Sol Theater, a 1930s-era movie house that Dahl-Bredine is slowly renovating. She might also be the biggest fan of her hometown. That's why we asked her to give us the scoop on why Silver City should be on everyone's travel to-do list. 
First, this is one of the most beautiful areas in the state. We're so lucky to be near the Gila National Wilderness, which is untouched and gets far fewer visitors than many other wilderness areas. There are so many backpacking and hiking trails, you could literally go out into the backcountry for 10 days without ever seeing anyone else.
Mining in this area has created steady work for people over the years and even today, as opposed to most small towns where, when the mines close, people leave in a mass exodus. Here, mining is a stable part of the culture. And it's really cool that ranching and mining are a big part of how the culture has developed. It's not just made up of transplants who want to change everything. It keeps the culture real and authentic.
At the same time, the town has been adding new, fun, and interesting businesses—places to eat and drink. There's some nightlife now, more shopping, and things to do. The galleries are wonderful, but not everyone can buy and take a painting home with them. We've added more moderately priced boutiques with interesting gifts, many of them made by artisans who live here. 
There's always something going on here, too. We've got so many events and festivals, you could visit every month and do something different. Our restaurant and bar scene is growing all the time. The Toad has music, as do other restaurants, and Virus is putting on more performances downtown.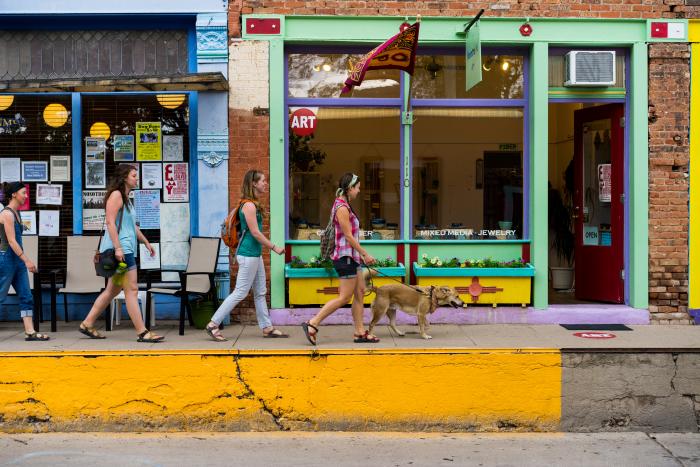 Walk downtown to check out the shops and restaurants. So many people miss the historic district, but that's the point! The architecture is cool, and people have painted the old buildings bright colors. Gough Park is just few blocks from downtown, and a nice place to hang out. The farmers' market on Saturdays is fun, too. Those are places you'll find the locals—in the coffee shops and bars, in the park, and on the trails. 
There's been a lot of effort into developing new bike and hiking trails on Boston Hill, which has great views of the city. The Big Ditch is a hidden gem, and visitors can go to the Silver City Museum to learn about the giant floods that wiped out the original Main Street. They left behind what locals called the Big Ditch that's now a park with trails. Plus, the museum's always developing new exhibits and programs. It's worth checking out. 
We've still got a very laid back, very real vibe, with a nice mixture of people whose families have lived here for generations, and those who have moved here more recently. There's a lot of diversity, and a lot of diversity in businesses around town. Everyone tends to be welcoming. You can be who you are here. 
I've got some secret swimming holes on the river and hidden hikes, but I'm not sharing! People who like to explore will find their own hidden treasurers here for sure. Do plan time for getting outside, even in the middle of winter. There will be days that are just winter-gorgeous and great for hiking. And the summer isn't terribly hot, either.
People should realize they aren't in the big city, here, so don't expect big-city habits. Look at us for what we are—a small, rural, laid-back town. Things are slower here, so if you're in a hurry, we'll slow you down.